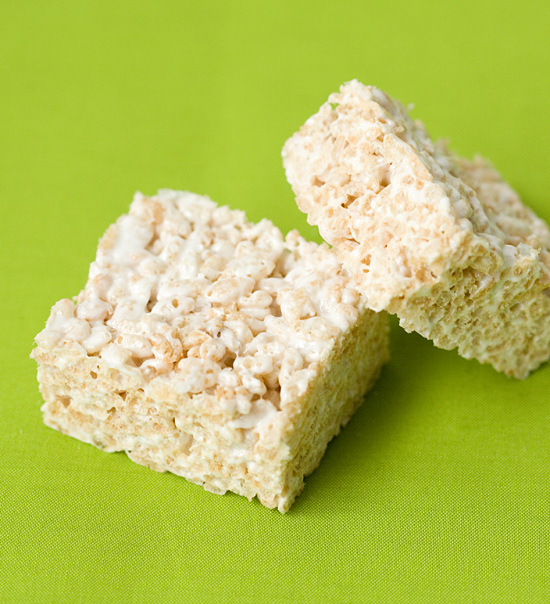 We've reached the end of our lime green saga. I hope you've enjoyed it, and haven't been too blinded in the process. Unless, of course, you've been blinded by desire to abandon the keyboard and go bake, immediately. Then that's ok.
And this final recipe would be (practically) instant satisfaction. In under 20 minutes you'd be enjoying a bit of sweet and salty, crispy and crunchy goodness. I have to say, there are very few people who'd turn down a good rice krispie treat (and to those people, well, I don't have anything to say to you).
For this batch, I simply swapped out the butter for extra virgin olive oil, and added a sprinkling of sea salt at the end. Perfection in simplicity.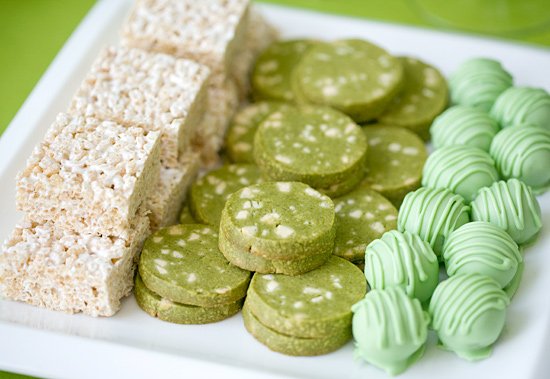 I'd also like to officially announce the launch of the L&OO shop! Granted, there's only one thing in there now (the precious notepads I gave away as part of the birthday celebration), but if those do well, I could see the shop growing to include other food-related goodies. I'm kind of excited about the possibilities. :) And be sure to let me know what sorts of bits and bobbles YOU would like to see in the shop!
But for now, notepads! If you didn't win a set (and those who did should start seeing them in your mailboxes very soon), you can now purchase sets of either 2 or 4 notepads, perfect for grocery lists, recipe notes, or love sonnets dedicated to cookie dough. You know. Normal foodie stuff. I only have a limited number of sets available; and once they're gone, they're gone. Visit the L&OO shop today!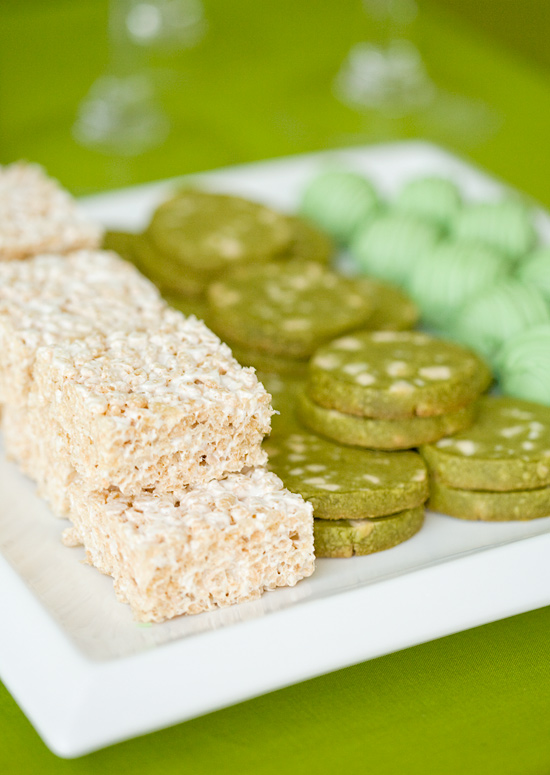 (by the way, I will not be posting the recipe for the Matcha White Chocolate Shortbread cookies because, frankly, I didn't like them very much. But I am not a fan of green tea flavor, which came through—quite strongly—in these cookies. If you feel differently about the stuff, the recipe can be found here).
Olive Oil Rice Krispie Treats
Ingredients:
12 ounces marshmallows (about 44 regular or 7 cups mini marshmallows)
3 tablespoons extra virgin olive oil
7 cups crisp rice cereal
sea salt
Directions:
Lightly grease a 13-by-9-inch baking pan with olive oil or cooking spray.
Melt marshmallows and olive oil together in a large saucepan over low heat, stirring occasionally, until completely melted. Remove from heat and fold in cereal, gently turning the mixture until completely coated. Press into prepared pan (you may find it easier to use your hands for this, and if so, generously oil them beforehand so the cereal mixture doesn't stick). Sprinkle with sea salt. Cut into 2-inch squares.
Treats can be stored, lightly covered in the refrigerator, for up to three days, but are best enjoyed within a day of making them.
Did you make this recipe?
Let us know what you think!
Leave a Comment below or share a photo and tag me on Instagram with the hashtag #loveandoliveoil.