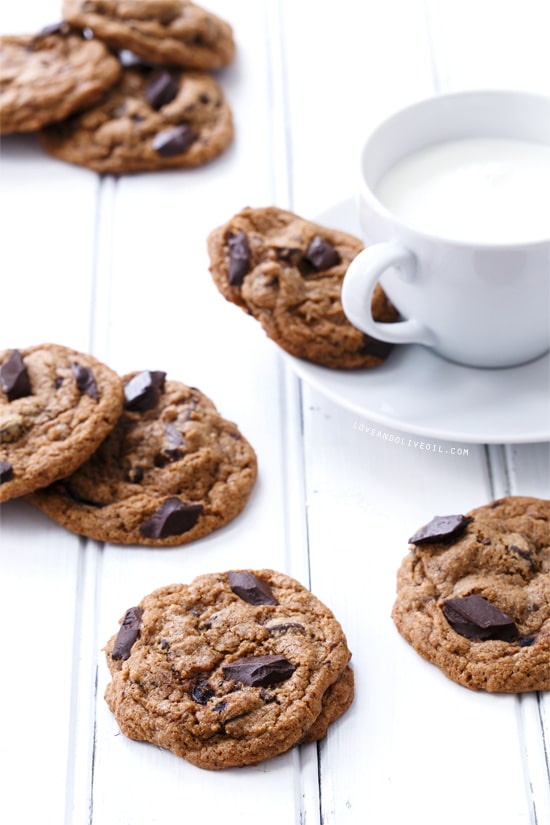 I've had a sweet revelation. A dose of sugary inspiration. A life changing discovery. And it's called dark muscovado sugar.
If you thought sugar was entirely flavorless, think again.
I feel like I've discovered a whole new world (a dazzling place I never knew).
Ok you probably hate me and you'll be singing that for the rest of the day. But seriously… let me share this whole new world of sweetness with you.
The cookies themselves might look crispy, and if you're a soft-cookie lover you might have written them off already based on color alone. But don't let the darker color fool you – they are soft, tender, and chewy, just like a chocolate chip cookie should be. The darker color simply comes from the dark brown muscovado sugar, which is full of natural molasses color and flavor, as well as the whole wheat pastry flour.
But make no mistake – these are not hippie cookies. Believe me, that's what I first think when I see natural sugars too.
No, these are indulgent, satisfying, I-dare-you-not-to-eat-the-whole-batch chocolate chip cookies. The fact that some of the stuff in there, while by no means health food, is just a bit better for you than the processed alternative? Consider that a bonus.
This recipe comes from Real Sweet, Shauna Sever's fab new book featuring all natural sugars. It actually utilizes two kinds of sugar, dark brown muscovado for flavor and moisture and coarse-grained turbinado sugar for a delightful crunch.
In a pinch, you could substitute dark and light brown sugars, respectively, but you'd be missing the amazing depth of flavor and subtle crunchy texture that the less-refined sugars bring to the table. I encourage you to seek them out, it's well worth it!
While the recipe calls for whole wheat pastry flour, I often find the flavor of it a little… dusty tasting (or maybe my flour is just old?) You can certainly swap in regular flour, or even do half and half if you prefer. Just don't use regular whole wheat flour which is higher in protein/gluten and may result in overly dense and chewy cookies.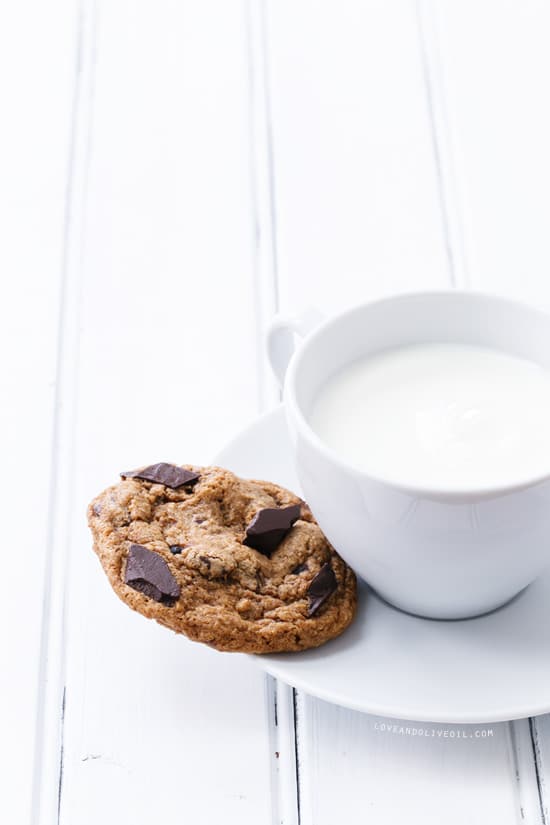 Muscovado Chocolate Chip Cookies
Ingredients:
1 2/3 cup (7 ounces/200 grams) whole wheat pastry flour, spooned and leveled
1/2 teaspoon fine sea salt
1/2 teaspoon baking soda
1/4 teaspoon baking powder
1/2 cup (1 stick)  unsalted butter, at room temperature
2/3 cup (5¼ ounces/148 grams) firmly packed dark muscovado sugar
1/2 cup (3½ ounces/100 grams) turbinado sugar
2 teaspoons pure vanilla  extract
1 large egg, at room temperature
1 generous cup (7 ounces/200 grams)  bittersweet chocolate chips (60% to 70% cacao)
Directions:
In a medium bowl, whisk together the flour, salt, baking soda, and baking powder.
In the bowl of an electric mixer fitted with the paddle attachment, beat together the butter, sugars, and vanilla extract on medium-high speed for 5 full minutes, or until lightened in texture and color. Add the egg and beat 1 minute more. Reduce the speed to low and stir in the dry ingredients. Stir in the chocolate chips. Cover the bowl and chill the dough in the refrigerator for at least 1 hour or up to overnight.
When you're ready to bake, position the oven racks in the upper and lower thirds of the oven and preheat the oven to 350 degrees F. Line 2 baking sheets with parchment paper.
Using a small ice cream scoop or 2 spoons, drop the dough by 2 tablespoonfuls onto the prepared baking sheets. Bake until the cookies are set enough on their perimeters so that you can lift the very edges with a fingertip, but still soft in the centers, 12 to 14 minutes— do not overbake. Let the cookies cool completely on the baking sheets.
Did you make this recipe?
Let us know what you think!
Leave a Comment below or share a photo and tag me on Instagram with the hashtag #loveandoliveoil.