This surprising and sophisticated cookie gets its refined texture from cacao butter; the addition of pretty-in-pink ruby chocolate chips add a hint of fruity flavor.
Swapping out half of the butter for cacao butter gives this cookie a unique shortbread-like texture that's unexpectedly delightful and surprisingly light, with a delicate white chocolate flavor. I bet you've never tasted a cookie quite like this before!
I've been thinking about making a cacao butter cookie for sometime now, but the question of execution has prevented me from actually doing it until now. A quick google search brought up Stella's recipe, and since everything Stella does is rock solid, I figured, why reinvent the wheel? I made a few small changes, including using ruby chocolate chips instead of milk chocolate, but otherwise the recipe is pretty true to the original.
What surprised me most was the texture and crumb of these cookies. While they look like they'd be soft and chewy like a sugar cookie or chocolate chip cookie, they are surprisingly light and also somewhat sandy, not unlike a shortbread or sable cookie in that sense.
The flavor is rich and buttery, like a mild white chocolate without the cloying sweetness. And the ruby chocolate provides a hint of acidity that complements the cacao butter perfectly. Ruby chocolate is often described as fruity, which it is. But it's not that it tastes like straight up berries, necessarily, rather the flavor is brighter and more tart than your typical one-note white chocolate. It's a little bit hard to explain such a complex flavor in mere words, so you'll just have to try it for yourself!
This is one of those cookies that will make you stop and ponder what you're eating, as the subtle flavors here continue to change and evolve with each bite you take; I'd argue it gets better as you continue to eat it.
Even more so when you move onto your second. 😉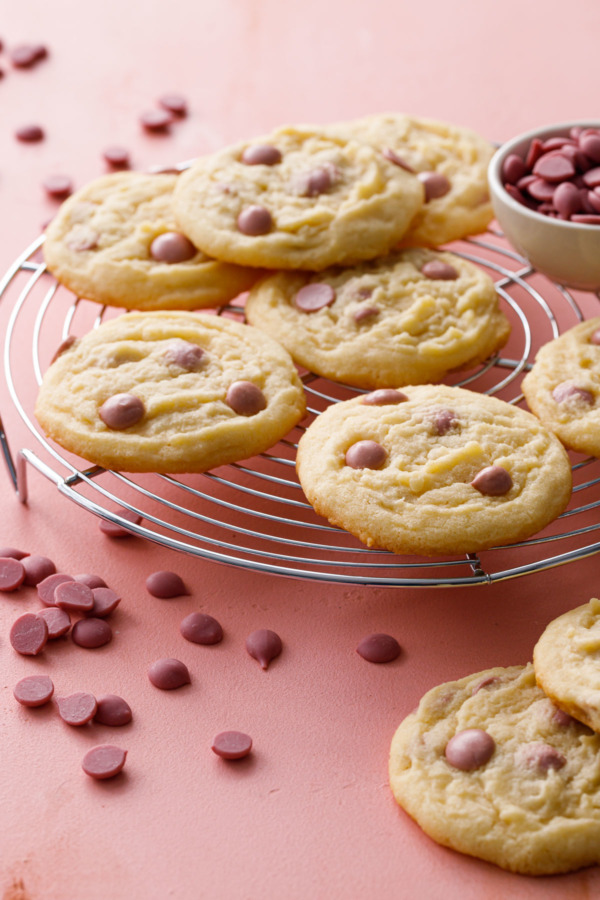 What is ruby chocolate?
Ruby chocolate was developed and patented by Callebaut, what they are calling the "4th type of chocolate" alongside dark, milk and white. It's made from specifically selected cacao beans processed in an innovative new way that creates the natural pink hue and fruity flavor without any added colors or flavors.
Currently only Callebaut produces ruby chocolate, and has partnered with a few select brands (including KitKat and Chocolate) to produce ruby chocolate products for consumers.
For this recipe specifically, I used Ruby Cacao Wafers from Trader Joe's. I haven't seen them in the store recently, so I assume they were a seasonal product (and will hopefully come back next winter), but in the meantime you can still find some for sale on Amazon. You can also use Callebaut baking callets (slightly larger but basically the same as TJ's 'wafers'), or even chop up a ruby chocolate bar into bite-sized chunks.
If you do opt for a more standard chocolate chip instead, I recommend using white chocolate or milk chocolate; dark chocolate will overpower the delicate flavors of the cacao butter and thus it's not ideal for this recipe.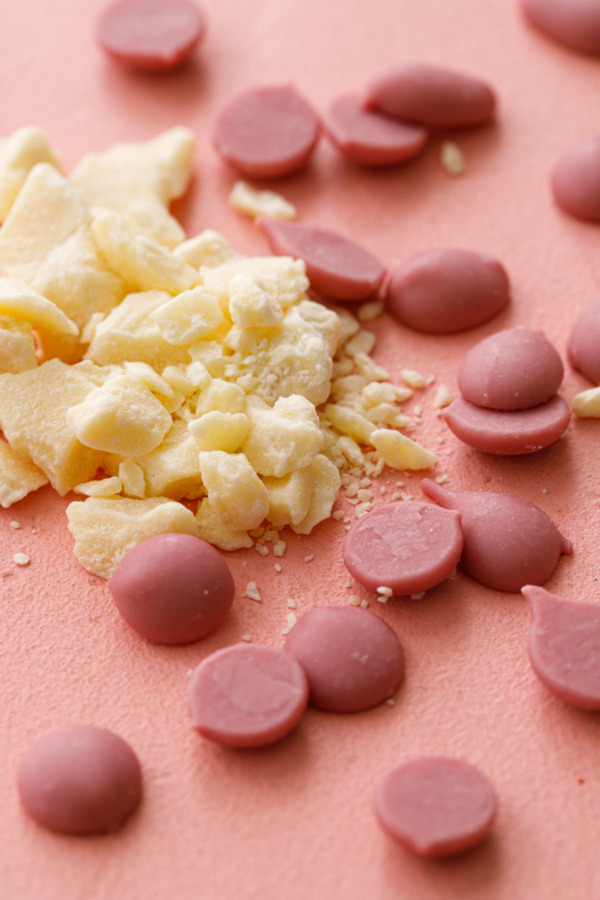 Now, as for the cacao butter, which is the second magical ingredient in these delightful cookies, it's a bit easier to come by. Any grocery store with a decent natural foods section should have bags of cacao butter available these days (it's a popular high-fat ingredient for keto baking, or so I hear). Look for food grade, organic, raw or cold-pressed on the label (not all cacao butters are created equal, some are more cheaply processed for beauty products and the like). I used Nativas brand from Whole Foods, but there are many other good quality brands available.
Why not all cacao butter?
You may notice this recipe still uses half regular butter. I know you might be thinking, I could make these dairy free and just use all cacao butter! Stop right there. Cacao butter is rock hard at room temperature and has a very high melting point; using 100% cacao butter here would make for unappealingly dry and crumbly cookies.
If you want to nix the dairy completely, try using a vegan butter replacement in place of the butter.


Be sure you keep a close eye on the cookies as they bake; I found that the final few minutes made all the difference. I accidentally overcooked my first batch, the bottoms were overly browned and the cookies were much drier and crumblier than the batch I cooked perfectly.
If you have light or medium colored baking sheets, use them. Dark baking sheets will brown the bottoms faster and result in uneven baking. If all you have are dark colored sheets, try stacking two identical sheets on top of one another, this will insulate the bottoms and keep them from browning quite so quickly.
This cookie dough freezes beautifully, and you can bake the final cookies straight from frozen if you like (just add a minute or two to the total baking time).
Cacao Butter & Ruby Chocolate Chip Cookies
Ingredients:
4 ounces (115g) raw cacao butter
1 1/4 cups (250g) granulated sugar
1 1/2 teaspoons (6g) kosher salt (if using Morton's or table salt use 3/4 teaspoon or 6g by weight)
1 teaspoon baking powder
1/4 teaspoon baking soda
1/8 teaspoon freshly grated nutmeg
1/2 cup (113g) unsalted butter, at cool room temperature
1 large egg, cold
2 teaspoons pure vanilla extract
2 1/3 cups (300g) all-purpose flour
5 ounces (142g) ruby cacao wafers (about 1 cup) or chopped ruby chocolate
Directions:
In a small saucepan, melt cacao butter over low heat. Once fully melted, pour into a large heat-proof mixing bowl or the bowl of a stand mixer fitted with a paddle attachment and let cool to 80 to 90 degrees F (it should no longer feel hot to the touch).
Add sugar, salt, baking powder, baking soda, nutmeg and butter. Cream on medium-high speed until mixture is fluffy and nearly white in color, about 3 minutes. Reduce mixer speed to low. Add egg, then vanilla, and continue beating until well combined. Scrape down the sides of the mixing bowl. Mix in flour on low speed until just incorporated, then fold in ruby cacao chips (set aside a few of the chips to place on top if you like).
Using a medium cookie scoop, scoop dough into balls (about 2 tablespoons or 36g each). Arrange on a parchment-lined baking sheet and refrigerate for at least 1 hour (you can also freeze the dough balls, then transfer to a zip-top bag for later use).
Preheat oven to 325 degrees F.
Arrange balls of dough on parchment-lined baking sheets, leaving about 2 inches of space between them. Place a few ruby chips on top if desired. Bake for 13 to 15 minutes or until puffed and just barley starting to brown around the edges; the tops will still be quite pale in color compared to standard cookies. Keep a close eye during the last few minutes as you don't want to overcook them. I found that darker baking sheets will brown the bottoms much quicker than lighter-colored pans (which is what I recommend using).
Let cool on baking sheets for about 5 minutes, then transfer to a wire rack to cool completely. Seal in an airtight container and store at room temperature for up to 4 days.
Did you make this recipe?
Let us know what you think!
Leave a Comment below or share a photo and tag me on Instagram with the hashtag #loveandoliveoil.