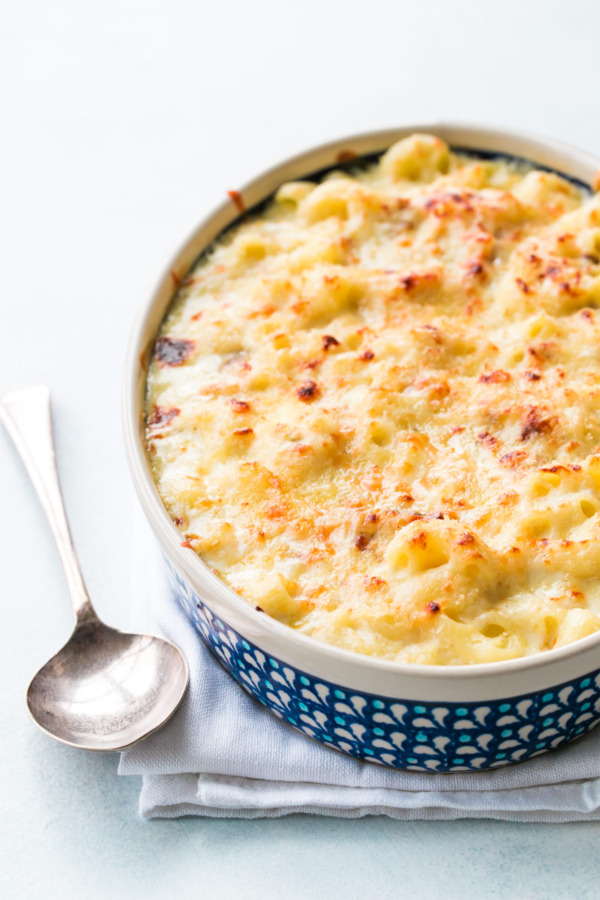 I thought I had my mac and cheese recipe perfected. With a combination of five cheeses for ideal flavor and texture, it really is the mac to end all macs.
And then I went and added caramelized fennel… and my life will never the same.
Seriously though, it's that good.
My plan is to make this for my dad the next time he's in town. He always orders mac 'n cheese whenever we go out, and let's just say his macaroni palette is very discerning. A good mac and cheese will delight him to no end, and a bad one, well, let's not talk about those.
And even though he's not a vegetable guy, I'm confident he'd this mac 'n cheese would fulfill his expectations (and then some).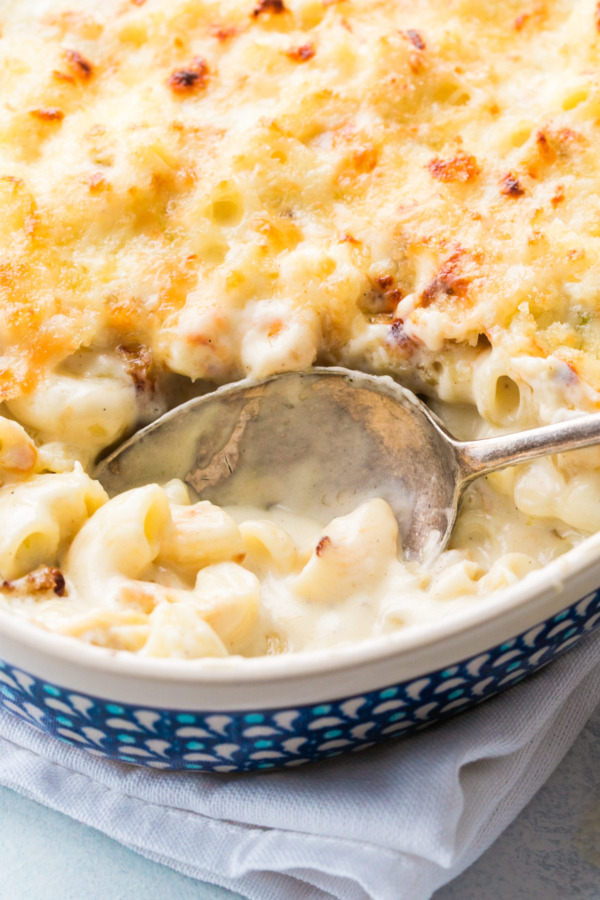 I've always loved fennel, with its subtle sweetness and licorice undertones. Caramelizing the fennel just takes it to another level entirely, much like onions (and caramelized onions are the closest comparison I can come up with here). It's downright sweet, if you can believe it. Once I saw how it could turn ho-hum stuffing into something truly remarkable, my brain started spinning, thinking of what else I could put it in… and mac 'n cheese seemed like the next logical step.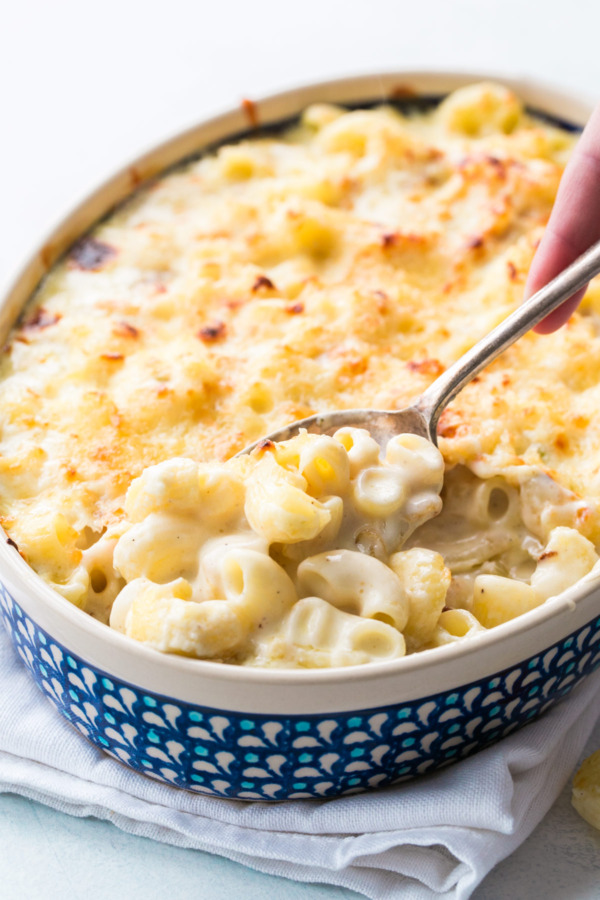 We caramelize the fennel in the oven, where you can basically forget about it for the duration of the cook time. So much easier than standing and stirring it on the stovetop until it caramelizes. Also, with such a large quantity of fennel as required for this recipe, you'd either need a really big pan or some serious patience for it to fully caramelize, which is why the oven a perfect alternative. That time is better spent grating cheese and getting the pasta started.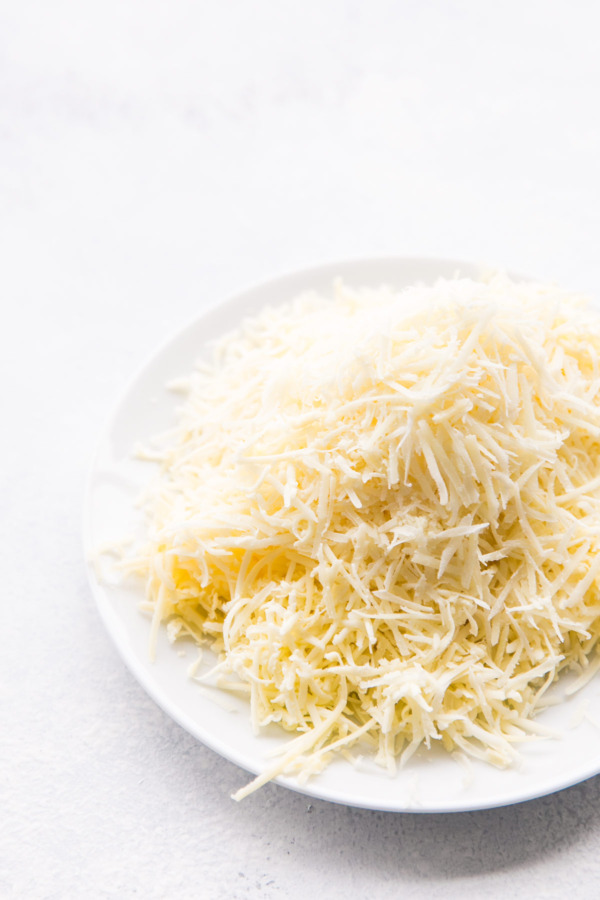 Unlike my five cheese mac and cheese recipe, this one only has four cheeses. No Camembert this time, since the fennel does more than enough to take the flavor over the top. But like before, the combination of cheeses is the key to perfect macaroni and cheese: cheddar (I like using a mild white cheddar) and gruyere as the foundation cheeses, with some pecornio for saltiness and depth and white American cheese for texture and stability (pro tip: check your grocery's deli counter. They usually have blocks of white American cheese there and can cut you off a chunk that you can grate yourself. It melts so much nicer than trying to use slices).
I like a little bit of texture to my mac and cheese, so I always sprinkle it with a bit of grated cheese and panko breadcrumbs, then broil it for a few minutes prior to serving. The chewy melted cheese and crunchy breadcrumbs add the perfect textural compliment to the unbridled creaminess. Of course, you could certainly serve this straight from the stovetop if you prefer (if you do, add the entire amount of cheese to the sauce instead of setting some aside for the topping; that will make the sauce slightly thicker to begin with).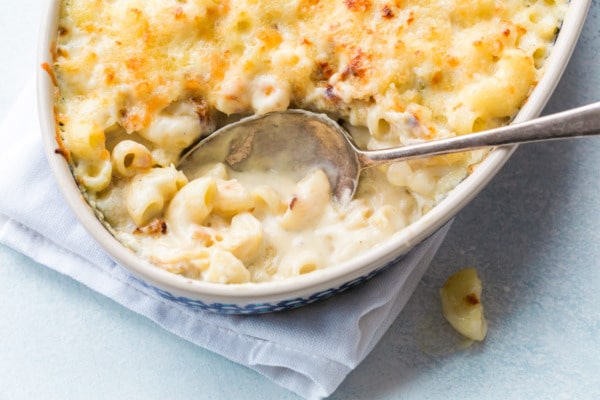 Caramelized Fennel Mac 'n Cheese
Rich and creamy four cheese mac 'n cheese is made even more flavorful with the addition of caramelized fennel.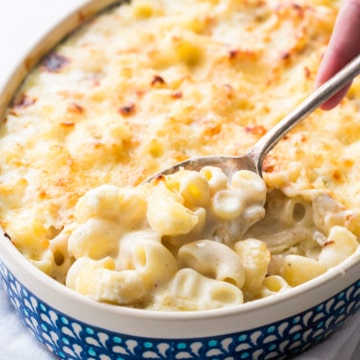 Ingredients:
1 large or 2 smallish fennel bulbs, cored and thinly sliced (about 4 cups sliced)
2 tablespoons unsalted butter, melted and slightly cooled
salt and black pepper, to taste
8 ounces elbow pasta
1/4 cup unsalted butter
3 tablespoons all-purpose flour
2 cups milk
1/2 cup heavy cream
1/4 teaspoon ground mustard
1/4 teaspoon ground fennel
3 ounces white cheddar cheese, grated (1 cup grated)
3 ounces gruyere cheese, grated (1 cup grated)
2 ounces pecorino cheese, finely grated (3/4 cup grated)
2 ounces American cheese, grated (3/4 cup grated)
1/4 cup panko breadcrumbs, for topping
Directions:
Preheat oven to 375 degrees F. Line a baking sheet with aluminum foil; lightly spray with cooking spray. Toss fennel with 2 tablespoons melted butter; season with salt and pepper. Spread fennel into a single layer on prepared baking sheet. Roast for 20 to 30 minutes, stirring once or twice, until fennel is softened and golden brown. Set aside.
Meanwhile, cook pasta in a pot of boiling salted water until barely al dente (usually about 1 minute less than the package instructs). Drain, reserving some pasta water for later use.
Melt 1/4 cup butter in a large skillet over medium-high heat. Add flour and whisk until frothy and no chunks remain. Slowly drizzle in milk, whisking vigorously to smooth out any chunks that may develop when the cold milk hits the hot pan. Just keep whisking and it will eventually smooth out. Continue to drizzle in milk, whisking until smooth. Whisk in heavy cream and about 1/4 cup of reserved pasta water (optional, but it'll help thicken and smooth out the sauce). Continue to cook, whisking occasionally, until slightly thickened, about 5 to 7 minutes. Whisk in ground mustard, fennel, and a pinch of salt and pepper.
Remove from heat and add cheeses, a handful at a time, whisking until smooth and fully melted after each addition. Reserve a handful of cheddar and gruyere for sprinkling on top, if desired.
Fold in cooked elbow pasta and caramelized fennel until evenly coated with cheese sauce, then pour into a lightly buttered casserole dish. Sprinkle reserved cheese and breadcrumbs over top.
Broil for 3 to 5 minutes or until cheese is melted and golden brown in spots and breadcrumbs are light golden brown. Let cool for 5 minutes before serving warm.
Did you make this recipe?
Let us know what you think!
Leave a Comment below or share a photo and tag me on Instagram with the hashtag #loveandoliveoil.