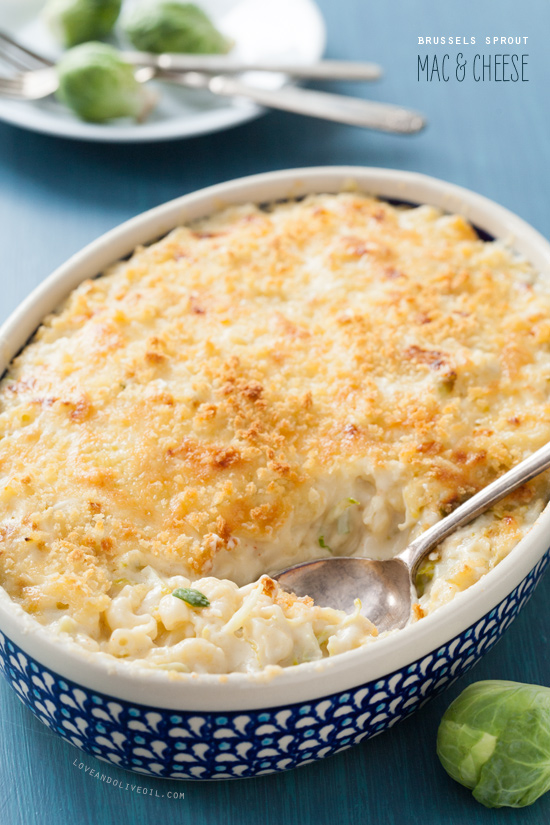 It's been a long time coming, this mac 'n cheese.
I'm fairly loyal to the boxed stuff, and will admit I had never really tried a homemade version before this year. Why? I have no idea.
I first attempted to recreate a version from a local restaurant in town. Word of warning: do not use buttermilk when making mac 'n cheese. Silo, it turns out, uses a buttermilk cheddar cheese from a local farm, not actual buttermilk. Want to know what happens when you heat up buttermilk? Curds. Glorious, chunky, unappetizing curds. It's not pretty and it sure as heck isn't creamy like cheese sauce should be.
Once we'd given up on that idea (it only took 3 tries to realize it was NOT going to work), we moved on to a basic mac and cheese, figuring if we could get a foundation in place, then we could start experimenting with add-ins. Batch after batch we made, and batch after batch we ate without being entirely pleased with the results. White pepper ruined it one night, too much mustard powder another. Not wanting to throw out perfectly good cheese, we ate more gritty, pasty mac and cheese than I care to admit. But the cheese turned out to be the most important factor of all. Extra-sharp cheddar cheese might sound promising, but it imparts an oddly bitter taste that has no place in my ideal mac and cheese.
Once we figured out that last part, replacing the sharp with a mild, white cheddar (the raw milk cheddar from Trader Joe's to be precise), it was like the planets aligned and everything came together in perfect, cheesy harmony.
Our favorite variation is this one, with thinly sliced Brussels sprouts interspersed amongst the cheese and noodles. With the right balance of cheese and spice, the Brussels sprouts fit into the mix perfectly, without a trace of bitterness to be found. It's creamy beyond compare, with the perfect bit of crunch from the cheese and breadcrumbs on top.
Granted, I'll still indulge in the odd box of instant mac, probably more often than I really should. Because really, there's something about that neon cheese powder, an intense craving, that homemade just can't satisfy. And yet, this homemade version is really growing on me. We've made it multiple times since we found our golden cheese ratio, and I find myself craving it at odd times of the day (like, uh, now?) Leave the Brussels out if you must, or play around with your own mix-ins, but I will say this: cheese matters. Stick to the varieties and the proportions listed in this recipe and you'll be saying cheese for a long time to come.
Brussels Sprout Mac 'n Cheese
Ingredients:
8 ounces elbow macaroni
2 1/4 cups whole milk
5 tablespoons unsalted butter
1/4 cup all-purpose flour
1/4 teaspoon ground cayenne pepper
1/4 teaspoon smoked paprika
salt and freshly ground black pepper, to taste
8 ounces mild white cheddar cheese, grated and divided
2 ounces gruyere cheese, grated
2 ounces pecorino cheese, grated
8 ounces Brussels sprouts, trimmed, cored, and very thinly sliced
1/4 cup Panko bread crumbs
Directions:
Preheat oven to 375 degrees F. Butter a 2-quart casserole dish (about 11×7 inches in size) and set aside.
Cook macaroni according to package directions until just barely al-dente (about 1 minute less than recommended cook time). Drain and set aside.
Meanwhile, melt butter in a large saute pan or high-sided skillet set over medium heat. When butter is melted and frothy, add flour and whisk until smooth and begins to bubble, 2 to 3 minutes. Slowly pour in warm milk, a little at a time, whisking vigorously, until all the milk is incorporated and mixture is smooth. Don't worry if the mixture gets oddly chunky for a bit, just keep adding milk a little bit at a time and whisking constantly to break up the chunks.
Continue to cook over medium heat, whisking regularly, until sauce bubbles and has thickened slightly, about 8 to 10 minutes. Remove from heat and whisk in cayenne, paprika, and salt and pepper. Slowly add cheeses, a handful at a time, whisking until melted before adding more. Add all but 1/2 cup of cheese (a mix of the three, set this aside for sprinkling on top). Stir in macaroni and sliced Brussels sprouts until evenly coated.
Pour into the prepared dish. Sprinkle with reserved cheese and breadcrumbs over top. Bake for 15 to 20 minutes or until filling is bubbling, then broil for 2 to 3 minutes or until breadcrumbs are golden brown. Remove from heat and allow to cool for 10 minutes before serving.
Did you make this recipe?
Let us know what you think!
Leave a Comment below or share a photo and tag me on Instagram with the hashtag #loveandoliveoil.