A Detroit-style pizza is characterized by its thick, chewy crust with bits of crunchy cheese caramelized around the edges. Here we've topped it with a savory and tangy mix of pepperoni and two kinds of pickled peppers.
When you're craving a hearty pizza with a thick and chewy crust, look no further than Motor City, USA.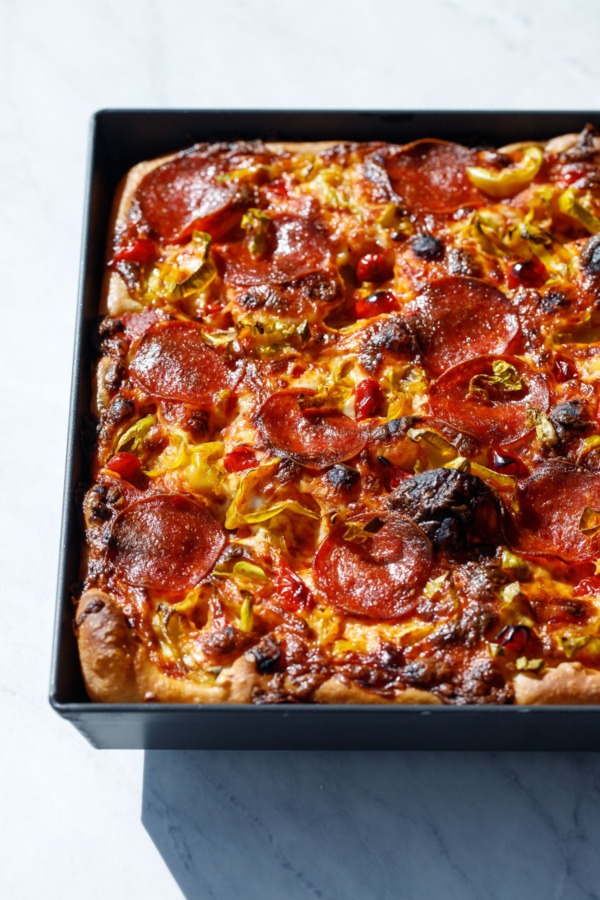 Peter Piper picked a peck of pickled peppers and put them on a pan pizza with some perfectly puckered pepperoni.
Now that's one tongue-pleasing tongue twister.
Detroit-style pizza is a lot like what some may call Sicilian style or grandma pizza (in fact I'd call Detroit-style pizza the descendent of Sicilian pizza), with a thick chewy crust baked to crispy perfection in a rectangular pan. Toppings will run the gamut as will the order in which they are layered (some call for meat first and then cheese, some dribble a few 'racing stripes' of sauce over the meat and cheese, while others, myself included, prefer the more traditional sauce-meat-cheese schematic).
But whatever you call it and however you assemble it, there's no denying it is downright delicious.
One characteristic of this particular recipe versus other kinds of pizza is the addition of extra cubes of mozzarella cheese pressed right into the crust, resulting in pockets of melty cheese that caramelize to a crisp where they meets the edges of the hot pan. While the original recipe has more cheese cubes on top, we liked it better with shredded cheese on top.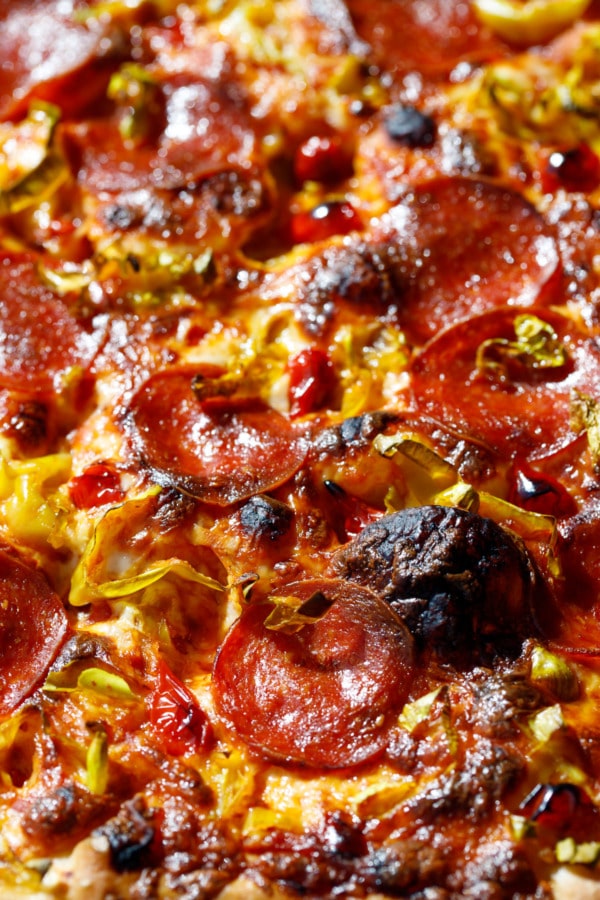 In terms of toppings, the sky's the limit here!
We opted for pepperoni and pickled peppers (two kinds, including pepperoncini and these adorable pepper drops, but sweet piquanté peppers (often called Peppadews) or even homemade pickled peppers would work as well!
We went with straight up mozzarella (half cubed, and half shredded), but you could use Fontina or Jack or even a mix of multiple kinds of cheese.
I also think this pizza would be great finished off with a drizzle of spicy honey. (I mean… right?!)
The crust itself is made with olive oil, and the method in which it is shaped and baked is reminiscent of focaccia bread – and when you taste the final pizza you'll definitely notice the similarities.
But honestly, focaccia bread makes an amazing base for pizza so it's not surprising the recipes are quite similar.


Most pizza dough recipes involve a floured surface to knead and shape, but not this one. Instead it calls for an oiled surface (messy, yes, but it makes this rather sticky dough much more manageable). Rather than grease up my nice marble countertop, I opted to use a sheet pan instead (which works well to contain the excess oil). Also don't forget to oil your hands too or you'll end up in a sticky mess.
The shaping process involves a series of folds; if you make homemade bread it'll probably be familiar to you. Basically you'll be performing three sets of four directional folds, one each at North, East, South and West. Grab the North side of the dough, stretch it up, then fold it up and over the rest of the dough. Repeat the same thing on the East side, then South and West. When you're done, flip the dough over and tuck in the corners to make a smooth ball.
Let the dough rest for about 5 minutes after each set of folds to let the gluten relax. Once you've folded the dough three times, then you can transfer it to a bowl and pop it in the fridge overnight.


The next day, take the dough out of the fridge about 5 hours before you plan to bake the pizza. Transfer it to your baking pan (there should be plenty of oil on the dough itself, but if it feels dry, add a little to the pan as needed).
Then press it out into the pan by dimpling the dough with your fingers, much like focaccia bread. This will probably need to be done over the course of an hour or so, each time stretching it a bit more with your fingertips and then letting the dough rest (resting lets the gluten relax so the dough will keep its shape better and not spring back as much).
Once the dough reaches the corners, add half of the cheese (the cubed half), pressing cubes down into the dimples you've made in the dough. Then let it sit, lightly covered in a warm, dry spot until noticeably puffed.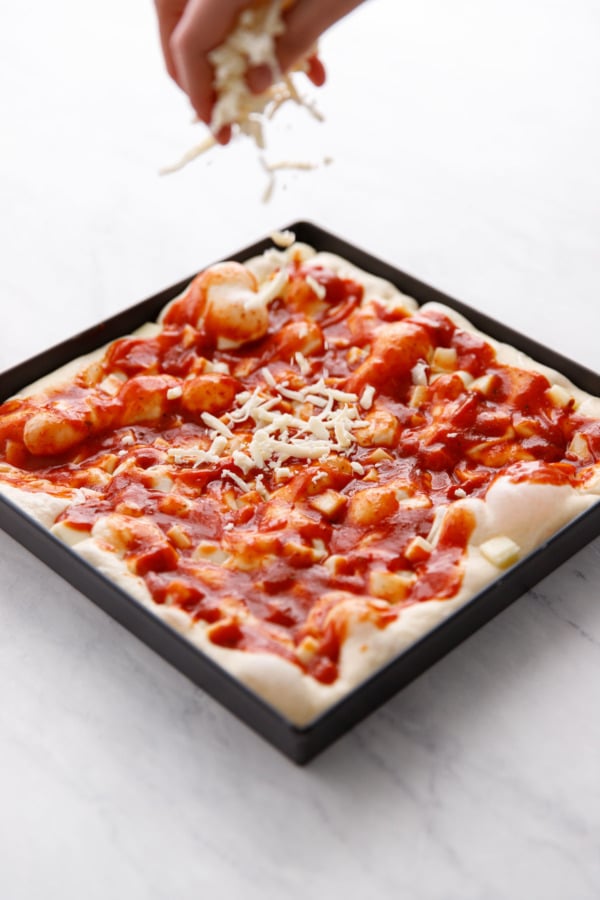 When you're ready to bake, spread the sauce on top of the pizza, followed by the shredded cheese, pepperoni and then peppers.
As you are shaping your dough and adding your toppings, don't pop any bubbles, in fact, do whatever you can to preserve them. In the oven they'll turn into gorgeous, bulbous black mounds which make this pizza look even more dramatic.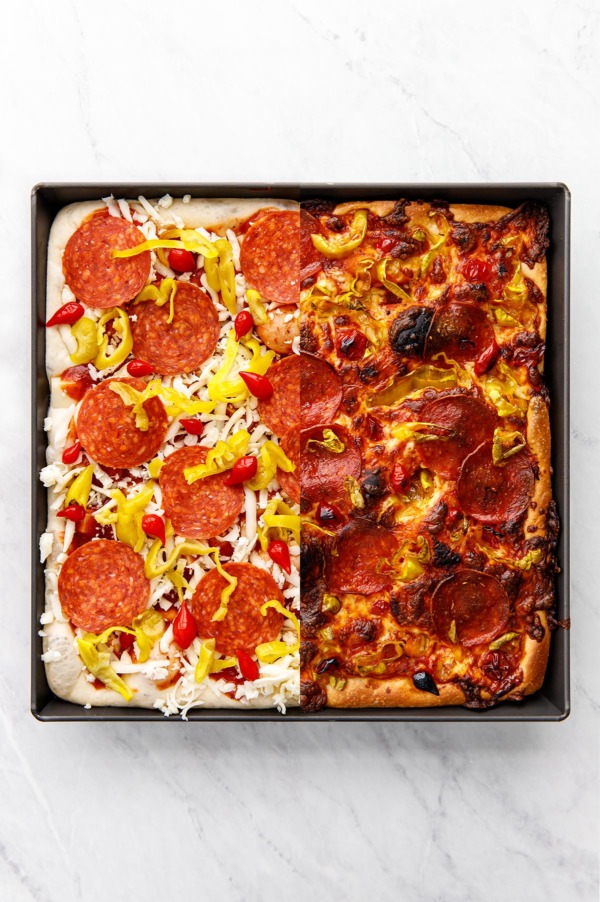 With any thick crust pan pizza it's important that it not be baked too hot – otherwise the top will burn before the center is fully cooked.
We found that 475 degrees was the sweet spot where the top gets nice and browned and spotty but the center still cooks through (when we cooked it at 450 the center was slightly better, but then we didn't get those gorgeous leopard spots). Of course, this might vary depending on your oven so keep an eye on it and adjust as necessary.
We also used a pizza stone (a preheated sheet pan would work too) and set the pizza pan right on top of the hot stone. This gives the bottom of the crust a little extra direct heat, helping it to cook through evenly, avoiding any doughy spots.
I scaled the original recipe from two 9-by-9-inch pans to one 10-by-10-inch pan, but the quantity would also work pretty well in a 9-by-13-inch pan as well (use the original recipe, undivided, for a thicker crust; my proportions will result in a bit thinner crust with that size pan).
When picking your pan, keep in mind that this kind of pizza will easily ruin a good baking pan, as it's nearly impossible to get off baked on cheese from even the highest quality baking pans (which are designed for things like cakes and brownies, not cheesy pan pizzas).
Ultimately if you want to make pan pizza on the regular, invest in a legit pan pizza pan. The special aluminum finish (also called blue steel) produces the perfect crispy edges with surprisingly easy cleanup.
Detroit-Style Pepperoni and Pickled Pepper Pan Pizza
Our favorite Detroit-style pan pizza features a thick and chewy crust with melty mozzarella cheese and a tangy mix of pepperoni and two kinds of pickled peppers on top.
Ingredients:
For Dough:
2 1/2 cups (318g) unbleached bread flour
1 teaspoon kosher salt
1 teaspoon instant dry yeast
1 tablespoon extra-virgin olive oil, plus more for shaping
1 cup cool water
For Assembly:
4 oz. mozzarella cheese, cut into ¼-inch cubes
4 oz. mozzarella cheese, shredded
1/2 cup pizza sauce or store-bought marinara sauce, room temperature
2 oz. thinly sliced pepperoni
½ cup sliced pepperoncini and/or Peppadew peppers
Directions:
To make the dough (this should be done the day before), in the bowl of a stand mixer fitted with the paddle attachment, stir together the flour, salt, and yeast. Add water and mix on low speed until a shaggy dough forms, about 30 seconds. Add the olive oil, increase the speed to medium, and mix until the dough is wet and sticky but still not yet a cohesive dough, about 30 to 60 seconds more. Let rest for 5 minutes.
Switch to the dough hook. Knead on medium speed until the dough is smooth and supple yet still quite sticky, about 3 to 5 minutes.
Drizzle a clean sheet pan liberally with oil. Oil your a dough scraper as well as your hands. Scrape the dough out onto the oiled surface; it should slump into a shallow dome.
To shape, lift one end of the dough (we'll say the top side, or North side for convenience), stretching gently, and fold it over itself to the other side. Lift the right or East side, again stretching gently, and flip it over the folded end like a letter. Fold the South and West sides in the same manner, then flip the dough over so that the smooth side is up, tucking in the corners to form a rounded ball.
Let rest for 5 minutes, then repeat the North/East/South/West folds at least two more times (three times total), drizzling more oil on your work surface and hands as needed. By the third set of folds, the dough should be much smoother and firm enough to hold itself together in a ball. Transfer the dough to a lightly oiled large bowl, cover with plastic wrap, and refrigerate for at least 12 hours and up to 3 days.
Five hours before you plan to bake the pizza, remove the dough from the fridge.
Drizzle a 10-by-10-inch baking pan with a bit of oil. Place the ball of dough into the pan and then, using your fingertips, dimple and press the dough out towards the edges (it won't reach all the way just yet).
Cover loosely with plastic wrap and let rest at room temperature for 20 minutes. Uncover and dimple the dough outward again (it should get a little closer to the edges but still not quite there). Rest and repeat again, until the dough covers the entire surface of the pan. Sprinkle the cheese cubes on top, gently pressing them into the dimpled dough. Cover with plastic wrap and let rise in a warm spot until the dough has puffed and doubled in height, about 3 to 4 hours.
About 20 minutes before you plan to bake the pizza, set a rack in the center of the oven and preheat to 475°F. Place a pizza stone or a thick metal baking sheet in the oven to preheat (a stone will take the entire time to preheat, a pan only needs 10 minutes or so).
Uncover the pan and spread a thin coat of the sauce over the dough. Top with shredded cheese (make sure to get plenty around the edges, where the dough meets the pan), followed by the pepperoni and pickled peppers.
Bake in preheated oven for 10 minutes, then rotate and continue baking until the cheese caramelizes to a deep golden brown, and the crust bubbles and browns, 10 to 15 minutes more. Remove from oven.
While the pizza is still hot, carefully loosen the pizza from the edges of the pan using an offset metal spatula or bench scraper, then carefully slide it out onto a cutting board. Let rest for at least 1 minute, then cut into squares and serve immediately.
To use a 13×9 pan (or two 9×9 pans), use the dough quantities from the original recipe (my final recipe has slightly different proportions, but the thickness will be better if you don't have the same 10-by-10-inch pan I used).
Did you make this recipe?
Let us know what you think!
Leave a Comment below or share a photo and tag me on Instagram with the hashtag #loveandoliveoil.