Tacos have officially come out of their shells. These turkey taco rice bowls have all your favorite taco fixin's served atop a bed of romaine lettuce and tangy cilantro rice.
Everything you love about classic hard-shell tacos – without the shell. Instead, the flavorful seasoned ground turkey, black beans, fresh avocado and sour cream are piled high into a bowl along with cilantro rice and shredded romaine lettuce.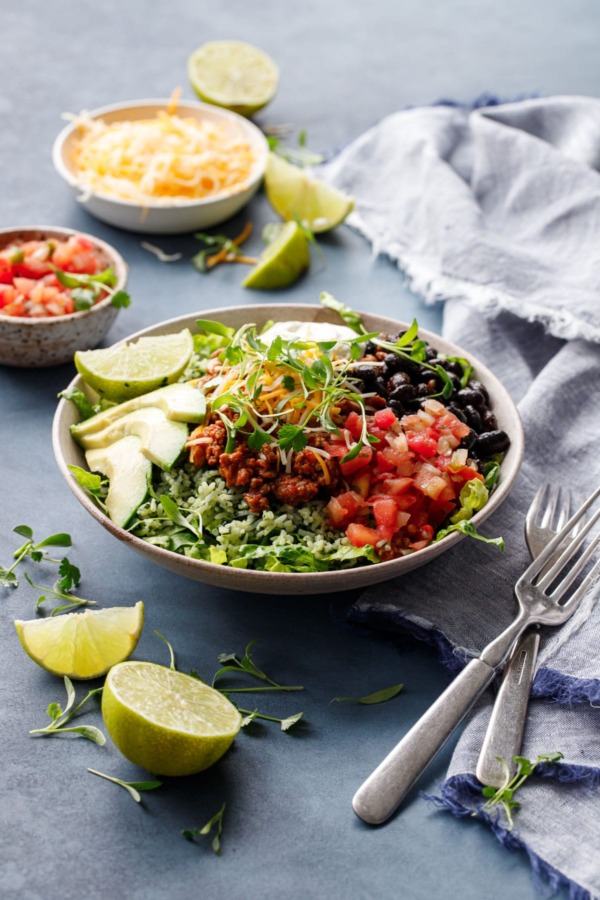 I love a good taco. Preferably the classic Americanized version in a hard corn shell with seasoned ground beef, cheese, sour cream and romaine lettuce.
I could seriously devour 3 or 4 of them all by myself (and if you know me, you know I'm typically a light eater, so 3 whole tacos is a B.F.D.)
These taco bowls take everything you love about that classic hard-shell taco… without the hard shell. Instead, we've piled all your favorite fixin's on a bed of tangy cilantro rice and shredded romaine lettuce.
It's part taco salad, part rice bowl, and entirely delicious.
We've opted to swap out the classic ground beef for ground turkey (dark meat please; lean ground turkey is just too dry for this). With a generous amount of seasoning the turkey comes out just as flavorful as any beef version.
The addition of the chicken broth helps to make the meat extra saucy, and not at all dry like ground turkey can often be.
If you do use beef (and you certainly can if you prefer), you probably won't need a full 3/4 cup of chicken broth (beef broth works too), since ground beef tends to be fattier and therefore juicer. Or you can cook the ground meat most of the way, then spoon off the excess fat, and then add enough broth to make it nice and saucy.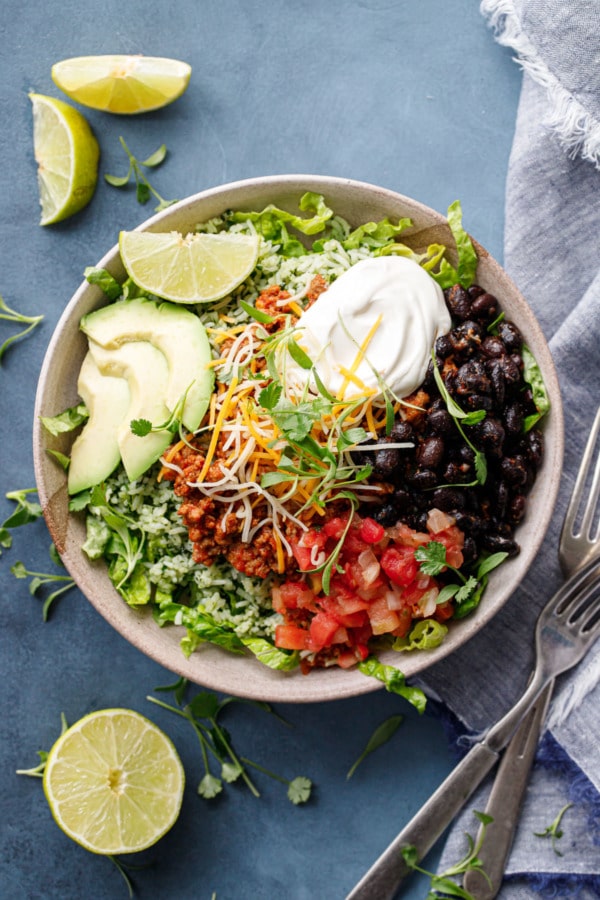 Our taco seasoning blend includes both chili powder and chipotle chili powder for an incredible, well-rounded flavor and spice, along with some tomato paste for added depth and umami (something that's often missing from turkey tacos because of the lower fat content).
Keep in mind: not all chili powders are not created equal. Our experience has proven that some brands are significantly spicier than others (which we discovered when we made our tried and true homemade taco seasoning mix with a different brand of chipotle chili powder… and just about burned out the inside of our mouths). Since chili powder is also a blend of spices, you'll also encounter different flavors as well as different levels of salt (some chili powders include salt, in which case you'll definitely need to adjust what's listed below).
For this particular batch we've used chili powder from The Spice Hunter (with whom we partnered for a few recipes last fall and had some product leftover – this particular post isn't sponsored but we continue to use the products because it's good stuff!) I also really like the Frontier chili powder from Whole Foods. The chipotle chili powder is from World Spice; it's smokier than regular chili powder and we find gives a really lovely sultry undertone to the taco meat.
So with that said, you may not need the full tablespoon of chili powder or chipotle chili powder. Use your best judgement; and remember, you can always add more seasoning if necessary but you can't take it away. As soon as your ground meat is fully cooked through, give it a taste, and add more chili powder and/or salt until it suits your personal tastes.
But let's not forget the foundation that makes this recipe what it is: the cilantro rice. It's fabulous on its own, and would also be a great side dish for any Tex-Mex recipe.
We considered using a classic tomato-based red rice here, but found that the tanginess of the lime and cilantro proved a better companion for the spicy taco meat. It's also much easier to prepare (just cook your rice according to the package instructions or in a rice cooker if you have one, then fluff it and fold in the cilantro mixture).
Feel free to use brown rice as well (give yourself extra time since brown rice easily takes twice as long to cook), or heck, this recipe would even work with cauliflower rice if you really want to health it up even more.
Turkey Taco Bowls with Cilantro Rice
Everything you love about classic tacos – without the shell. Instead, the flavorful seasoned ground turkey and classic taco toppings are served on a bed of cilantro rice and shredded romaine lettuce.
Ingredients:
For Cilantro Rice:
1 cup basmati rice
1 1/2 cups packed fresh cilantro leaves and tender stems (from 1 large bunch)
2 tablespoons olive oil
2 tablespoons fresh lime juice
1 garlic clove
1/2 teaspoon salt
1/4 teaspoon ground cumin
For Taco Meat:
1 tablespoon vegetable oil
1 medium onion, chopped (about 1 cup chopped)
3 garlic cloves, minced
1 pound ground dark meat turkey (you can also use lean ground beef)
1/2 to 3/4 cup chicken broth
2 tablespoons tomato paste
1 tablespoon chili powder, or to taste
1 tablespoon ground chipotle chili powder, or to taste
1 teaspoon ground cumin
1 teaspoon dried oregano
1/2 teaspoon ground coriander
1/2 teaspoon kosher salt (increase to 3/4 or 1 teaspoon if using salt-free chili powders)
¼ teaspoon ground cayenne
1 teaspoon cider vinegar
For Assembly:
1 cup canned black beans
1 tablespoon olive oil
1 teaspoon lime juice
1/4 teaspoon ground chipotle chili powder
1 head romaine lettuce, thinly sliced
 finely shredded cheddar cheese
sour cream
fresh cilantro leaves or micro cilantro
pico de gallo fresh salsa
1 avocado, thinly sliced or cubed
Directions:
Cook rice according to package instructions or using a rice cooker.
Meanwhile, combine cilantro, olive oil, lime juice, salt, garlic and cumin in a food processor. Pulse until coarsely chopped and no large leaves of cilantro remain. When rice is done cooking, fluff with a fork, then stir cilantro mixture until rice is evenly coated. Cover and set aside to keep warm.
Heat vegetable oil in a large nonstick skillet over medium heat. Add onion and garlic and cook until softened, 3 to 5 minutes. Add ground turkey and continue to cook for about 5 minutes or until mostly cooked through. Add chicken broth, tomato paste, salt and spices and cook until liquid has reduced and ground beef is nice and saucy. Depending on how fatty/juicy your meat is you may want to add a bit more broth as desired (ground turkey tends to be drier and will likely need the full 3/4 cup, while ground beef will likely need less liquid). Taste and add more salt or chili powder if needed. Remove from heat and stir in cider vinegar.
Meanwhile, drain and rinse black beans. Toss in a bowl with a drizzle of olive oil, lime juice, chili powder and a pinch of salt. Stir until evenly coated.
To serve, place a handful of sliced lettuce in the bottom of each bowl. Top with rice, and spoon on ground turkey and beans. Place a dollop of sour cream in each bowl. Sprinkle with shredded cheese, fresh cilantro and pico de gallo, and arrange avocado slices along the side of the bowl. Serve warm.
Did you make this recipe?
Let us know what you think!
Leave a Comment below or share a photo and tag me on Instagram with the hashtag #loveandoliveoil.