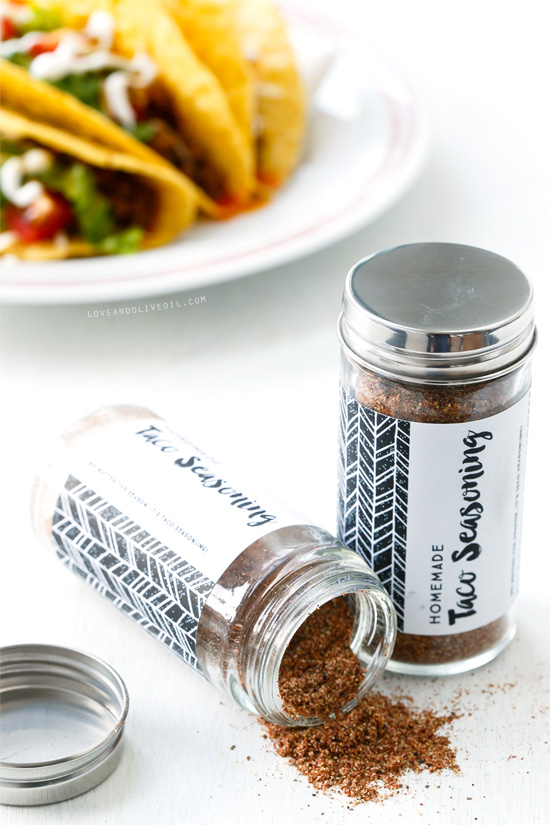 No matter the season, it's taco season(ing).
Seriously though. Is there anything as satisfying year-round as a classic American taco: soft or crunchy, beef or turkey, piled high with the toppings of your choice? It's the ultimate democratic food: everyone gets exactly what they want.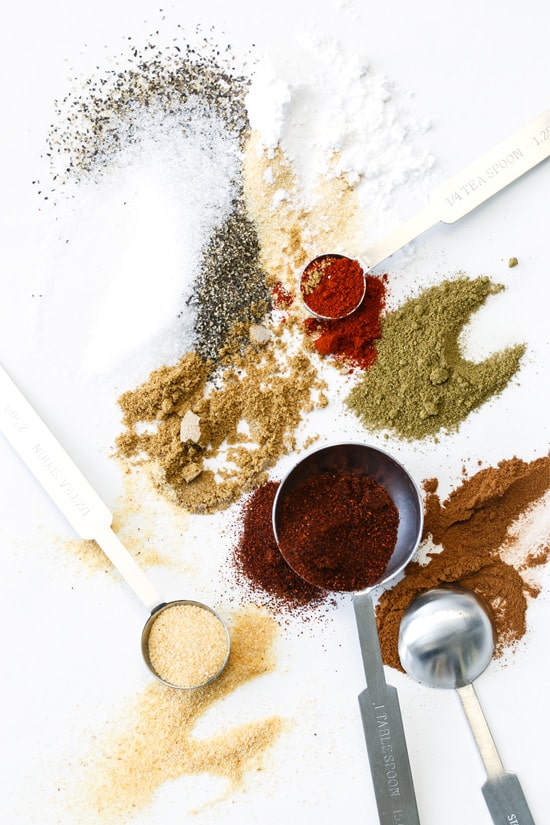 Just in case you thought that all taco seasoning comes from a little paper packet, here's proof that you can, indeed, make it yourself.
Making your own seasoning mix also means you can customize it to your personal tastes. This particular mix is our favorite, flavored mainly with Ancho chile powder for a subtle smokiness and spice, with hints of cumin, oregano, paprika, and cinnamon (yes, cinnamon!) for added depth. But feel free to tweak and adjust as you please. Maybe you like it spicier, in which case add some Cayenne. Sweeter? Add brown sugar. Smokier? Up the ancho and smoked paprika, and even sub out some of the sea salt for smoked salt.
Might I suggest buying your spices in bulk (check out your local Mexican grocer) and mixing up a big batch of this at once. Then divide them among empty spice bottles (I got mine from the Container Store), and give them away as gifts. I've even designed some eye-catching labels (complete with cooking instructions) for you to print and stick to your jars for an extra special presentation (click through to download!)
Just don't forget to keep a bottle (or two) for yourself.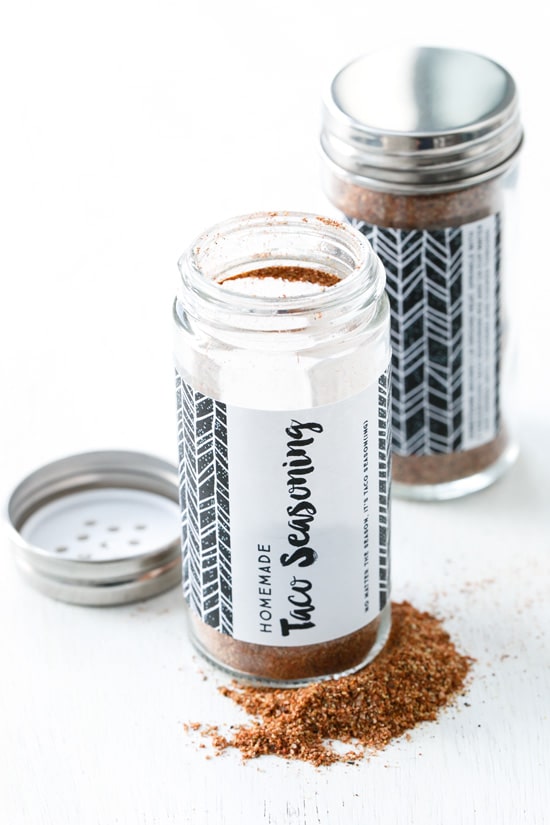 One ingredient that you may not have seen before is arrowroot powder, which serves as a thickener for the sauce. It functions similarly to cornstarch in that respect (and, while relatively easy to obtain, if you can't find it, you can substitute cornstarch instead).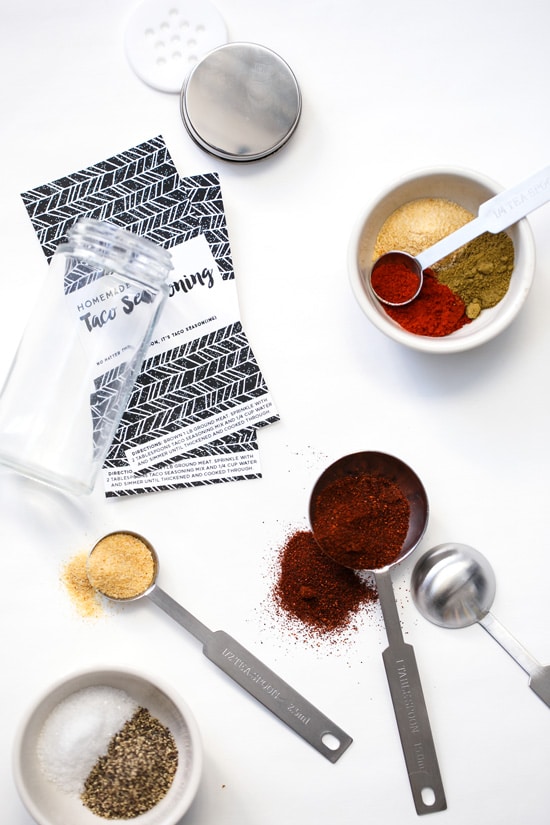 One batch of this spice mix will perfectly fill one standard size spice jar, and is enough for two pounds of taco meat (about 2 tablespoons per pound). You can use ground beef, turkey, chicken… even black beans or tofu for a vegetarian taco. Again, it's all a matter of personal preference.
Homemade Taco Seasoning
Ingredients:
3 tablespoons ground Ancho chile powder
1 1/2 teaspoons garlic powder
1 1/2 teaspoons onion powder
1 1/2 teaspoons ground oregano
1 1/2 teaspoons arrowroot powder
1 teaspoon ground cumin
1 teaspoon smoked paprika
1 teaspoon fine sea salt
1 teaspoon ground black pepper
1/2 teaspoon ground cinnamon
Directions:
Combine all spices in a small dish until evenly distributed. If not using right away, transfer to an airtight container or empty spice jar.
To prepare tacos, cook 1 pound ground beef, chicken or turkey in a large pan over medium-high heat. If there is more than 1-2 tablespoons or so of fat, spoon out excess (if you are using lean meat you can likely skip this step). When meat is just about cooked through, add spices (2 tablespoons per pound of ground meat) and water (2 to 4 tablespoons or as needed), stirring until meat is evenly coated and fully cooked and sauce is thickened. Spoon into tortillas or taco shells and top with assorted toppings.
Did you make this recipe?
Let us know what you think!
Leave a Comment below or share a photo and tag me on Instagram with the hashtag #loveandoliveoil.
Bonus Printable Labels
Perfect for gift giving, these modern black and white labels add personality and charm to your homemade taco seasoning. The downloadable PDF file includes six 2.25-by-4.5-inch rectangle labels, designed to perfectly fit any standard-size spice jar.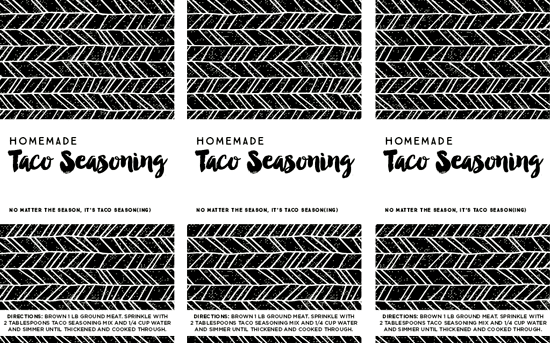 To use, simply download the printable file by completing the form below. Print your labels onto full-sheet sticker paper, cut out, and apply directly to the the finished jars.