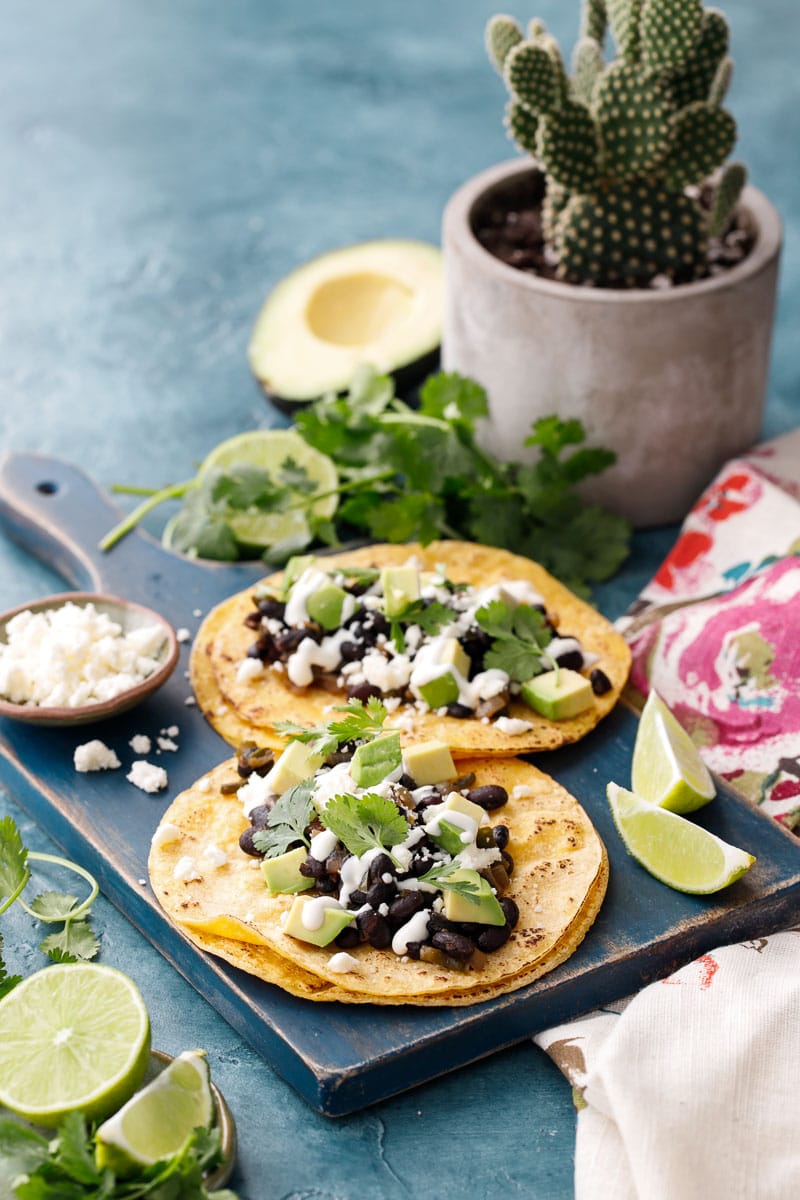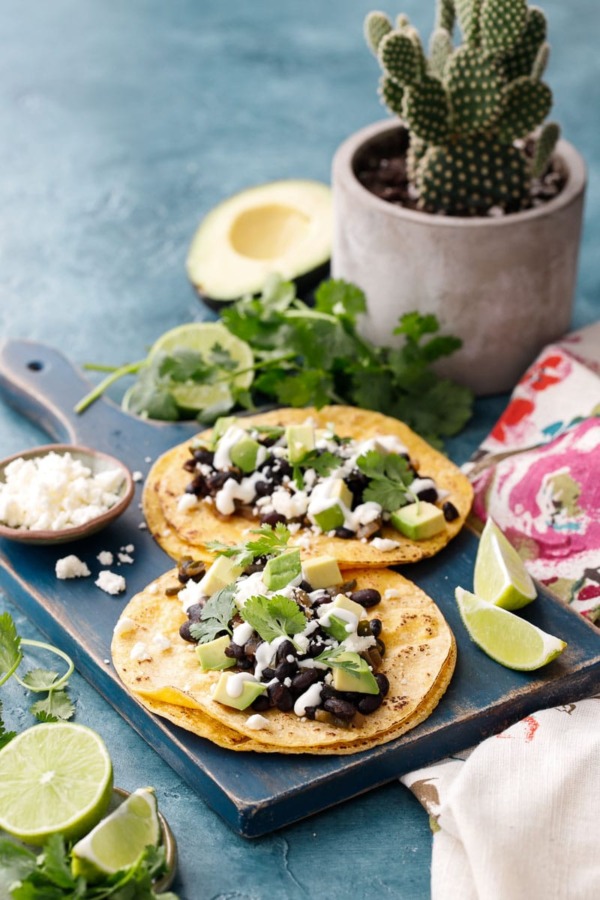 I love a good ground beef taco, but sometimes, you just don't want something quite so greasy.
We set out to create a vegetarian black bean taco that was light on fat but heavy on flavor.
By cooking dried beans ourselves we were able to leave them more aldente, so they hold their shape and carry a pleasant bite to them in the final tacos (canned beans, I've found to be much more mushy).
With three kinds of peppers (poblano, jalapeno, and chipotle in adobe) plus cumin and a touch of lime, this taco is light and fresh and ultra flavorful.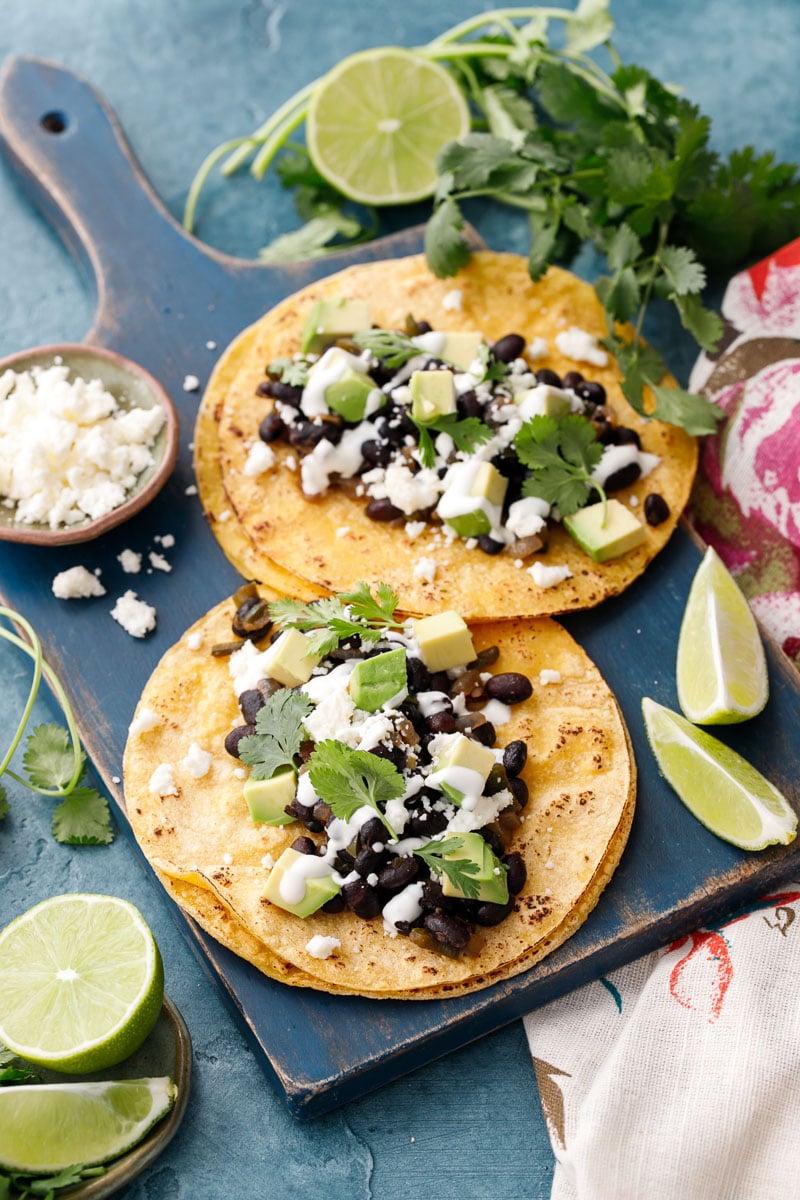 In terms of toppings, we opted for simple: with diced avocado, fresh cilantro, crumbled cheese (queso fresco or cotija) and a drizzle of sour cream. I like to mix my sour cream with a bit of lime juice and a splash of milk to thin it out, so it's more akin to a tangy Mexican crema than thick sour cream, which allows me to drizzle rather than dollop. Mix it up and transfer it to a squeeze bottle for even easier drizzling.
I also think these tacos would be great with the same pickled red onions that we used on our pulled pork tacos, or even this cilantro chimichurri. You can really mix and match the toppings to your heart's desire.
I'm happy to say that we've finally, after years and years of dealing with mushy, crispy, or broken corn tortillas, figured out how to properly warm a store-bought corn tortilla, leaving it soft and pliable and perfect. Of course, ideally you'd be making your own corn tortillas, but that's not always an option.
How to properly warm corn tortillas:
Preheat a nonstick skillet or griddle pan over medium heat. It should be nice and hot (a drop of water should sizzle when it hits).
Take a tortilla and quickly dip it in a bowl of water. You don't want to soak it, but dip and remove it so it's evenly moistened.
Brush your skillet with a light layer of vegetable oil, then add the moist tortilla to the pan. After a few seconds shake the pan a bit so the tortilla doesn't stick.
Cook for 30 to 60 seconds until moisture has mostly evaporated, then carefully flip and cook for another 30 seconds more. Transfer to a plate and cover with plastic wrap, foil, or a clean kitchen towel while you heat the rest of the tortillas (this covering serves two purposes, to keep the tortillas warm and also to 'steam' them which makes them soft and flexible).
Ta-da! Perfectly warmed tortillas that WON'T BREAK when you're eating your tacos!
And if you want that perfect bit of char around the edges, just run the tortilla over a gas burner or take a kitchen torch to it. It doesn't add much in the way of flavor but sure does make for a pretty picture. :)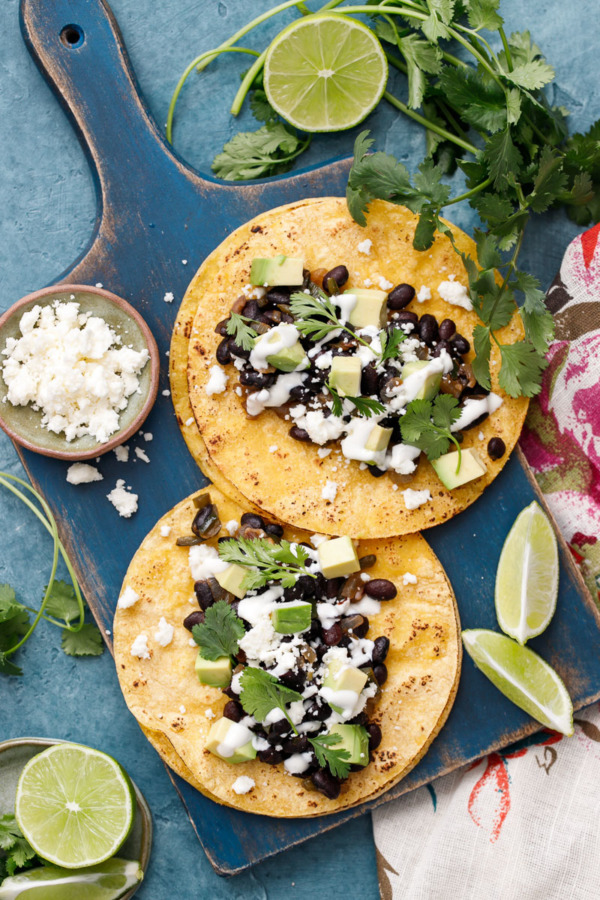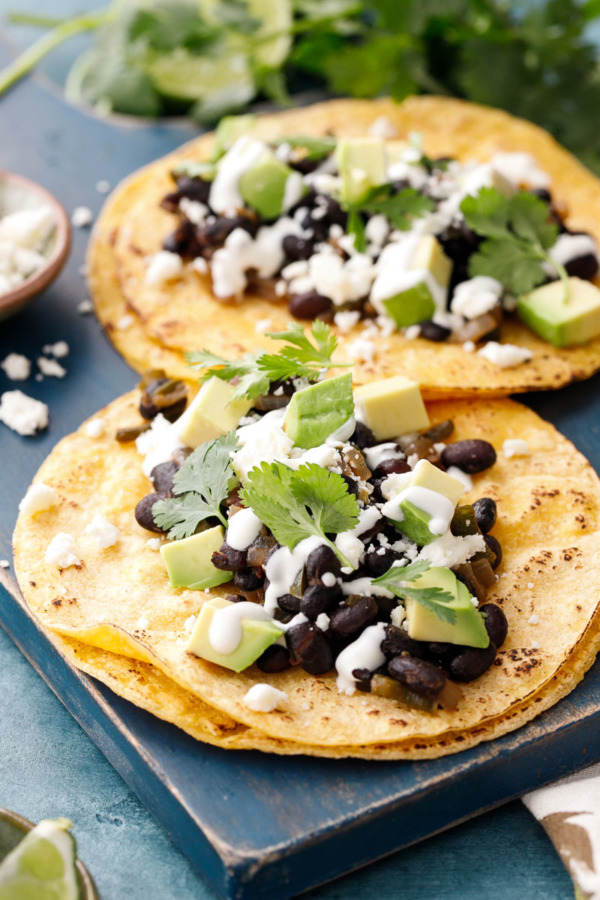 With dried beans you have more control over the flavor and consistency of the final product. While you can used canned black beans here if you must (drained and rinsed, please!) I often find them mushy.
Plan head: get your dried beans soaking the night before, which will allow them to cook quicker the following day. Give yourself a good hour to simmer the beans, then another 30 minutes to prepare the final taco mix.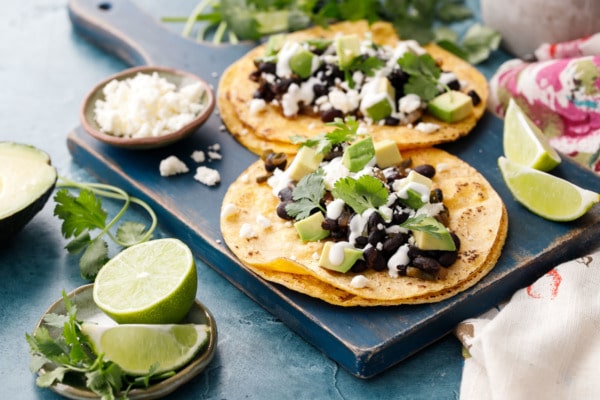 Vegetarian Black Bean Tacos
Dried black beans are simmered with 3 kinds of peppers and a hint of lime juice for a surprisingly flavorful vegetarian taco. Serve in warm corn tortillas with fresh cilantro, avocado, sour cream and crumbled queso fresco cheese.
Ingredients:
1 cup dried black beans
1 bay leaf
2 teaspoons kosher salt
1 dried chile
2 tablespoons olive oil
1 onion, chopped
3 garlic cloves, minced
1 large poblano pepper, seeded and chopped
1 jalapeño pepper, seeded and finely chopped
1 chipotle pepper in adobo sauce, finely chopped (about 1 tablespoon)
1/2 teaspoon ground cumin
salt, to taste
lime juice, to taste
16 corn tortillas, warmed
fresh cilantro, diced avocado, sour cream, and crumbled queso fresco or cotija cheese, for topping
Directions:
The night before, place black beans in a quart-sized container or jar and fill with cold water (you'd be surprised how much liquid they'll absorb and you want them to be covered). Cover and refrigerate overnight.
Drain black beans; place in heavy saucepan or dutch oven. Fill with water to within 2 inches of the top of the pot. Add bay leaf, salt, and dried chile. Place over medium-high heat and bring to a simmer; reduce heat to medium-low, cover, and maintain a simmer, stirring occasionally, for approximately 40 to 50 minutes or until beans are tender but still al dente, and just barely starting to fall apart. Drain well, reserving 1 cup of simmering liquid for later. Discard bay leaf and dried chile.
In a large skillet or wok, heat olive oil until hot and shimmering. Add onion, garlic, poblano and jalapeno and sauté for about 8 to 10 minutes or until beginning to soften. Add chipotle and cumin and a generous pinch of salt.
Add drained black beans and toss to coat.
Add 1/4 cup of reserved black bean liquid, simmering until liquid has mostly absorbed/evaporated. Continue adding liquid, 1/4 cup at a time, stirring until water has mostly evaporated and beans are well coated.
Season to taste with lime juice and salt, as desired.
To assemble, spoon a bit of black bean mixture down the center of each tortilla, Top with cilantro, avocado, crumbled cheese and a drizzle of sour cream. Serve warm.
Did you make this recipe?
Let us know what you think!
Leave a Comment below or share a photo and tag me on Instagram with the hashtag #loveandoliveoil.