Tender chicken thighs braised in a flavorful tomato-based sauce, rich and subtly smoky with a pleasant amount of heat. No salsa necessary for these tasty tacos!
Chicken tinga is a one-pot wonder of a recipe; by cooking the chicken in the sauce you amp up the flavor exponentially, not to mention make it easy on yourself when it comes time to clean up.
Chicken tinga is everything you want in a dinner recipe: one pot, easy, flavorful, and it makes for great leftovers (those are the best kinds of recipes, don't you agree?)
The robust tomato-based sauce is surprisingly flavorful considering it contains just a few ingredients, and the chicken soaks up all that amazing flavor as it cooks.
That said, you could certainly make the sauce as directed here and throw in some shredded rotisserie chicken at the end if you prefer.
While we dished up our chicken tinga in corn tortillas taco-style, you could also spoon it over rice or quinoa with a side of sautéed veggies, or even serve it over scrambled eggs for breakfast, ranchero style.
Since the chicken itself is so flavorful (not to mention super sauce so, no extra salsa needed), we kept the toppings simple: a sprinkle of crumbled cotija cheese, thinly sliced pickled red onions, and fresh cilantro (we scored and found some micro cilantro at the farmers market, which is one of my favorite microgreens but also one of the hardest to come by).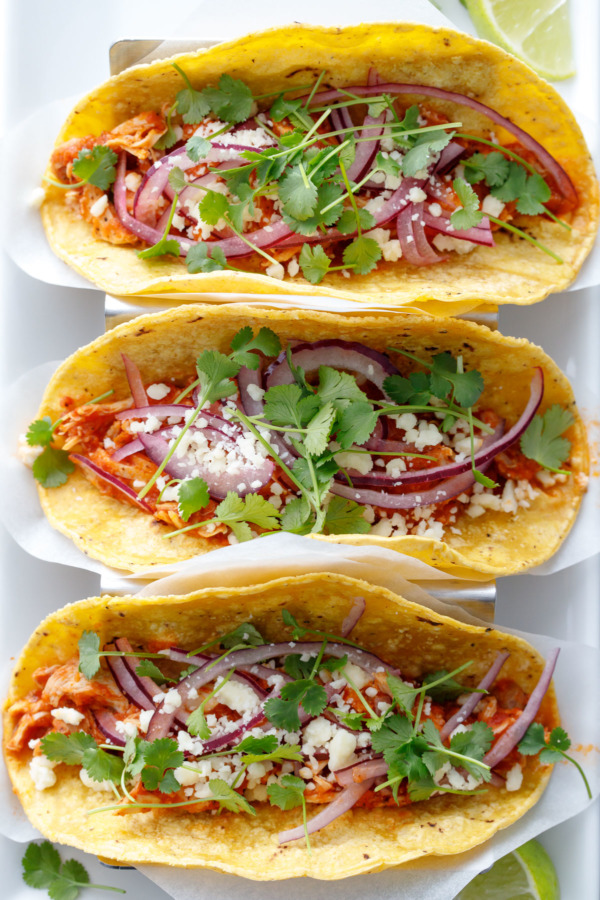 If you wanted to swap in bone-in chicken thighs for even more flavor, by all means do: you'll just want to braise it for another 10 minutes or so (use an instant read thermometer to check that it's cooked through to 165 degrees F before pulling it).
I'll say it again, this recipe makes amazing leftovers, and freezes beautifully to boot, so definitely make the full recipe regardless of how many people you're feeding.
A full batch made enough to feed the two of us for 4 full meals (we froze half of it because, let's face it, even the most delicious recipes get tiresome after eating them a few meals in a row).
But being able to thaw it out and enjoy these tacos again the next week with little to no effort, well, we were most certainly thanking our past selves for having the foresight to make extra.
(Another reason we were thanking our past selves? For buying these nifty taco holders. I mean, brilliant, right?!)
Saucy Chicken Tinga Tacos
Tender chicken thighs braised in a flavorful tomato-based sauce, rich and subtly smoky with a pleasant amount of heat. Served in corn tortillas with cotija cheese, pickled red onions and fresh cilantro.
Ingredients:
1 tablespoon vegetable oil
2 pounds (about 6-7) boneless skinless chicken thighs
1 large onion, chopped
1 jalapeño, seeded and chopped
4 garlic cloves, minced
28oz. fire roasted diced tomatoes
2 tablespoons chopped chipotle peppers in adobo sauce
1 teaspoon dried oregano
For assembly:
16-20 corn tortillas
cotija cheese, crumbled
thinly sliced red onion (pickled or raw)
fresh cilantro
lime wedges
Directions:
Season chicken with salt and pepper.
Heat oil in a dutch oven, large saucepan or high-sided lidded skillet over medium-high heat.
Add chicken in a single layer and cook until browned, about 3 to 5 minutes per side. If your chicken won't fit in the pan in a single layer, you might want to cook it in batches to make sure it browns nicely.
Transfer chicken to a plate and set aside. Reduce heat to medium.
Add onion, jalapeño and garlic to saucepan and sauté about 5 minutes or until softened.
Add tomato, chipotle and oregano and bring to a simmer for 8 to 10 minutes to let the flavors come together.
Transfer sauce to a blender (be very cautious blending hot liquids) and puree until smooth.
Return sauce to pan; season to taste with salt and pepper. Add back chicken thighs, submerging in sauce as much as possible.
Partially cover and simmer for 20 minutes or until chicken is cooked through and tender, flipping once part-way through.
Remove chicken from sauce and shred with two forks, then stir back into thickened sauce.
To serve, spoon chicken and sauce onto a warmed corn tortilla. Top with cotija cheese, red onion, cilantro and a squeeze of lime juice.
Leftover chicken/sauce can be refrigerated in an airtight container for up to 3 days or frozen for up to 1 month.
Did you make this recipe?
Let us know what you think!
Leave a Comment below or share a photo and tag me on Instagram with the hashtag #loveandoliveoil.