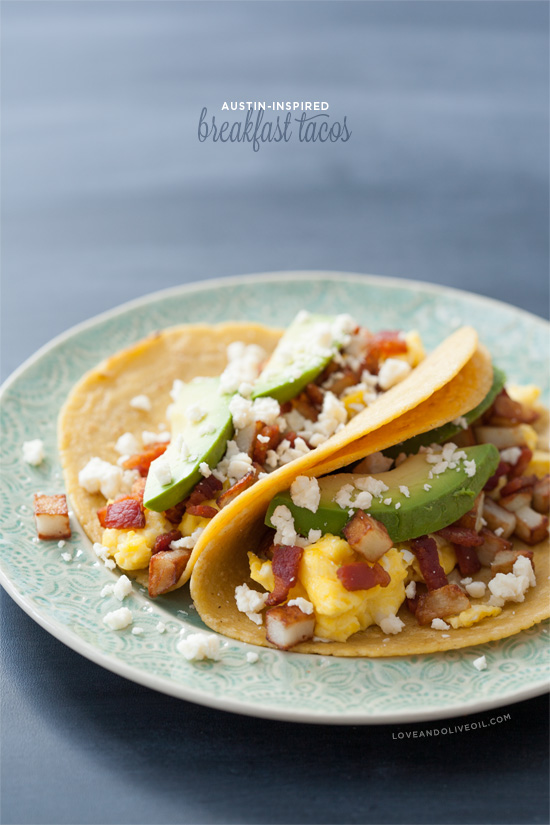 After a mere 3-days in Austin for BlogHerFood, I returned home with a severe case of taco-withdrawal. Indeed, I had tacos on the brain. Despite the fact that I didn't feel nearly cool enough for the vibrant city, its all-encompassing taco-culture was something I could certainly get behind.
The breakfast tacos, especially. For obvious reasons.
While the variety of breakfast tacos available in Austin was about as diverse as the people there, this recipe was inspired by a taco from a food trailer (yes, Austin's food trucks are refreshingly stationery), consumed shortly before indulging in what was perhaps the most epic doughnut of all time.
And yet, here I am, talking about the taco.
I totally tried to find a taco quote here but alas, the internet seems surprisingly devoid of inspirational taco quotes. Go figure.
Maybe if the quote-sayers had this taco, with savory layers of breakfast and mexican flavors in a warm corn tortilla, and topped with creamy avocado and crumbly cotija cheese, maybe they'd have something to say then.
Breakfast Tacos
Ingredients:
4 slices bacon, coarsely chopped
8 ounces small red potatoes, diced (about 1 1/2 cups diced)
vegetable oil
8 corn tortillas
6 large eggs
1 tablespoon butter
1 large avocado, pitted and sliced
2 ounces cotija or feta cheese, crumbled
Directions:
Heat a large non-stick skillet over medium heat. Add bacon and cook until crispy. Transfer with a slotted spoon to a paper towel-lined plate and set aside.
If your bacon was extra fatty you may want to remove some of the excess fat; you want about 1 to 2 tablespoons left in the skillet. Return to medium-high heat until fat is very hot. Add diced potatoes, spreading into a single layer in the pan. Cook, stirring/overturning the potatoes every 2 to 3 minutes, until potatoes are tender and golden brown, about 10 minutes total depending on the size of your dice. Transfer to a plate and set aside.
Return skillet to medium-high heat with a splash of vegetable oil. When oil is hot and shimmery, add tortillas, one or two at a time depending on the size of your skillet, until they are hot and barely crispy around the edges but still pliable. Transfer to a plate and cover with foil to keep warm. Repeat with remaining tortillas.
Meanwhile, melt butter in a second non-stick skillet over medium heat. Whisk eggs until uniform in color. Add to skillet and cook, stirring and scraping, until eggs are firm and just cooked through.To assemble, divide tortillas among serving plates. Place a spoonful of egg down the center of each one. Sprinkle with crispy bacon and potatoes. Top with two slices of avocado and cotija cheese.
Did you make this recipe?
Let us know what you think!
Leave a Comment below or share a photo and tag me on Instagram with the hashtag #loveandoliveoil.