The ultimate breakfast burrito featuring a super thin layer of egg wrapped around your favorite breakfasty ingredients including bacon, potato, and chorizo.
The secret to this amazing burrito is the egg. Rather than chunks of scrambled egg like breakfast burritos normally contain, we've invented a way to stick a thin layer of egg to the torilla with the help of some super melty cheese. The result is a burrito with a perfect amount of egg, cheese and filling in each and every bite!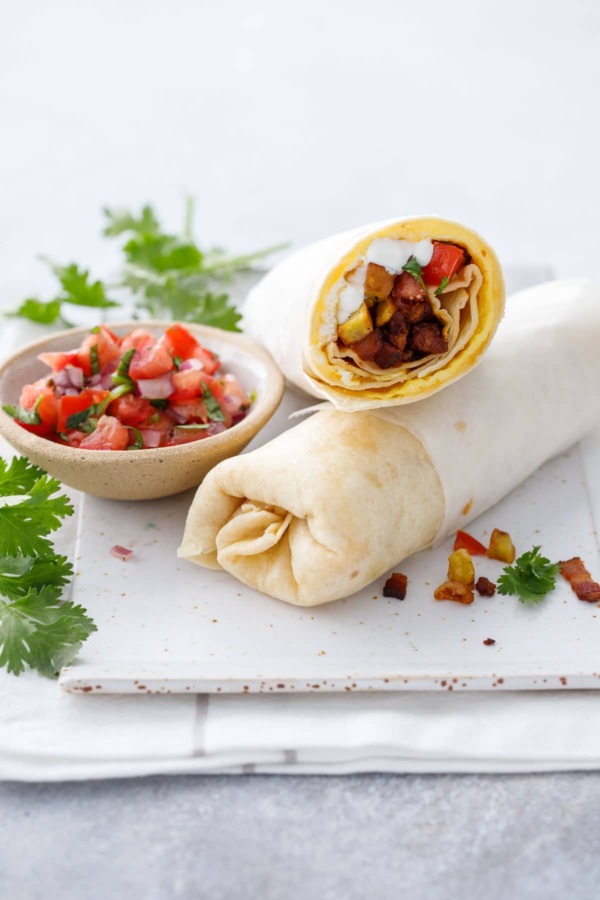 Taylor is a breakfast burrito master.
Although, I should amend that statement to say that WE are breakfast burrito masters, since the final result of this burrito was truly a joint endeavor.
He vividly remembers a particular breakfast burrito he enjoyed with his dad as a kid, from the restaurant atop one of the ski mountains where we grew up (funny because he can't remember what we ate two days ago…) That's where this burrito inspiration all began.
Those ski mountain burritos were not the behemoth burritos you might be used to. Rather they were smaller, with a thin layer of egg wrapped inside a warm flour tortilla.
So we started there. But quickly ran into problems when we tried to flip this delicate little omelet out onto the tortilla. It took remarkable aim to flip the egg out evenly and in the center of the tortilla.
So I thought, why not put the tortilla on the egg first? It sticks to the melted cheese, keeping the egg firmly in place, and making the whole thing much easier to flip out onto your work surface before filling with all manner of delicious things.
Talk about teamwork.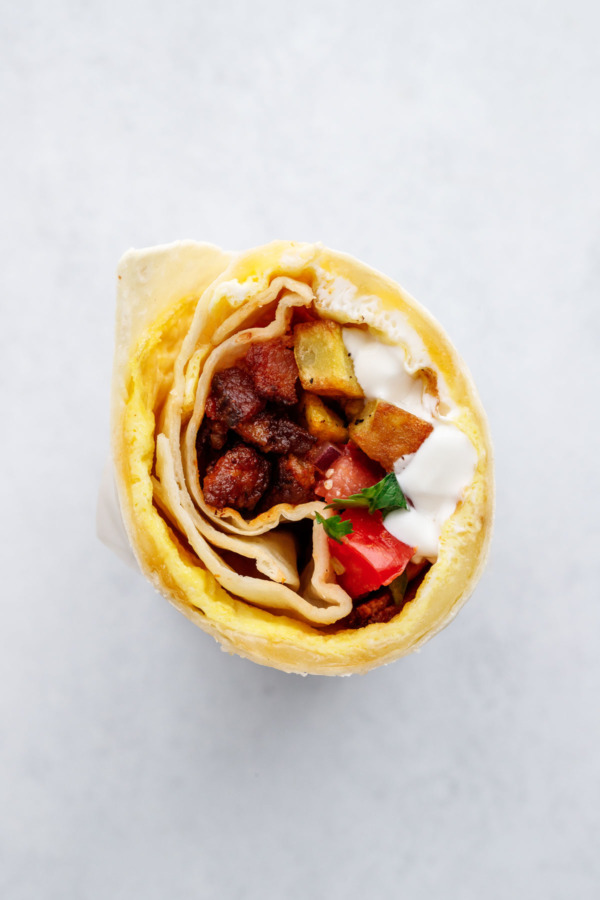 The idea to make a burrito using a thin layer of egg isn't new (though we did improve upon it with the whole cheese-tortilla thing this time around). In fact, there's a breakfast burrito recipe in our book that uses the same technique. Although it has kale and sweet potato in it, which is good and healthier and all, but sometimes you just want a greasy, gooey cheesy, all-around perfect breakfast burrito.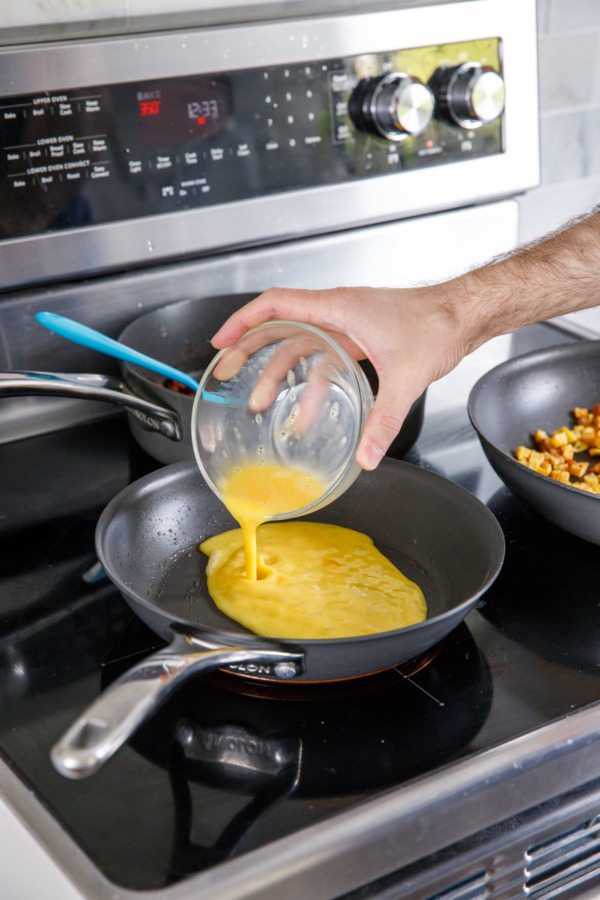 The process starts by making a very thin egg crepe, if you will. Ideally you'll have a small nonstick skillet that's slightly smaller than the size of your tortilla. This skillet is 8-inches, for reference.
How many eggs you use also depends on the size of your skillet. 1 egg was almost too thin, 2 was too thick. So we whisked up 3 eggs and split it in half for two burritos. Perfection!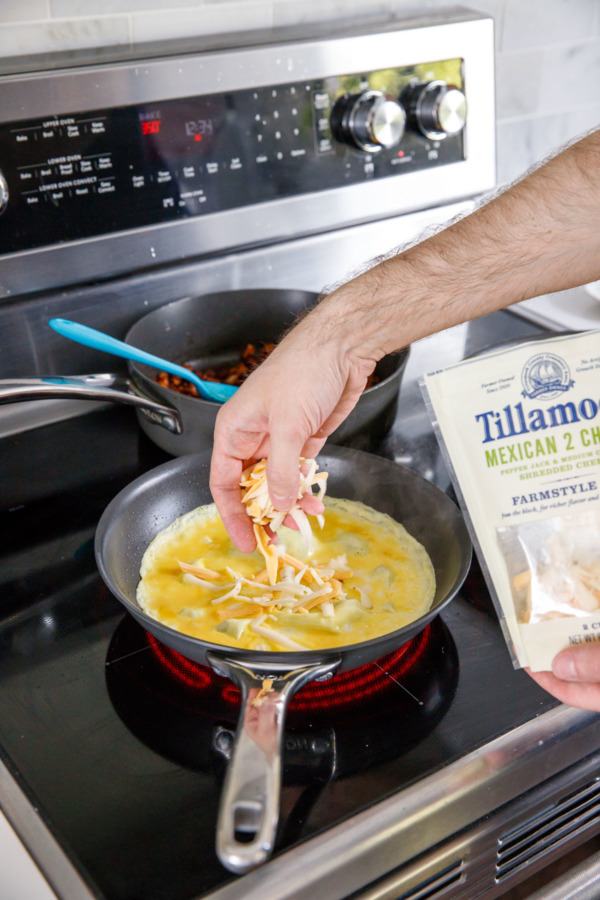 The thin layer of egg will take less than a minute to cook through. When it's nearly done, sprinkle over a generous handful of cheese (we've been loving Tillamook's Farmstyle Cut shredded cheeses – we created this recipe to showcase this product specifically on Instagram, but it was just too darn good not to share here as well!)


Once the egg is cooked and the cheese is melted, place the tortilla on top, sticking it to the layer of cheese. Doing this makes it much easier to flip the entire thing out onto a work surface to fill.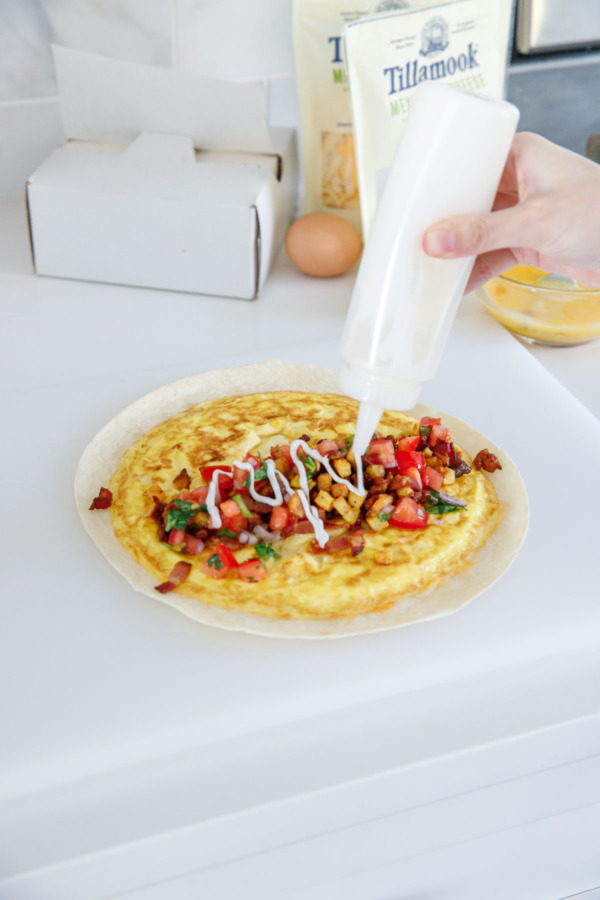 Spoon your fillings down the middle of the tortilla (here we've got potato, bacon and chorizo, plus a drizzle of sour cream and some pico de gallo for freshness and spice) then roll it up, folding in the edges to hold everything inside. Or, forget about folding in the edges (Taylor argues this finicky step is entirely unnecessary) and you can simply eat the burrito with a fork and a knife or taco style (which works particularly well with smaller tortillas).
I also like to wrap my burritos in a piece of parchment or foil for easier eating. If you're making more than 2 you can also fully wrap the burritos in foil and hold them in a warm oven to keep them nice and warm.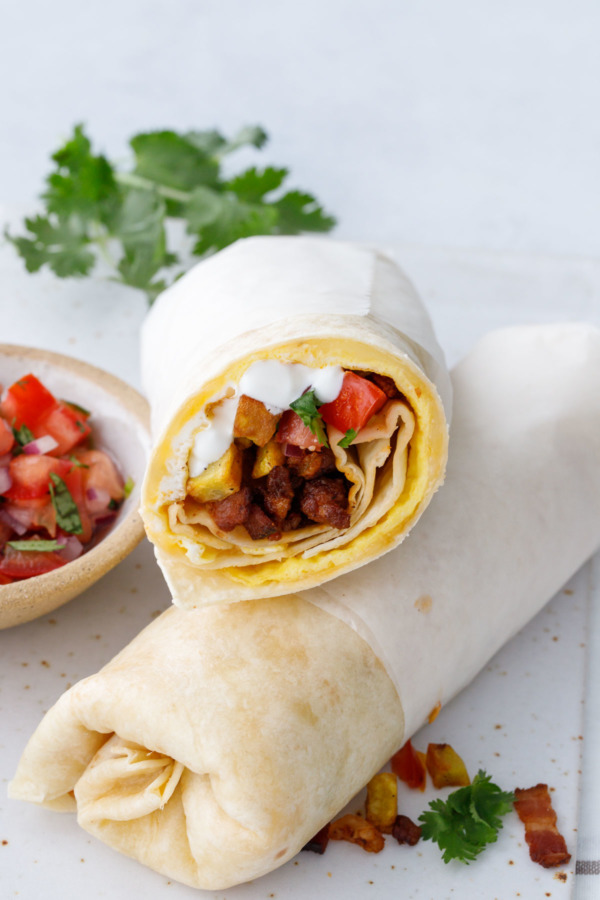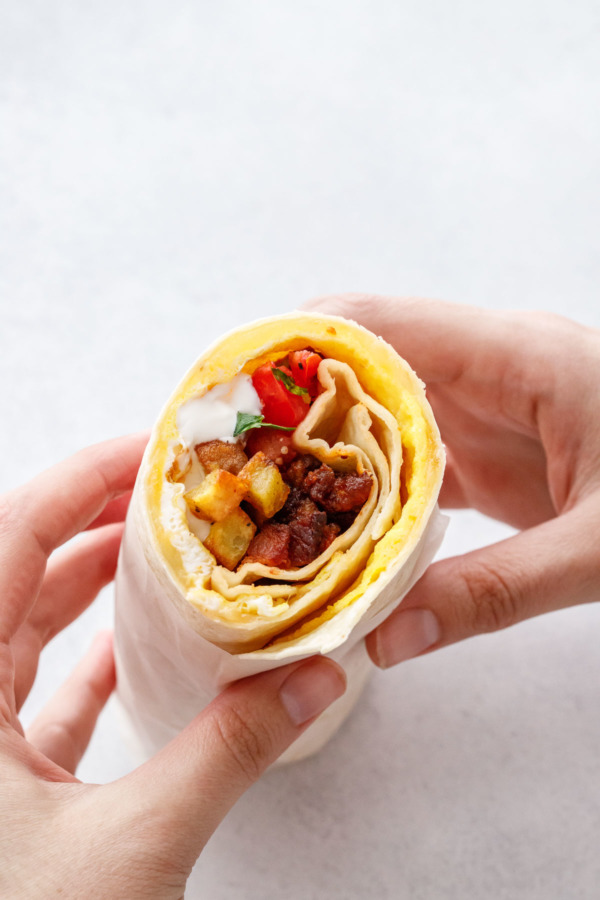 The thin layer of egg enrobes the filling, ensuring you get a little bit in each and every bite (no more uneven chunks of scrambled egg).
That right there is breakfast perfection.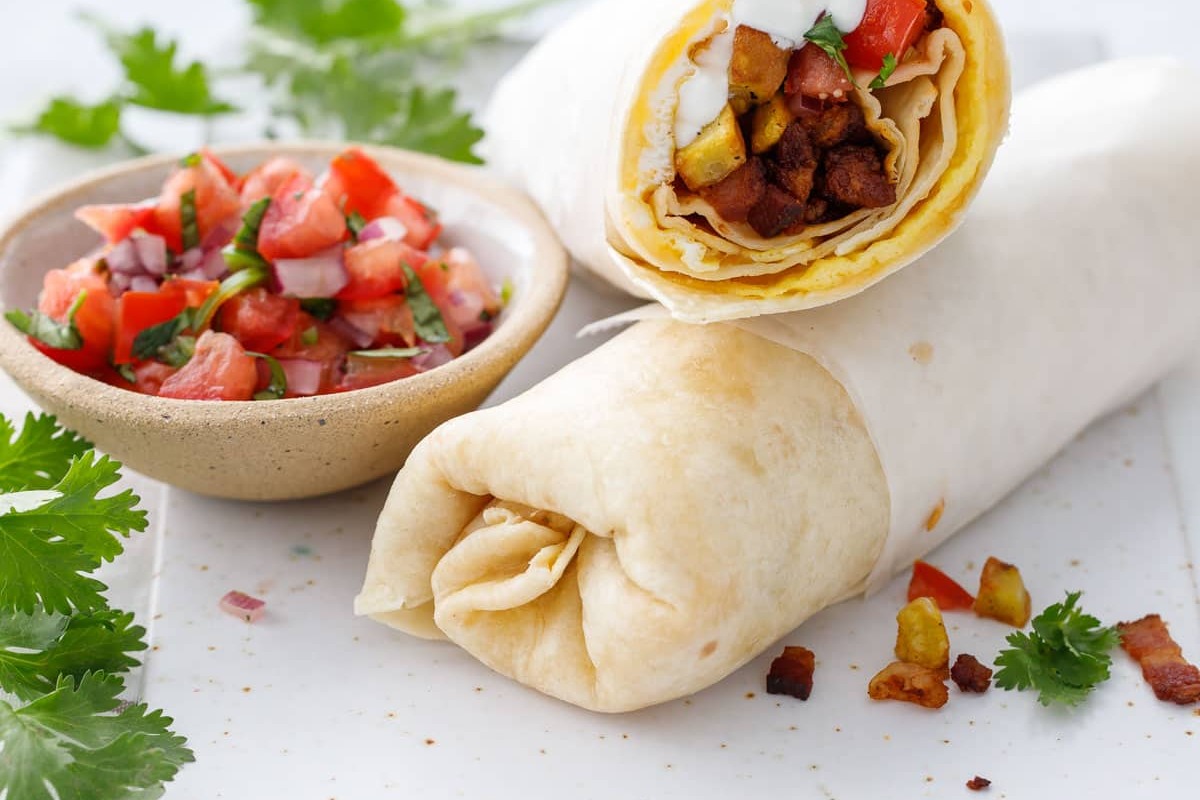 Ultimate Breakfast Burritos
Our favorite breakfast burrito recipe is filled with chorizo, crispy bacon, potato, sour cream and pico de gallo, all wrapped up in a thin layer of egg, cheese and tortilla.
Ingredients
5

slices

bacon

,

cut crosswise into thin strips

½

pound

/

226

g

fresh chorizo sausage

¾

pound

/

340

g

yukon gold potatoes

,

peeled and cut into 1/2-inch cubes

4

9-inch flour tortillas

6

large eggs

1

cup

/

112

g

shredded cheese

sour cream

pico de gallo
Instructions
Add sliced bacon to a large skillet set over medium-high heat. Cook, stirring occasionally, until desired doneness is reached. Transfer using a slotted spoon to a paper-towel lined plate to drain. Remove all but 2 tablespoons or so of the bacon grease (reserving excess for later).

Return skillet to medium-high heat. Add potato cubes and cook, without stirring, for about 5 minutes or until bottoms start to brown. Stir to flip and continue to cook, stirring every 3 to 4 minutes, until potatoes are tender and browned on most sides, about 12 to 15 minutes more.

Meanwhile, cook chorizo in a skillet until browned and starting to crisp, breaking up large chunks into smaller pieces with a wooden spoon.

Wrap tortillas in foil and place in the oven until warmed through.

Whisk 3 eggs together in a small bowl.

Heat an 8-inch skillet over medium heat. Add a teaspoon or so of reserved bacon grease. Add half of egg mixture, swirling to spread egg out to the edges of the skillet.

Cook for 30 seconds until bubbling, then sprinkle with 1/4 cup or so of shredded cheese. When melted, place a tortilla on top of the whole thing and press lightly to adhere. At this point the egg should be cooked through.

Flip to invert the whole thing, tortilla side down, onto work surface. Spoon a bit of potato, bacon, and chorizo down the middle of the tortilla. Top with pico de gallo and a drizzle of sour cream as desired.

Fold in edges and roll. Wrap in parchment or foil as desired (keep foil-wrapped burritos in a warm oven while you prepare the others).

Whisk remaining 3 eggs together and repeat. Enjoy warm.
All images and text ©
for Love & Olive Oil.
Did you make this recipe?
Let us know what you think! Leave a Review below or share a photo and tag me on Instagram with the hashtag #loveandoliveoil.