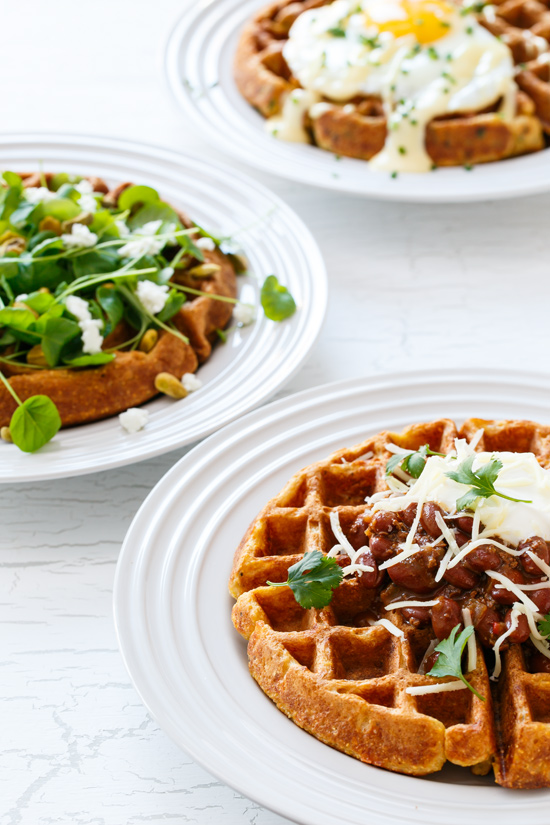 Waffles aren't just for breakfast, you know, nor do they always have to be sweet. They have a secret savory side that's downright delicious.
We've already turned biscuits into waffles, so why not cornbread too?
Turns out cornbread waffles are pretty darn fantastic, if I do say so myself. While maybe not quite as crispy as a traditional buttermilk waffle, they have a tender crumb and nutty flavor that makes for a fabulous savory foundation. I mean, really, anything you'd serve with cornbread you could serve atop these waffles. Our favorite? The chili cheese waffles. With a dollop of sour cream and some fresh cilantro, they are a hearty and satisfying dinner, no question about it.
But these waffles are also great topped with a fried egg and hollandaise sauce or a salad of fresh and spicy greens. You can also mix in various herbs or cheeses into the batter itself for even more flavor.
Visit the KitchenAid® Kitchenthusiast™ blog for the recipe »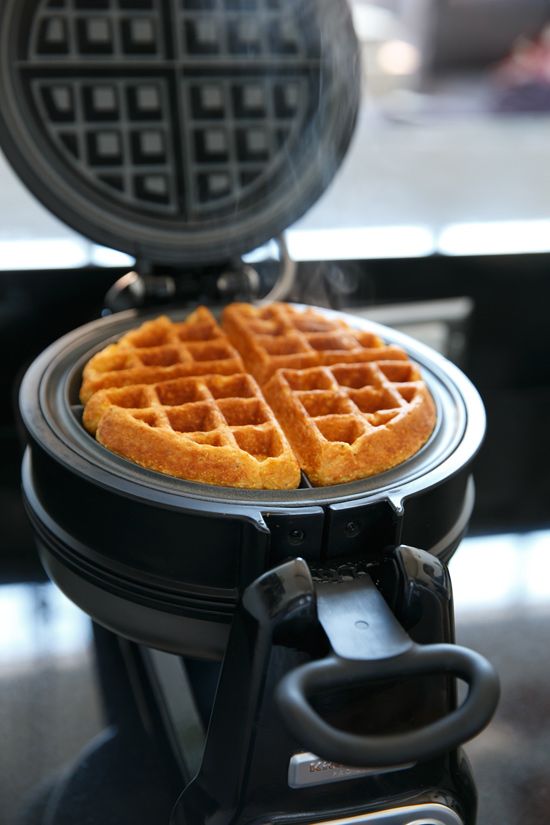 Now, let's take a moment to talk about this waffle maker.
Excuse me. Waffle BAKER.
I've used my fair share of waffle makers. I think I've owned 3 different models over the years. And this one is leaps and bounds above the rest. The waffles are wonderfully thick and perfectly golden brown. And it makes two waffles at once. I don't think I need to present any arguments as to why two is better than one.
Just don't overfill it.
Savory Cornmeal Waffles
Savory waffles are slightly crunchy on the outside and soft and tender on the inside, with a savory cornbread flavor. Top it any number of ways: anything that would go well with a slice of fresh cornbread would go equally as well with these savory cornbread waffles.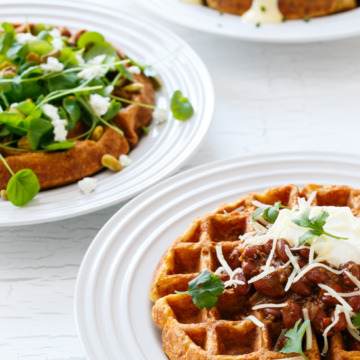 Ingredients:
1 1/4 cup all-purpose flour
1 1/4 cup stone ground yellow cornmeal
2 teaspoons baking soda
1 teaspoon baking powder
3/4 teaspoon kosher salt
1/2 teaspoon freshly ground black pepper
1/4 teaspoon ground cayenne
2 cups buttermilk
2 large eggs, separated
1/4 cup unsalted butter, melted and cooled to lukewarm
1 tablespoon honey
Directions:
In a large bowl, whisk together flour, cornmeal, baking soda, baking powder, salt, pepper, and cayenne.
Mix in buttermilk, egg yolks, melted butter, and honey until just incorporated. Do not overmix.
In a medium bowl, whisk egg whites until they hold semi-stiff peaks. Fold whites into batter.
Ladle a scant cup of batter into waffle maker, flip and repeat for other side. Cook for about 4 minutes or until waffles are deep golden brown and crisp. Transfer to a baking sheet in a 225ºF oven to keep warm and repeat with remaining batter.
Variations:
Chili Cheese Waffles: Mix 1 cup of shredded cheese into batter prior to cooking. We like a mix of 1/2 cup white cheddar, 1/4 cup manchego, and 1/4 cup grated parmesan. Top with your favorite hearty chili, sour cream, shredded cheese, and fresh cilantro.
Sunnyside-Up Herb Waffles: Mix 2/3 cup of chopped fresh herbs such as basil, parsley, and chives into waffle batter. Top with a fried or poached egg and drizzle with creamy hollandaise sauce.
Waffles & Greens: Toss fresh arugula, watercress, or other spicy green with a squeeze of lemon juice, a splash of olive oil, and a dash of salt and pepper. Top each waffle with a handful of greens, crumbled goat cheese, and roasted pistachios.
Chicken & Waffles: A southern favorite! Top waffles with a piece of your favorite crispy fried chicken and a drizzle of raw local honey.
Did you make this recipe?
Let us know what you think!
Leave a Comment below or share a photo and tag me on Instagram with the hashtag #loveandoliveoil.
Sponsored by KitchenAid. As always, all opinions written are purely my own.