Bold in both flavor and color, these blackened shrimp tacos feature a tangy avocado cream sauce, boldy-spiced sauteed shrimp, and a fresh and fruity dragonfruit salsa on top.
Dare I say these are the most stunning tacos I've ever seen? The pink tortillas (naturally colored with dragonfruit powder) make for one truly unique, and truly beautiful taco.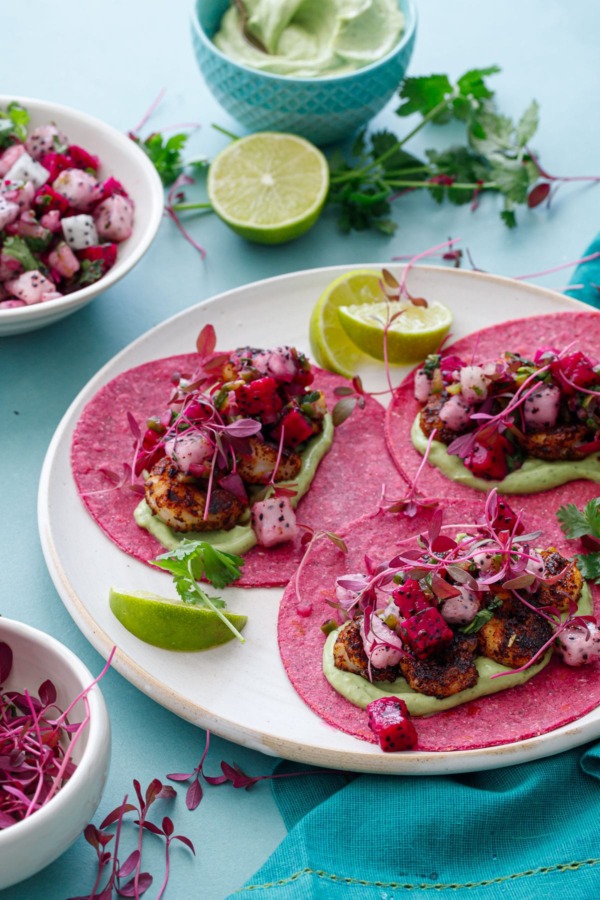 It all started with a vision… a vision of a hot pink tortilla. I have no idea where this vision came from, all I know is that once it was there, there was no ignoring it.
I still had some dragonfruit powder left over from my unicorn hot chocolate drink mix this past fall (the dragonfruit powder giving the drink a pretty-in-pink hue that's entirely natural).
As it turns out this pink powder makes for gorgeously hued corn tortillas as well!
And before you ask, the tortillas just taste like normal tortillas. The dragonfruit powder doesn't add any noticeable flavor, only color.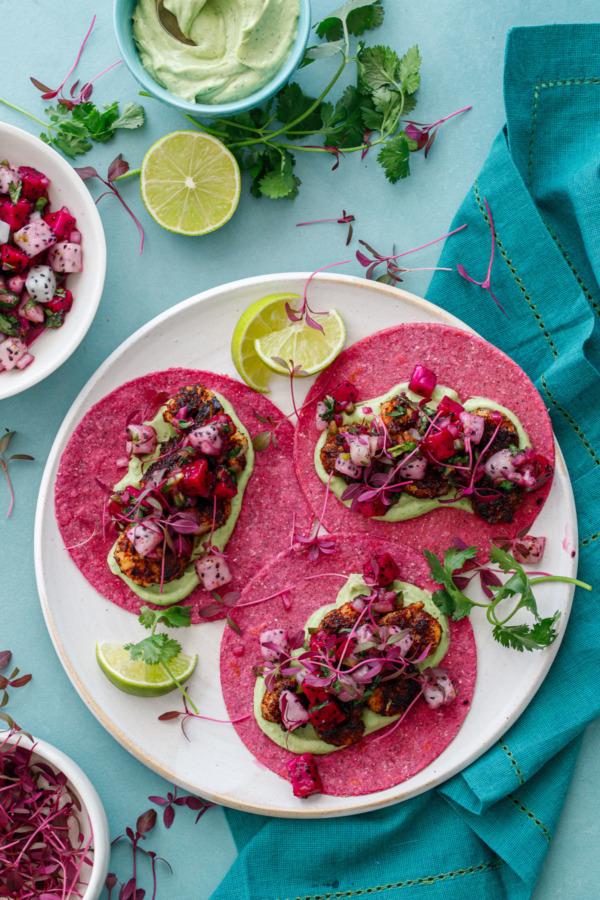 Since my tortillas were going to be pink, I figured, why not go all in with the pink/dragonfruit theme and top the tacos with a bright and fruity dragonfruit salsa.
Dragonfruit is hard to find around these parts, but my friends at Melissa's were so kind to send me an assortment of both white and red to play with for this recipe! I ended up using a combination of both in the salsa for a really unique and beautiful appearance.
While dragonfruit is drop-dead gorgeous, it's unfortunate that the flavor isn't quite as spectacular. The best way to describe it is like a mild, watery kiwi. Only perfectly ripe dragonfruit has any flavor at all (unripe fruit won't taste like anything).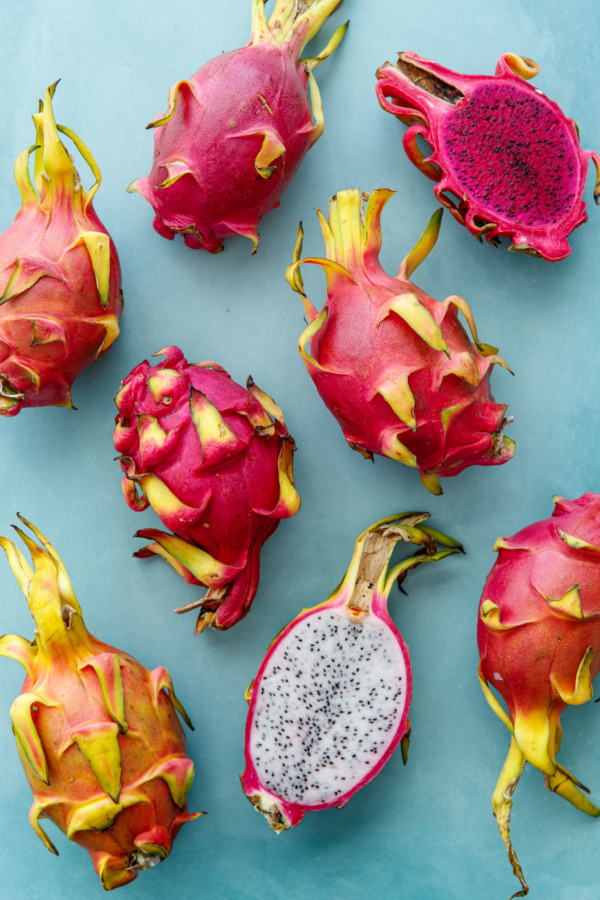 So yes, I fully admit the use of dragonfruit here is more novelty than anything (because it just looks so downright cool).
The salsa itself has a hearty squeeze of lime juice and a generous amount of salt and chili powder, all of which serve to amplify and exaggerate the mild flavor of the dragonfruit.
If you're using a mix of white and red dragonfruit, I recommend holding off adding the red fruit to the salsa until the very end, then just lightly fold it in. The color is potent, and will quickly turn your pristine white dragonfruit pale pink if you're not careful. And that's not all it will stain, so definitely wear and apron if you care about your clothing while preparing the fruit.
Can't find dragonfruit? This recipe would work swimmingly with mango or pineapple as well.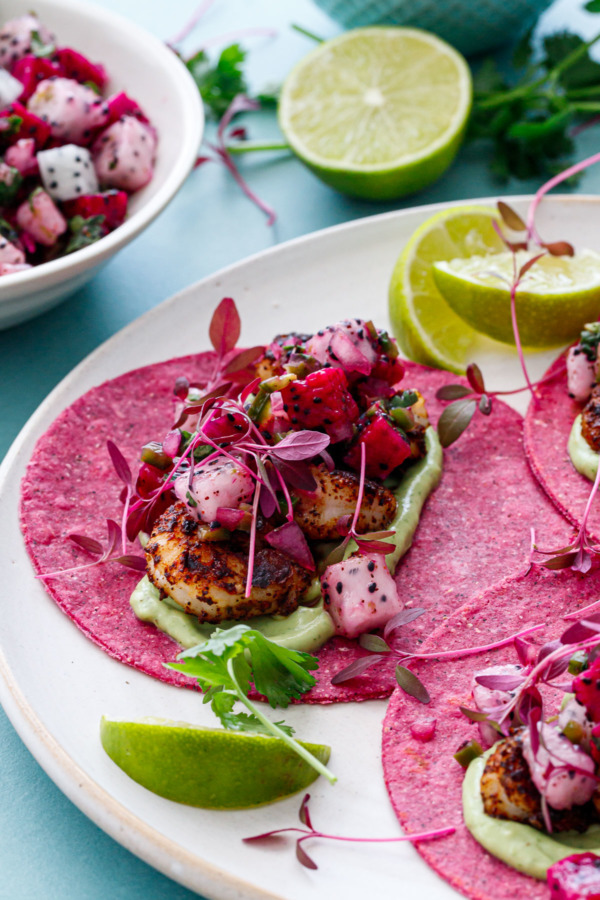 We hemmed and hawed over the base protein for these tacos, even going so far as a vegan jackfruit option (which as it turns out is rather bland, so we nixed that idea pretty quickly). Fish and shrimp were our next contenders, and a quick poll in my facebook group had shrimp coming out on top by a wide margin. So, we went with shrimp, and it was the right choice indeed.
I'm not even a shrimp lover (call me a shrimp skeptic, if you will) but these tacos were fab.
Also: blackened shrimp is a thing, but it's not blackened like charcoal blackened. Rather, it refers to the spices that coat the outside of the shrimp, 'blackening' them with chili powder rather than charcoal. Which really means that all that intense color is pure flavor.
I think I might be more of a shrimp fan than I thought!
That said, you could also use this same recipe with fish or chicken (just increase the cooking times, obviously!)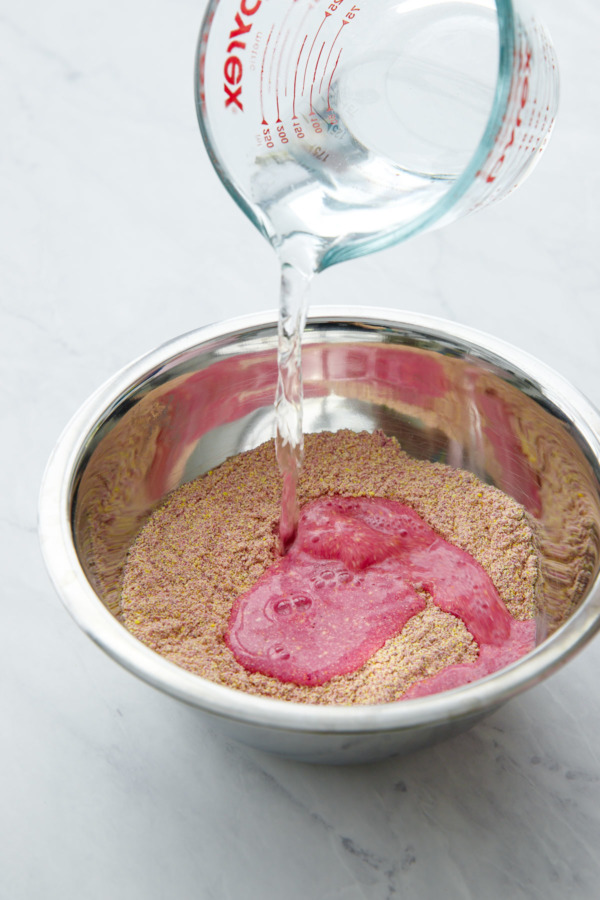 Let's be honest: the real star of these tacos are the hot pink tortillas.
They are made just like typical corn tortillas, with a bit of dragon fruit powder whisked into the masa. All you need is a tablespoon to produce a gorgeous, vibrant magenta.
I use a cast iron tortilla press, however, I find it doesn't get them quite as thin as I like. So after pressing, I roll it out a bit more with a rolling pin, then cut out a perfect round using a 5-inch-round cookie cutter. You can skip this last step, your tortillas will just be more rustically shaped.
Another tip? Use a plastic freezer bag with 3 sides cut off to keep your masa from sticking to the press. I find the thick plastic bag works much better than parchment or plastic wrap (both of which tend to wrinkle).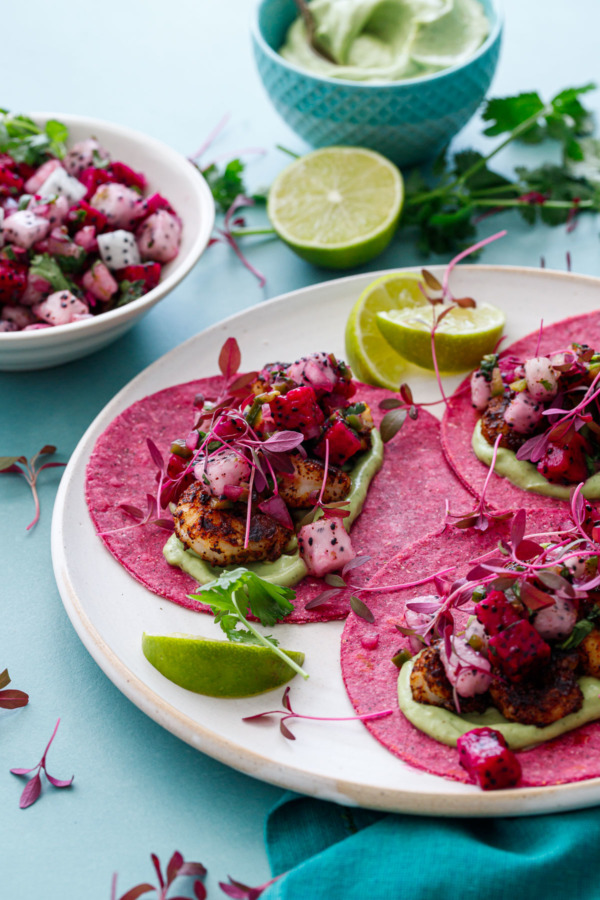 For those curious, the microgreens on top are red amaranth, which has the most beautiful magenta stems and leaves. Totally optional for this recipe, but when I get into something (like the everything-hot-pink of these tacos) I really get into it, and figured that one more hot pink element couldn't hurt. 😉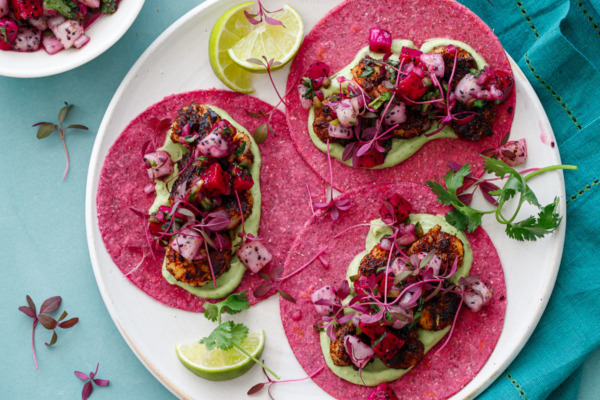 Blackened Shrimp Tacos with Dragonfruit Salsa
Blackened shrimp tacos with a tangy avocado cream sauce, boldy-spiced sauteed shrimp, and a fresh and fruity dragonfruit salsa, all nestled in naturally-hued magenta tortillas.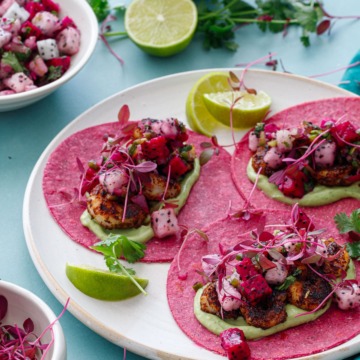 Ingredients:
For Pink Corn Tortillas:
1 cup (120g) masa harina flour
1 tablespoon (6g) dragonfruit powder, sifted
1/4 teaspoon salt
1/2 to 2/3 cup warm water
Salsa:
1 large dragonfruit (or half red and half white), flesh scooped out and cut into cubes (about 2 cups cubed)
1 medium jalapeno, seeded, deveined and finely minced (about 2 tablespoons minced)
1/4 medium red onion, finely chopped (about 1/3 cup chopped)
1/4 cup packed fresh cilantro, chopped
1 teaspoon lime zest, from 1 lime
1 tablespoon lime juice, from 1 lime
1/2 teaspoon fleur de sel or flake sea salt (1/4 teaspoon if using fine or table salt)
1/4 teaspoon chili powder
For Avocado Crema:
1 ripe avocado, flesh scooped out and pit discarded
2 tablespoons greek yogurt
2 tablespoons sour cream (you can also use all yogurt or all sour cream if you prefer)
2 tablespoons packed fresh cilantro
2 tablespoons freshly squeezed lime juice
1/2 teaspoon salt
1/4 teaspoon chili powder
1/8 teaspoon garlic powder
2 tablespoons milk, more or less as needed
For Blackened Shrimp:
1 pound medium/small shrimp (51-60 size), peeled and deveined
4 teaspoons chili powder
2 teaspoons smoked paprika
1 teaspoon garlic powder
1 teaspoon dried oregano
1 teaspoon ground cumin
3/4 teaspoon salt
1/2 teaspoon ground black pepper
vegetable oil, for cooking
Directions:
For tortillas:
Whisk together masa, dragonfruit powder and salt in a medium bowl. Add 1/2 cup water and mix well, kneading until dough comes together in a ball. Add more water as necessary (I found different brands of masa absorb different amounts of water). The dough should be soft and pliable but not sticky.
Divide dough into 8 even balls (about 35g each). Place on a plate and lightly cover with plastic wrap or a tea towel. Set aside for 15 to 20 minutes.
Place two pieces of plastic or parchment (I like using a cut up freezer bag) in your tortilla press. Place on ball in between the layers of plastic. Press firmly down on tortilla press to smash the ball into an (approximately) 5-inch circle.
If you want thinner tortillas, roll out a bit more with a rolling pin, then cut into a perfect circle using a 5-inch-round cookie cutter. Any scraps can be gathered and rerolled into another tortilla (I was able to get 9 out of one batch this way).
To cook the tortillas (I recommend doing this just before you cook the shrimp), preheat a flat skillet or griddle over medium heat. Gently lay one tortilla on the hot pan (you can cook more than one at a time if they will fit on the skillet without touching) and cook for about 45 seconds, then flip and cook for another 45 seconds on the other side. The tortilla will lighten slightly in color and take on a stippled texture. It may form a few bubbles, but it should not brown in this amount of time.
Transfer cooked tortilla to a plate and cover tightly with plastic wrap (this will hold in the steam, keeping the tortillas hot and malleable while you cook everything else). Repeat with remaining tortillas.
Any leftover tortillas can be stored in a zip-top bag in the refrigerator for up to 2 days. Rewarm prior to serving.
For Salsa:
Combine dragonfruit, jalapeno, red onion, cilantro and lime zest in a medium bowl. If you are using both colors of dragonfruit, you might want to set the red fruit aside and stir it in just before serving (otherwise it'll stain the white fruit pink).
Add lime juice, salt and chili powder and toss to coat. Taste and season with additional salt and/or chili powder if desired. Refrigerate until ready to serve.
For Avocado Cream:
In a blender, combine avocado, yogurt, sour cream, cilantro, lime juice, salt, chili and garlic powder. Pulse to combine. Add milk, 1 tablespoon at a time, until mixture blends easily. If you prefer a thicker sauce to spread on the bottom of the tacos, 2 tablespoons should be plenty. If you would rather drizzle your sauce on top, add another tablespoon or 2 as needed.
Transfer to a small bowl; cover and refrigerate until ready to serve.
For Shrimp:
Be sure all your shrimp are deveined and peeled, tails removed. Thaw completely if frozen. Lay on a paper-towel lined plate and pat dry.
In a small bowl, mix together chili powder, paprika, garlic powder, oregano, cumin, salt and pepper until evenly mixed. Sprinkle generously over shrimp, coating both sides evenly with a thick layer of spice mixture.
Preheat a large nonstick skillet over medium-high heat. Add oil to hot skillet, and let oil preheat until shimmering.
Add shrimp, arranging in a single layer in the bottom of the pan.
Cook for 1 to 2 minutes per side or until shrimp are opaque and sides are browned.
Assembly:
Arrange warm cooked tortillas on serving plates. Spoon some avocado cream sauce down the center of each tortilla. Top with 4-6 blackened shrimp, followed by dragonfruit salsa. Optionally top with more chopped cilantro and/or some pretty microgreens if desired.
Did you make this recipe?
Let us know what you think!
Leave a Comment below or share a photo and tag me on Instagram with the hashtag #loveandoliveoil.