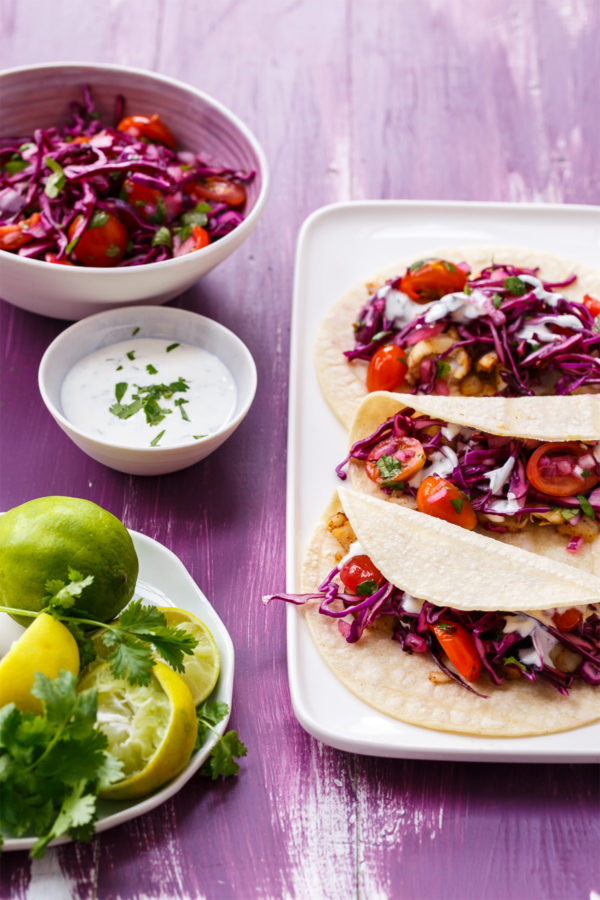 Sometimes, words are not enough to describe something as magnificent as these fish tacos.
The pictures help, surely, but there was still something missing from the title, so I had to compensate and make up my own word to describe the crunchy topping for these tacos.
Slawsa. n. A vibrant, crunchy condiment that falls somewhere in between a slaw and a salsa.
And folks, this concoction, this invention from the depths of Taylor's mind (and our fridge), is what makes this recipe. Without it they'd be bland and boring and basic. Instead, with a generous mound of pretty purple and red and green slawsa on top, these tacos are terribly and terrifically tangy, with a bit of crunch from the red cabbage and sweetness from the cherry tomatoes and a more-than-generous handful of fresh cilantro. Not to mention it's downright gorgeous.
We had our go-to fish taco recipe, and for the longest time, no matter what we tried we could never seem to top it.
And then one day, faced with a fillet of fish and fridge full of random bits of produce, Taylor threw together these tacos that simply blew my mind. After one bite I started grilling him on what he did and how much of this and how much of that he used, because I knew we had to make them again to share them with you all.
I love that these fish tacos are simply pan-fried, as opposed to battered or breaded. It lets the loveliness of the fish shine through. Plus it's like, 42 times easier.
I did steal the cilantro cream sauce, or a version of it, from our previous favorite fish taco, because I felt it needed that touch of cooling cream to balance it all out. I used a mix of sour cream and Greek yogurt for the sauce, so the result tastes a little like both without being too up front about it. You could certainly use all of one or the other if you choose.
We've since made these tacos a few more times with different fish varieties, and while any firm, white fish will do, the mahi mahi is by far our favorite. Some other kinds of fish are just a bit too fishy, which can quickly ruin a taco and your entire supply of fresh air for the next 3 days. One downside to an open kitchen, I guess.
Still, these were worth it.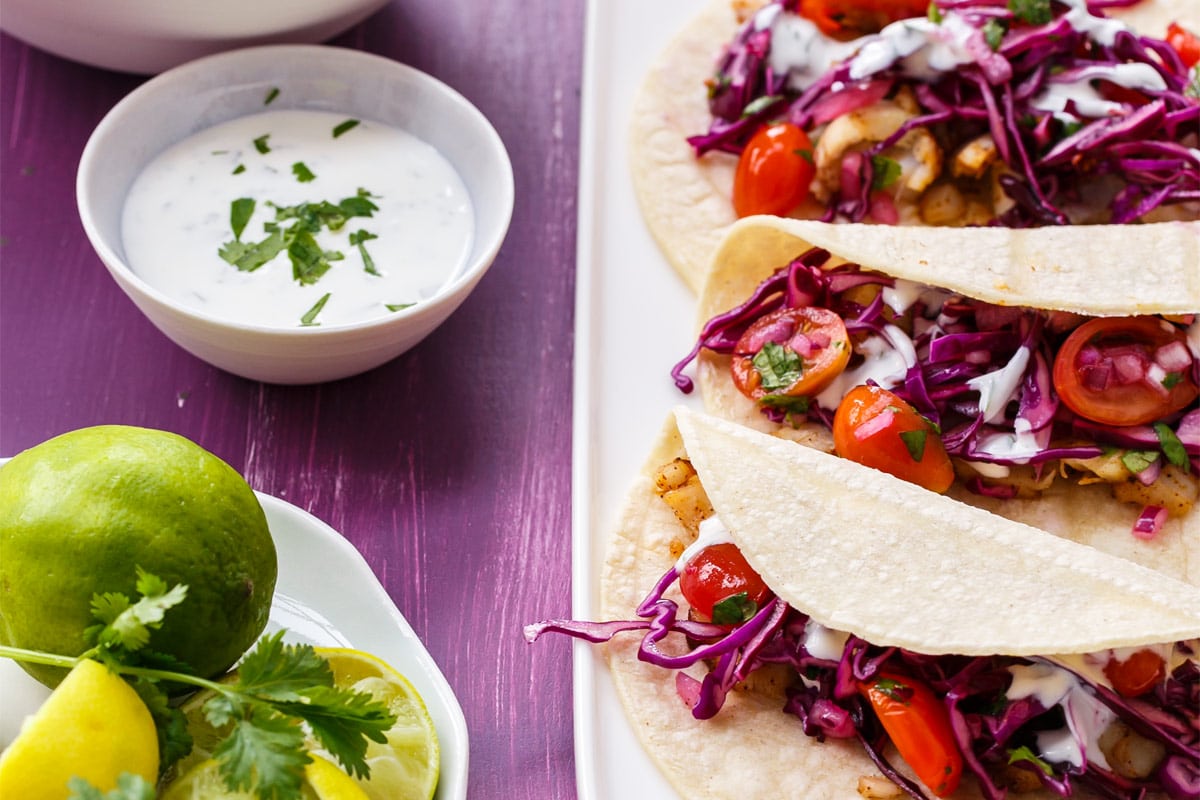 Mahi Mahi Fish Tacos with Red Cabbage Slawsa
Simply spiced and seared Mahi Mahi topped with a tangy red cabbage and tomato "slawsa" and a creamy cilantro lime sauce.
Ingredients:
For Slawsa:
1 1/2 cups finely shredded red cabbage (from about 1/4 medium cabbage)
1/2 small red onion, finely sliced (about 1/2 cup sliced)
1 1/2 cups (8 ounces) cherry tomatoes, halved or quartered if large
2 tablespoons chopped fresh cilantro
1/4 cup lime juice (from 2-3 limes)
salt and freshly ground black pepper, to taste
For Cilantro Lime Cream Sauce:
1/4 cup sour cream
1/4 cup Greek yogurt
2 tablespoons finely chopped fresh cilantro
1 tablespoon lime juice
For Tacos:
3/4 pound mahi mahi (or other firm white fish)
1/2 teaspoon ground chili powder
1/2 teaspoon garlic powder
salt and freshly ground black pepper, to taste
1 tablespoon olive oil
8-10 corn tortillas
fresh cilantro, for serving (optional)
Directions:
To prepare slawsa, combine cabbage along with onion, tomato, and cilantro in a bowl. Add lime juice and salt and pepper to taste and toss to coat.
For cream sauce, whisk together sour cream, yogurt, cilantro, and lime juice until smooth and no lumps remain. If desired, add a teaspoon or two of water to thin it to a drizzling consistency.
Wrap tortillas in aluminum foil and place in a 250 degree F oven until warmed through.
Meanwhile, preheat a nonstick skillet over medium heat. Season both sides of fish with chili and garlic powder, and a generous pinch of salt and pepper.
Cook fillets until browned on both sides and center is opaque (internal temperature should read 135 degrees F), about 3-5 minutes per side depending on the thickness of your fillets. During the last few minutes of cooking, break up the fish with a spoon or spatula into bite-sized flakes.
Place warm tortillas on serving plates. Spoon fish down the middle of tortillas. Top with a generous mound of slawsa and a drizzle of cream sauce, as well as additional fresh cilantro as desired.
Did you make this recipe?
Let us know what you think!
Leave a Comment below or share a photo and tag me on Instagram with the hashtag #loveandoliveoil.