These superb stuffed cookies are everything and then some: ultra rich and deeply chocolate with a surprise nugget of warm white chocolate hidden inside.
Best enjoyed warm right out of oven (but, let's face it, more than palatable even when they're cold), these cookies are nothing short of a dream. And yet, here they are, as real and as solid as the dishes in the sink (ugh, I'll get to those later, I promise, I'm having a moment with a cookie right now don't ruin it for me).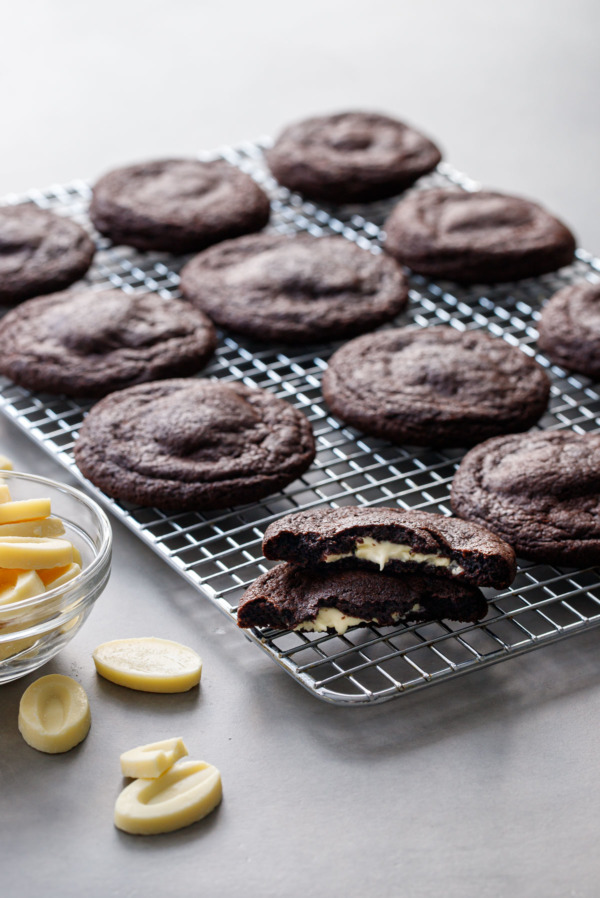 These incredible cookies were inspired by Van Stapele Koekmakerij in Amsterdam, a tiny little bakery that serves one and only one kind of cookie: a rich chocolate cookie stuffed with white chocolate. If you're lucky enough to stop by when a batch has just come out of the oven, well, you can thank me later. It's quite possibly the best cookie I've ever eaten (and that's not something I say lightly).
So obviously I had to recreate it.
You might think that a fairly basic chocolate cookie stuffed with white chocolate would be rather simple, but you'd be wrong. It took me more tries than I care to admit to get these just right, mainly with regards to the chocolate flavor of the cookie itself.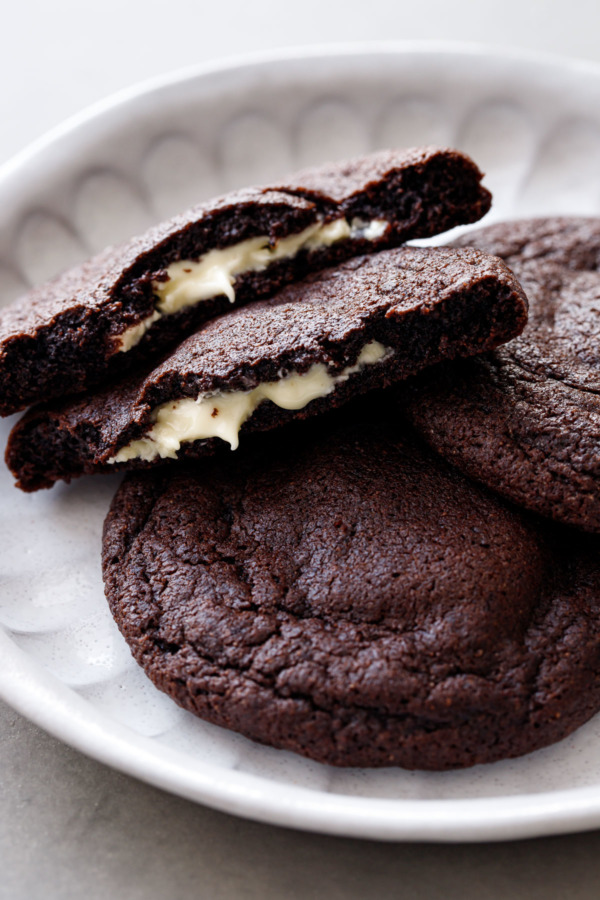 My normal MO when it comes to cocoa powder is my trusty Cacao Barry Extra Brute. It's by far my favorite cocoa powder and I use it pretty much everywhere, from cakes to brownies to hot cocoa.
But for whatever reason, in these cookies it came out tasting… a bit one-dimensional. It was missing that robust chocolate oomph, that well-rounded flavor and sigh-inducing intensity that I remembered so vividly in Amsterdam.
I tested a few different cocoa powders and ultimately decided that a mix of Valrhona cocoa powder with a bit of the Cacao Barry was the best. The Valrhona cocoa powder has an incredibly rich and profound chocolate flavor. I implore you to splurge on the good stuff for these cookies. It's really worth it!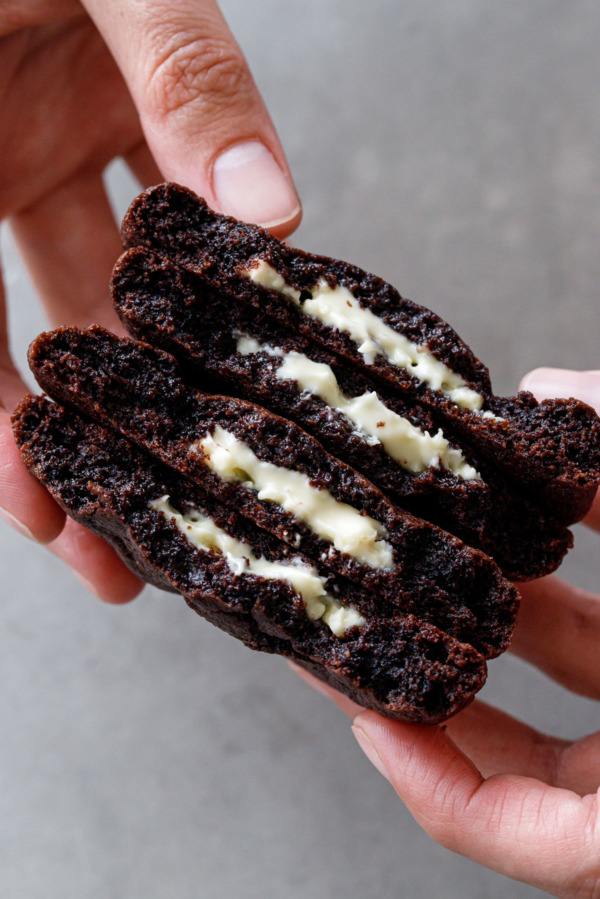 I also added dry milk powder and cornstarch, which, in combination with the cocoa, is basically a scratch-made chocolate pudding (and I know you've seen plenty of cookie recipes that use box pudding mix… that's the idea here). These two ingredients enhance the texture and deepens the rich chocolate flavor of the cookie.
And, much like MSG intensifies the flavors of savory food, a touch of instant espresso powder does the same to the chocolate here (but it's such a small amount you can't taste it in the final cookie, I promise!) Instant espresso powder is really a secret weapon that can and should be used in any and all chocolate desserts (I always have some in my freezer for this reason!)


For the centers, I used Valrhona Ivoire white chocolate feves. Ideally I'd have been able to find solid white chocolate 'cups' like they use at Van Stapele, but the feves are a good substitute. About 2 feves (7-8g) per 40g ball of dough is just about right, though I think the original cookies do have a slightly higher proportion of white chocolate (10g would be perfect I think)
To stuff the cookies, split the ball of dough in two pieces, and flatten each piece slightly. Press two feves into the center of one piece, then place the other piece on top. Pinch the edges to seal the dough around the white chocolate, then gently re-roll the dough into a puck-like shape.
The dough is quite soft, especially in the summer months or if your hands are particularly warm. If you find the dough getting too soft as you work just pop it back in the fridge for a few minutes until it's workable again.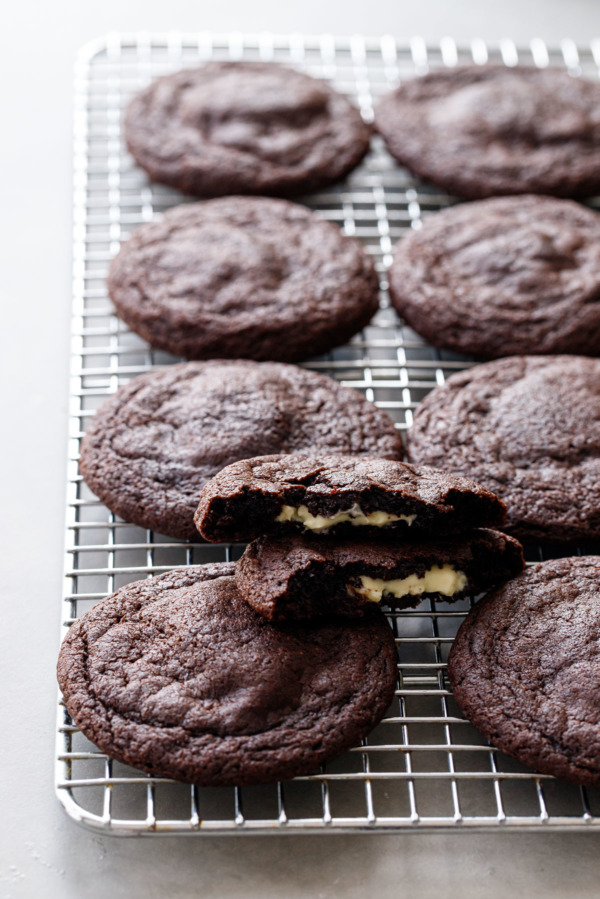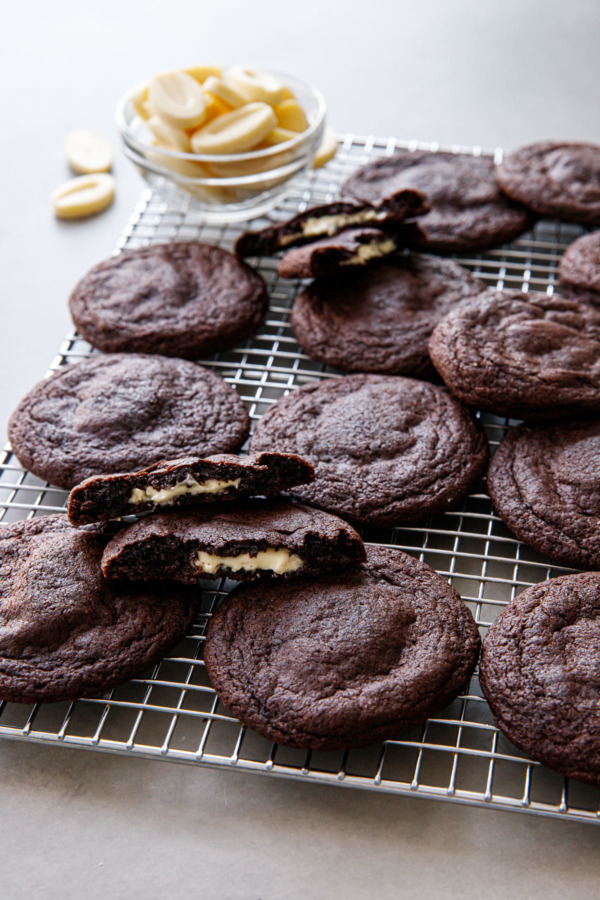 These cookies are best enjoyed warm while the centers are still melty. To bring cooled cookies back to their ideal molten state, bake in a 350º oven for 2-3 minutes or pop them in the microwave for about 10 to 15 seconds.
You can also freeze the stuffed and shaped dough balls and then bake fresh cookies on demand, whenever you like (this is a beautiful thing).
When freezing cookie dough, freeze the dough balls on a parchment-lined cookie sheet until solid, then transfer to a zip-top bag. Label the bag with the recipe name, date, and baking instructions (trust me, you might think your memory is good but better safe than sorry!)
Place the frozen pucks on the cookie sheet and pop them straight in the oven (no need to thaw first), and bake for 2-3 minutes more than if baking from room temperature.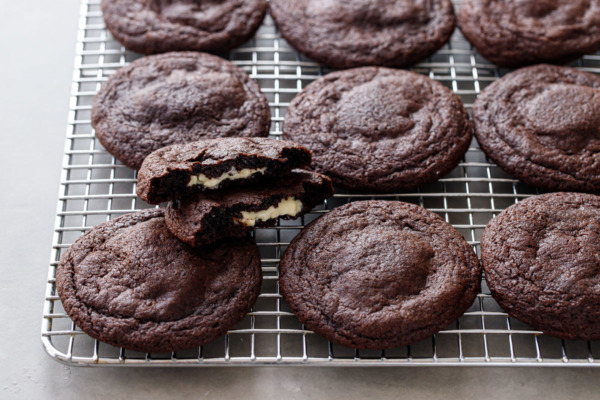 White Chocolate-Stuffed Chocolate Cookies
Ingredients:
2 cups (250g) all-purpose flour
1/2 cup + 2 tablespoons (57g) Dutch processed cocoa powder (I used a mix of 43g Valhrona and 14g Cacao Barry)
2 tablespoons (14g) whole milk powder
2 teaspoons cornstarch
1 teaspoon baking soda
1 teaspoon Diamond Crystal kosher salt (use 3/4 teaspoon Morton's kosher or table salt)
1/2 teaspoon instant espresso powder
3/4 cup unsalted butter (1 1/2 sticks or 170g), at room temperature
3/4 cup (150g) packed light brown sugar
1/2 cup (100g) granulated sugar
2 large eggs, at room temperature
2 teaspoons pure vanilla extract
160g Valrhona white chocolate feves (44 pieces) – you can also use white chocolate callets or chips or even a cut up chocolate bar; you'll want about 7-8g per cookie.
Directions:
Measure flour into a large mixing bowl. Sift cocoa and dark cocoa over top of flour. Add milk powder, cornstarch, baking soda, salt and espresso powder. Whisk until evenly blended and set aside.
In a mixing bowl or the bowl of a stand mixer, cream butter with sugars for 1-2 minutes on medium-high speed until fluffy. Beat in eggs, scraping down the sides of the bowl as needed. Mix in vanilla.
Add half of dry ingredients and mix slowly until partially incorporated, then add the remaining dry ingredients and mix, scraping down the sides of the bowl, until no streaks of dry ingredients remain.
Cover and chill dough for about 2 hours or until firm enough to handle; alternatively, you can use a medium cookie scoop to divide your room temperature dough into balls (about 40g each) on a baking sheet, then lightly cover and refrigerate for about 2 hours until firm enough to stuff.
Preheat oven to 350 degrees F.
Stuff the cookies by splitting one 40g dough ball in half. Flatten out each half slightly, leaving one flattened piece in your palm. Place 2 white chocolate feves (or equivalent amount of white chocolate, about 7-8g) in the center of the circle, then top with the other circle. Press edges together to seal in the white chocolate, then roll re-shape into a slightly flattened 'puck' of dough approximately 2 inches in diameter by 1 1/2 inches tall.
Arrange on a parchment lined baking sheet with a generous 2-inches of space between cookies.
If you find the dough softening too much as you work (which will definitely be the case in warmer months), return dough to the fridge until it is workable again.
Refrigerate shaped dough pucks on baking sheet for 10 to 15 minutes. You can also freeze the pucks as well to bake at a later time (freeze completely on baking sheet, then transfer to an airtight container or ziptop bag labeled with the recipe name, date and baking instructions).
Bake cookies for 11 to 12 minutes (slightly more if baking from frozen) or until tops are puffed and matte and edges are beginning to darken. Remove from oven and let cool for about 10 minutes before eating. Cookies are best enjoyed warm while the centers are still melty, but you can easily reheat cooled cookies in a 350º oven for 2-3 minutes or pop them in the microwave for about 10 to 15 seconds.
Did you make this recipe?
Let us know what you think!
Leave a Comment below or share a photo and tag me on Instagram with the hashtag #loveandoliveoil.