Summer is here and the heat and humidity are not playing around. I keep telling myself I need to plan ahead and shoot my ice cream recipes in the winter when it's cold out, but, alas, here I am trying to photograph ice cream in the 2.5 seconds before it melts.
I've got two frozen recipes in the works, one that'll make your pistachio-loving heart go pitter patter, and another for the cookies 'n cream fanatics among us. Stay tuned!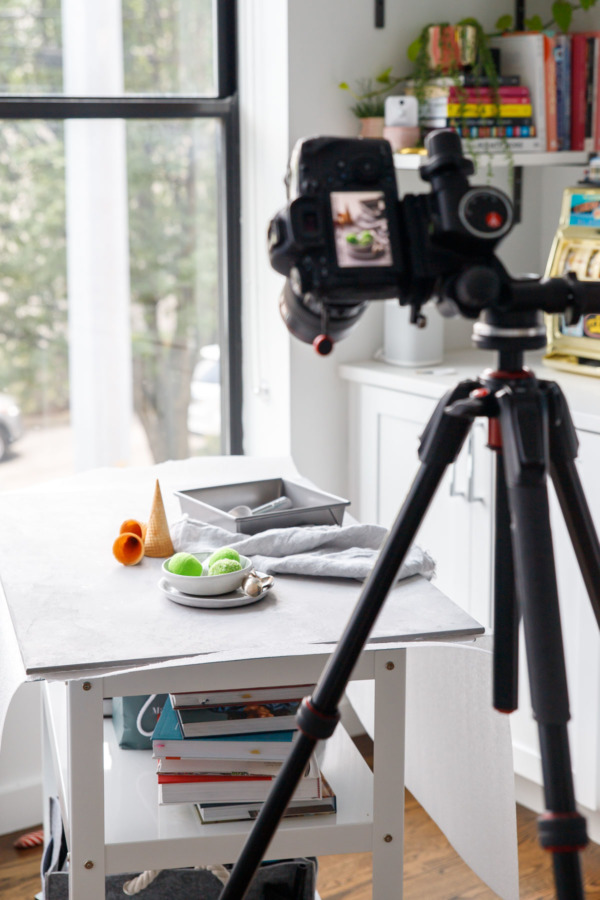 Tip: When shooting ice cream, freeze everything, including the serving bowl you'll be using. I'll also pre-scoop my ice cream and put the scoops on a pre-frozen plate (line with parchment). Put the scoops back in the freezer for an hour or so, then you can transfer them straight into the frozen serving dish to shoot.
Also? Have your setup prepped before the ice cream comes out of the freezer. Use ice cream stand ins (our cat has these round puff ball toys that are perfectly sized for scoops of ice cream) to fine tune your composition and camera settings. This way, when you actually have real ice cream in there, you can get your shot before it starts to melt.
Even with these strategies ice cream is still a total pain to shoot, especially in the summer, but that's not going to stop me from continuing to share ice cream recipes. :)
If the heat is melting more than just your ice cream… you might benefit from a few heat-less recipes, like these Raspberry Mousse Tartlets or Peanut Butter Banana Cream Pie. After dessert (because it always comes first, right?) this Lychee Ceviche is seriously refreshing, as is this Tomato Watermelon Gazpacho.
I recently returned from an 8-day Alaskan cruise with my mom and sister, celebrating my mom's 70th birthday (this was one of her bucket list items and who were we to deny her?!) It was an incredible trip, and extra special in that it was just the 3 of us girls. I didn't share much from this trip on social, in fact I had posts scheduled out beforehand so you probably didn't even notice I was gone. Why? Well, it wasn't a work trip, first of all, but also because we had a measly 250 internet minutes to share between the 3 of us (oh, the horror!) That said, I still took a boatload (literally) of pictures (I mean, it's such a beautiful place how could I not?!) and may end up share them in a post very soon. Just as soon as I get my Croatia posts finished (another beautiful place where I took way too many pictures). These travel posts take 10 times as long as any recipe post, I tell you! But while they're tedious to write, I really loving having that visual record of our adventures to return to anytime I want. So I'll keep doing them, despite the work that goes in to them.
I don't often cross-promote my other persona here (indeed, I still consider myself a full time graphic designer and just a food blogger on the side), but I wanted to let you know that I've just released a set of media kit templates designed specifically for food, lifestyle and travel bloggers. They are created in Adobe InDesign, but I'm working on translating the templates to Canva as well (I've also included a set of video screencasts to walk you through the editing process). And coming soon: ebook and business card templates!
More shameless self-promotion… for a limited time get 15% off fruit notepads and jam ebooks with code QUIPS15!
(psst… be sure you click through and scroll to the bottom of this post for a sweet surprise!)
Around the Web…
(FYI some links below are affiliate links)
My new favorite tshirt. Yes, I have about 10 of them in different colors.
That said, I think this tshirt needs to find its way into my wardrobe too.
I've found the perfect sandal for summer. They're cute and comfortable. I won't walk miles in these (for travel I'll gladly sacrifice style and stick with my trusty Crocs), but for everyday wear, these are perfect.
I'm intrigued by this plastic-free cleaner kit. Trying to do more around our house to reduce single use plastics, and this seems like a great option. Anyone tried it?
We've got a few office kittens of our own… that said, these two are precious.
This service is a traveller's best friend, planning out a full itinerary for your next trip complete with restaurant and activity recommendations. Some of our favorite finds from past trips have been Journy recommendations! (Psst, sign up with my link and get 1 day free!)
Also a traveller's best friend… a good travel pillow. I feel like I've tried them all, and have yet to find 'the one'. My current favorites are the faceplant pillow (totally ridiculous looking, yes, but it's pretty darn comfortable for long overnight flights) and this J-shaped pillow which I like a lot for shorter flights (I find it works best if you have a window seat so you can lean). If you have a pillow you absolutely swear by, please share!
Why books are worth your money. One book per month? I can totally get behind that. I'm such a fast reader that I'd go broke if I bought everything, so I mostly read ebooks checked out from our local library. But whenever I come across a book I absolutely love (or one with a downright gorgeous cover) I will buy a copy for my personal library. I also try to buy locally when I can (our local independent bookstore is one of my favorite stores ever, but we also have an amazing used bookstore where there are great deals to be had!)
Speaking of books… here are the summer reads everyone is talking about.
Have you joined our facebook group yet? If you like this kind of random, sometimes food-related content and links, behind the scenes pictures and proof of my own recipe fails (they're more common than you might think!) plus a healthy dose of culinary inspiration and like-minded community members, you'll fit right in!
Bonus Giveaway!
Winner winner chicken dinner! You waded through my wordy ramblings, and made it all the way to the bottom. As a reward, I've got 4 Sweetapolita gift cards (one $75 gift card and three $25 gift cards) that I'm giving away! Just leave a comment below to enter. I'll choose 4 winners first thing Monday morning. ;)
Giveaway is now closed and winners have been contacted. Thanks everyone for entering!
And don't forget, anytime you want to buy some Sweetapolita sprinkles, use code LOVEANDOLIVEOIL15 for 15% off your order!