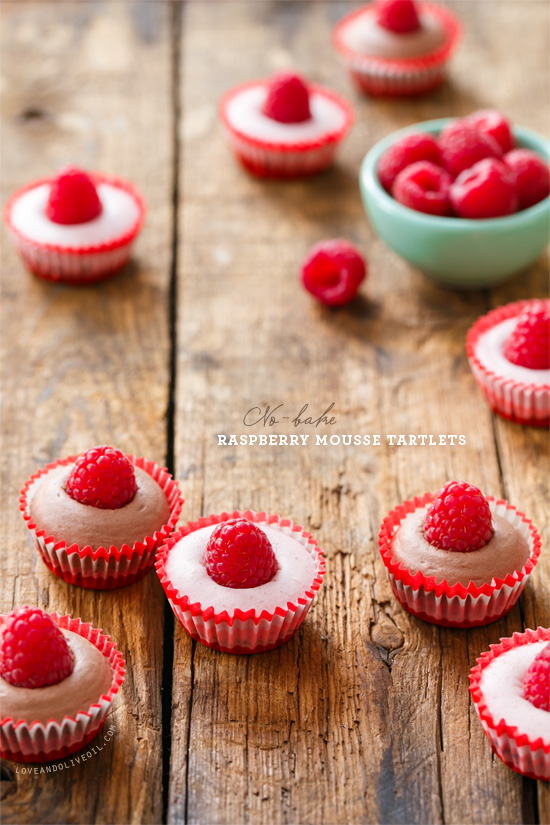 Fruit and summer go together like the Chuck and Sarah. The Doctor and Amy Pond. Castle and Beckett. Bright flavors and cheerful colors to match the sunny days.
I'd also argue that no-bake desserts and summer go together like, well, no-bake desserts and summer. Because bright sunny days also mean heat and humidity, enough of which makes me, at least, never want to turn on my oven again.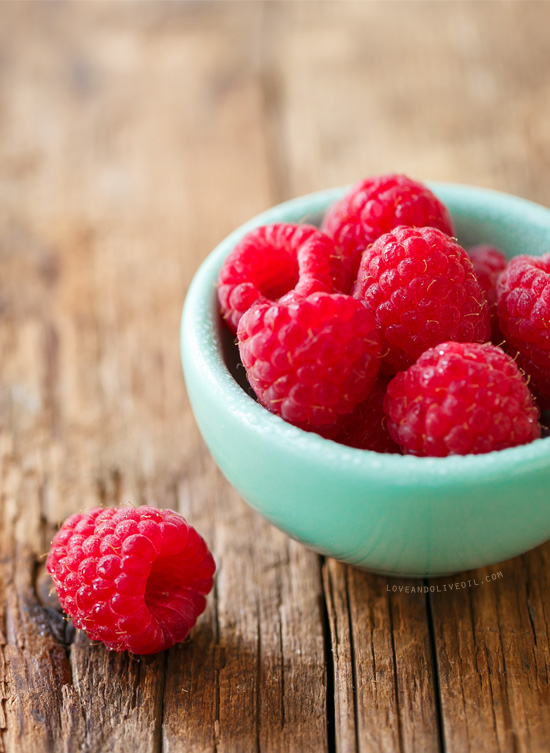 One of my favorite no-bake desserts is chocolate mousse, both dark chocolate and white. Not to mention it's easy to throw together, and impressive to boot. The addition of raspberries makes these tarts presentation worthy for even the fanciest of soirées.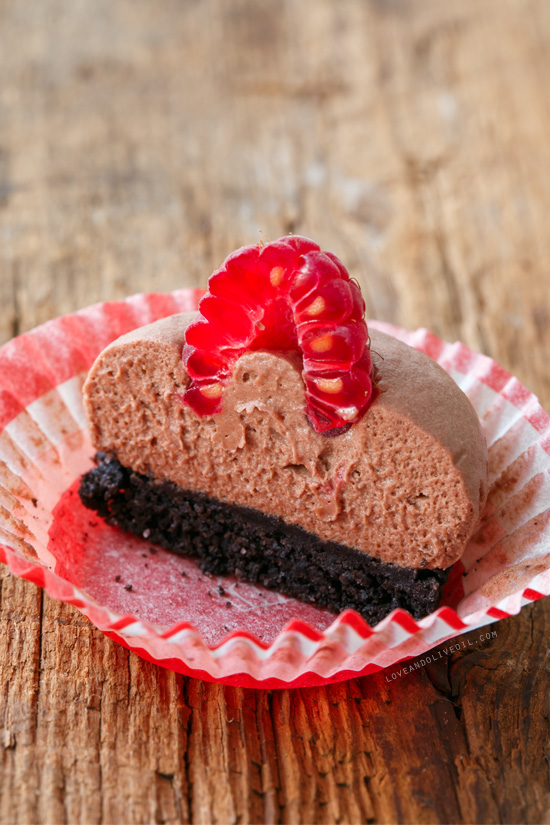 The raspberry shines equally bright in both versions, although you could argue it tastes like a completely different fruit depending on which chocolate it is paired with. White chocolate brings out the floral notes, fresh and fragrant. The dark chocolate reveals the berries' sexy side, rich and sultry.
My mom and I made a double batch of these, one with white chocolate and one with dark, for a gathering at my in-law's last month. Testing the waters, I guess you could say, since we couldn't make up our own minds and thought democracy could serve in our favor. Bring it to a vote, let the people decide.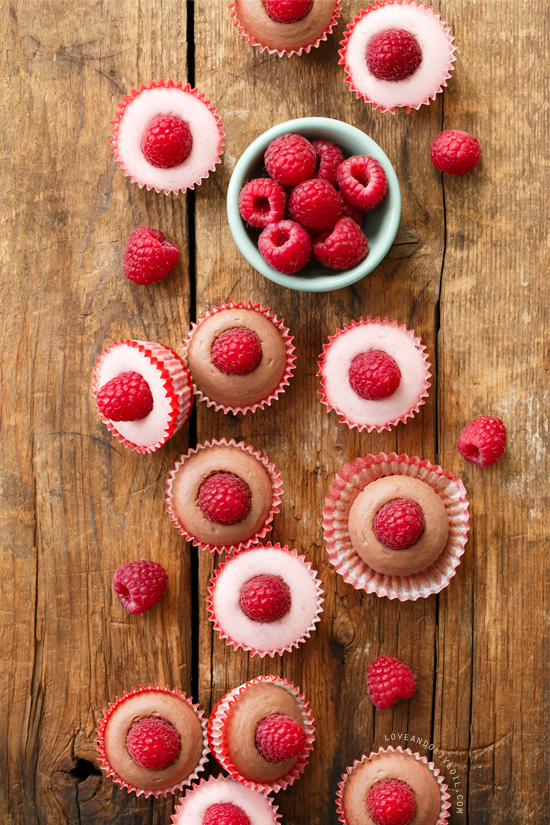 I hovered around the dessert tray and interrogated the party guests while their mouths were still full, hoping there would be a consensus as to which version was the best. The first handful all decidedly chose the dark chocolate, and I thought we had a definitive winner, until the majority of the late-comers surprised me by backing the white chocolate version.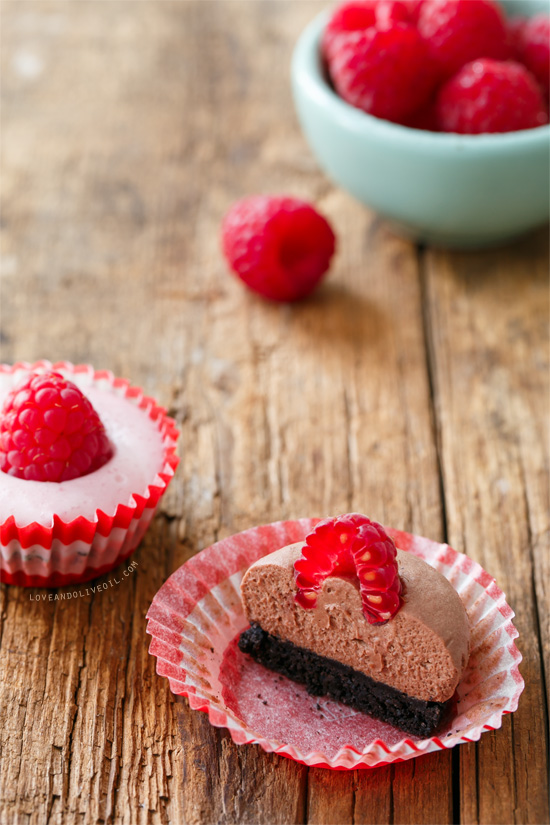 So, unable to pick a side once again, I wrote this recipe to go both ways. It's identical, with the exception of the chocolate base, and the fact that the white version may need a few minutes of chill time before being spooned or piped into the cupcake wrappers. Pick your favorite, or better yet, make a batch of each, and let your guests choose for themselves.
No-Bake Raspberry Mousse Tartlets
You can choose whether you want to use white chocolate or dark chocolate in this easy no bake dessert recipe; each highlights the raspberry flavor in a different and delicious way. Or better yet, make a batch of each!
Ingredients:
For Crust
5 ounces chocolate wafer cookies, finely ground (about 1 1/4 cups of crumbs)
4 tablespoons (1/2 stick) unsalted butter, melted
1 tablespoon granulated sugar
For Filling
8 ounces fresh raspberries, divided (from 2 6-ounce clamshells)
1 teaspoon lemon juice
1 teaspoon unflavored gelatin
1 (3.5 oz) bar good quality white chocolate or bittersweet dark chocolate (not chips/baking pieces), shaved or very finely chopped
1 cup heavy whipping cream, divided
2 tablespoons powdered sugar
Directions:
Line one 24-cup or two 12-cup capacity mini muffin tins with mini cupcake papers.
To prepare crust, mix together cookie crumbs, sugar, and butter until evenly moistened. Spoon a rounded teaspoonful into each muffin cup. Using the base of a shot glass or an upside down bottle lid, firmly press crumbs into bottom of cups. Freeze until set, at least 30 minutes.
Pick through raspberries and set aside 24 of the prettiest berries. Puree the rest in a food processor or blender. Strain through a fine mesh sieve to remove seeds; you should have about 1/3 cup of puree.
Place lemon juice and 1 tablespoon cold water in a small dish. Sprinkle gelatin over top and let sit 5 minutes until congealed.
Place finely chopped white or dark chocolate in a heat proof bowl.
Heat 1/3 cup of whipping cream in a small saucepan set over medium-low heat until it just barely begins to bubble (do not let it boil). Pour over chopped chocolate. Let sit for 30 seconds, then stir until smooth. If your chocolate was chopped very finely there will be more than enough residual heat to melt it; if not, microwave in 5 second intervals, stirring until just melted. Do not overheat or the mixture may separate.
Microwave softened gelatin for 5 seconds to melt, then stir into melted chocolate mixture. Add raspberry puree and stir until incorporated.
In a large mixing bowl or the bowl of a stand mixer fitted with the whisk attachment, beat remaining 2/3 cup cream until frothy. Add powdered sugar and continue to beat until it forms medium-stiff peaks. Stir a spoonful of the whipped cream into raspberry mixture to lighten it. Fold in remaining whipped cream with a large rubber spatula until incorporated, pressing out any large lumps. At this point the mousse should hold medium peaks. If it seems runny, refrigerate for 10 to 20 minutes or until thickened (but do not refrigerate too long or it will set up completely). White chocolate mousse is more likely to need a bit of chilling than dark chocolate.
Remove crusts from freezer. Spoon or pipe filling into individual cups, filling to within 1/4-inch of the rim of the wrappers. Top each with a whole raspberry. Refrigerate until set, at least 2 hours or overnight. Tarts will keep, lightly covered with plastic wrap, in the refrigerator for up to 2 days.
Did you make this recipe?
Let us know what you think!
Leave a Comment below or share a photo and tag me on Instagram with the hashtag #loveandoliveoil.
Disclosure: This post was sponsored by Driscoll's. As always, all opinions written are purely our own. We're incredibly grateful for opportunities like these that allow us to continue sharing delicious recipes with you, so thank you for supporting us and the brands we love.