Sweet and perfectly peachy, you'll want to keep this refreshing cold-brewed peach iced tea stocked and steeped in your fridge all summer long!
The cold brew method makes for a crisp and clean iced tea, combined with a sweet peach sugar syrup for the perfect hint of sweetness and fruity flavor. Also: for some grown up fun, add a splash of bourbon.
A peach-infused sugar syrup is what gives this tea its subtle peach flavor, basically water and sugar (I used organic unrefined sugar which has a more pronounced flavor than regular granulated sugar) simmered with fresh peaches. It's very simple to make ahead of time; the syrup keeps remarkably well in the refrigerator for up to 2 weeks.
The hint of peach is just enough fruity flavor to grab your attention without overwhelming the true nature, both bitter and sweet, of the tea itself.
I tested both hot brew and cold brew methods to make iced tea, and the cold brew was clearly the winner (literally clearly – the hot-brewed-and-chilled tea was dark, bitter and unappealingly cloudy). The cold brew method is clear and crisp, the robust black tea flavor free of any excessive and undesirable bitterness.
The only downside to the cold brew method is it requires advanced planning: ideally you should let your iced tea steep for about 12 hours (if you plan to serve it beyond that, I recommend removing the tea bags after 12 hours to prevent the tea from getting bitter.)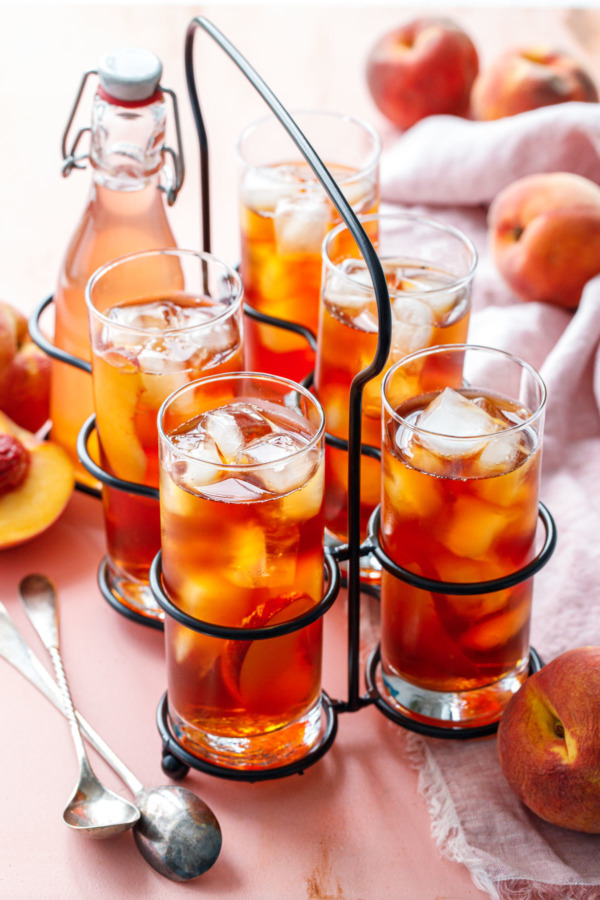 I played with varying proportions of tea to sugar syrup and ultimately found that about 8:1 (8 parts tea to 1 part syrup) was just about right for my tastes. If you are used to Southern-style sweet tea, you might be prefer something more along the lines of 6:1 or 4:1, with 1 1/2 or 2x as much syrup per equivalent amount of tea (if this is the case, double the sugar syrup recipe below). Feel free to play with the proportions yourself, adding a little bit of syrup at a time, until it's perfectly suited to your tastebuds.
You can serve the tea and syrup separately, letting each person customize their tea to their preferred sweetness. Or, for practicality reasons with larger groups, pre-mix the syrup into the pitcher of tea and serve it already sweetened.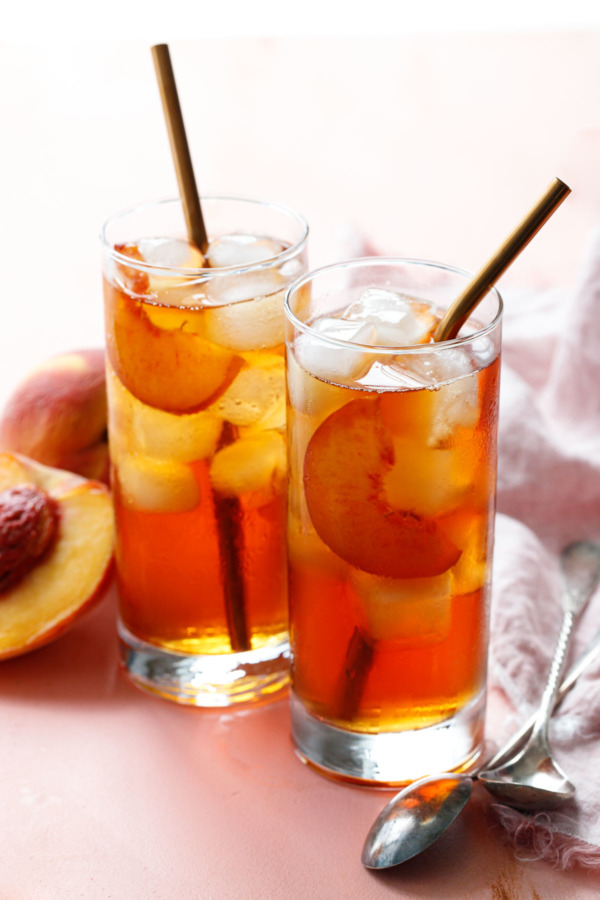 I used my favorite basic black tea, Taylor's Yorkshire Gold, but you can use whatever black tea you like best (although I don't recommend using your fancy expensive loose leaf tea though; the subtlety of flavors will be muddled when served over ice).
If you use a different variety of tea you may want to adjust the number of tea bags you use to your personal tastes, but start with approximately 1 bag per 8oz of water, and then add extra bag or two for good measure.
This may seem like more tea bags than should be necessary, but iced tea should always be brewed stronger than hot tea as our tastebuds are less sensitive to colder substances, meaning the flavors need to be stronger for us to taste them at the same intensity. If you warmed up a glass of this peach iced tea, for example, it'd likely taste much stronger all around—sweeter and more astringent—than when enjoyed cold over ice. For this reason we need to brew iced tea differently than we'd brew a cup of hot tea.
You can reuse the tea bags a second time, steeping in half the amount of water as before (so 8-10 bags in 4 cups of water). Just know that, despite the extra bags, this "second pressing" won't be nearly as strong or flavorful as the first batch.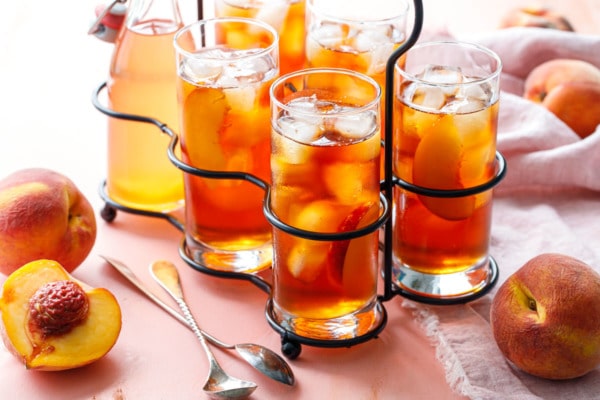 Cold Brew Peach Iced Tea
Ingredients:
1/2 cup granulated sugar (I used organic unrefined cane sugar, raw or turbinado sugar would be great too!)
1 large ripe peach
8-10 black tea bags (more or less to taste)
Directions:
To make sugar syrup, combine sugar with 1/2 cup filtered water in a small saucepan. Cut peach in half, twisting to remove the pit. Coarsely chop. Place entire chopped peach, pit and all, into saucepan with sugar and water. Bring to a simmer over medium heat, stirring until sugar is dissolved.
Let simmer for 5 minutes, smashing the peaches a bit with the back of the spoon to extract more of the peach flavor. Remove from heat, cover and let sit for about 30 minutes (you can also chill the syrup with the peaches overnight for a stronger peach flavor). Strain through a fine mesh sieve into a glass jar or bottle, pressing out all the syrup from the remaining peach solids. You should have about 1 cup of syrup, which will keep in an airtight container in the refrigerator for up to 2 weeks.
For cold brew tea, fill a 2-quart glass pitcher or two 1-quart lidded glass bottles with a total of 8 cups of filtered water. Submerge tea bags fully in pitcher. Cover and refrigerate for at least 12 hours or overnight until desired flavor is achieved. If it will be refrigerated for longer than 12 hours, remove the tea bags after 12 hours or so to prevent the tea from getting bitter.
To serve, pour 1 cup (8 ounces) of cold brewed tea into an ice-filled glass. Stir in about 1 tablespoon of peach syrup (more or less to taste). You can also mix 1 cup of syrup into the full 8 cups of tea and serve it pre-sweetened if you prefer.
Did you make this recipe?
Let us know what you think!
Leave a Comment below or share a photo and tag me on Instagram with the hashtag #loveandoliveoil.