Crisp fall apples cooked down with sugar and spices until lusciously smooth and intensely flavored. This small batch apple butter recipe is perfect when you just have a few apples on hand.
Most apple butter recipes require 3-4 pounds of apples and hours of time. But sometimes you just want a little apple butter, a jar's worth or so, that can easily be consumed in a week or two. For that, this small-batch recipe is perfect (not to mention it is much quicker and easier to prepare than a larger batch, no canning required!)
Apple butter is one of those magical condiments that crosses the line between sweet and savory, and I can think of a million different ways to use it.
This particular batch of apple butter was made as to accompany a batch of sharp cheddar gougères (cheese puffs), apples and cheese being an entirely under-appreciated combination. In that same respect it also makes a great addition to your holiday cheese board, and would be astounding paired with melty white cheddar and brie inside a grilled cheese sandwich.
On the sweeter side, it'd be perfect dolloped on biscuits, spread onto toast, warmed and drizzled on fall spiced pancakes or waffles, stirred into yogurt or even swirled into homemade frozen yogurt.
I mean, it's undoubtedly more versatile than any other condiment, ketchup included.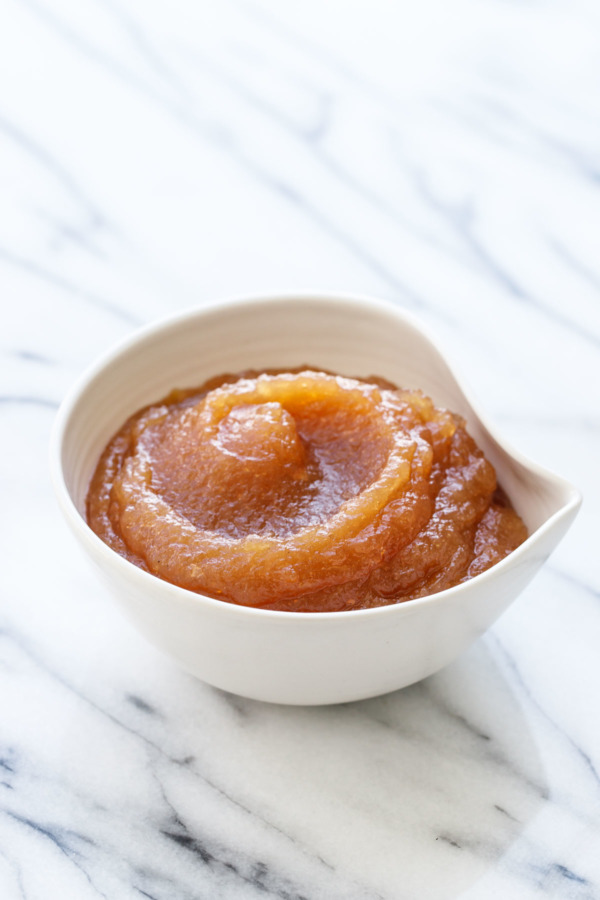 What is the difference between applesauce and apple butter, anyway?
Time.
But it makes all the difference.
Applesauce is a fairly quick process, cooked apples run through a food mill. Apple butter is basically concentrated apple sauce, cooked down even more until it's thicker, silkier, and more intensely apple flavored. Like the difference between tomato sauce and tomato paste, essentially.
Since this is a small batch preparation method, it takes significantly less time than a larger batch (more surface area = quicker evaporation; yay maths!) Needless to say, this apple butter only needs about an hour to cook, whereas a bigger batch would easily take twice that.
You'll know it's done when the apple butter is caramel colored and thick enough to hold its shape on a spoon (it won't immediately drip off when inverted). For me it took about an hour to reduce from 2 cups down to about 1 1/2. There's no magical "moment" when it's done, so just test and taste as you go and call it done whenever it's to your liking.
It's not rocket science, after all.
Can it be canned? While apple butter is generally considered safe for home canning, this specific recipe was not developed/tested with that in mind (since it's such a small batch, it's not really worth the time to can it).
If you're looking for a larger yield apple butter recipe for canning, I recommend a recipe from a trusted source like Ball or NCHFP.
However, since this recipe is not meant to be canned, it means it's ripe for adaptation. Maybe you want a splash of bourbon, or extra lemon juice for a brighter flavor, or a different combination of spices. Prefer more or less sugar? Adjust as desired. Heck, even swap out honey or maple syrup instead.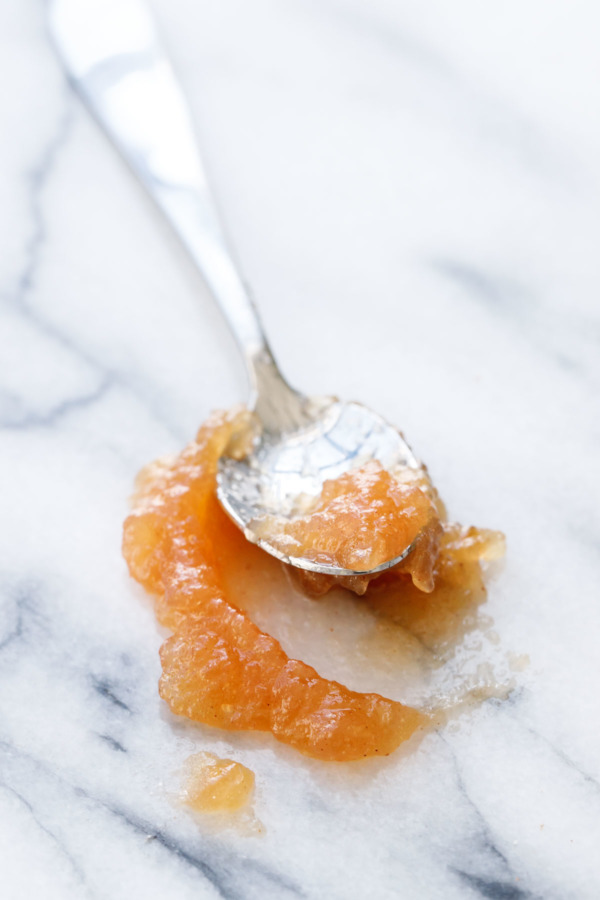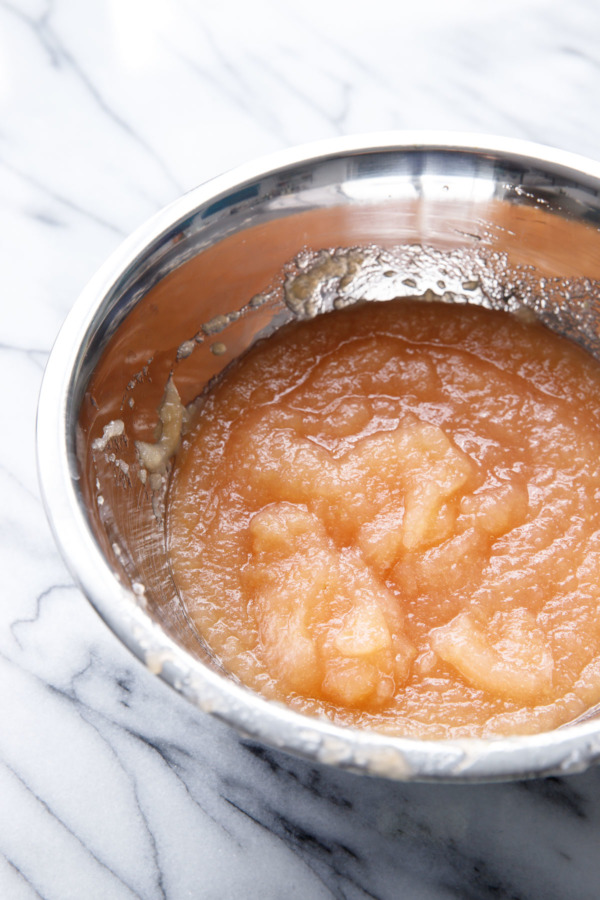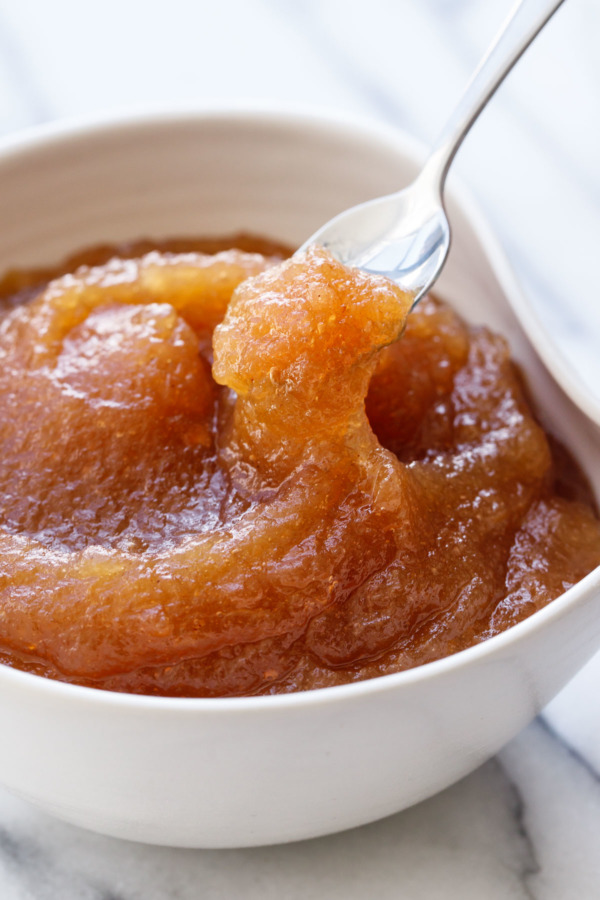 I used a food mill to sauce the apples as I love the more rustic texture it creates. Food mills are also amazing timesavers, removing any undesired peels or pits, so I didn't bother peeling my apples beforehand. Apple peels are full of pectin, so cooking the apples initially with the peels helps to thicken the sauce as well.
If you don't have a food mill, that's ok, you'll just want to peel your apples first and then run the cooked apple chunks through a food processor or use a hand blender to make a smooth puree. Apple butter prepared in this method will be smoother and slightly thinner than apple butter made with a food mill, but no less delicious.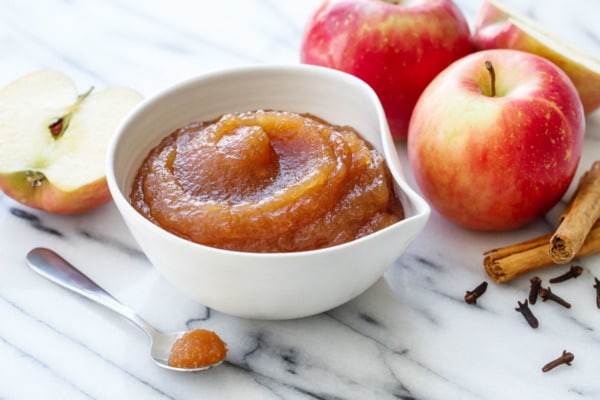 Small Batch Stovetop Apple Butter
Crisp fall apples cooked down with sugar and spices until lusciously smooth and intensely flavored. This small batch apple butter recipe is perfect when you just have a few apples on hand, no canning required.
Ingredients:
1 1/2 pounds assorted apples (about 5 medium apples), cored and coarsely chopped*
1/2 cup filtered water or apple cider (NOT vinegar)
1/4 cup granulated sugar
2 tablespoons lemon juice (from 1 large lemon)
1/4 to 1/2 cup packed light brown sugar, to taste
1/4 teaspoon ground cinnamon
pinch ground cloves
pinch sea salt
Directions:
Place apple pieces and cores in a large saucepan along with water, granulated sugar and lemon juice. Bring to a simmer over medium-high heat, then reduce the heat to medium-low. Cover and cook apples for 20 to 25 minutes or until apples begin to soften and fall apart.
Remove from heat and discard cores. Run softened apples through a food mill, discarding any remaining solids or seeds. (Alternatively, if you don't have a food mill, blend softened apples in a food processor or using a hand blender until smooth.) You should have about 2 cups of apple puree.
Return puree to saucepan and set over medium-low heat. Add brown sugar to taste, along with spices and salt. Gently simmer, stirring regularly to avoid spattering, until apple butter is deep caramel in color and thick enough to hold its shape on a spoon.
Transfer to a jar or airtight container and keep refrigerated for up to 3 weeks.
* I used a mix of honeycrisp and granny smith apples here, but feel free to use your favorites. If you do not have a food mill, peel and core your apples before cooking..
Did you make this recipe?
Let us know what you think!
Leave a Comment below or share a photo and tag me on Instagram with the hashtag #loveandoliveoil.