Bright and tangy homemade frozen yogurt swirled with a mouth-puckering tart cherry jam for a combination that is utter perfection.
Frozen yogurt is the perfect way to satisfy that ice cream craving without the guilt. But making it at home isn't as simple as throwing some yogurt in the freezer. I daresay I've cracked the code to homemade frozen yogurt that's creamy, not icy, made from whole milk yogurt, sweetened to perfection and swirled (or drizzled!) with a tart cherry jam.
This recipe was created in partnership with Delallo®, our go-to brand for authentic Italian flavor, including pastas, sauces, and specialty imports.
This recipe was inspired by a particularly memorable cup of Greek frozen yogurt we enjoyed in San Francisco that was drizzled with this amazing sour cherry sauce (the place is called Souvla, for those wondering). I devoured mine, relishing this unexpected combination, and lamenting the fact that I couldn't get anything comparable at home.
So when I heard about DeLallo's new Sour Cherry Spread, I knew I had to try to recreate the frozen yogurt at home. I realize it was meant to be paired with cheese, on a gourmet cheese board for example (it'd also be great in a grilled cheese!), but I couldn't resist the siren call of something sweet.
I have to say, sour cherry is one of life's greatest pleasures. It's tart and sweet and resoundingly fruity, all at the same time. And it makes for a FABULOUS jam. If we lived in a place where sour cherries thrived, I'd be buying them by the flat and making all manner of cherry jams and jellies, pies and pastries.
Alas, fresh sour cherries are exceedingly rare in this part of the country, so I have to satisfy my craving with store-bought. But in this case, DeLallo's sour cherry spread will more than satisfy. Dare I say it's even better than what I could make myself, with a chunky, rustic texture and a perfect sweetness that tastes homemade. This stuff is totally spoon-worthy. And paired with a tart and creamy frozen yogurt? Simply divine.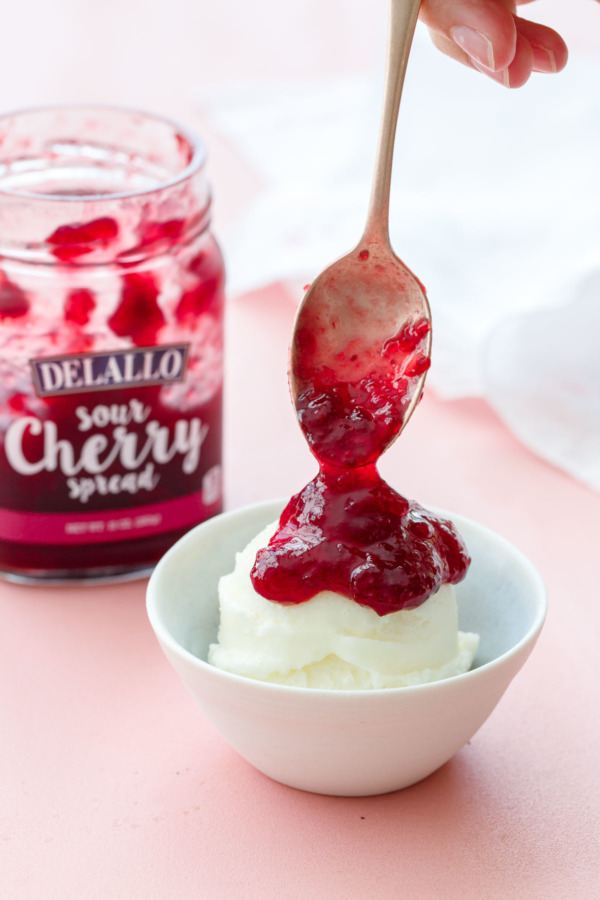 You'd think for a recipe with so few ingredients it would've been an easy one. But in reality, because of the lack of butterfat in yogurt (compared to ice cream) it's actually really hard to get a creamy smooth consistency in consumer ice cream machines. I had to test this one 4 (count em, FOUR!) times before it got to the point where I was satisfied with it.
I tested it with plain yogurt vs greek yogurt, gelatin vs guar gum, swirled cherry vs drizzled cherry. I battled summer heat and freezer frost and waning daylight. But it's all worthwhile to be able to share this recipe with you now!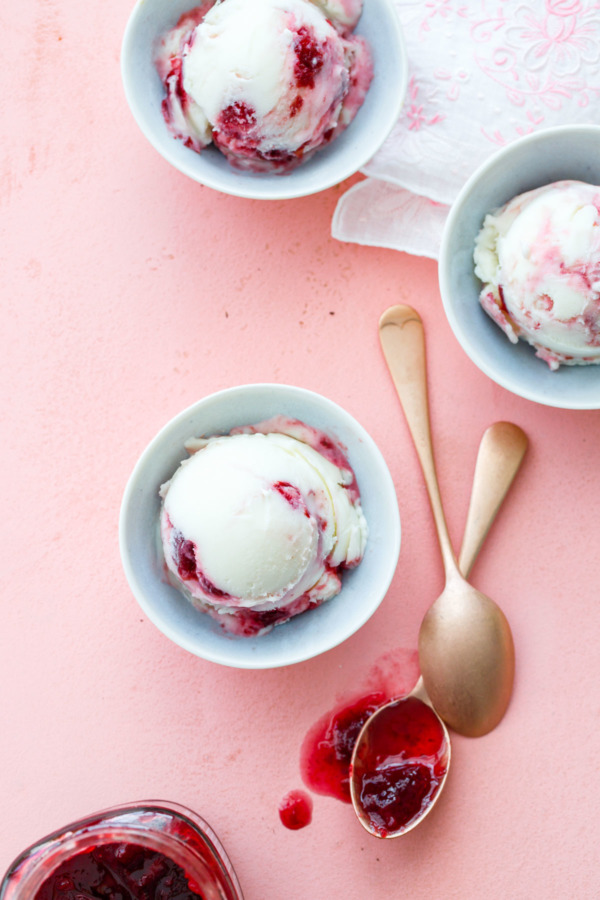 The secret to creamy frozen yogurt at home
After various tests, I have concluded that the best way to get a creamy consistency is a combination of lower protein yogurt, invert sugar, and a touch of guar gum.
Low-protein yogurt: for whatever reason, lower protein yogurts make for a better texture when frozen. If you can find a low protein Greek/strained yogurt (>10g/cup if possible) you're in business! If you can't, get some regular whole milk yogurt (unflavored/unsweetened), and then strain it overnight in a fine mesh sieve lined with cheesecloth.
Invert sugar: I used golden syrup, which has a very mild flavor that doesn't overpower the yogurt. You can also use light corn syrup here too, which is more easily available in the States.
Sugar: The sugar also plays a big role in the consistency of the yogurt, so don't try to reduce it. We found that 3/4 cup was the perfect amount of sweetness without becoming cloying. The tart yogurt flavor still shines through.
Guar gum: Guar gum binds to the water molecules in the yogurt, preventing them from becoming icy as they freeze. Just 1/8 teaspoon is all you need for an entire batch, and it makes a HUGE difference. You can easily find this ingredient online or in health food stores.
I also tried a batch using gelatin (as per Cook's Illustrated's recipe), and while it was better than nothing, it wasn't as good as the guar gum. (I also didn't like the idea of frozen yogurt not being vegetarian, I feel like that could be an undesired surprise for someone eating it).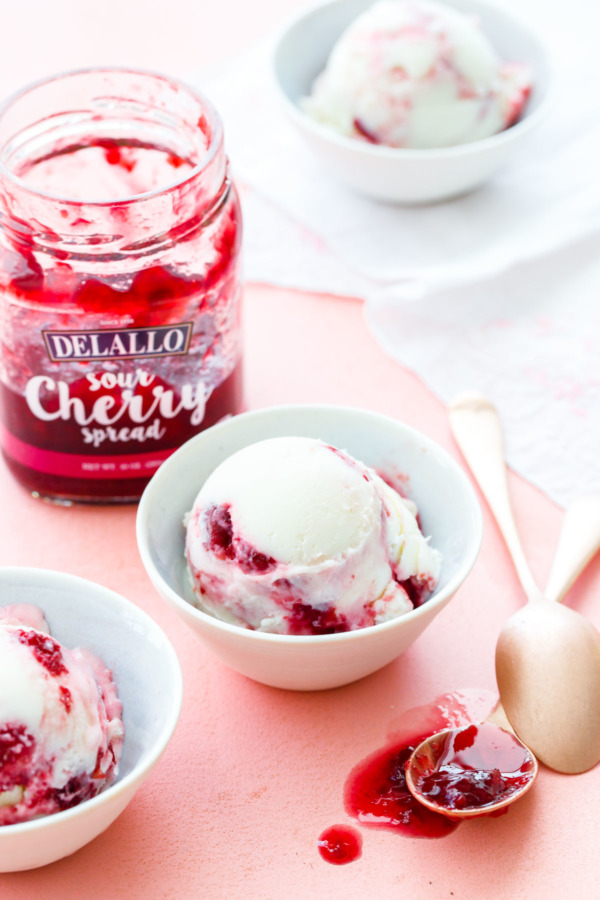 Once you've got your yogurt base prepped and chilled, you have two options for incorporating the sour cherry jam.
Plain frozen yogurt with the sour cherry spread spooned on top.
or
Churned and layered with the sour cherry spread, so the resulting scoops feature luscious swirls of cherry with the smooth white of the yogurt.
Or better yet, how about both? The intense punch of flavor from the sour cherry is the perfect compliment to the flavor of the yogurt.
Now, I know fro-yo is usually soft serve, not scooped. And if you serve this immediately out of the ice cream machine, that's exactly what you get. But I'm guessing you're not going to eat the entire quart in one go, in which case storing the ice cream and retaining the soft serve consistency isn't really an option. (One of these days some company will fill the hole in the market and come out with a home soft serve machine that's actually practical. Hear that, appliance companies? Get on it!)
So we settle. But trust me when I say this scoopable fro-yo is by no means a compromise. Still, I recommend letting it sit at room temperature for 15 minutes or so to soften up slightly before scooping.
It's simple and satisfying on its own, but swirled/drizzled with the sour cherry jam makes it all the more delightful.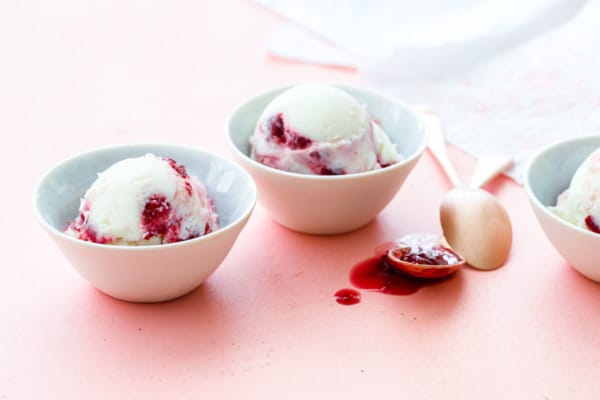 Homemade Frozen Yogurt with Sour Cherry Jam
Tart, tangy and creamy, this homemade frozen yogurt is divine on its own, but even moreso when swirled or drizzled with sour cherry jam.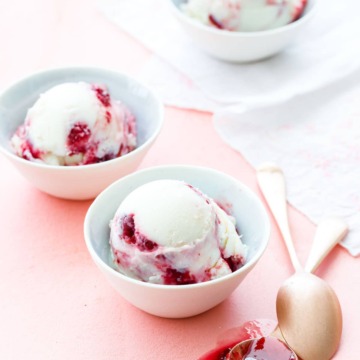 Ingredients:
2 1/2 cups (24 ounces) strained whole milk yogurt*
3/4 cup granulated sugar
1/8 teaspoon guar gum
pinch salt
3 tablespoons golden syrup or light corn syrup
1 jar DeLallo sour cherry spread
Directions:
If using regular yogurt, place in a cheesecloth-lined fine mesh sieve set over a large bowl. Let drain overnight in the refrigerator. Measure out 2 1/2 cups of yogurt.
In a small bowl, whisk together sugar, salt and guar gum until evenly incorporated. Add to yogurt along with golden syrup and whisk until smooth. Refrigerate until thoroughly chilled (the colder this is when you start churning it, the better). It should measure under 40 degrees F if you test it with an instant read thermometer.
Churn in an ice cream maker according to manufacturer's instructions until it reaches the consistency of soft serve.
Transfer to a freeze safe container. If you plan to swirl with cherry, spread about 1/4 of the yogurt in the container, then spoon a few dollops of jam on top. Repeat with another layer of yogurt and a few more spoonfuls of jam. You're really just layering the yogurt and the jam, which will appear 'swirled' once it is scooped. Don't actually swirl the jam in as it'll mix it too much.
Freeze overnight or until completely firm. Let sit at room temperature for 10 to 15 minutes before scooping and serving (drizzled with cherry jam as desired).
*Look for a whole milk Greek yogurt that is low in protein (>10g/serving) if you can find it. If not, get a good quality plain whole milk yogurt, and strain it overnight in the refrigerator in a cheesecloth-lined sieve set over a bowl. A 1 quart container of yogurt will yield about 2 1/2 cups of strained yogurt.
Did you make this recipe?
Let us know what you think!
Leave a Comment below or share a photo and tag me on Instagram with the hashtag #loveandoliveoil.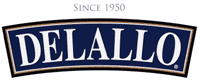 Disclosure: This post was created in partnership with DeLallo. As always, all opinions written are purely our own. We're incredibly grateful for opportunities like these that allow us to continue sharing delicious recipes with you, so thank you for supporting us and the brands we love.