A ray of sweet potato in a sea of pumpkin.
These pancakes were inspired by the one worthwhile menu item at Nashville's famous Pancake Pantry: the sweet potato pancakes. (I know that may sound harsh but it's my humble opinion that pancakes, even great ones, are never worth waiting hours in line for. Then again, not many foods are. Pro tip: if you want to try these famous pancakes, go on Tuesday at 10am. There will be no line and you can enjoy your pancakes in peace.)
Or, even better, make these copycat sweet potato pancakes in the comfort of your own home (where the only line is the three cats at your feet waiting to lick the leftover sweet potato puree from your spoon).
But seriously, are my cats the only ones that love sweet potato/squash/pumpkin puree? It's like kitty crack. They beg me to lick the spatula much like I remember begging my mom to lick the cookie dough off the beaters as a kid (or, um, as an adult, though I don't much have to beg when I'm the one in charge of the baking).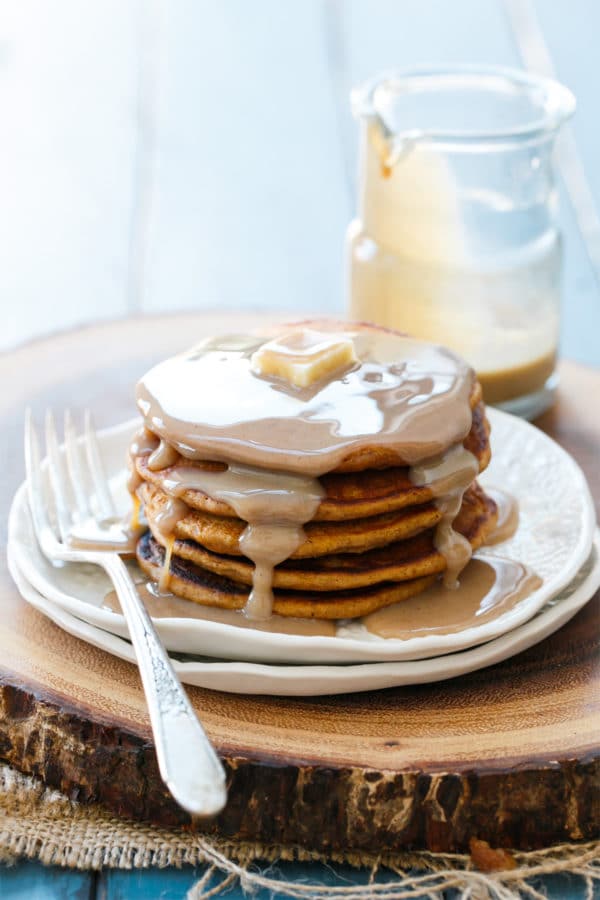 What truly makes Pancake Pantry's sweet potato pancakes so stellar, in my opinion, is the syrup. Rather than boring old maple syrup, these pancakes are topped with a cinnamon cream syrup, made from little more than sweetened condensed milk and cinnamon, with a splash of maple syrup for flavor. In fact, I first made my own version of this syrup for the indulgent cookie dough pancakes in my book because I love it so much. It keeps quite well in the fridge, so rather than waste that partial can of sweetened condensed milk, whip up a double batch and save it to use on French toast, dutch baby pancakes, or heck, it'd even be good over ice cream.
These pancakes are made with White Lily's new Red Grape Seed Flour Blend, a unique flour that combines Non-GMO certified wheat flour with red grape seed flour for a truly unique flavor and texture. We've been working with White Lily this year to spread the word about these sustainable new flour blends, and I can honestly say it's won me over. The red grape seed blend lends a unique color to the final baked goods as well, in contrast to the white grape seed blend which is visually similar to regular whole wheat flour. It's perfect for these pancakes, adding a unique texture and nuttiness that perfectly compliments the fall flavors.
(And if you're wondering, you can currently find the new White Lily® Premium Flour blends in stores in select states or online.)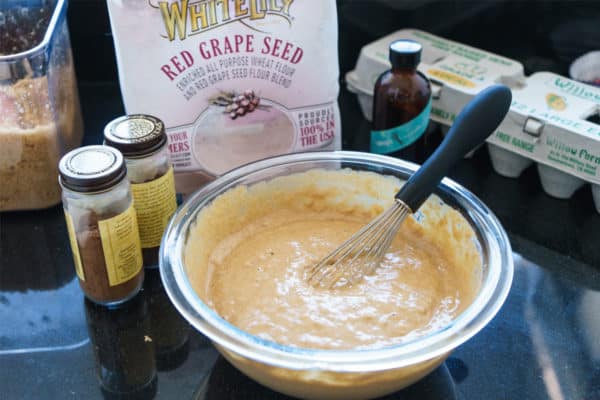 I battle with pancakes. I feel like the texture is never quite right, which is why I more often than not turn to waffles or dutch babies for breakfast instead. But I was determined to get this one right. It took me numerous tries, but I finally got this pancake recipe where it needed to be: fluffy and delicious.
The main difference between perfectly fluffy pancakes and soggy ones are the temperature at which they are cooked. I know it's tempting to crank up the heat, which, granted, does give you a perfectly brown pancake on the outside. The inside, on the other hand, is another story altogether: a soggy, mushy mess.
Instead, keep the heat at medium-low to low (I found 3-4 out on my 8-dial stove seemed to be just about right). The pancakes should take about 4 minutes per side. If they are browning quicker than that, turn down the heat. You can check for doneness by peeking under the pancake for an even, golden brown, or looking for the telltale signs on the top of the pancake: bubbles should come up through the surface, and the edges should look slightly dry.
Also – good nonstick matters, as you shouldn't have to use any butter or cooking spray whatsoever. That's how you get evenly browned pancakes as opposed to speckled ones (and I won't tell you how long it took me to realize that). If your pancakes stick, try a different pan.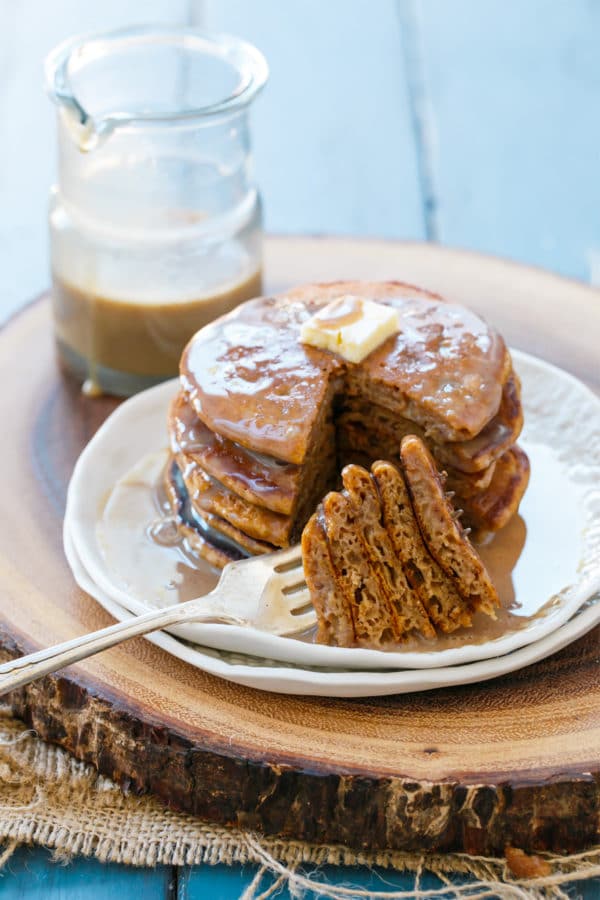 While I made these with sweet potato puree, you could just as easily swap out pumpkin or butternut squash puree in its place. The three are really interchangeable, and honestly not that discernible in terms of taste (I mean, let's be honest: would YOU be able to tell the difference? Doubtful. In fact I've heard that most canned pumpkin is actually a mix of winter squashes, including varieties more akin to butternut squash than actual pumpkin).
So in reality you may have been drinking butternut spice lattes all these years and been none the wiser.
Sweet Potato Pancakes with Cinnamon Cream Syrup
Perfect for fall, these buttermilk sweet potato pancakes are full of comforting flavors and spices, and topped with a unique cinnamon cream syrup.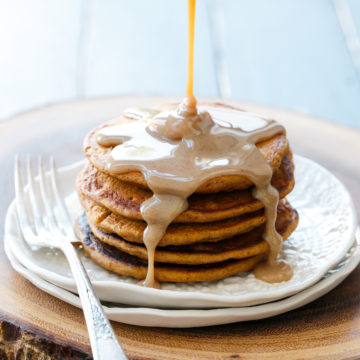 Ingredients:
For Pancakes:
1 cup White Lily® Wheat and Red Grape Seed Flour Blend
1 1/2 teaspoons baking powder
1/4 teaspoon baking soda
1/2 teaspoon salt
1/2 teaspoon ground cinnamon
1/4 teaspoon ground cloves
1/4 teaspoon ground ginger
1/8 teaspoon ground nutmeg
1 cup buttermilk
1/2 cup sweet potato puree
2 large eggs
2 tablespoons brown sugar
1 teaspoon vanilla extract
2 tablespoons butter, melted and cooled slightly
For Syrup:
1/2 cup sweetened condensed milk
2 tablespoons real maple syrup
1/2 teaspoon ground cinnamon
1/4 teaspoon vanilla extract
Directions:
In a bowl, whisk together flour, baking powder, baking soda, salt, and spices until evenly incorporated.
In a separate small bowl, whisk buttermilk, sweet potato, eggs, brown sugar, and vanilla until smooth. Pour into dry ingredients along with melted butter, whisking until just smooth (batter may be slightly lumpy). Set aside for 5 minutes to rest.
Heat a nonstick skillet or griddle pan over medium-low heat. Drop batter by the 1/4-cupful (a large cookie scoop works well to divvy out evenly sized pancakes), 3 to 4 at a time depending on the size of your skillet, leaving space between pancakes so they don't run into one another. Cook for about 4 minutes or until bottoms are evenly golden brown, and tops are bubbly and edges appear slightly dry. If your pancakes are browning too quickly, lower the burner heat as necessary. Flip using a thin spatula, and cook for another 3 to 4 minutes, until both sides are evenly golden brown and pancakes are cooked through. Transfer to a baking sheet in a warm (175 degree F) oven to keep warm. Repeat with remaining batter.
Meanwhile, to make syrup, combine sweetened condensed milk, maple syrup, cinnamon, and vanilla in a small microwave-safe bowl or glass measuring cup. Syrup will keep in an airtight jar or container for up to a week. Just before serving, microwave for 10 to 20 seconds or until slightly warmed.
Serve pancakes warm with a pat of butter and drizzled with warm cinnamon cream syrup.
Did you make this recipe?
Let us know what you think!
Leave a Comment below or share a photo and tag me on Instagram with the hashtag #loveandoliveoil.

Disclosure: This post was created in partnership with White Lily. As always, all opinions written are purely our own. We're incredibly grateful for opportunities like these that allow us to continue sharing delicious recipes with you, so thank you for supporting us and the brands we love.