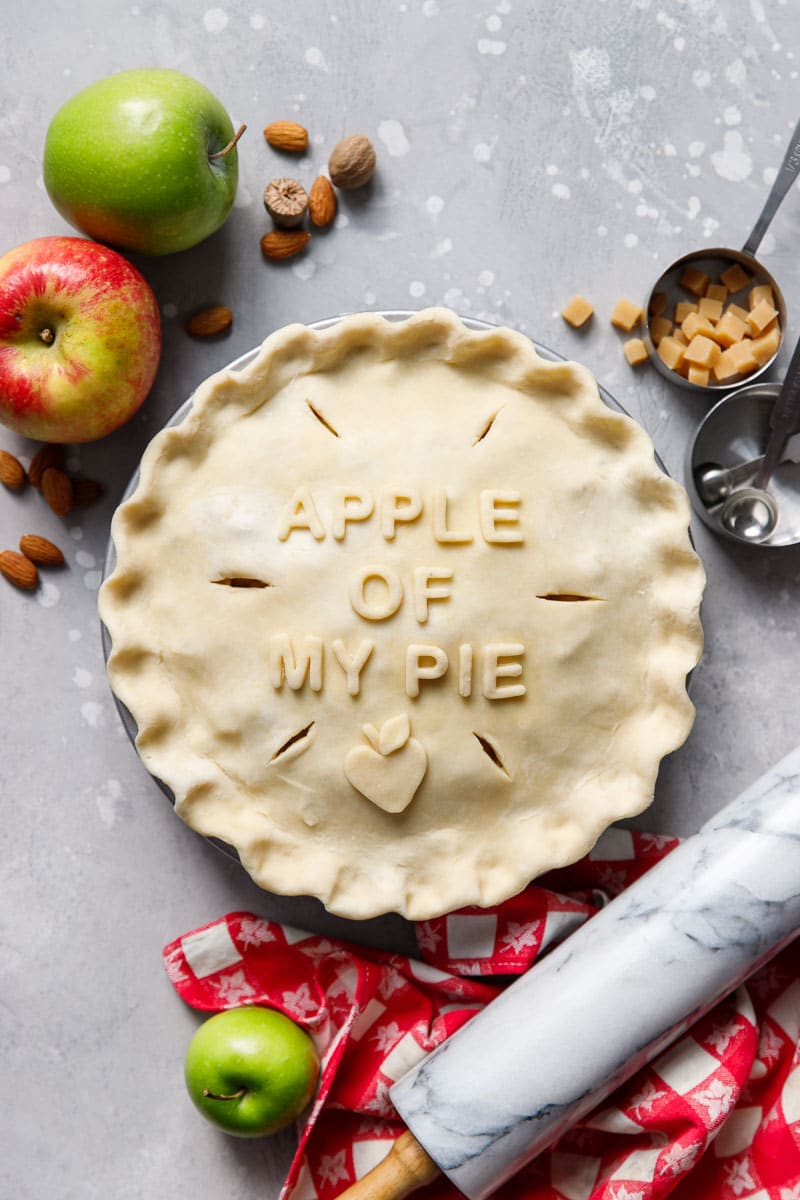 You're the apple of my pie.
No, seriously, you're sweet enough to eat.
This pie was truly a labor of love… and a product of this amazing community.
Yes, I made it, but it wouldn't have happened at all without my inspiring friends, readers, and the food blog community at large. The filling recipe is loosely adapted from Bravetart's amazing cookbook and the crust is Laura's miraculous stand-mixer pie crust (seriously). Not to mention that the inspiration to make an apple pie with marzipan came from one of you!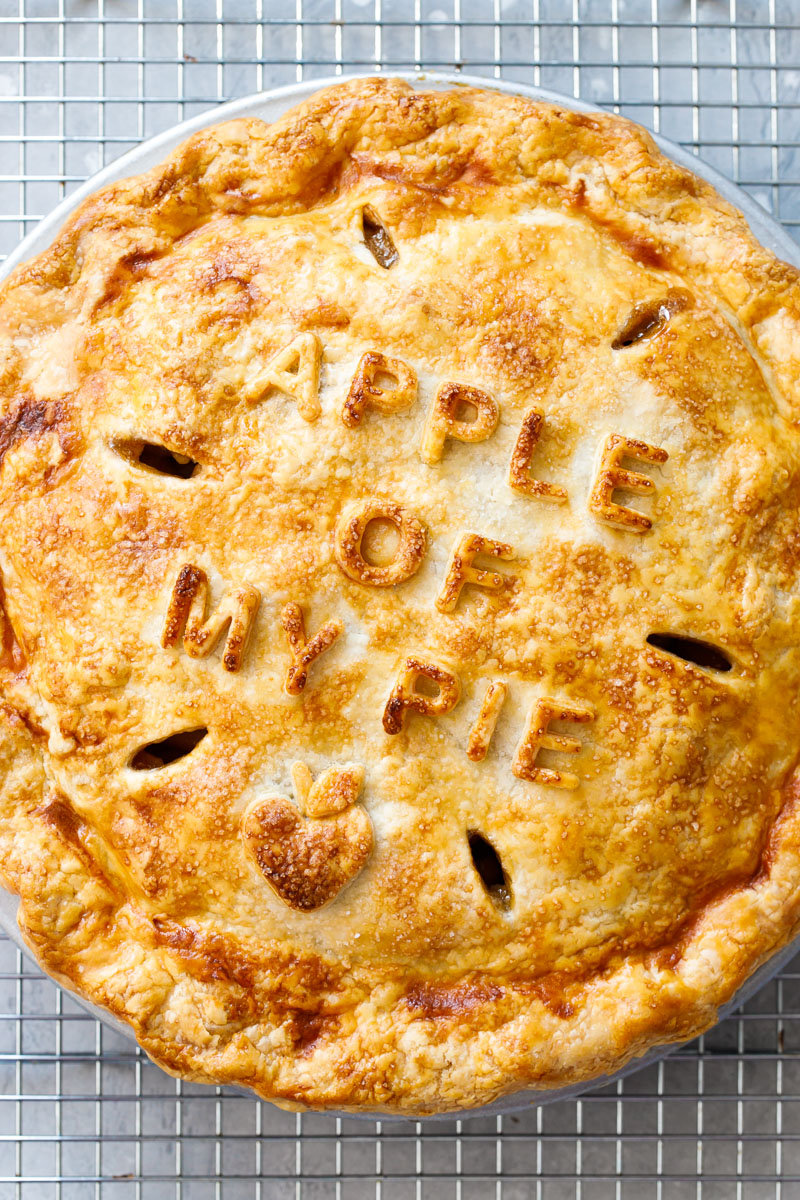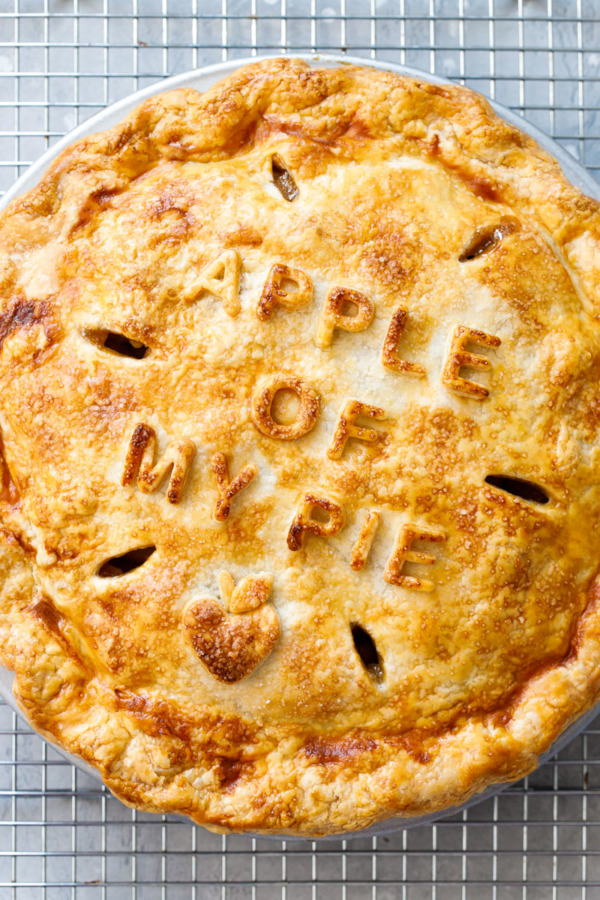 I'll admit, I've never really loved apple pie (I'll choose a chocolate dessert over a fruit one any day) and probably never would have chosen to make one for Thanksgiving. But when reader Michelle commented in my facebook group that she likes to add cubes of marzipan to the apple pie filling… well you don't need to say marzipan twice to get me on board.
Of course it took me a few tries to get it right (easy as pie my a$$) but the end result is well worth it.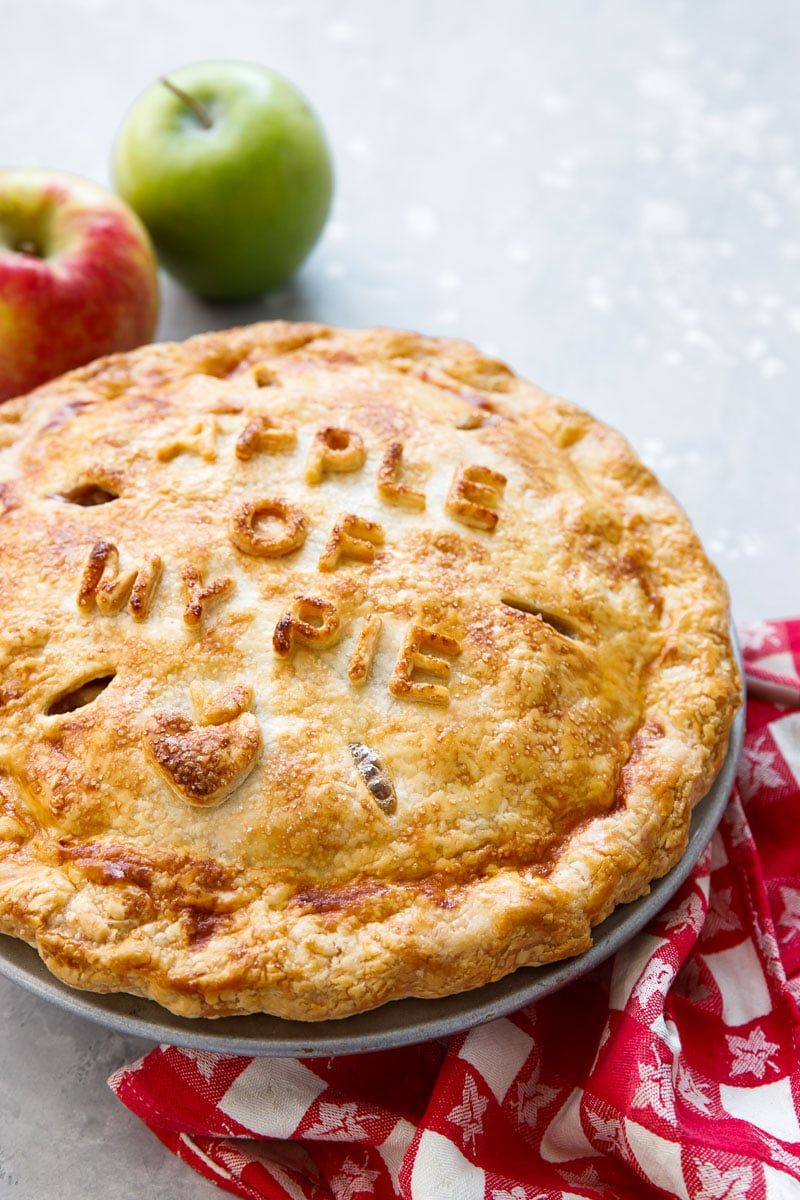 The first pie I made for Thanksgiving (which was just Taylor and me this year and thus a perfect opportunity to test out something new). To begin with, I was concentrating so hard on my lovely lattice crust that I completely forgot to put the marzipan in the filling (doh). The pie itself also decided to go all Vesuvius on me and erupt boiling hot apple caramel out the sides.
Good news: I had a baking sheet under the pie.
Bad news: I didn't line that baking sheet with foil.
RIP baking sheet.
Still, we ate the pie and admitted, even without the marzipan, that the recipe had potential and deserved another try.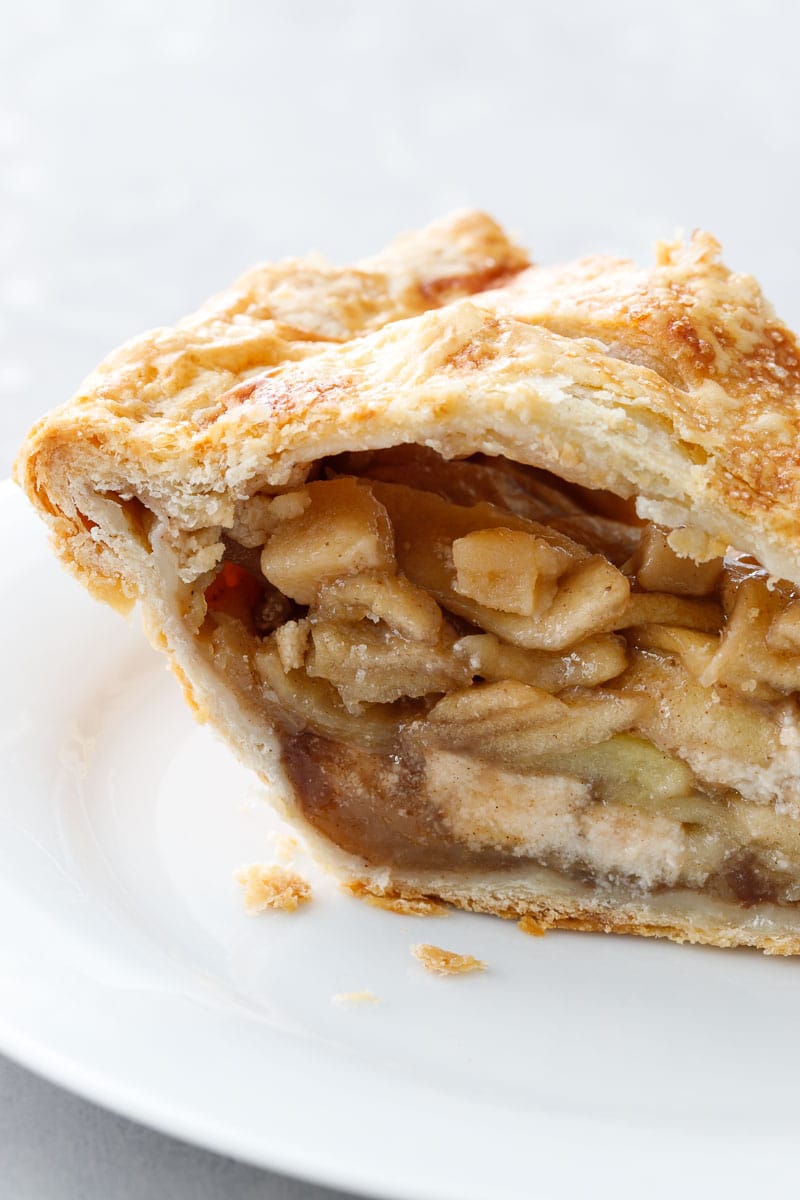 For the second pie I scrapped the lattice (figuring a solid top might hold in the hot filling better), I also adjusted the filling a bit, reduced the juice to lessen the total liquid in the filling, and (gasp!) didn't forget the marzipan this time.
So what went wrong?
Well, I maybe got a bit too overzealous with the decoration, cutting the letters out of the solid top, leaving some very thin and fragile areas between the letters that ultimately collapsed when the pie was cooling.
I attempted to salvage it for a photo by propping it up with paper towels (shameless, I know), and then promptly forgot about the paper towels as I went to slice into it. Yum!
So we were getting closer, but still not quite there.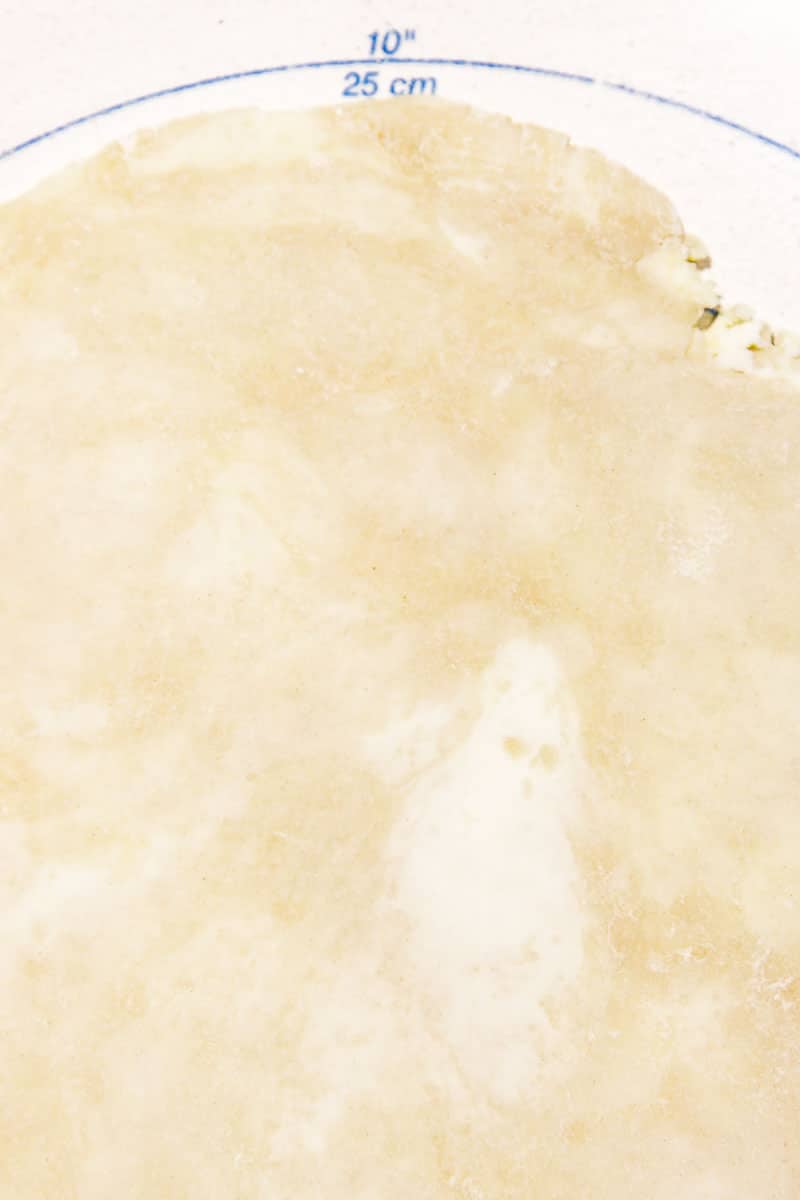 3rd time's a charm?
Despite a ghostly apparition appearing in my pie crust (you know, like Jesus in the grilled cheese? Except this looked like a buttery ghost as I rolled out my crust). I was convinced this was a bad omen… the last thing you want to see when you're down on your pie luck already is a freaking ghost in your pie crust, and yet, this pie baked up beautifully… no eruptions, no collapsed top, and the filling perfectly set and balanced in sweetness and flavor. Finally a pie worth sharing!
So, maybe it was a good ghost then?
This final iteration differs from the last one only in the style of the crust (cut out letters on top of the solid crust and a few carefully placed vent holes makes for a sturdier top), also a slight reduction in the quantity of sugar (this really depends on how sweet you like your pie and how sweet your apples are to begin with, but the marzipan does add a good deal of sugar on its own which is why there is so much less sugar here than is traditionally used).
The apples macerate with sugar and spices for about an hour (I did this in a zip top bag) then all the liquid is drained off (just snip the corner of the bag) and reduced on the stove until it's thickened and syrupy and almost caramelized. This extra step ensures the pie filling is not overly juicy or runny. (Bravetart's original recipe doesn't do this, but after my first pie disaster I felt it was a smart step to take).
The marzipan is cut into cubes and then layered into the pie, where it almost melts into the apples as it bakes, infusing the filling with a subtle almond flavor and sweetness. Seriously though – plain old apple pie's got nothing on this.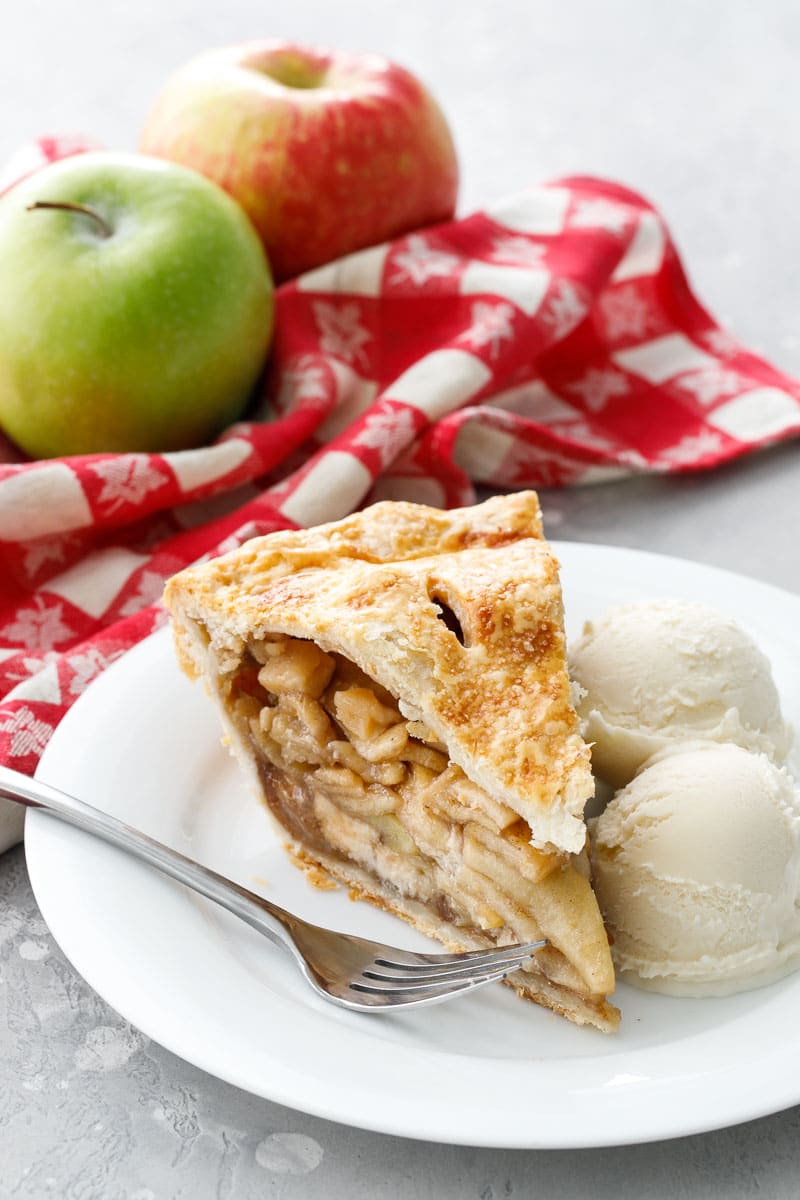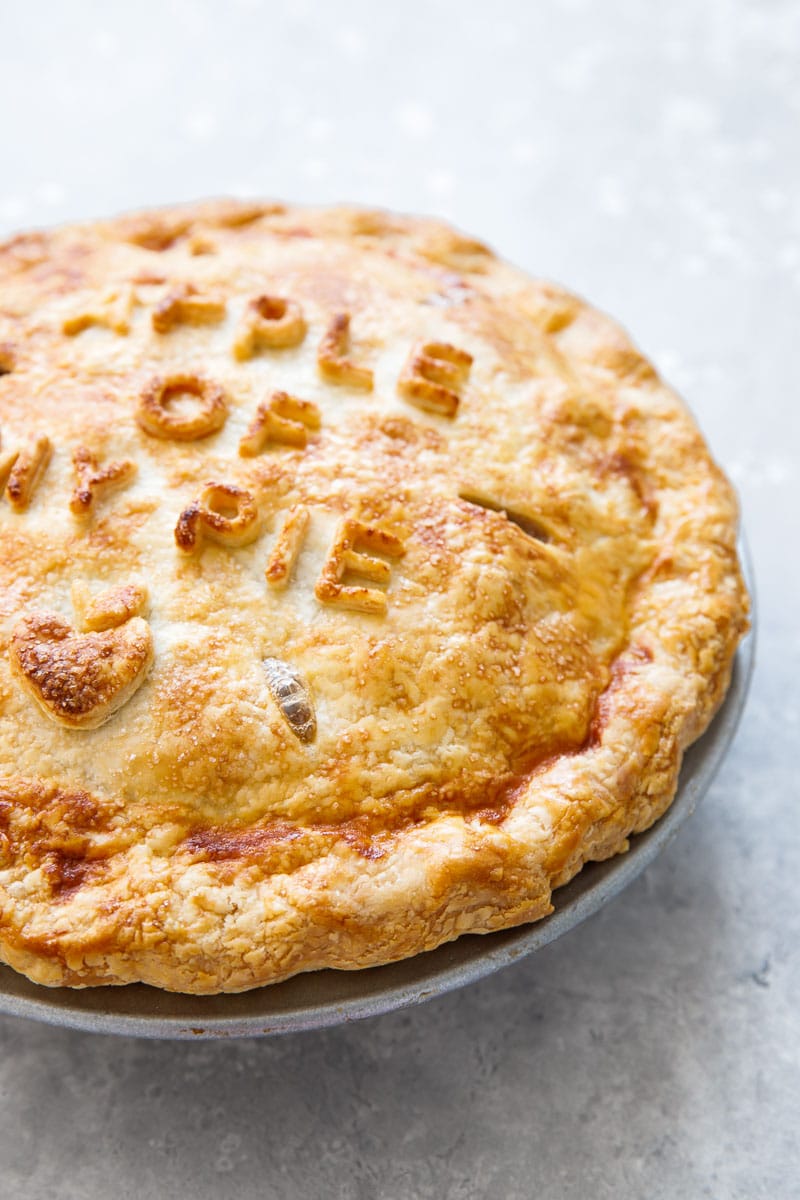 I'm putting this out there: 2018 will be the year of pie. It's something I've struggled with so much so that it's become a running joke every Thanksgiving: what kind of pie disaster will Lindsay have this year?
Well, no more. I'm committed to practicing my pie skills by making a pie a month in 2018, focusing on pies that require traditional (ie: not cookie) crusts. Practice makes perfect, right? So maybe by this time next year I'll be a pro at this whole pie thing, and the Thanksgiving pie curse will be vanquished once and for all!
Who's with me?
(I mean, you get to eat pie every month so why NOT?)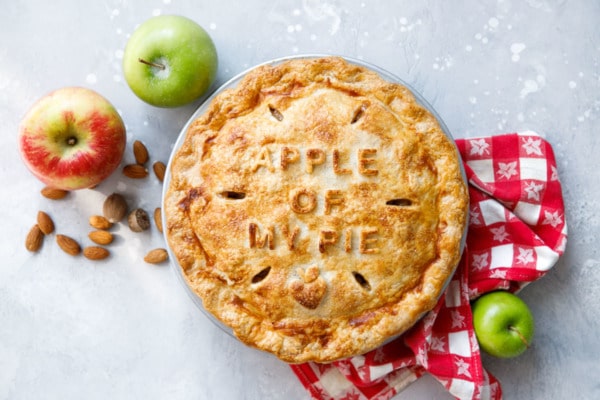 Marzipan Apple Pie
This perfect apple pie recipe features two kinds of apples for balanced flavor and sweetness, layered with cubes of marzipan for an unexpected touch of almond.
Ingredients:
For Crust:
2 2/3 cups (340 grams) all-purpose flour
1/2 teaspoon kosher salt
1/4 teaspoon baking powder
2 sticks (1 cup) very cold unsalted butter, cut into cubes
1 tablespoon apple cider vinegar
6 to 9 tablespoons ice water, as needed
For Filling:
7-8 large apples (about 4 pounds worth, I used 5 granny smith and 2 honeycrisp), peeled, cored, quartered and sliced into 1/4-inch thick slices
1/2 cup packed light brown sugar
1 1/2 teaspoons ground cinnamon
1/2 teaspoon kosher salt
1/4 teaspoon ground nutmeg
1/4 teaspoon ground cloves
1/4 cup tapioca starch
7 ounces good quality marzipan or almond paste, cut into 3/8-inch (1cm) cubes
1 egg, beaten with 1 tablespoon water or heavy cream
granulated sugar, for sprinkling
Directions:
To prepare crust:
Place the flour, salt, and baking powder in the bowl of a stand mixer fitted with the paddle attachment (I recommend freezing the dry ingredients AND the bowl too for a bit if you can). Same for the butter, if you can pop it in the freezer for 15 mins or so before starting that's ideal!
With the mixer on low speed, slowly add the cold butter a few cubes at a time, until the butter breaks up into pea-sized crumbs (any larger chunks you can break up with your fingers).
Add the apple cider vinegar and one tablespoon of ice water at a time, mixing on low speed until it just barely comes together into a crumbly dough (you should be able to pinch a piece of dough and have it hold together). Knead the dough once or twice to form a ball, then cut in half and form each half into a disc. Wrap tightly in plastic wrap and refrigerate for at least 1 hour or overnight if possible.
To assemble:
Remove one disc of pie dough from the fridge and let sit at room temperature for 10 to 15 minutes until just soft enough to roll. On a lightly floured surface, roll the dough until it is roughly 12.5 inches in diameter and 1/8-inch thick. Carefully transfer the dough to a 9-inch pie pan, draping it into the bottom of the pan without stretching. Trim excess dough right to the edge of the rim (reserve excess for cut out decorations, if desired). Place in the refrigerator to chill for 3o minutes or up to 3 hours while you prepare the filling.
In a large mixing bowl or zip top bag, combine the apple slices, brown sugar, cinnamon, nutmeg, cloves and salt, tossing until evenly coated. Allow the mixture to macerate at room temperature for 30 to 60 minutes, tossing occasionally. If using a bag, snip the corner of the bag and drain off any liquid into a small saucepan, or drain the apples in a colander set on top of a large bowl. Depending on the juiciness of your apples, you should have about 1/2 to 3/4 cup of liquid.
Transfer the drained liquid to a small saucepan and place over medium heat. Gently simmer, swirling the pan occasionally, until the juice has thickened noticeably and reduced by half. Set aside to cool slightly, then pour over the drained apples and toss to combine. Sprinkle with tapioca flour and toss to coat.
Roll the remaining piece of pie dough to a round approximately 12 inches in diameter. If you want to add decorations, it's easier to do so now (while the crust is flat). Use an egg wash or a little bit of water to make the decorations stick.
Nestle about 1/3 of apple mixture into the chilled crust, arranging slices somewhat flat to avoid air gaps as much as possible. Sprinkle with 1/3 of marzipan cubes. Repeat with another 1/3 of apples, followed by 1/3 of marzipan, and finally remaining apples and marzipan. You should have a slight dome of apples.
Slightly moisten the edge of the pie dough using your fingertips dipped in water. Place the top crust pie dough over the filling, and trim overhang to 1-inch beyond the edges of the pan, pressing to form a seal. Tuck the overhang under the edge of bottom crust, then press and crimp the dough as desired. Return to the fridge for 20 minutes.
Preheat the oven to 400 degrees F. Line a rimmed baking sheet with aluminum foil (just in case of overflow). Remove the pie from the freezer and cut a few large slits in the top of the dough to allow the steam to vent. Lightly brush the top and edges with egg wash, and sprinkle with sugar.
Place the pie on prepared baking sheet and bake for 60 to 70 minutes until crust is golden brown and the filling starts to bubble out the vents. Rotate the pan after 30 minutes or so, and keep an eye on the crust: if at any point the crust starts to brown too much, cover lightly with foil and continue baking.
Remove from oven and place on a wire rack to cool for at least 4 hours before slicing and serving (cut into it too soon and the filling might not be fully set).
Did you make this recipe?
Let us know what you think!
Leave a Comment below or share a photo and tag me on Instagram with the hashtag #loveandoliveoil.