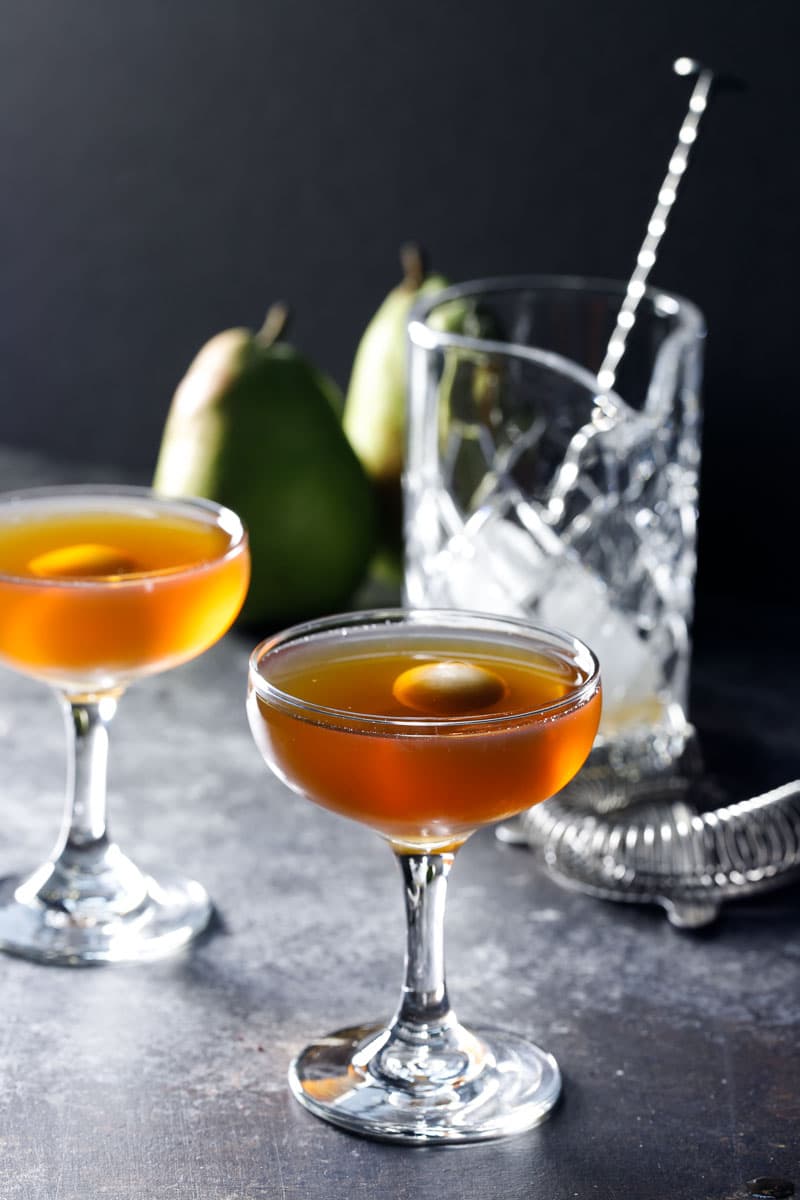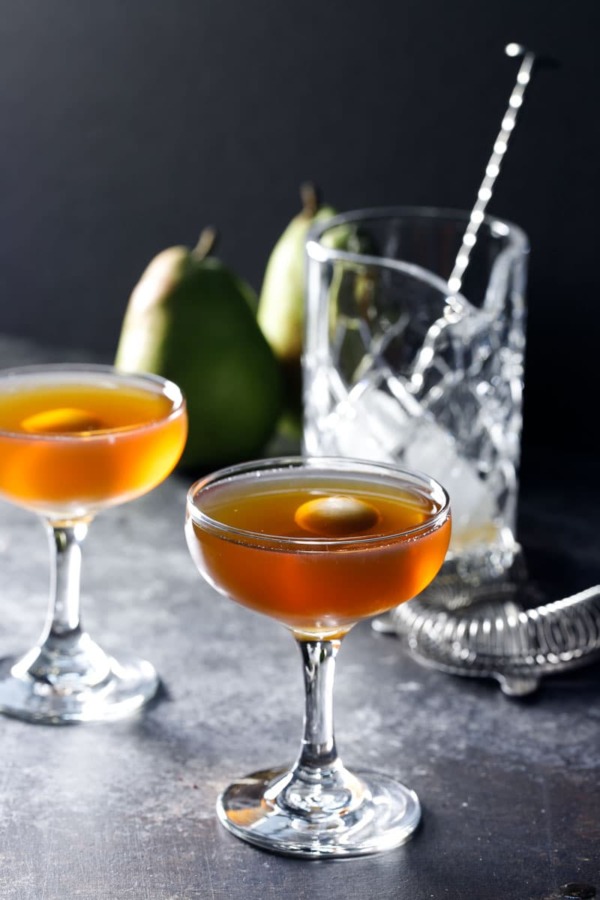 Spritz in the summer, Manhattans in the winter… that's pretty much Taylor's cocktail game as of late. Once he finds something he likes he tends to stick with it… until he finds something else, that is.
The fact that he's had at least a few of these every weekend since Christmas should tell you something about this cocktail.
Namely that you should probably make one, stat.
A classic Manhattan has 3 ingredients: rye whiskey, sweet vermouth, and Angostura bitters. Here we've simply swapped the whiskey for a pear brandy, resulting in a fresher, fruitier version of a manhattan.
We'd run across an Apple Manhattan recipe in 3-Ingredient Cocktails (one of Taylor's new favorite cocktail books) that uses apple brandy in place of whiskey. Since we didn't have apple brandy, he pulled out a bottle of pear brandy from St. George Spirits. We had actually visited the Oakland distillery a few years back when we were out visiting my sister, and fell in love with the fresh pear taste of this brandy (seriously, it tastes just like fresh pears). Luckily our local liquor store was able to order us a bottle and we've been hoarding it ever since.
The simple swap of pear for whiskey results in a fresher, fruitier version of a Manhattan. I'd say it was downright summery if pear weren't a winter fruit. But it's not heavy or overly strong, rather the fresh notes of pear play beautifully with the infused herbs and spices from the vermouth.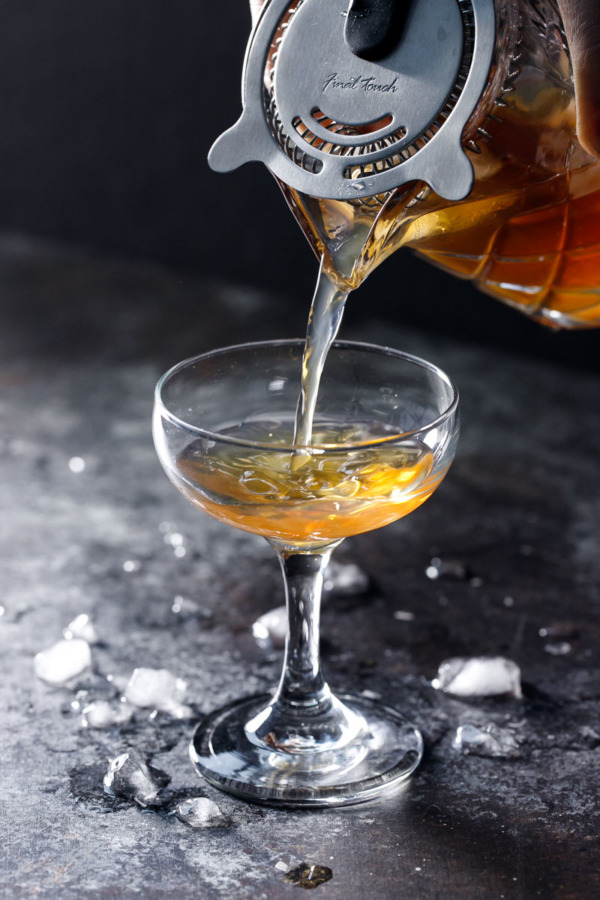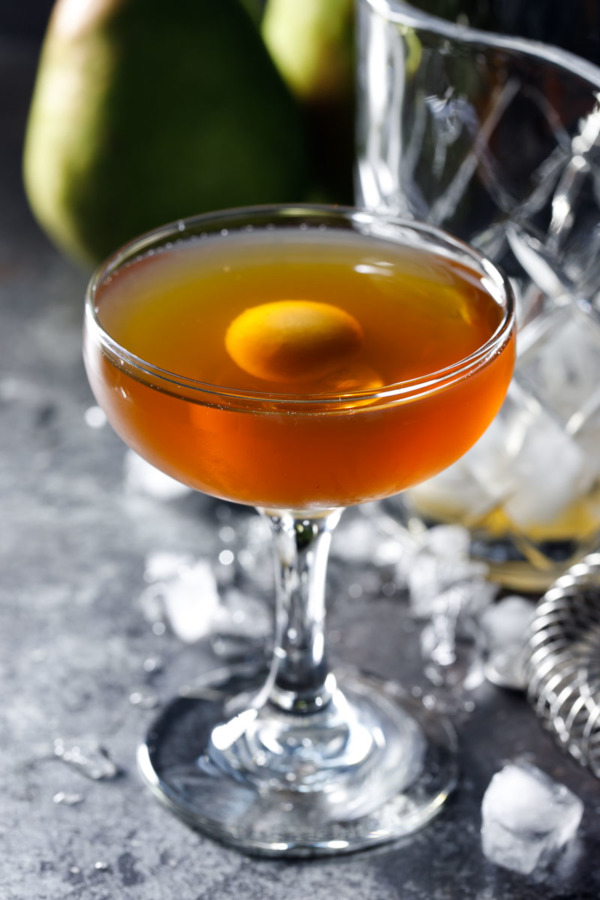 As for the vermouth: sweet and dry are very different creatures, and you definitely want sweet for this. Dolin is the brand that's pretty ubiquitous around this country at least, but there are a number of higher quality drinking vermouths that will make this cocktail even more enjoyable. We've tried it with both P. Quiles Vermouth Rojo from Spain and Antica Formula Carpano Vermouth from Italy (pictured above). If you're a fan of vermouth they are definitely worth a try!
We garnished the drinks with a ball of pear in lieu of the typical cherry (and, much like the cherry, biting into the boozy pear ball at the end was easily my favorite part). A citrus twist would be a nice garnish as well.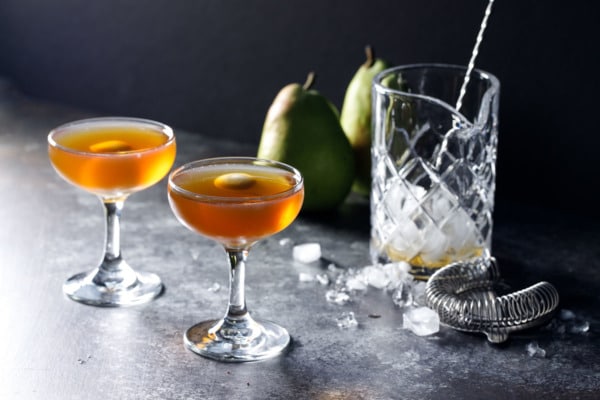 Pear Manhattan
This fresh and fruity twist on a classic Manhattan cocktail features pear brandy. Garnish with a melon-ball of pear or a citrus twist.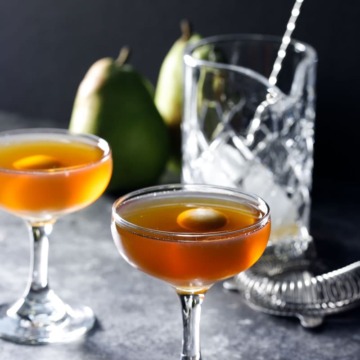 Ingredients:
1.5 ounces pear brandy
1.5 ounces sweet vermouth
2-3 drops Angostura bitters
ice
Directions:
Combine brandy, vermouth, and bitters in a carafe filled with ice; stir for 30 seconds. Strain into coupe glasses. If desired, garnish with a melon-ball of fresh pear or a citrus twist.
Did you make this recipe?
Let us know what you think!
Leave a Comment below or share a photo and tag me on Instagram with the hashtag #loveandoliveoil.