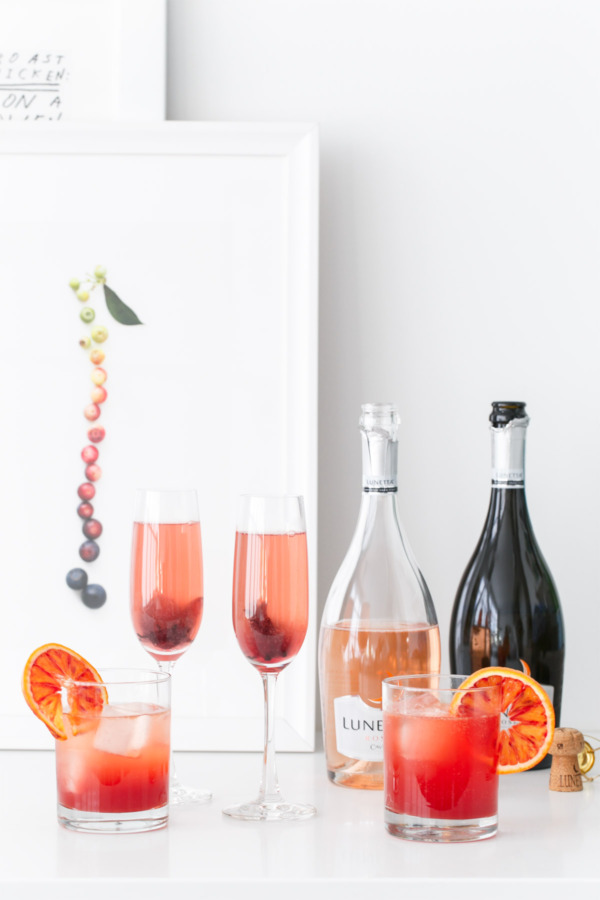 Now is the perfect time to break out a little bubbly. But instead of just sipping it straight up like I know you were planning to do, why not use that sparkling wine in a clever cocktail? Because I'll tell you what, sparkling wine makes a surprisingly great mixer for unique effervescent cocktails.
The best part of these cocktails? You can enjoy them morning, noon, or night. They're just as suitable for New Year's brunch as they are to toast the New Year at midnight! How many cocktails can say that?
The Grapefruit Hibiscus Royale combines fresh grapefruit juice with elderflower liqueur and a ginger-hibiscus sugar syrup, and is then topped with sparkling rosé. Pink on top of pink on top of pink. We added a preserved hibiscus flower in syrup for a garnish.
A classic Italian spritz features Aperol (a bitter orange aperitif) and prosecco. We added gin, fresh blood orange juice, and a vanilla bean and Meyer lemon sugar syrup for an incredibly flavorful and bright cocktail we call the Sicilian Gin Spritz. Serve over ice and garnish with a blood orange slice or a twist of orange peel.


We developed these recipes in partnership with KitchenAid to showcase their lovely undercounter beverage center, which is worth its weight in gold (or at least Bottega Gold Prosecco which comes in an Oscar-worthy gold bottle). We went back and forth on whether or not to install this as part of the bar area in our renovated kitchen/living room, since I knew I'd be needing every last inch of that cabinet space for dishes and props, but I'm so glad we did. I'll admit, it's usually filled with beer, but we also like to keep some sparkling wines from Palm Bay International on hand for entertaining. And since our regular refrigerator is currently packed to the gills with holiday fare (that gigantic brisket we just bought to celebrate Hanukkah dinner this week is particularly problematic), this beverage center is already proving its worth many times over.
Cheers to a fabulous 2017!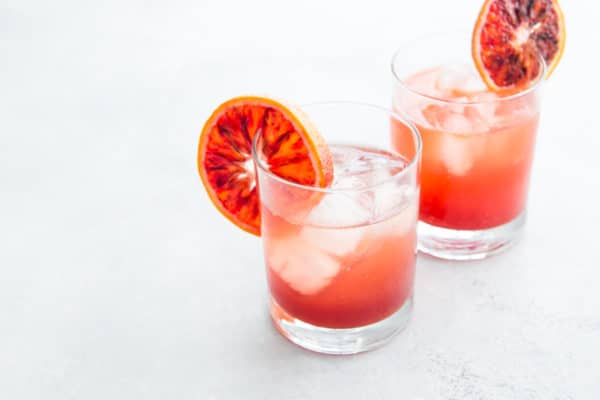 Sicilian Gin Spritz
Gin, fresh blood orange juice, and a vanilla bean and Meyer lemon sugar syrup combine for an incredibly flavorful and bright cocktail. Serve over ice and garnish with a blood orange slice or a twist of orange peel.
Ingredients:
1/2 cup granulated sugar
3 strips Meyer lemon peel
1/2 vanilla bean (pod only, save the seeds for something else yummy!)
fresh squeezed blood orange juice
gin
aperol
Prosecco or sparkling white wine
Directions:
Combine sugar with 1/2 cup filtered water in a small saucepan set over medium-high heat. Add vanilla bean and lemon peel and bring to a simmer. Cover and remove from heat; let steep for 10 minutes, then strain through a fine mesh sieve to remove solids. Let cool. (Syrup can be made ahead of time: store in a jar or airtight container in the refrigerator for up to 2 weeks).
Fill a lowball glass with ice. Add 2 ounces blood orange juice, 1 ounce gin, 1/2 ounce aperol, and 1/4 ounce sugar syrup per glass. For larger quantities, these ingredients can be mixed together beforehand (just make sure to keep the overall proportions the same). Top with prosecco.
Did you make this recipe?
Let us know what you think!
Leave a Comment below or share a photo and tag me on Instagram with the hashtag #loveandoliveoil.
This recipe was created in partnership with KitchenAid® and Palm Bay International. All opinions are my own. Be sure to share your take on these recipes on Instagram using #MadeWithKitchenAid for a chance to be featured on the @KitchenAidUSA account!