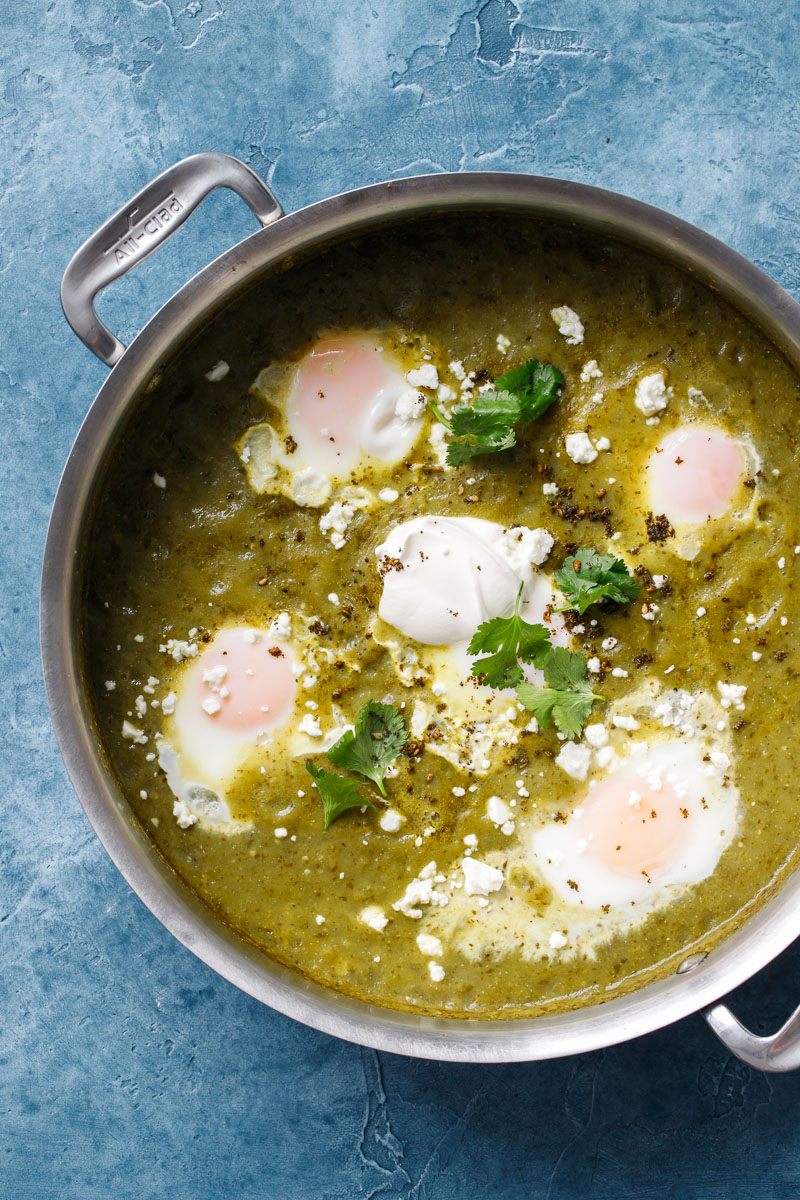 This verdant twist on shakshuka features green tomatillos (instead of red tomatoes as per the original) and plenty of fresh green herbs.
It's not shakshuka: it's SHREK-shuka.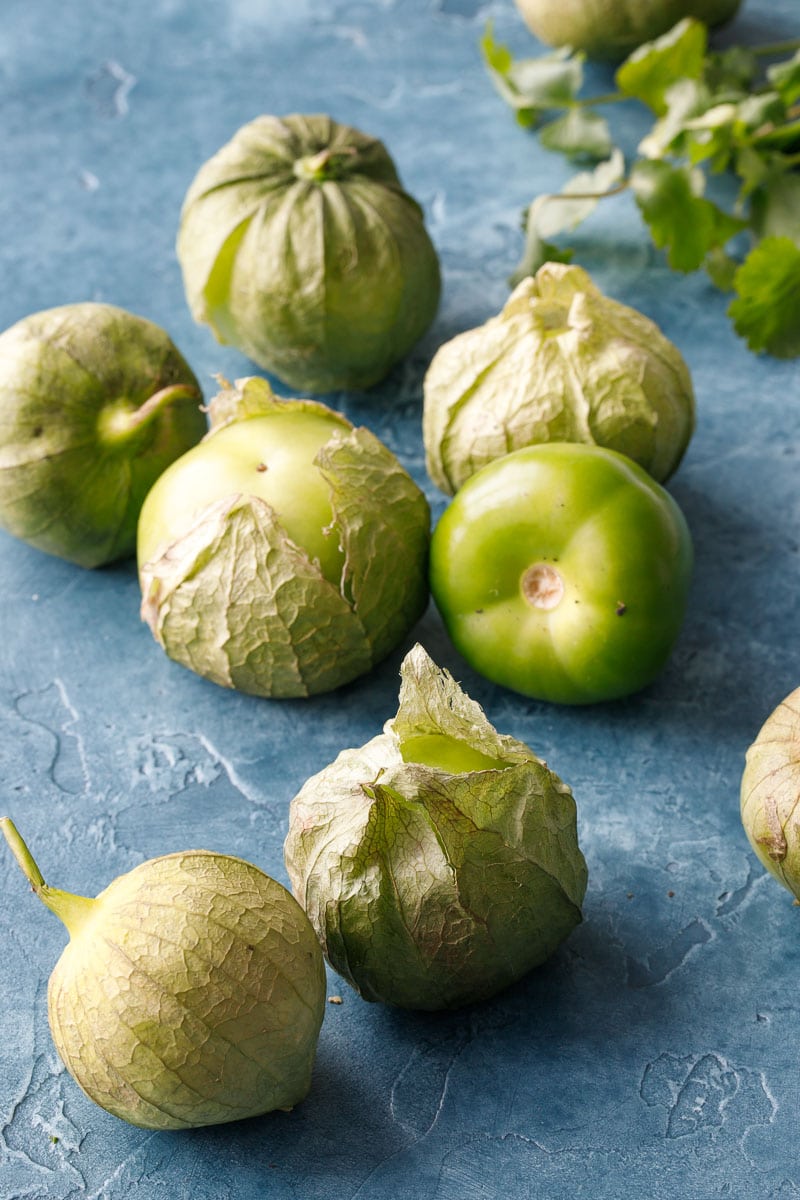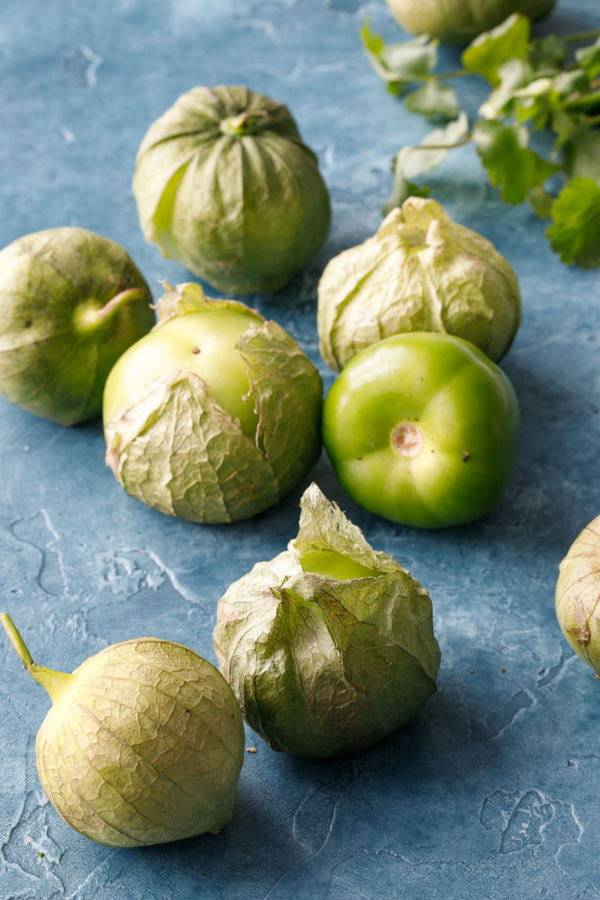 The recipe is very similar to the shakshuka recipe in our book in terms of spices and seasonings; the main difference here, of course, is that the red tomatoes have been swapped with green tomatillos (which, believe it or not, aren't even related to tomatoes but rather a close relative of the ground cherry).
We roasted the tomatillos, peppers and onions first in the oven, broiling them almost to the point of blistering. They are then blended with the fresh herbs to form a tangy green sauce not unlike a salsa verde (and indeed, if you have leftover sauce you can certainly eat it cold with tortilla chips!) A bit of cumin and coriander spice round out the flavors, giving it a bit of middle-Eastern AND Mexican flair.
Basically… this is what you'd get if the traditional middle-Eastern dish took a long vacation in Mexico.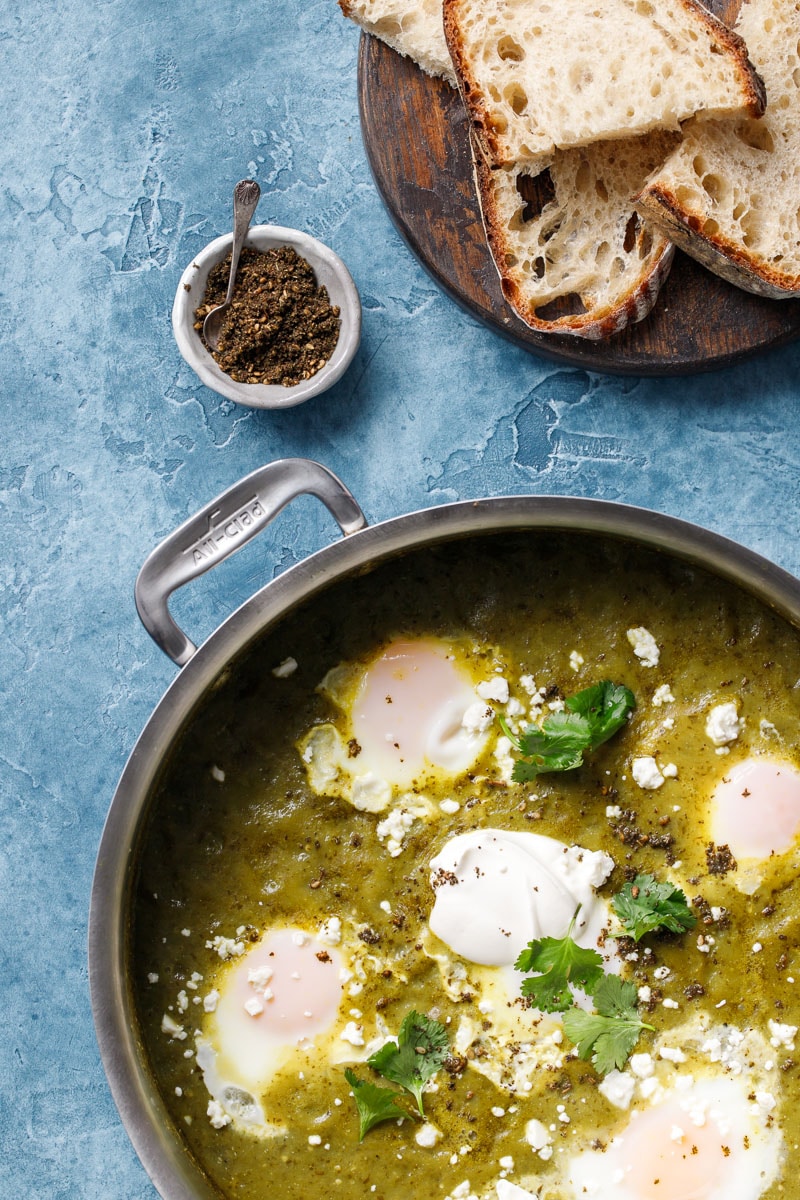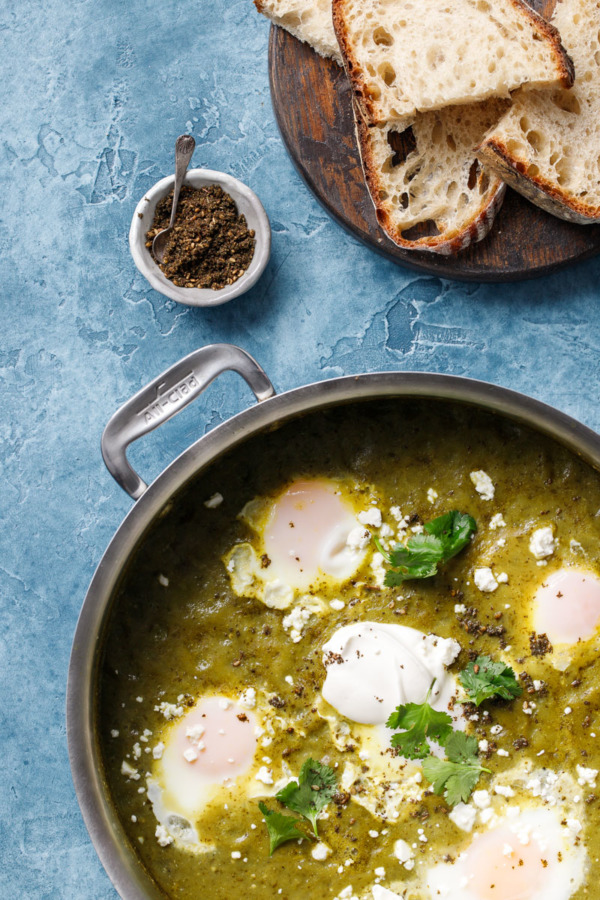 The beauty of this dish is its simplicity: the eggs are poached in the sauce, no extra pans or fancy equipment or pro-poaching skills required. Whoever washes the dishes in your house will be glad of that, I'm sure.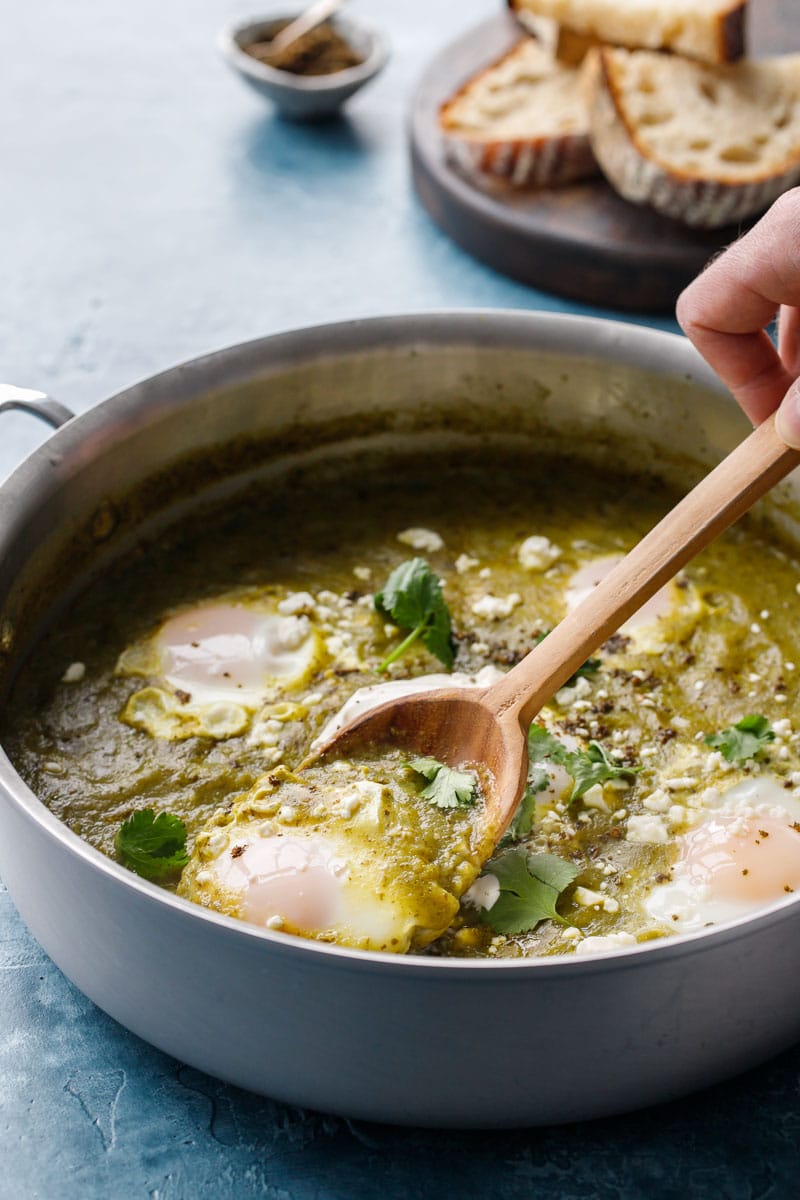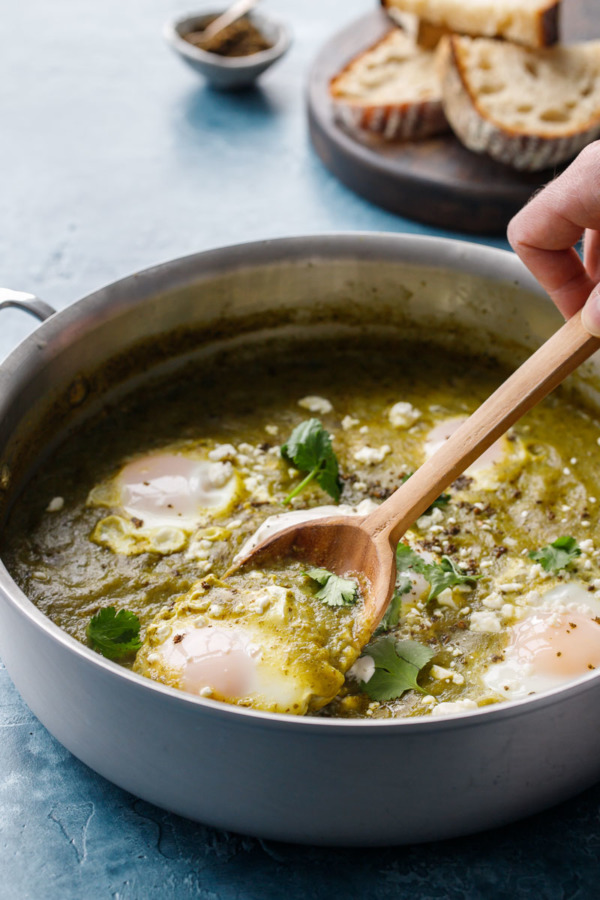 We used this All Clad Saute pan, which has tall, straight sides that can hold the sauce without as much splattering as a standard skillet would. Whatever pan you use, the sauce should fill the pan to a depth of approximately 1 inch. If you use a smaller pan with the full amount of sauce, your eggs will sink below the surface of the deeper layer of sauce (but it'll still be delicious). You can fit about 5-6 eggs in a pan this size; you still want a bit of space between each egg.
As the sauce is cooking, crack your eggs individually into small bowls or ramekins, so you can easily add all the eggs quickly to ensure even cooking. Cover and let the eggs poach for exactly 6 minutes if you want soft, custardy centers; 1-2 minutes more if you like them slightly firmer. The whites will cloud over, but once the whites are visibly cooked through and the yolks still have a slight jiggle to them, you know that it's done.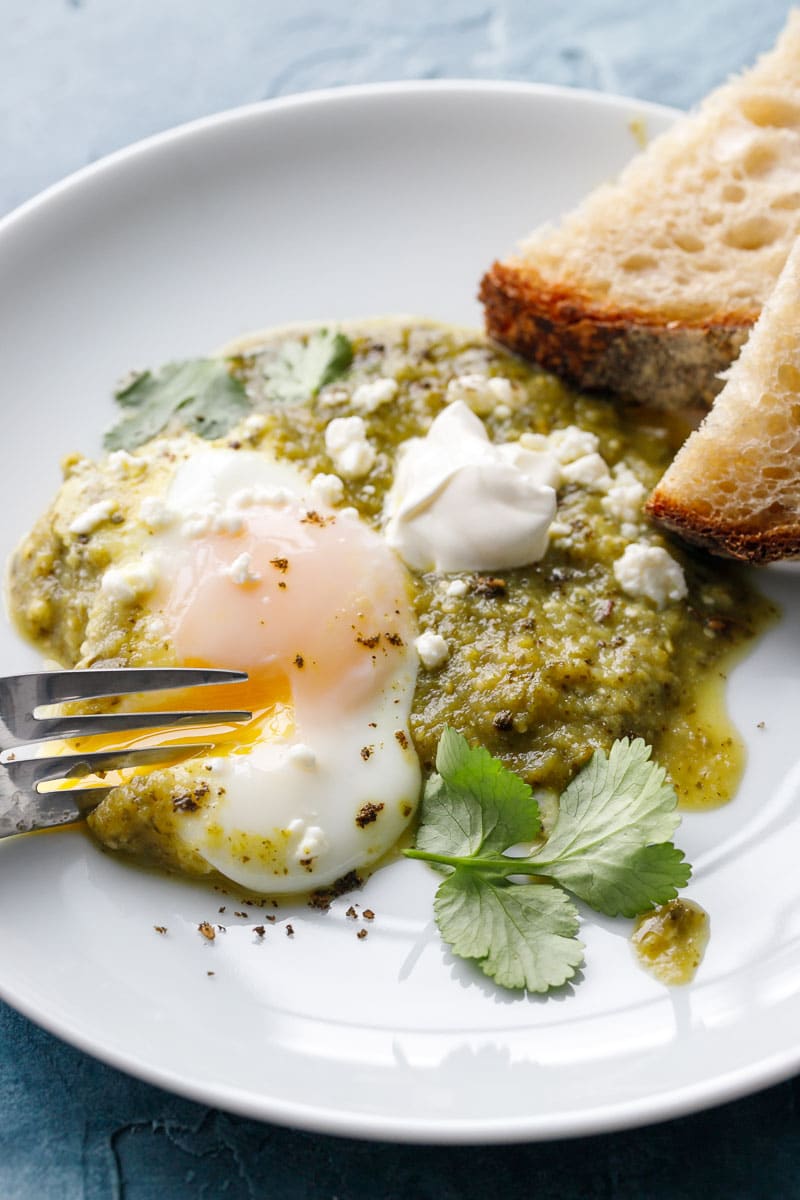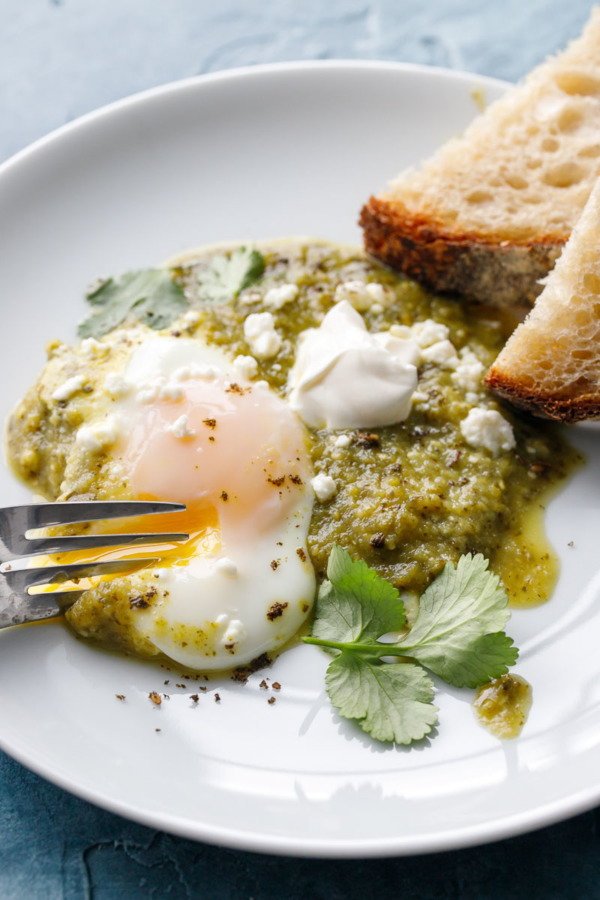 We topped it with crumbled feta cheese (cotija would work as well) and a dollop of sour cream. Since the green sauce is quite tangy and acidic, so the added dairy really helps to balance out the flavors.
Finish it off with fresh cilantro and a sprinkle of Za'atar, a fragrant middle eastern herb and spice blend we recently discovered and are totally loving, plus a pile of warm pita or lightly toasted crusty bread and you have yourself a meal.
Just what meal, breakfast, lunch, or dinner…. you choose, this recipe would be great for any/all of them.
Green Tomatillo Shakshuka
This verdant twist on shakshuka features eggs poached in a tangy green tomatillo sauce, topped with sour cream, crumbled feta, fresh herbs and za'atar spice.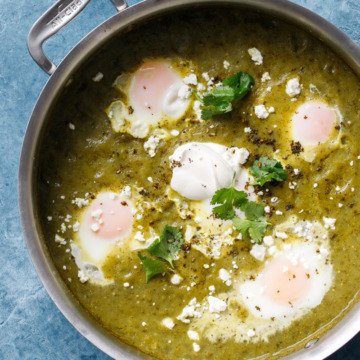 Ingredients:
2 lbs tomatillos (about 10), peeled, washed and halved
1 poblano pepper, cored, seeded and halved
1 jalapeño or serrano pepper, cored, seeded and halved
1 medium onion, peeled and quartered
1/2 cup packed fresh cilantro leaves
1/4 cup packed fresh parsley leaves
2 tablespoons olive oil
3 garlic cloves, finely chopped
1/2 teaspoon ground cumin
1/4 teaspoon ground coriander
1/2 teaspoon salt, or to taste
6 large eggs
sour cream
crumbled feta or cotija cheese, for topping
za'atar spice blend, for topping (optional)
warm pita or crusty bread, for serving
Directions:
Preheat broiler. Line a baking sheet with foil and spray lightly with cooking spray.
Arrange tomatillos, onions, and peppers cut side down on baking sheet. Broil for 8 to 10 minutes, keeping a close eye on it to avoid burning, until skins are blistered but not blackened (if your peppers seem to be cooking quicker than the tomatillos, feel free to take them out sooner).
Transfer to a blender and add herbs; blend until smooth.
In a large lidded skillet or sauté pan, heat oil over medium heat. Add garlic and sauté until fragrant, about 30 seconds.
Add blended sauce along with spices and salt and bring to a simmer. Reduce heat to low and gently simmer for about 15 minutes or until thickened and bubbling.
Crack eggs into individual ramekins or small bowls. Add eggs to pan with sauce, spacing them evenly around the pan. Cover and cook for 5 to 7 minutes or until whites are set and clouded over and yolks are still slightly jiggly. If you prefer firmer yolks, let cook for 1-2 minutes more.
Top with dollops of sour cream, crumbled cheese, fresh cilantro and a sprinkle of za'atar spice, if desired; serve immediately with warm pita or crusty bread.
Did you make this recipe?
Let us know what you think!
Leave a Comment below or share a photo and tag me on Instagram with the hashtag #loveandoliveoil.