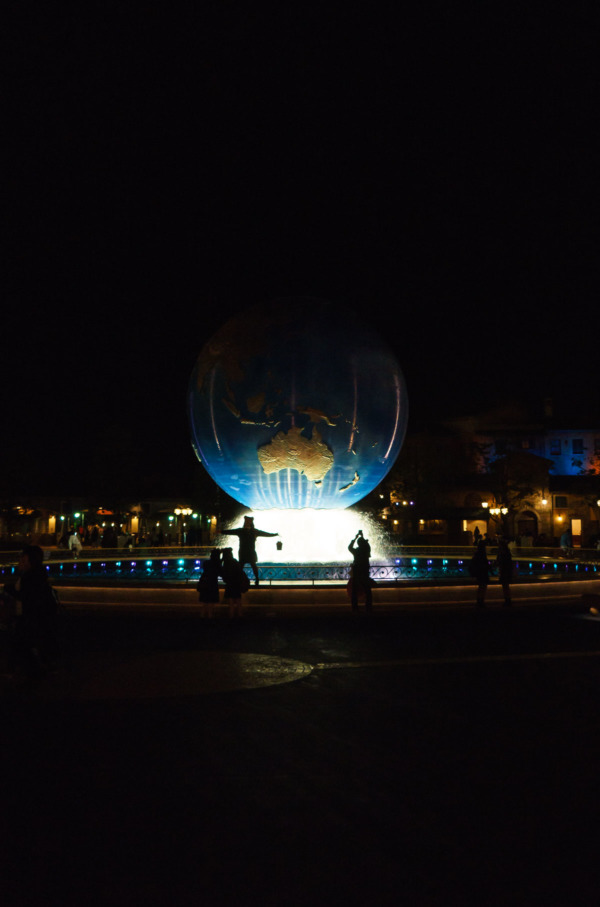 My husband is a Disney nut.
Not so much the movies and characters, but the parks themselves.
He fell in love a few years ago when Disneyworld in Orlando hosted us for the Food Blog Forum conference… and he hasn't stopped talking about it since.
In his constant pursuit of all things Disney (he regularly listens to Disney podcasts while he cleans) he had heard from more than one person that out of all the Disney parks, Tokyo DisneySea is the best, hands down no contest. And if you've been to any of the other Disney parks, you'll know that that is no small claim.
We simply had to see it for ourselves.
We planned our itinerary to include two nights at Disney at the end of our trip. We'd arrive on a Monday afternoon, spend a day and a half in the parks, then leave Wednesday morning for the airport. This turned out to be a fabulous plan, the icing on the cake of an already amazing trip.
Tokyo DisneyLand
Tokyo Disney offers discounted twilight passes for entrance to a single park after 6pm. Since we were coming from Kyoto, we planned to get one of these tickets for Disneyland on Monday night, and then do a full day pass for DisneySea the following day.
Tokyo DisneyLand is comparable to DisneyLand in California. You'll recognize many of the same rides such as Splash Mountain, Thunder Mountain, Haunted Mansion, and more. Of course, these rides are an entirely different experience when the narration takes place in Japanese.
We were bummed that the Small World, Pirates of the Caribbean, and Winnie the Pooh rides were closed for renovations while we were there. Those rides are trippy enough in English, and would have been a riot in Japanese. Next time, perhaps. ;)
The crowds were very light (it being a rainy Monday night and all) and Taylor was able to quickly hop on all the rides he wanted to do with little to no wait. I'm not a roller coaster person, so while he got his thrills, I took in the sparkling lights and ate my weight in popcorn (not complaining one bit).
→ Pro Tip: Make the most of your time at Disney with the discounted Twilight tickets, available for entry to a single park after 6pm. Perfect if you want to arrive in the afternoon, get settled in your hotel, then head to the park for an evening full of fun.
(Click through for Day 2 of our adventure, plus more Disney travel tips as well as a nearly-complete list of the best Tokyo Disney snacks and sweets.)


Unfortunately I didn't get a ton of photos, being that it was nighttime and pouring rain for 3 of the 4 hours we were there. There's something magical about a rainy night filled with sparkly lights that a camera simply just can't begin to capture… so we put away the camera where it'd be safe and dry and focused on the magic of the moment.
We stayed until the very end, Taylor squeezing in a second ride on Space Mountain before the park closed at 10pm.
Tokyo Disney Sea
Unlike Disney Land, this park is something entirely new and different: one of a kind. Instead of Lands, the park is divided up into sea ports, including a Mediterranean, an Arabian and an American port (which is a funny mashup of New York City, Boston, and Cape Cod – always interesting to see what another country views as stereotypical American).
→ Pro Tip: Tokyo Disney is still on the old school paper fast-pass system, and, for super popular rides like Toy Story, fast passes run out very quickly (and lines for Fast Passes can often be 30 to 45 minutes long themselves). My advice? Decide beforehand if you want to do Toy Story or skip it (it's pretty much identical to the version in Orlando); if you want to do it, follow the masses to the Fast Pass line as soon as you arrive. We opted to skip it; instead, Taylor ran to get a Tower of Terror Fast Pass, then met me at Journey to the Center of the Earth where the line was super short (since everyone else is running for Toy Story). We actually ended up getting a Toy Story fast pass for later that evening, but this won't always be the case if you're there on a more crowded day.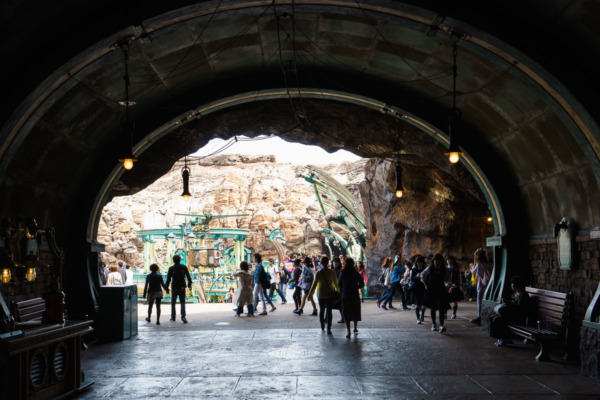 Probably our favorite area of the park was the Mysterious Island, located beneath the fiery volcano at the center of the park. A Jules Verne-inspired wonderland of steam and smoke, Mysterious Island is home to the two most unique and incredibly executed rides in the park: Journey to the Center of the Earth and 20,000 Leagues Under the Sea. The later is mellow, totally my speed (ie: slow) but Journey to the Center of the Earth was a blast. It starts out slow, lumbering down towards the molten center of the volcano, and at the end picks up speed for 30 seconds of thrills. I did it twice, though my tender heart practically jumped out of my chest afterwords.
→ Pro Tip: Everyone (and I mean everyone) wants to go on the Toy Story ride, and you'll see the whole mass of people veer left as they enter the park, rushing to get a precious fast pass for that ride. Yes, it's a cool ride, but if you don't care about it, then I suggest heading towards the Mysterious Island first thing when the park opens. We were able to go on both rides there with >10 minute waits, no fast passes needed. After about an hour this area starts to pick up and wait times increase (but you can always grab another fast pass and come back later).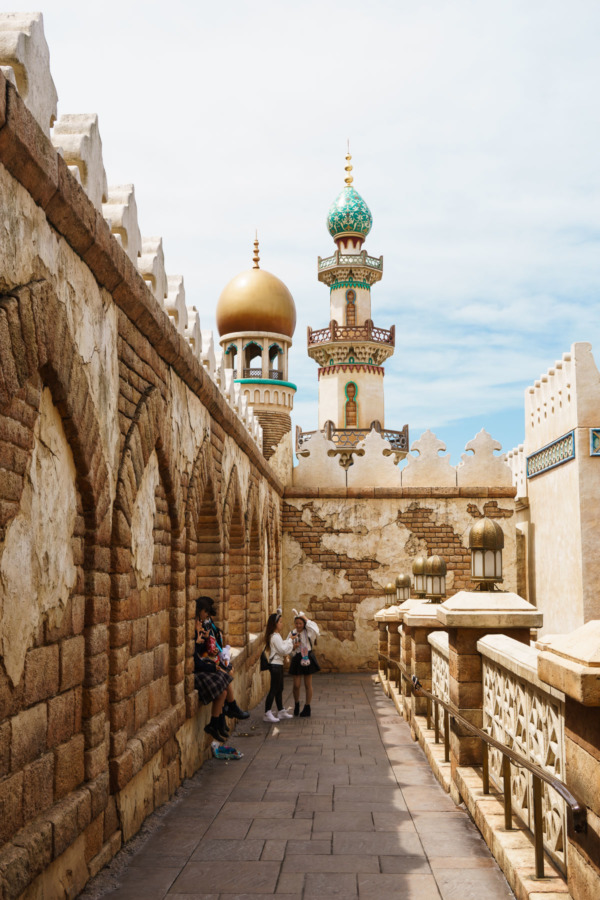 Funny to think that we had no idea upon taking this photo that less than 2 months later we'd be in Venice. The REAL Venice (of which, I'll be honest, Disney was spot on in its representation).
Once again, we shut the park down (having returned to our hotel for dinner and a brief respite before heading back to the park for the evening). While we opted not to catch any other shows during our brief time there, we did see the Fantasmic! show on the waters of Mediterranean Harbor that evening, and, I have to say, it is a must-see. Scope out your spot a bit early, but the Japanese are incredibly orderly and courteous (no pushing and shoving like you'd find in the US) and you should have no problem finding a pleasant viewing location.
→ Pro Tip: If you want to leave and come back to the park on the same day, be sure you get your hand stamped as you leave. No stamp, no re-entry.
The Snacks of Tokyo Disney
We didn't make reservations at any of the sit-down dining in the parks, but we did eat pretty much all of the snacks available throughout the park. Some were awesome, others, not so much. I thought I'd give a rundown of some of our favorites.
Alien Mochi: One of my favorite treats of the trip were the "Little Green Men" mochi, with ice-cream flavored custard filling. So dang cute, and delicious too! Look for these on the snack cart in front of the Tower of Terror.
Popcorn: Japanese Disney fans are all about the popcorn. Sometimes the lines for the popcorn carts are longer than for the rides! Our favorite flavors were Curry and Milk Chocolate, but there are always rotating seasonal flavors as well so they might be totally different when you visit.
→ Pro Tip: On crowded days the lines at the popcorn stands can be just as long as the rides themselves. Prioritize your time: would you rather go on the Tower of Terror or wait in line for a bucket of Soy Sauce popcorn? Or keep wandering, there are a bunch of different popcorn stands at both parks, you'll probably be able to find one with a shorter line.
Not-a-Churro: I thought I was getting a churro from this cute turquoise snack stand on the Mysterious Island. It looked beautifully golden brown like a churro, but upon biting into it I discovered it was basically a giant tater tot shaped like a churro. Kind of awesome, actually.
Mousse Cakes: Momma Biscotti's bakery in the Italian marketplace has some very pretty desserts, like this cherry blossom mousse cake.
Tipo Torta: Available in Sweet Potato and Chocolate, these were kind of a dry fried pastry dough (not flaky like the hand pies, more pie crusty I guess?) with a custard filling. Interesting, but not our favorite.


Hand Pies: These flaky pies were filled with jam. Tasty, but not entirely interesting.
Gelato: We had to try the gelato in the Mediterranean Harbor (because when in Rome, er, Venice, er, Japan? Where are we again?) While it was technically gelato, the "Easter sundae" special we ordered had an undoubtedly Japanese twist, described as vanilla gelato and citrus milk jellied dessert. It had a few different layers with various degrees of gelatinization, little jelly balls, and a scoop of vanilla gelato topped with white chocolate bunny ears. Hmm. Worth trying, if only for the experience of it.
→ Pro Tip: While Disney is physically located between Tokyo proper and Narita airport, there's not a direct express train to get there. You can get shuttle service to the airport for about $20/person each way, but, if you're up for an adventure, you can get there on the trains for much less (especially if you have a Japan Rail Pass). Most common instructions tell you to get the train back into Tokyo, then catch the express airport train to Narita. We were feeling brave (and didn't particularly feel like dragging our bags across the sprawling Tokyo train station again), and decided to go against this advice, following the instructions from the Hyperdia app and hopping local trains. We still left ourselves plenty of time just in case, but it was ultra quick and much easier to transfer trains in smaller stations.
Where to Stay
While the Disney-branded resort hotels are tempting (there's even a hotel INSIDE DisneySea… if you're willing to shell out the big bucks you can have a view of the Mediterranean Harbor from your bedroom), we chose to stay at the affordable Hilton Tokyo Bay.


It's a great location, with fabulous views of the park on one side and across the bay to the city of Tokyo on the other, and just a short walk from the station where you can catch the monorail to the park entrance. For the price, it's a steal compared to the Disney-branded properties.
The hotel itself is beautiful, with multiple dining options within the hotel itself (I particularly appreciate a quick service shop for grab-and-go convenience) and modern, space age-themed rooms. Oh, and TVs in the bathrooms. As you do.
I wouldn't hesitate to stay here again if WHEN we return someday. :)
→ Pro Tip: Official resort hotels like Hilton Tokyo Bay have special perks, such as their own ticket sales desk, which allows you to buy tickets there and skip the box office line in the morning. Buying the tickets from your hotel also guarantees you access to the parks (on super busy days sometimes the park cuts off ticket sales).
(Thank you to Hilton for hosting us at their Tokyo Bay property. As always, all opinions expressed entirely our own.)