In the 4 days we spent at Walt Disney World this past month, I found a lot of hidden Mickeys.
The fact that most of them were disguised as food should not surprise you one bit.
Life lessons #423: everything tastes better when it's mouse-shaped.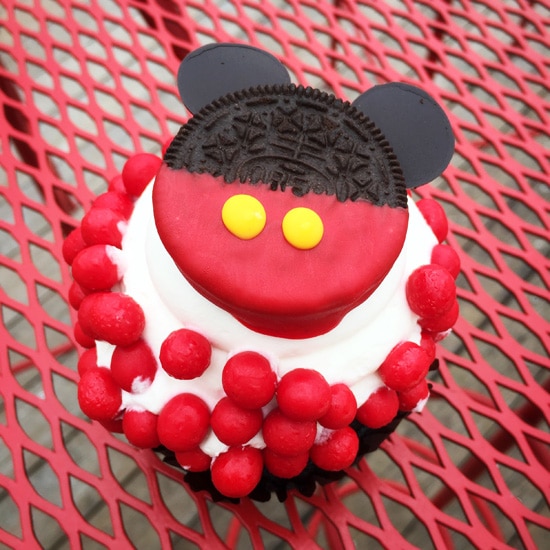 Like this cupcake. I knew I had to have one ever since Julie posted it a few weeks ago. It's a chocolate Oreo cupcake with the most incredible Oreo mousse (or should I say, 'mouse') filling and a light and airy whipped frosting that blows buttercream out of the water. Seriously. I am doing my darnedest to get the recipe (one of the great things about Disney is they are so willing to share their chefs' recipes if you ask nicely), and if/when I do I will most definitely share it.
The reason we were here enjoying all these mouse-shaped treats? Food Blog Forum. This is the 3rd time Walt Disney World has hosted us for this event, and somehow, each time, they manage to outdo themselves. Honestly, I am still in awe. I feel so incredibly fortunate to have been a part of it.
Sure, we had plenty of time to play (and eat) in the parks. But the meat of the conference took place right here, in a conference room in Disney's Contemporary Resort. Despite the fact I've been blogging for 8 years, I still always manage to come home with some new tidbit of information, and this year was no exception.
For lunch, Disney whisked us away to a secret location on the 15th floor of the Contemporary Resort: the California Grill, where Disney chefs from all over the park had gathered to prepare an amazing lunch just for us (the restaurant isn't even open for lunch normally, so we really got the VIP treatment). To say it was incredible would be an understatement. The food simply blew me away.
From the Roasted Baby Beet salad to the Braised Pork Belly with Goat Cheese Polenta, the Spicy Tuna Tartare with Lotus Root Chips (pictured, left) to the Local Wild Ocean Shrimp with Seafood Risotto (possibly my favorite dish, if I HAD to choose), every dish was superb. And that Chocolate Pudding Cake (pictured, right)? To die for. I wanted to eat an entire bowl of those little hazelnut meringues, and that was just the garnish.
Apparently it is quite a rare occurrence for this many Disney chefs to be together in one place (did I mention they really pulled out all the stops for us? Because they did). And by the looks of it, the chefs seemed to enjoy it just as much as we did.
This year the event spanned 3 days, with a built in free day to play in the parks with our new friends.
And play we did.
Let me just say, I don't do roller coasters. A traumatic experience as a child on the Matterhorn pretty much scarred me for life, and I haven't been on a roller coaster since.
Until now.
Lured by a fast pass to skip the 90+ minute line at the new Seven Dwarfs ride and just a wee bit of peer pressure from my husband, and I somehow found myself sitting in the back of a mine cart.
My face says it all.
First roller coaster ride in 20 years… and very likely the last.
I chose to stand on the sidelines and take pictures of this one. I promise, it's really moving a lot faster than it might seem.
Disney also created a unique experience just for us: a "Delicious Disney" scavenger hunt, with clues from all 4 parks and chances to earn bonus points for snapping and submitting photos. While as an organizer I was not qualified to win the grand prize, I still had fun solving the clues nonetheless (above: Taylor with Ariel's father beside the only place in the Magic Kingdom where you can find shaved ice). Susannah and I even tag-teamed an 'around the world' journey at Epcot, gathering all 10 clues and visiting 10 countries in about 30 minutes. And we didn't even have a hot air balloon.
The evening ended in France (in Epcot's world showcase, of course) at Chefs de France restaurant where Julie had made reservations for us and 14 other food blogger friends.
Part way through dinner, as we heard the waiters singing joyeux anniversaire to a table nearby, I leaned over and whispered to Julie that "she better not get any ideas." I'm not a make-a-scene kind of person, and a public serenade in a busy restaurant is not how I want to celebrate my birthday.
I should have known something was up right from the beginning.
Little did I know that Julie had it all planned. Knowing my 30th birthday fell a few days later, she had secretly (in cahoots with my husband, I might add) arranged for a cake to be brought out in an all-out public spectacle. I'm sure I turned beet red as they brought out the (MASSIVE!) birthday cake, singing en Francais all the way. Embarrassment aside, I ultimately forgave her because she is my best friend, and, well, because that cake was so fan-freaking-tastic, how could I not? Layers of chocolate love will right any wrongs.
Julie, you sneaky, sneaky girl, I love you dearly but if you ever pull something like that again, well…
Our final farewell saw us across town to the amazing East End Market, where Visit Orlando treated us to yet another feast, featuring chefs and dishes from local Orlando restaurants. I have to say, I never really thought of Orlando as a foodie town, but the dishes I tried here sure changed my mind. I'm looking forward to our next trip down there just to go back to some of these restaurants.
Finally, I couldn't talk about this event without extending a huge thank you to our wonderful sponsors, without whom this event simply would not have happened: Walt Disney World, Visit Orlando, Four Seasons Resort, Orlando, KitchenAid, Florida Dairy Farmers, OXO, and Sabra. Thank you all!