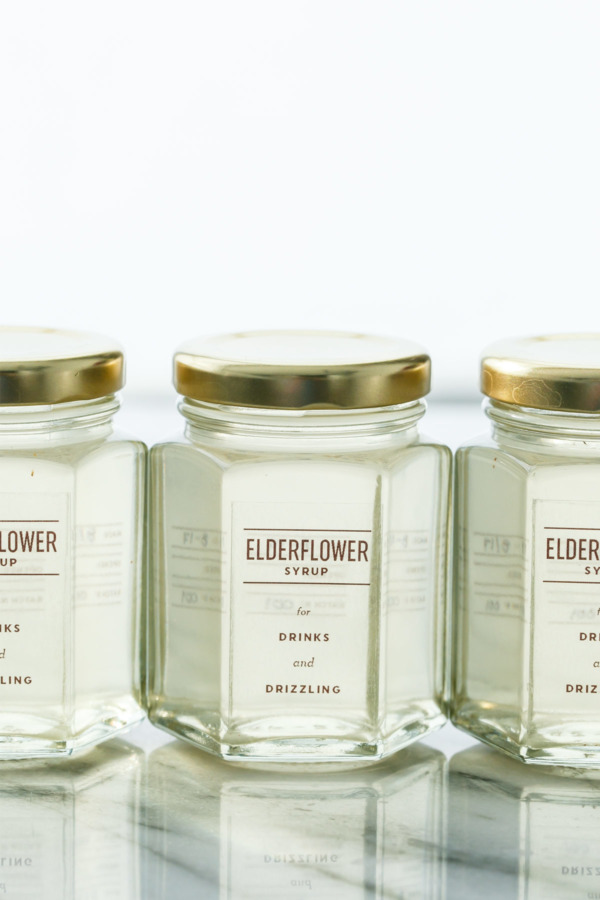 In addition to bringing back a bundle of fresh elderberries from our recent trip to California, a few fragile sprays of pale ivory flowers managed to make the trip too.
I'm not sure if it's normal for elderberry bushes to have both flowers and ripe berries at the same time, but the bush we plundered certainly did. I felt a bit guilty taking the two perfect sprays of pale yellow flowers too (knowing that their future as berries was cut short), but felt there were still plenty of yet-to-ripen berries left for the birds and the bears (and other foragers who might discover it) to justify such a sacrifice.
It's not everyday I stumble across a spray of perfectly delicate elderflowers, so you can bet I was going to take advantage of it.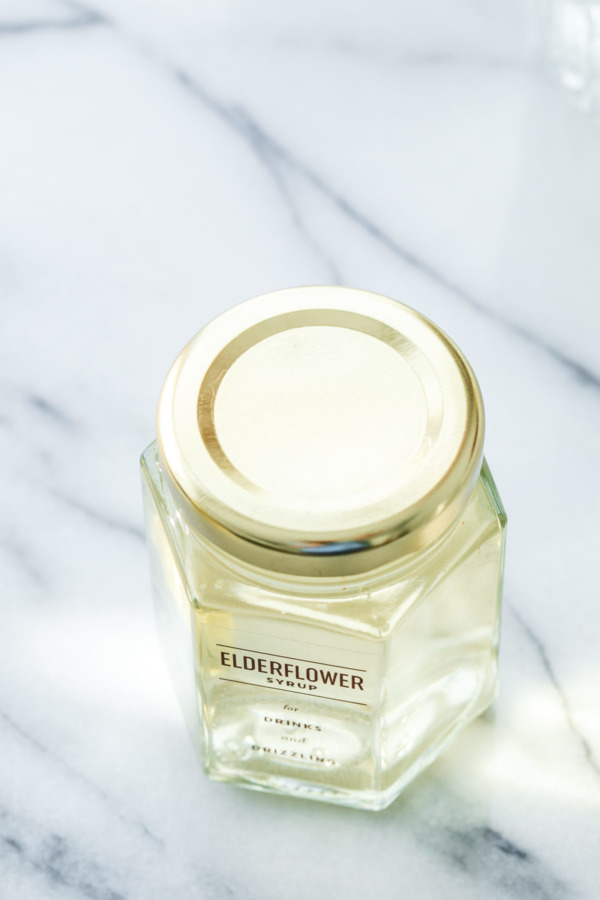 I stored the flowers in a glass of water in the refrigerator overnight, then the next day dried them off, wrapped the stems in a paper towel, and put them in a paper bag along with my berry containers. I hoped that the paper bag would let the flowers breathe more than plastic and help them stay fresh long enough to make it home to Nashville.
Luckily, they weren't quite as delicate as they let on, and were still in great shape upon my arrival home. Definitely worth the care and effort it took to get them here, if only for the four jars of pale golden syrup that resulted from it.
What do you do with elderberry syrup, you ask?
My favorite use for it (aside from a lovely floral addition to this jelly) is stirring a tablespoonful into a glass of cold club soda or ginger beer for a refreshing, non-alcoholic spritzer (though adding a dash of gin or vodka or even prosecco would certainly not be discouraged). Elderflower lemonade, anyone? That sounds downright delightful.
You could also drizzle it over yogurt or fresh fruit, or add a tablespoon into fresh whipped cream for a lovely hint of floral flavor.


Making the syrup is actually quite easy: far easier than jelly (trust me!) Again, as with the berries, the stems are toxic, so you want to remove as many of them as possible before steeping. A few small bits on the flowers are ok, but cut off as much as you can.
Once trimmed, the flowers are then steeped in warm sugar syrup along with lemon slices and a pinch of citric acid (you can also use lemon juice) until they have given their floral essence over to the syrup, about 3 to 5 days, or until the flowers start to turn brown.
Strain the finished syrup into an airtight jar or other container and refrigerate for up to 1 month. Or, for longer term storage, bring the syrup to a boil then divide among canning jars and process in a waterbath. Once sealed, they'll keep for up to 1 year.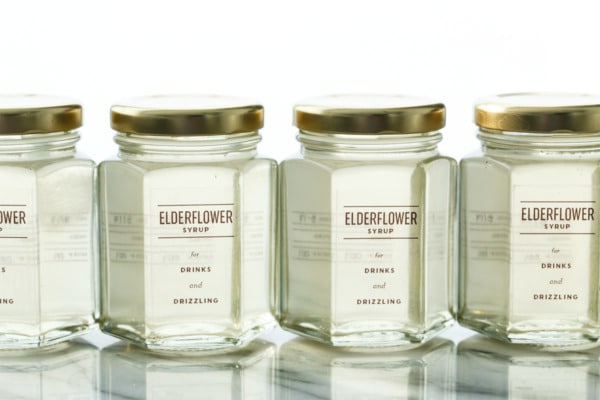 Elderflower Syrup
This homemade elderflower syrup is perfect for stirring into drinks or drizzling over fruit or yogurt!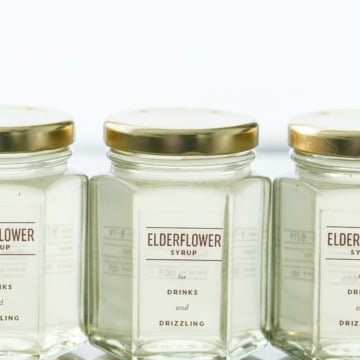 Ingredients:
1 1/2 cups elderflowers (from 2-3 large sprays)
1 organic lemon, sliced
2 cups granulated sugar
2 cups filtered water
1/4 teaspoon citric acid or 1 tablespoon lemon juice
Directions:
Rinse flowers, shaking them to remove any debris or bugs that might be hiding in them. Trim stems, getting as close to the base of the florets as possible (the stems are mildly toxic and, while a few won't hurt, you definitely want to get rid of as much as possible).
Place flowers in a bowl along with sliced lemon.
In a saucepan, heat sugar and water together until simmering and sugar is completely dissolved. Stir in citric acid or lemon juice.
Pour warm syrup over flowers. Cover and refrigerate for 3 to 5 days, until the flowers start to turn brown and the syrup takes on a pale yellow hue. Strain syrup through a fine mesh sieve, discarding leftover flowers.
At this point the syrup can be refrigerated in a jar or other airtight container for up to 1 month.
For longer preservation, prepare a water bath canner and wash and sterilize canning jars. Heat the syrup in a saucepan until boiling, then pour into hot jars, leaving 1/4 inch of headspace. Process for 10 minutes. Properly sealed, the syrup will keep for up to 1 year (refrigerate after opening).
Did you make this recipe?
Let us know what you think!
Leave a Comment below or share a photo and tag me on Instagram with the hashtag #loveandoliveoil.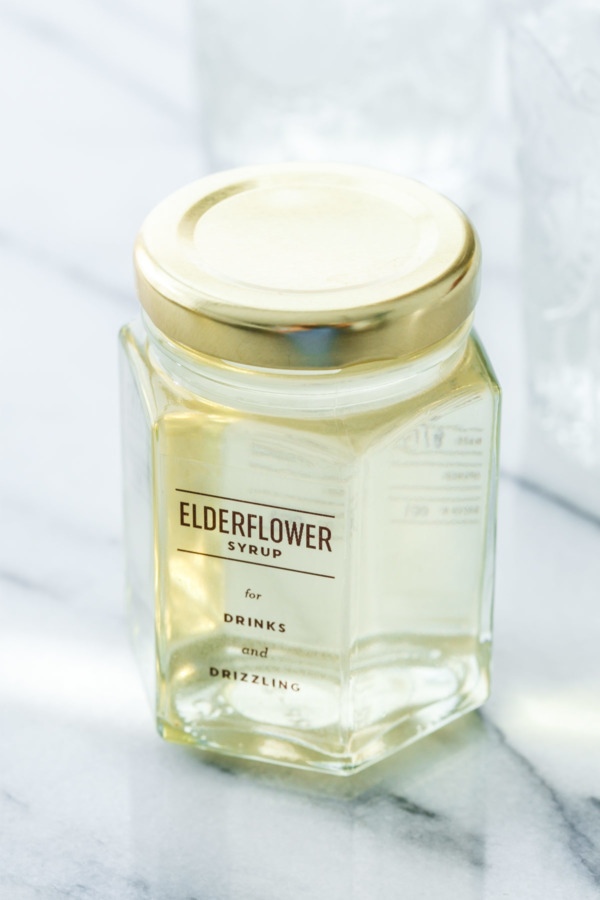 Bonus Printable Labels
This syrup is beautiful pale yellow in color, making it a perfect use for these clear labels. Download the file now and print yourself, either on clear label paper or the color of your choice, cut out shapes, and apply directly to the (canned and cooled) jars.
The rectangle labels are designed to perfectly fit these 3.75oz hex jars, but they'd also work on smooth-sided mason jars or lids as well. Front and back labels included with space to fill in the made/opened dates and batch number.
The downloadable PDF file contains 30 labels per page.