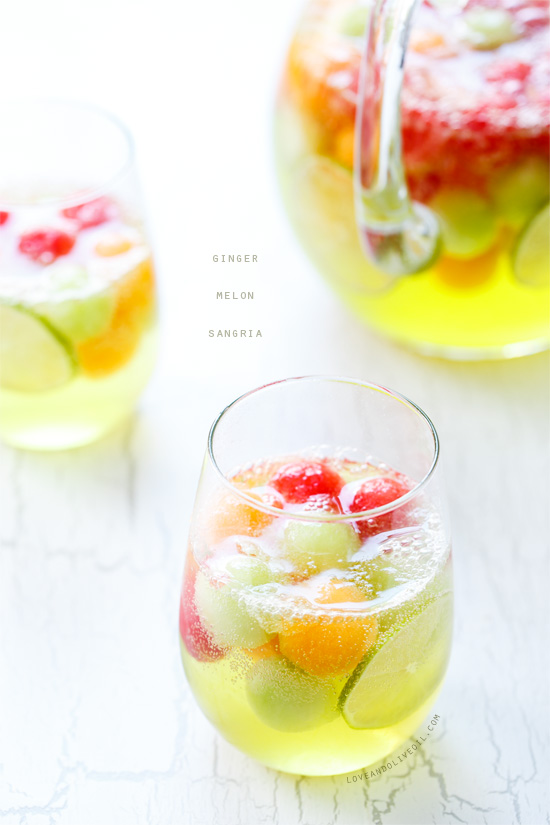 This is a summer sangria if I ever saw one. All that's missing from this picture is a lounge chair and a warm summer breeze.
The thought of three colors of melon floating in a bubbly, boozy sea is what inspired this recipe. Or maybe I just needed an excuse to actually use my melon baller (holler! because really, how often does that little thing get used?)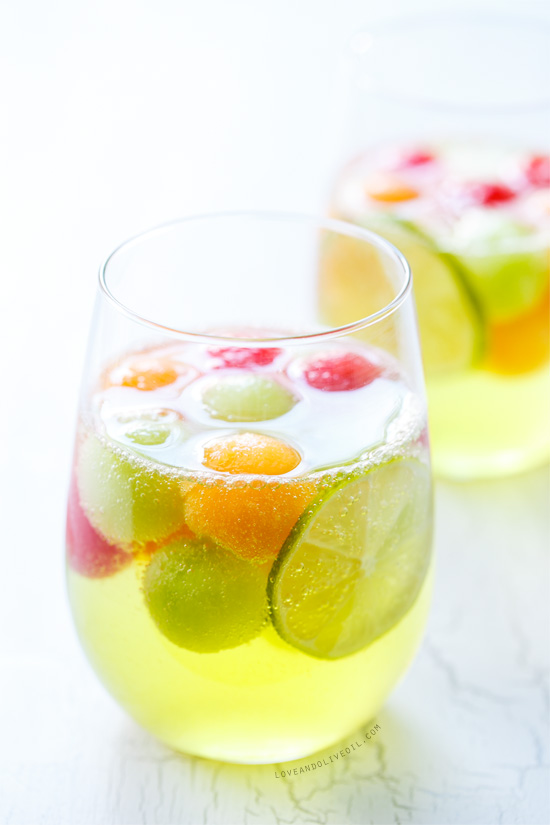 This sangria is particularly refreshing, bubbly and vibrant chartreuse in color from the melon liqueur. It is neither heavy nor overpoweringly fruity like red sangria can often be. The flavors mingle more and more the longer the drink sits, the balls of melon absorbing the musty sweetness of the Moscato and the spiciness of the ginger beer.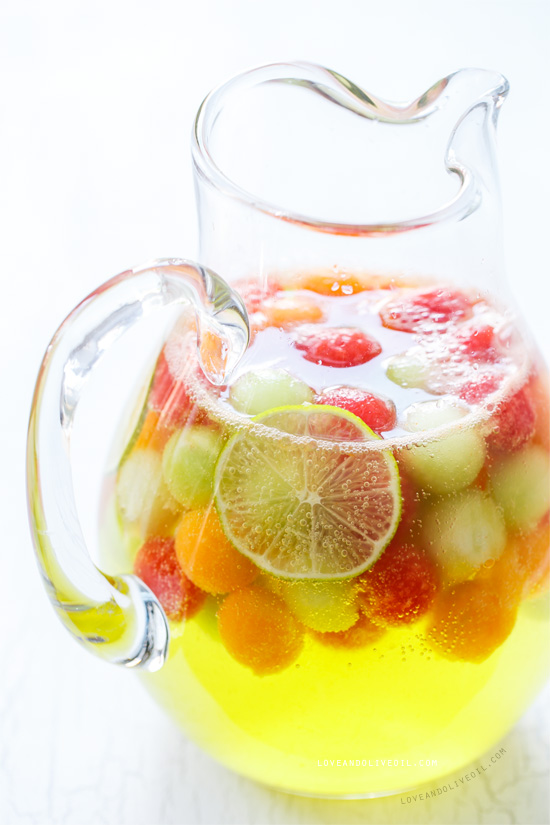 Might I suggest freezing a few of the melon balls while the rest of your sangria marinates? Plop a few frozen balls into each glass when serving, and your guests' drinks will stay cool and undiluted.
Balling definitely isn't the most efficient use of a melon, with all the scraps that fall between the hallowed out circles. But that doesn't mean those scraps have to go to waste. Instead, save them and all the juices and blend with a bit of water and a splash of lime juice, and you'll have yourself an agua fresca that'd be perfect for the kids or non-drinkers at your end-of-summer soiree.
Drink up the last drops of summer, while you still can!
Ginger Melon Sangria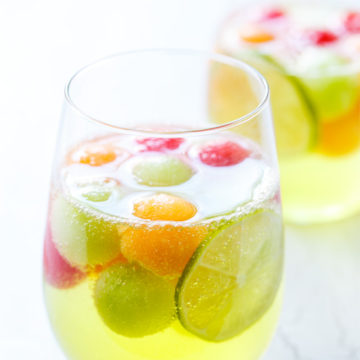 Ingredients:
1 bottle white moscato wine
8 ounces ginger beer (I like FeverTree)
1/4 cup freshly squeezed lime juice (from 2-3 limes)
1/4 cup (2 ounces) melon liqueur (such as Midori)
1/2 small watermelon, balled
1 cantaloupe, balled
1 honeydew, balled
1 lime, sliced, for garnish
club soda, for finishing
Directions:
Combine wine, ginger beer, lime juice, and melon liqueur in a large pitcher. Add melon balls (optional: freeze some of melon balls to use as ice cubes when serving). Let sangria sit for a few hours or overnight if possible. Served cold, topped with a splash of club soda and a slice of lime.
Did you make this recipe?
Let us know what you think!
Leave a Comment below or share a photo and tag me on Instagram with the hashtag #loveandoliveoil.