It's a beautiful sunny day in the picturesque city of Vernazza, on the Ligurian coast of Italy in an area known as Cinque Terre (or Five Lands). We've just gotten off the train that meanders between the five towns along the steep ocean cliffs. We're walking down, steeply, our knees nearly buckling on the worn cobblestone streets. We're hungry, desperately so, and spot a small, nondescript bakery on our right.
The smell alone is enough to drive your stomach to madness. Once inside that door we knew we were not leaving without at least one slice of the golden focaccia bread that is piled high in the glass cases in front of us, topped with everything from cheese to fresh anchovies to potatoes.
We carefully choose a slice topped with thin slices of potato and fresh rosemary. We continue to walk down the steep streets towards the sea, folding back the waxed paper that enshrouds our snack and filling our mouths with this yeasty slice of magic, never wanting to leave.
Now, 7 years later, the memory of that place, the feel of the cobbles underneath my shoes as vivid in my memory as the yeasty flavor of the bread on my tongue. Perhaps, taste memory is why I remember this moment above so many others from that trip. Perhaps, such a memory simply wouldn't be without it.
Food has a way of doing that, you know.
Our stomachs often lead our travels and, as it turns out, help us remember them too.
Anyway, back to the bread.
I'm actually surprised, given at how strong that memory is to me, that I haven't tried to recreate it until now. Maybe I was intimidated, not confident that I could recreate such magic with simple flour and yeast.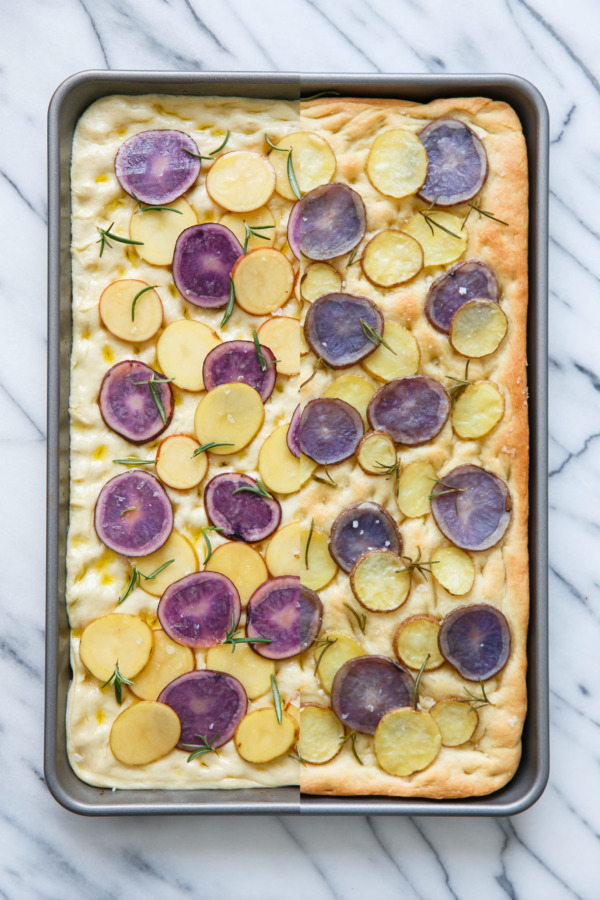 Authentic focaccia bread is a revelation: light, airy, yeasty, and not overly oily despite the amount of olive oil that goes into making it.
It took us a few tries to get it right; our first attempts being little more than pan-sized breadsticks, too dense and chewy and crunchy around the edges to be considered good focaccia.
As it turns out, the secret is the Italian-style 00 flour. Like the Udon noodles we made a few months ago, the texture of 00 flour simply can't be matched by all purpose. The super finely milled flour produces a light and airy focaccia that is simply divine. That said, you can use all-purpose flour as well, your final product will just be a little bit denser. Either way, this is a great opportunity to get out your new kitchen scale, since the two kinds of flour are not identical in terms of weight to volume. Stick with weight, and you'll be fine either way.
Focaccia is the perfect yeasty canvas to let your culinary imagination run wild.
We've opted to recreate the potato-and-rosemary vision of our memory, but you could also top this bread with pitted kalamata olives, cherry tomatoes, anchovies, or freshly shaved parmesan cheese. Or go pure, with just a brushing of olive oil and a sprinkle of flake sea salt.
The dough itself is quite easy, needing only 5 ingredients plus water. You'll want to give yourself at least 3 hours to make it, as the double-rest period is essential to the fluffy texture. That said, while it might take 3 hours, the actual 'active' time you'll be on your feed is far, far less. Maybe 30 minutes at most, especially if you have a stand mixer to help you along.
The recipe is written for a quarter sheet pan, but you can certainly double it for a half sheet pan too.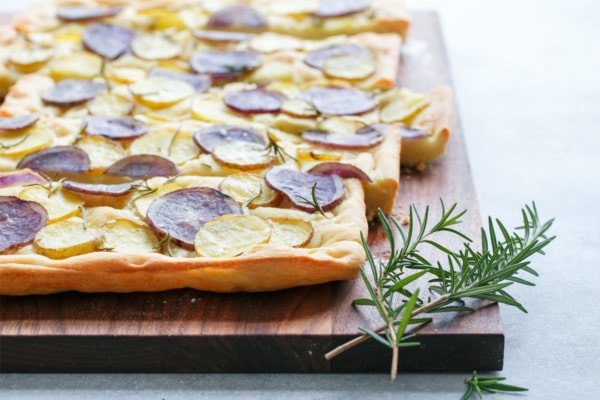 Potato & Rosemary Focaccia Bread
Authentic focaccia bread topped with multi-colored potatoes and fresh rosemary; but, when it comes to toppings, the sky is the limit.
Ingredients:
1 tablespoon active dry yeast
3/4 cup lukewarm water (90-100 degrees F)
2 cups (9.5 ounces) 00 flour or an equivalent weight of all purpose flour
1/4 cup olive oil, plus more as needed for preparation
2 teaspoons honey
1 1/2 teaspoons kosher salt
8 ounces small multicolored potatoes, thinly sliced
fresh rosemary, leaves removed from stem
coarse flake sea salt, for finishing
Directions:
In a small bowl, whisk yeast into lukewarm water until dissolved and frothy (if your yeast doesn't fully dissolve or get frothy, that means it is dead; throw it out and get fresh yeast).
In the bowl of your stand mixer, combine flour, olive oil, and honey. Add yeast and mix with the paddle attachment until just incorporated; add salt, then switch to the dough hook and knead on low speed for 5 minutes or until smooth and still slightly tacky. Turn out dough onto a lightly floured surface and knead once or twice, forming dough into a smooth ball.
Pour a glug or two of olive oil into the mixing bowl and roll dough ball in the oil until coated. Cover lightly with plastic wrap or a clean kitchen towel and let rest in a warm place for 30 minutes until noticeably puffed.
Generously oil a non-stick quarter sheet pan. Turn out dough onto pan and press out into a rectangle. Fold in half lengthwise, then fold in half crosswise, then fold in half once more to form a rectangle. Turn 90º so long side of rectangle is parallel to the long side of the sheet pan. Cover loosely with plastic wrap and set in a warm place to rise until doubled in size, about 1 hour.
Preheat oven to 400 degrees F.
Remove plastic wrap, then press out dough once again to fill the entire sheet pan at an even thickness. Poke your fingers down into the dough to form indentations, pressing out your fingers and moving your hands to tear up the dough a little bit (no need to be gentle with this, you want the craggy texture and it's ok if you tear holes clear thorough the dough). Drizzle generously with a few tablespoons of olive oil, spreading the oil out with your hands to fairly evenly coat the surface of the dough.
In a bowl, drizzle potato slices with a few glugs of olive oil and toss to coat; arrange slices over top of dough, then sprinkle with rosemary and a generous pinch or two of coarse sea salt. Loosely cover and let rest for about 30 minutes until slightly puffed and oven is thoroughly preheated.
Bake focaccia for 20 to 25 minutes or until top is light golden brown and the bread sounds hollow when tapped. Remove from oven and let cool for 10 minutes before lifting from pan and slicing into pieces; serve warm.
Did you make this recipe?
Let us know what you think!
Leave a Comment below or share a photo and tag me on Instagram with the hashtag #loveandoliveoil.
This recipe was originally created in partnership with KitchenAid®. All opinions are my own.