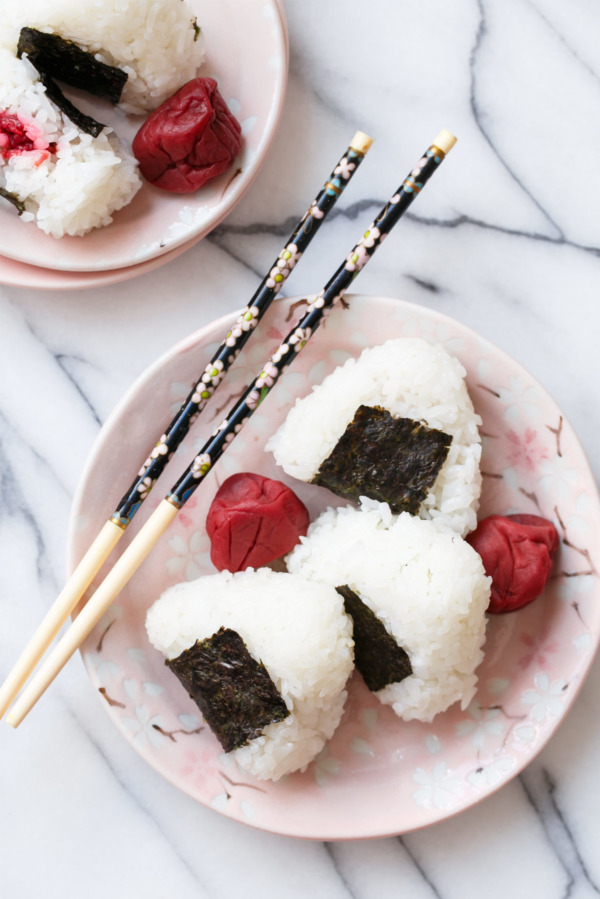 Onigiri just might be my new favorite comfort food.
It's the ultimate grab and go convenience snack in Japan. Walk into any 7-11 and for the equivalent of a few dollars, you can have a truly satisfying snack. Grab a few and you've got yourself a healthy, filling meal.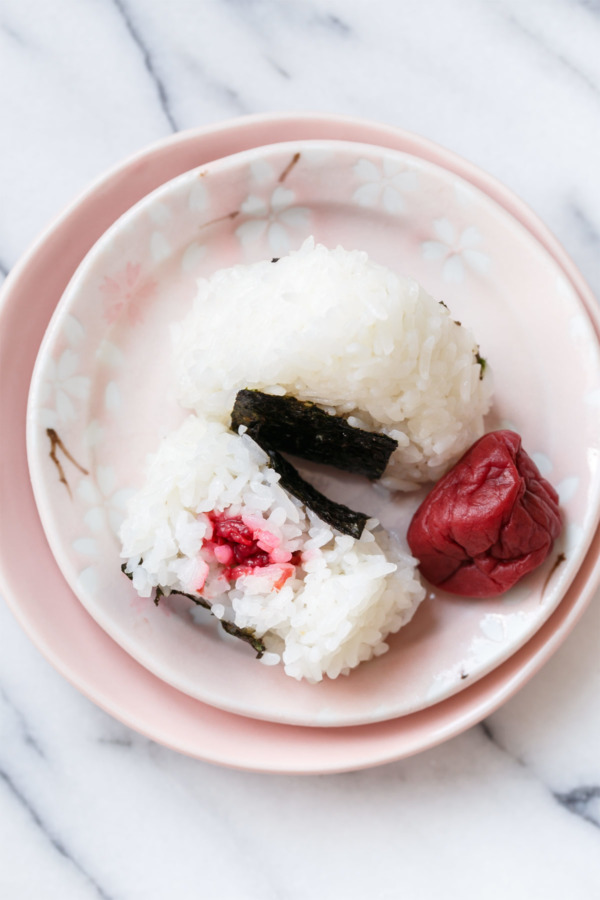 I certainly embraced Japanese rice balls on our recent trip to Japan. Too many to count, in fact.
One of our favorite culinary stops in Japan was an onigiri shop in Kyoto called Aoonigiri. While I had nothing against the 7-11 ones (I ate plenty of them), this tiny restaurant took onigiri to an entirely new level. It was life changing. I knew once I returned home that, while I couldn't come close to recreating the artful onigiri I enjoyed there, I needed to learn to make them myself.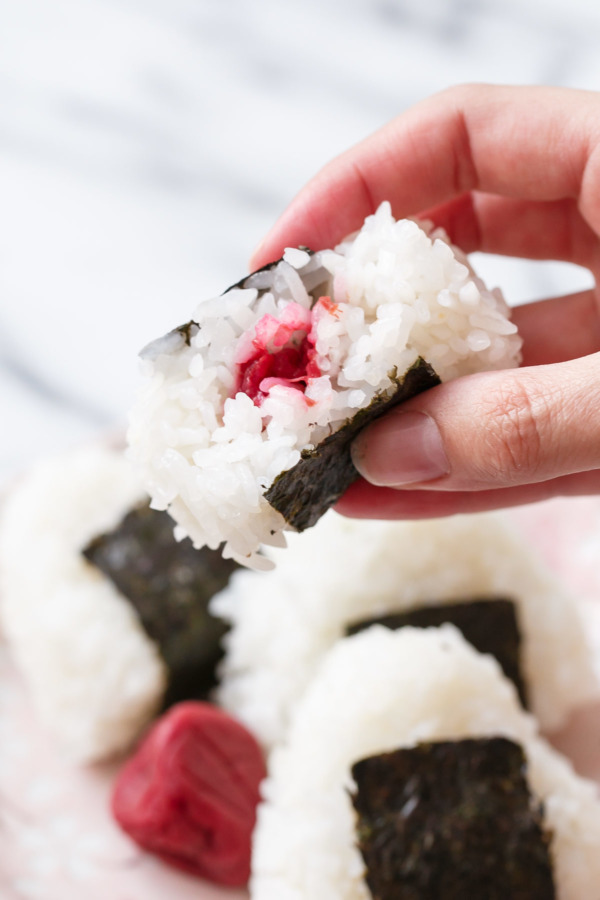 Of all the different flavors and fillings I tried (intentionally or accidentally, I didn't always know what I was biting into) my favorite by far was the umeboshi (Japanese salt plums).
To make umeboshi is somewhat of an art form, and, unfortunately, not something it appears I'll be able to tackle at home. Green sour plums, or ume, are layered with salt and red shiso leaves (for color and flavor) and cured until the plums release all of their liquid, then dried in the sun for 3 days. Good umeboshi will keep for years, and some say that aging them further improves the quality and flavor.
If you were to pop a whole plum into your mouth you'd be mighty surprised, it's super sour and salty and intensely flavored and not entirely pleasant on its own. A natural sour patch kid, if you will.
But a little pocket of pickled plum inside a cloud of sticky white rice makes for a perfect punch of flavor.
I was able to find umeboshi locally at Whole Foods and Asian markets with a good assortment of Japanese products; that said, they are not perishable, so you can readily get them online. They aren't cheap, however, but know that one plum will easily make 3 or 4 onigiri, so a little goes a long way. Umeboshi paste would also work here.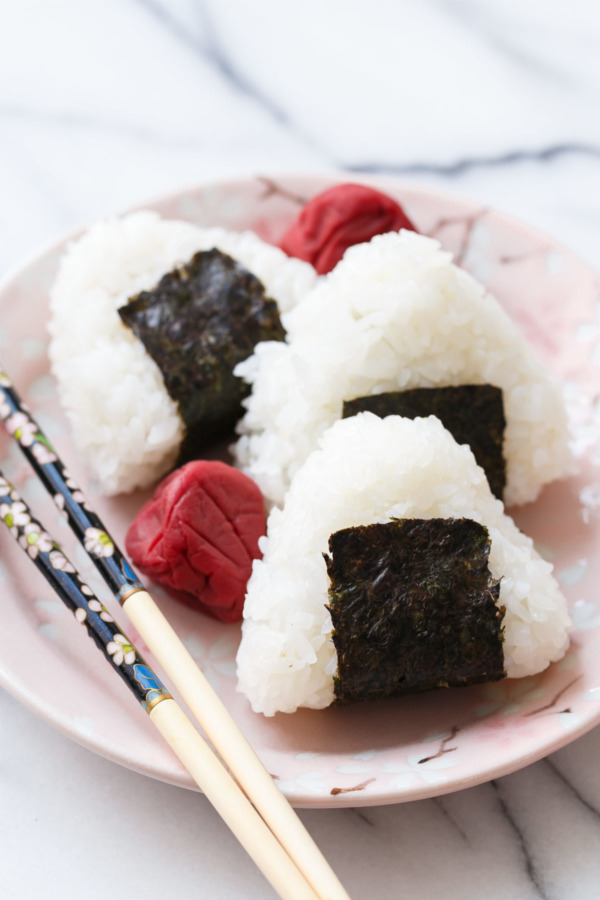 With a few basic ingredients and techniques, onigiri are very easy to prepare, and not to mention incredibly versatile: you can fill them with just about anything.
You will need sushi rice, rice vinegar, and strips of seaweed/nori (buy snack-size strips or cut down larger sheets to size), along with whatever you plan to fill yours with. All of these things can be found at Asian markets, specialty grocers, or online.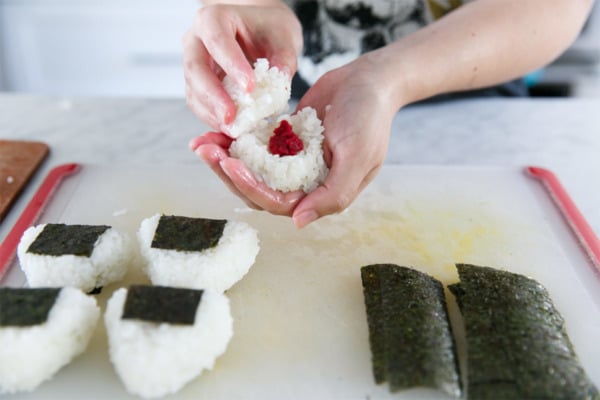 Once you've cooked your rice according to the instructions on the package (or the manufacturer instructions for your rice cooker), you'll want to sprinkle it with the vinegar/sugar mixture, while gently folding the rice to evenly mix it and fanning it to cool it more quickly. This seasoning is what gives sushi rice its tangy flavor and sweetness. I've seen conflicting information about whether or not onigiri uses seasoned rice. Some say just a bit of salt is all you need. I chose to season it, however, with a mix of rice vinegar, sugar, and salt.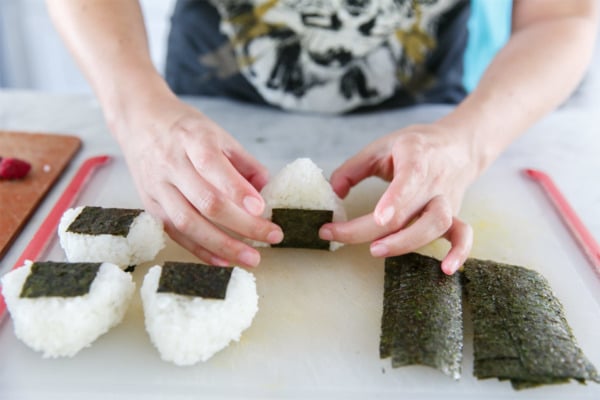 Have a bowl of water handy, and keep your hands fairly wet to prevent the rice from sticking. Pick up a golf ball sized chunk of rice, form it in your palm, and create an indentation for your filling. Then top it with another chunk of rice, and shape into a ball or triangle. If you like, there are also a number of onigiri molds you can buy (these cat ones are my personal favorite) that will make shaping the rice balls easier. But, with a little practice you'll find that shaping them by hand isn't that hard either. I personally like the rustic nature of the hand-shaped onigiri.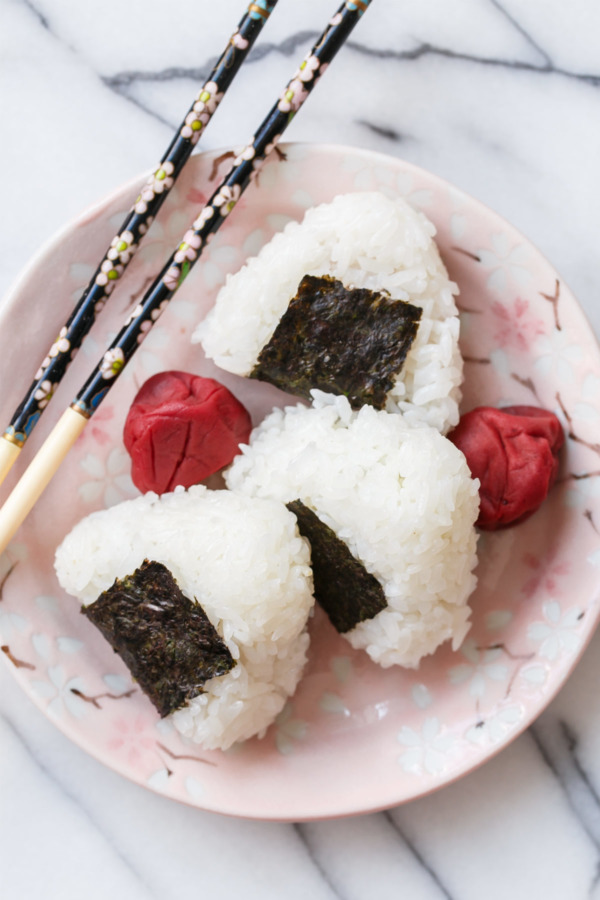 If you are making the onigiri ahead of time, you may want to leave off the seaweed as it will soften with prolonged contact with the rice. The onigiri you buy at the 7-11s come with clever wrappers that keep the seaweed from touching the rice until it is opened to keep it nice and crisp. You can buy these special wrappers, or just keep your rice balls and seaweed strips separated until just before serving.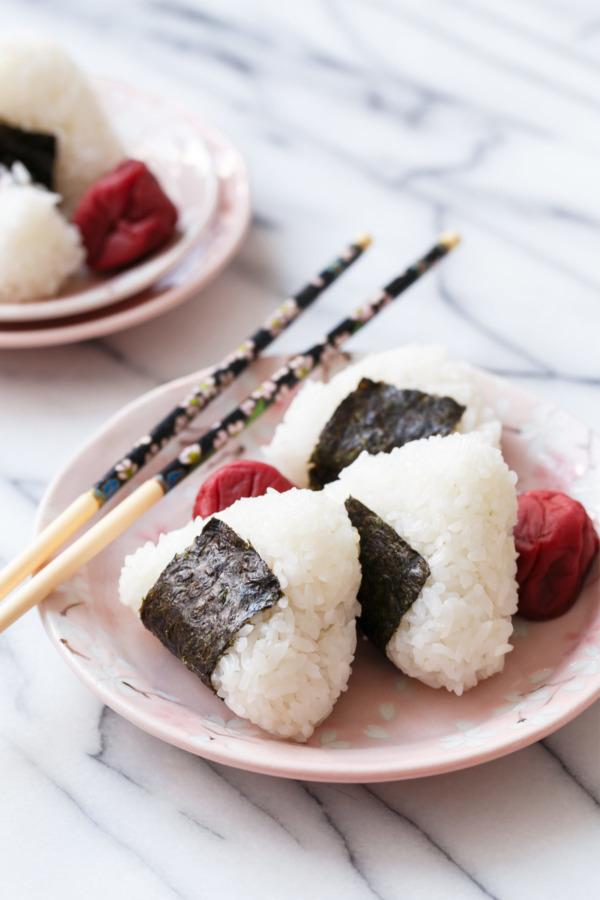 While umeboshi is my favorite filling, since we've been home we've also made onigiri filled with pickled greens, teriyaki chicken and salmon, and kombu (seaweed) salad. You can really fill them with just about anything, as long as it's not too greasy or watery.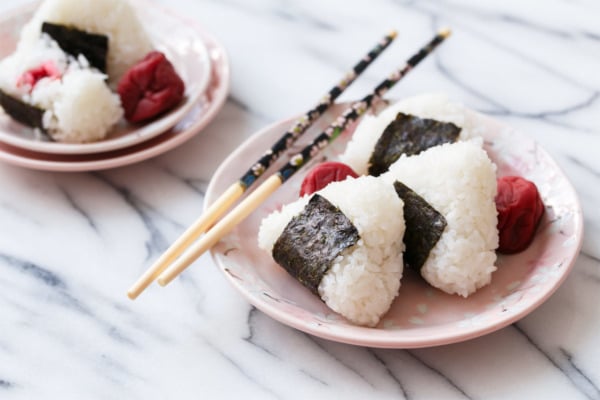 Umeboshi Onigiri
The ultimate grab and go comfort food: Japanese rice balls filled with umeboshi (salt-pickled plums).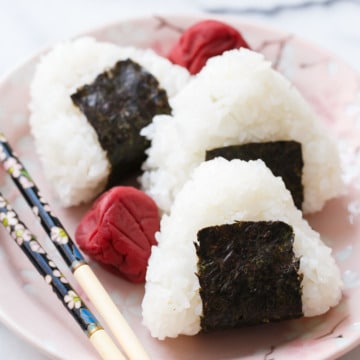 Ingredients:
1 1/2 cups sushi rice
2 tablespoons rice vinegar
1 tablespoon granulated sugar
1/2 teaspoon kosher salt
3 medium umeboshi plums, pitted and finely chopped (or other filling as desired)
12 pieces dried seaweed/nori
Directions:
Rinse rice; drain well. Put into a saucepot or into rice cooker and add water according to package or manufacturer's instructions (rice cooked in a rice cooker will likely use less water than if cooked on the stovetop). Cook until tender and liquid is absorbed.
In a microwave-safe bowl, combine vinegar, sugar and salt. Microwave for 20 to 30 seconds until sugar is dissolved.
Transfer warm rice to a cookie sheet or casserole dish and spread into a thin layer. Sprinkle with vinegar mixture as you gently fold the rice (you want the rice to stay fluffy, so don't squash it as you stir) until evenly coated. Fan with a thick piece of cardboard as you stir (or something similar) to help the rice cool down more quickly.
Have a bowl of water next to you while you work; continually wet your hands to keep the rice from sticking.
When the rice is cool enough to handle, grab a golf-ball sized chunk of rice and place it in your palm. Form an intent, then place about 1/2 a teaspoon of chopped plum or other filling inside. Top with another bit of rice.
With moistened hands, form the rice into a ball or triangle shape as desired. Wrap in seaweed, pressing lightly to adhere. Repeat with remaining rice.
Serve immediately so seaweed remains crisp. Unwrapped onigiri can also be made and filled ahead of time; store in an airtight container in the refrigerator for up to 2 days. Wrap in seaweed just before serving.
Did you make this recipe?
Let us know what you think!
Leave a Comment below or share a photo and tag me on Instagram with the hashtag #loveandoliveoil.