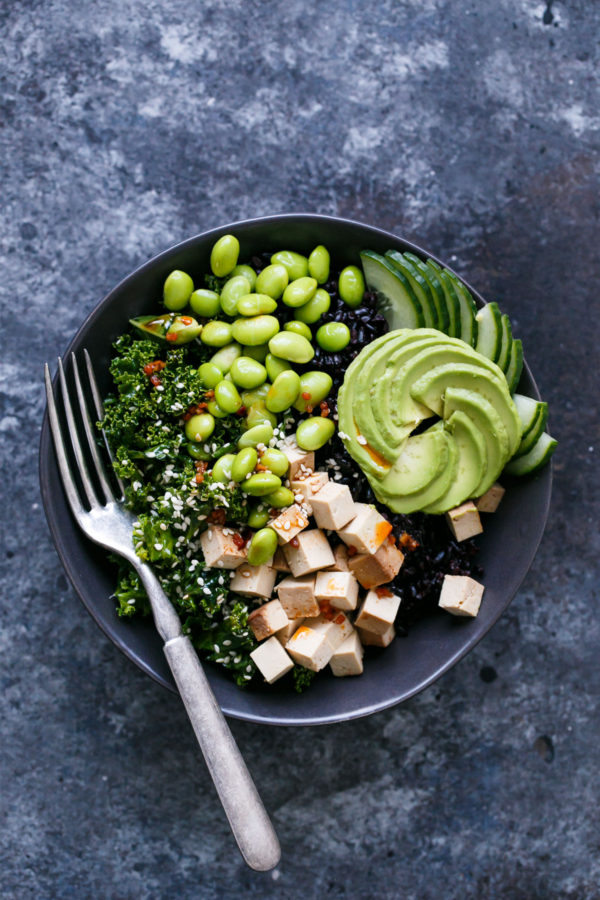 This recipe was created in partnership with McCormick Gourmet™, whose products spice up our own kitchen on a daily basis. Thanks for supporting us and the brands we love!
What is a Buddha bowl, exactly? To put it simply: it's a big bowl of zen.
The Buddha bowl seems to be taking the internet by storm, and this is one trend I can get behind (unlike other Pinterest-born fads like the smoothie bowl or overnight oats, which, try as I might, I can't quite force myself to like). Buddha bowls, on the other hand, are totally something I'd eat on a regular basis, trendy or not.
One defining characteristic of the Buddha bowl is the protein power: vegetarian or otherwise, it has to be full of it. Don't be fooled, this is not some skimpy salad that will leave you hungry a few hours later. Piled high with tofu, edamame, and black rice, there's well over 20 grams of protein per bowl, enough to leave your hunger (and palate) more than satisfied. It's a treat for your body and for your tastebuds.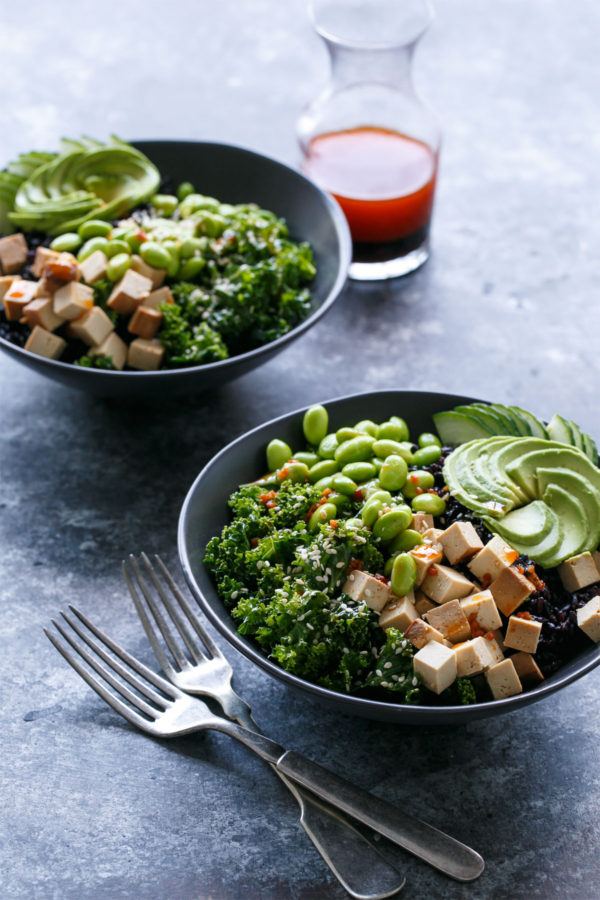 In this case, a base of protein-rich black rice is piled high with baked tofu and edamame and topped with cucumber, avocado, and a chopped kale salad that's been massaged with toasted sesame oil and sea salt until it's tender and sweet and anything but bitter. The act of massaging the kale isn't arbitrary; rather it tenderizes the kale, breaking down the tough cellulose and removing the often bitter flavor that is associated with raw kale. The addition of the sesame oil and sea salt helps this process along, infusing the kale with a lovely toasted sesame flavor.
For the finishing touch, we whipped up a spicy dressing made with McCormick Gourmet's new sriracha seasoning blend (which is quite possibly my new favorite thing, perfect for situations where you want a punch of spicy sriracha flavor but need the versatility of a dry spice blend.)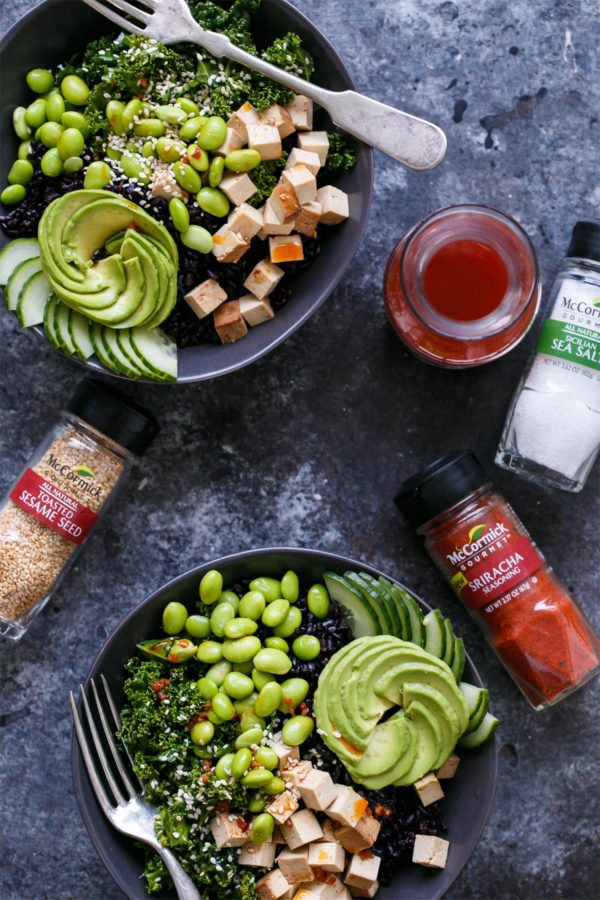 The first time we tested these bowls they pretty much bowled me over (har har). I guess I wasn't expecting such a healthy combination of ingredients to taste so good (I'm not ashamed to admit I surprised even myself this time). We barely changed anything the second and third times we made it, just adjusting the proportions of ingredients so each and every bite is a perfectly balanced and flavorful.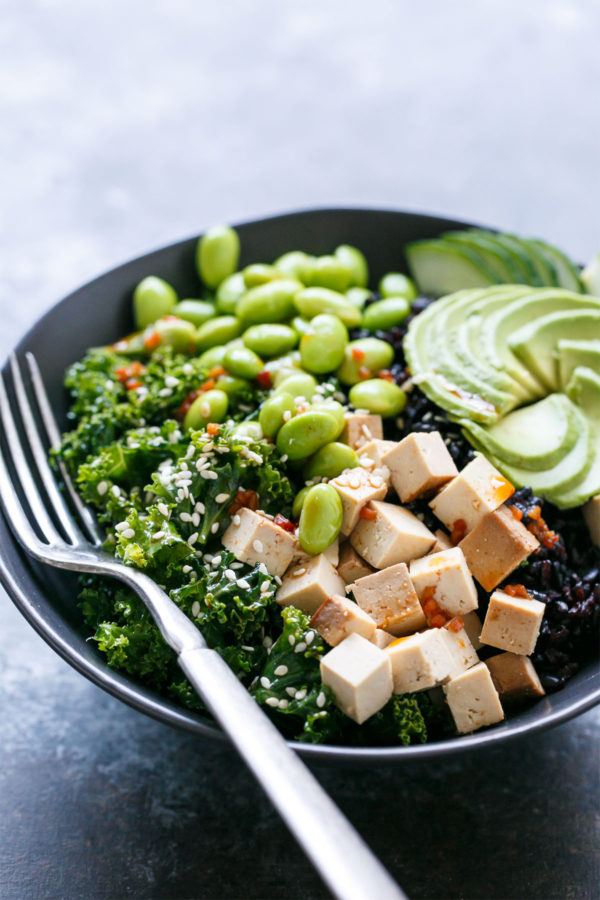 This recipe calls for black rice, also called forbidden rice, not to be confused with the (also black) wild rice. It has a firm texture, with more bite than you'd expect from a plain white or brown rice, and a unique nutty flavor. But beyond that it contains more protein, fiber, iron, and other nutrients than almost any other variety of rice or grain, and more antioxidants than fresh blueberries. Black forbidden rice can be found at Asian markets, in the bulk section of most larger grocery stores such as Whole Foods, or online. You could also definitely substitute another hearty grain for the base of your bowl, such as quinoa or farro.
I know tofu isn't for everyone, so know that you can can certainly swap in chicken or thinly sliced beef instead (or heck, leave it out entirely, it's still plenty filling). This is one of those recipes that lends itself very well to personal tastes and adaptations.
Note to self: work on avocado-rose technique. Yes, I saw it on Instagram and no, it's not as easy as they make it look. I think I need thinner slices or a more flexible avocado or some magic fairy dust or something to make it work. Darn you Instagram and your unrealistic standards.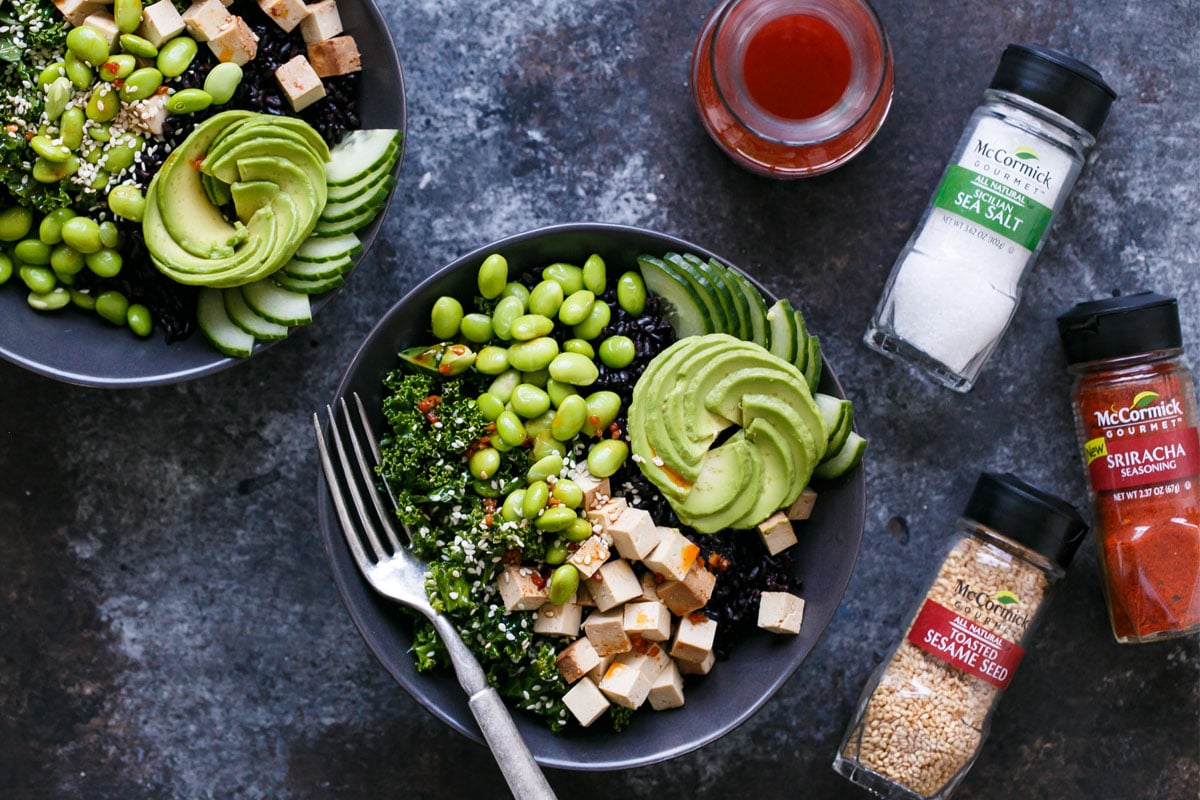 Sesame Sriracha Buddha Bowls
Healthy and flavorful Buddha bowls made with protein-rich black rice topped with edamame, avocado, cucumber, sesame kale, and baked tofu, and a spicy sriracha vinaigrette to top it all off.
Ingredients:
1 cup black (forbidden) rice
1 1/2 cups water
For Sesame Kale:
For Sesame Sriracha Vinaigrette:
2 tablespoons rice vinegar
4 teaspoons low-sodium soy sauce
2 teaspoons toasted sesame oil
1 teaspoon (more or less to taste) McCormick Gourmet™ Sriracha Seasoning
1/4 cup grapeseed or light olive oil
To Assemble:
1 cup frozen shelled edamame, cooked according to package instructions
8 ounces baked tofu*, cut into 1/2-inch cubes
1/2 English seedless cucumber, halved and thinly sliced
1 avocado, halved, pitted, and thinly sliced
additional McCormick Gourmet™ Toasted Sesame Seeds (optional, for garnish)
Directions:
Rinse rice in a fine mesh sieve. Add to a medium saucepan with water and set over medium-high heat. Bring to a boil, then cover and reduce heat to low. Cook for about 40 minutes (refer to your package directions for specific cook time), until water is absorbed and rice is tender yet still al dente. Remove from heat and let cool to room temperature (rice can be made ahead of time).
In a bowl, toss chopped kale with sesame oil and sea salt. Using your hands, massage the kale, rubbing the salt and oil into the leaves with both hands until completely coated with oil and slightly darkened in color (about 5 minutes). Set aside for at least 15 minutes or up to 1 day until ready to use.
To make vinaigrette, whisk together rice vinegar, soy sauce, sesame oil, and sriracha seasoning until smooth. Drizzle in oil, whisking vigorously, until incorporated. Dressing can also be made ahead of time; lightly whisk before serving to reincorporate ingredients.
Bring a small pot of salted water to a boil. Cook shelled edamame according to package instructions until just tender. Strain in a colander and rinse under cold water to stop the cooking process.
To assemble bowls, divide room temperature rice among serving bowls. Top with kale salad, edamame, tofu, cucumber, and avocado. Drizzle with sriracha vinaigrette, to taste, and sprinkle with sesame seeds as desired. Serve at room temperature.
*I buy Trader Joe's baked teriyaki tofu, which is already perfectly seasoned and super convenient (no dealing with pressing or cooking tofu), but you can always make your own baked tofu ahead of time (season to taste with a bit of soy or teriyaki sauce or sriracha seasoning as desired). You could also certainly substitute another protein, such as chicken, if you prefer.
Did you make this recipe?
Let us know what you think!
Leave a Comment below or share a photo and tag me on Instagram with the hashtag #loveandoliveoil.
Disclosure: This recipe was created in partnership with McCormick®. As always, all opinions written are purely our own. We're incredibly grateful for opportunities like these that allow us to continue sharing delicious recipes with you, so thank you for supporting us and the brands we love.