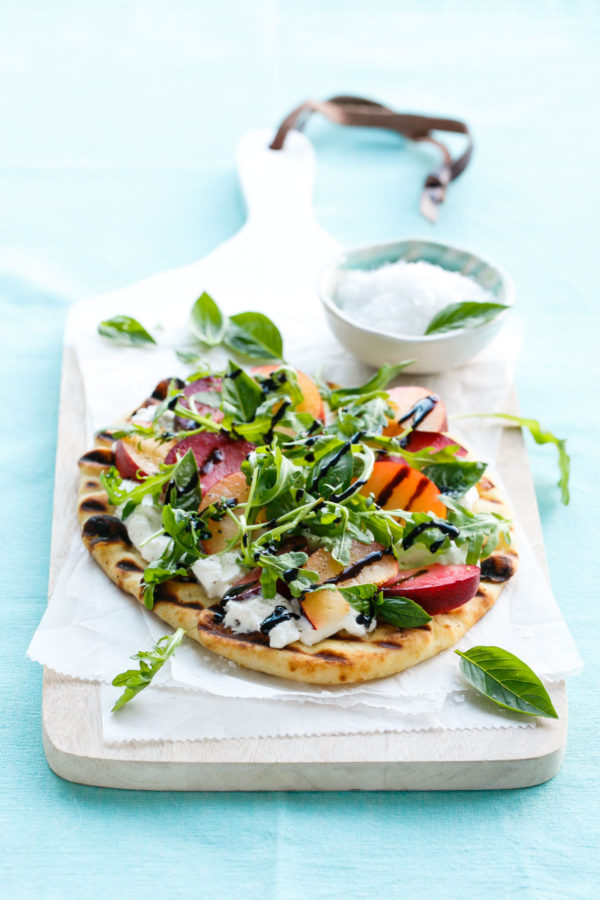 Do you remember that microwave popcorn from the 90s that was dyed bright colors? But you didn't know what color you were getting until you popped it and opened the bag? Pop-Secret or something?
Buying plums is kind of the same deal.
All I wanted was a few red plums. Is that too much to ask? Not red skin, mind you, but plums that are actually red on the inside.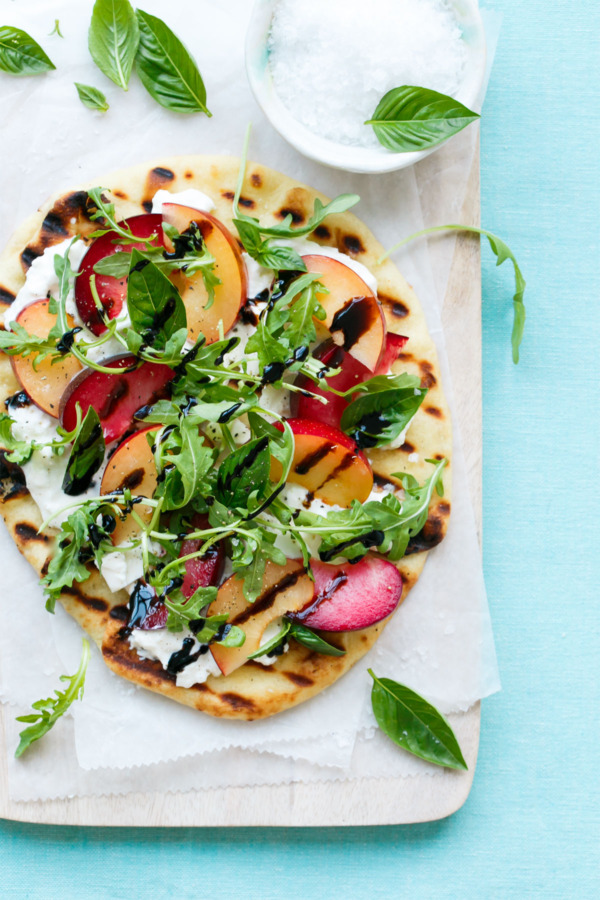 You can't just go out and buy a red plum and expect a perfectly scarlet interior, as the 'red' designation doesn't refer to the inside color, but rather the outside skin. I literally bought plums 4 straight weeks in a row thinking they were red inside, trying red plums and black plums and even black pluots, and yet every time I sliced one open it was all yellow (earworm alert, sorry).
Not that there is anything wrong with yellow plums, but I had a vision in my head of this flatbread that was just as defined as the vision in my stomach, and it involved a combination of both red and yellow plums. I refused to photograph it any other way.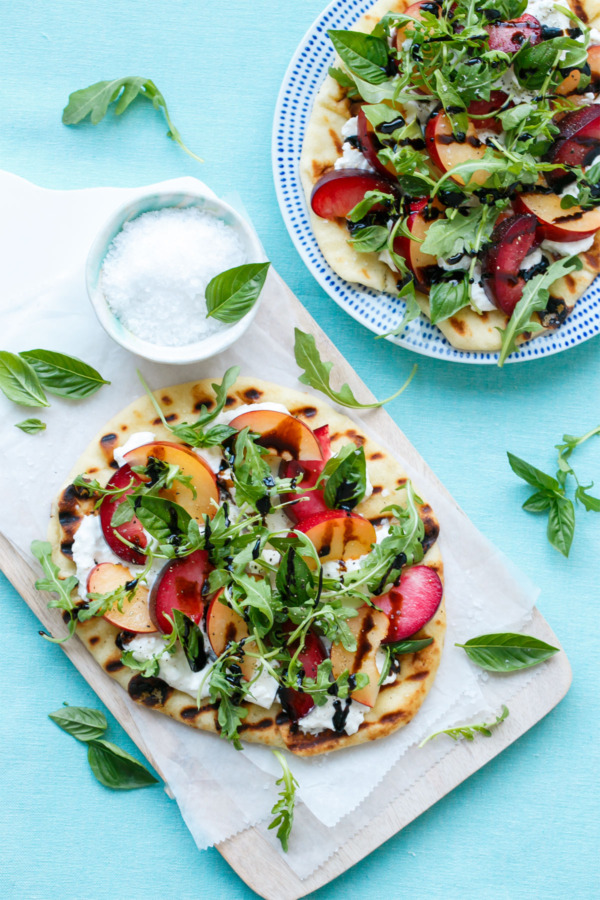 Let's just say this recipe is very thoroughly tested. Not because the recipe didn't work, but each time we went to make it, surprise surprise, the plums I thought were red weren't actually red. So I couldn't photograph it, but we still made it and ate it anyway lest we let the precious burrata go bad.
I almost gave up on it, actually. After 4 weeks I was convinced the plums were going to go out of season and I'd be plum out of luck.
And then, finally, I cut into a plum (that honestly looked just like the plums I'd bought in weeks previously) and it was RED. I could have cried with sheer happiness when I saw that beautiful scarlet hue. Red… the color of passion, the color of love, the color of Lindsay finally being able to make a flatbread worthy of a photo.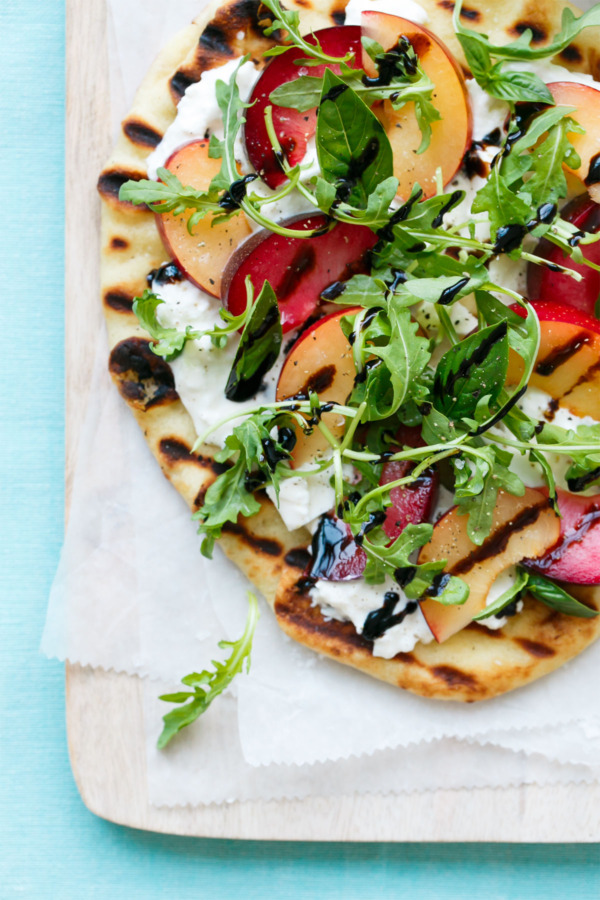 But here's the thing… this flatbread? You could make it with just about any fruit. Strawberries in spring. Peaches in the summer. Even figs which are just coming into their peak season right about now.
Because really, what fruit doesn't benefit from a little (er, a lot) of creamy burrata and a drizzle of thick and sweet balsamic glaze?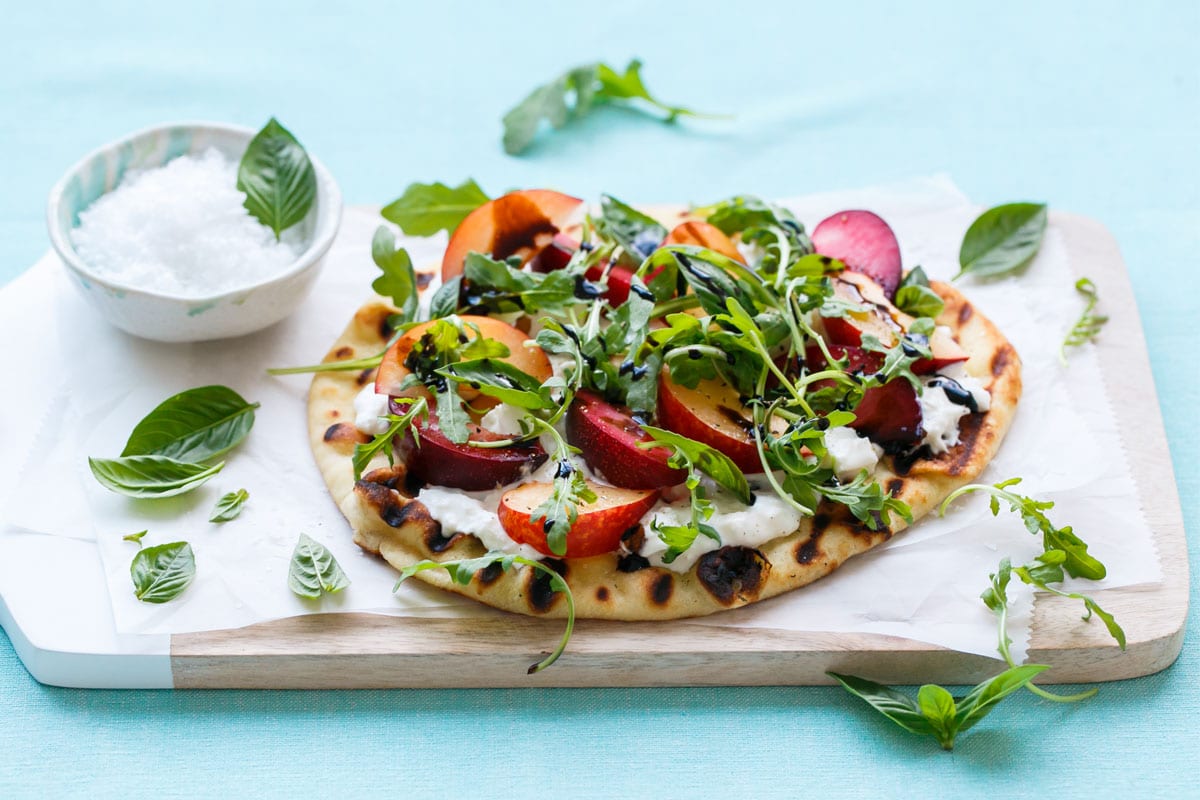 Plum, Burrata, and Balsamic Flatbread
Lightly grilled naan gets topped with creamy burrata, sweet ripe plums, basil and spicy arugula, with a drizzle of sweet and sticky balsamic glaze.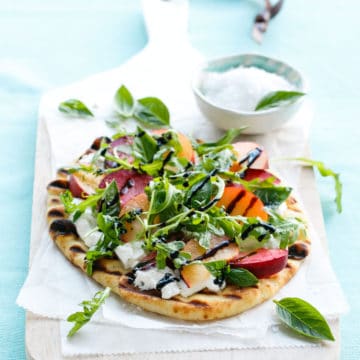 Ingredients:
4 naan flatbreads
olive oil, for brushing
8 ounces burrata cheese (2 4oz balls)
4 ripe plums (or fruit of your choice). pitted and sliced
handful or two of fresh baby arugula
a few large basil leaves, torn
balsamic glaze*
coarse sea salt (such as Maldon or fleur de sel)
freshly cracked black pepper, to taste
Directions:
Preheat grill or grill pan. Lightly brush naan with olive oil on both sides. Grill for 2-4 minutes, flipping once part way through, or until grill marks are nicely defined and bread is heated through. (Tip: if using a grill pan, try placing a weight on top of the bread, such as smaller sized skillet or a brick wrapped in foil, which will press the bread firmly into the grill pan and produce more defined grill marks).
Cut burrata into chunks, and spread onto warm flatbread. Top with sliced plums, baby arugula, and torn basil.
Drizzle with balsamic glaze and sprinkle liberally with sea salt and black pepper to taste.
*You can buy pre-made balsamic glaze in most grocery stores in the vinegar aisle or by the specialty Italian foods, or you can make your own by simmering some balsamic vinegar with a little brown sugar until thick and syrupy.
Did you make this recipe?
Let us know what you think!
Leave a Comment below or share a photo and tag me on Instagram with the hashtag #loveandoliveoil.