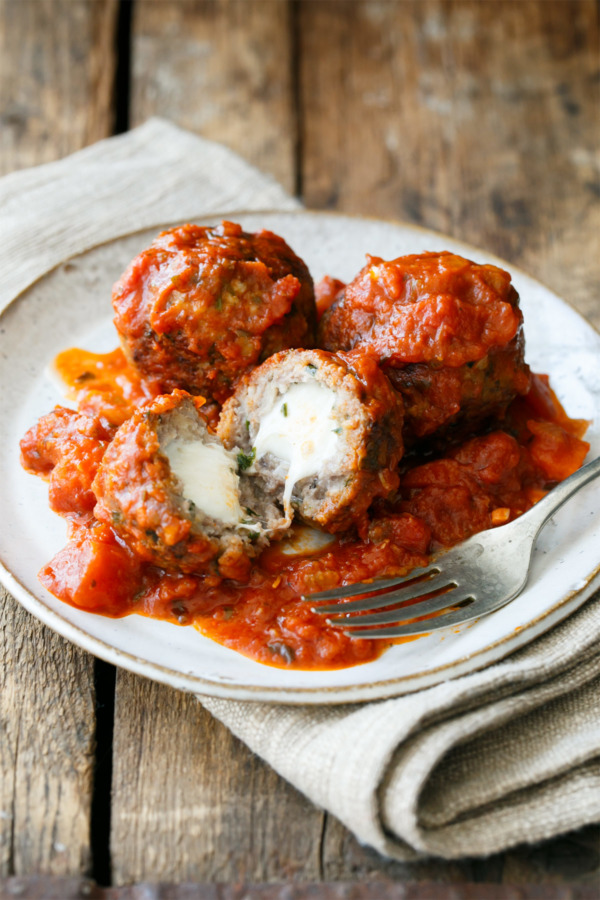 This recipe was created in partnership with Bertolli® and their new line of Rustic Cut pasta sauces (trust us, it's good stuff!) Thanks for supporting us and the brands we love!
What could be better than a big, fat, juicy meatball?
A big, fat, juicy meatball stuffed with melty mozzarella cheese, that's what.
I've always preferred my meatballs smothered with melted cheese, because everything is better with cheese, right? In this case, though, the cheese is hidden inside. At first glance you wouldn't even know it's there, but then you cut into the extra large meatball and, surprise! Just look at that melty mozzarella goodness.
We used a mix of ground beef and pork, with plenty of garlic and chopped fresh basil and parsley for flavor and fresh breadcrumbs for texture and structure (fresh breadcrumbs will result in a much moister meatball than packaged breadcrumbs which are usually very dry.)
When mixing your meatballs, you don't want to compact the mixture too much. Think of it more like 'folding' rather than mushing or stirring to preserve some of the fluffiness of the ground meat. This will result in a lighter, fluffier texture and ultimately a better meatball. The same when you are forming your balls: shape it, but don't squeeze it.
Getting the cheese inside the meatball is actually quite easy. You want to use small balls of mozzarella, or cut a larger ball into approximately 1-inch chunks. Portion out a large scoop of your meat mixture (I use this large cookie scoop, or about 2 ounces of meat). Push your thumb into the meatball, and then press the mozzarella ball into the center. Form the meat around the cheese, sealing it in completely.
While the meatballs are moist and flavorful on their own, the sauce is really what takes this dish from delicious to simply fabulous, and which sauce you use makes all the difference. We used the NEW Bertolli® Rustic Cut Spicy Marinara with Traditional Vegetables Sauce, made with chunky tomatoes, carrots, celery, onions, red chili flakes, cayenne pepper, garlic and basil. The hearty, rustic texture of the sauce and bold spice is the perfect vehicle for serving these meatballs.
Unlike most jarred marinaras which I often feel the need to "doctor up" with additional vegetables and seasonings, the Rustic Cut sauce is perfect right out of the jar. You can see the large pieces of crisp vegetables and flavorful herbs right in the sauce. It's as close to homemade, in terms of flavor, texture, and overall taste as I've found.
This recipe makes about 3 servings, slightly more/less depending on if you serve the meatballs on their own or on the side of a filling salad or pasta. If you double the recipe you'll want to brown the meatballs in batches or in two separate pans (overcrowding the pan will prevent the meatballs from fully browning). Basically, you should be able to fit the meatballs into the pan without touching one another.
Unlike most meatballs that are a topping for spaghetti or an appetizer, these meatballs are the main event. Two were more than enough to fill me up, while Taylor managed to eat 3 before patting his belly with a satisfied sigh.
Be sure to check out the full collection of Bertolli Rustic Cut sauces now available in stores near you!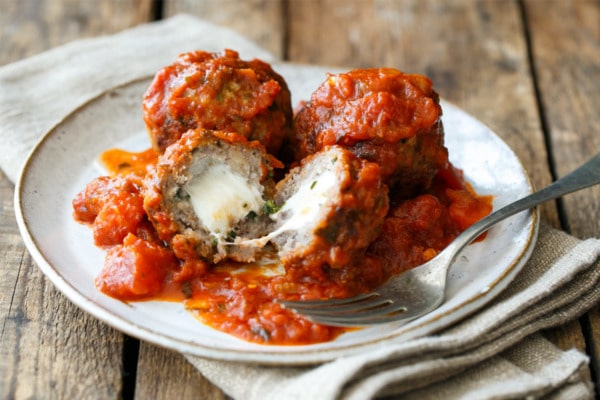 Spicy Mozzarella-Stuffed Meatballs
These extra-large, extra-flavorful meatballs are stuffed with melty mozzarella cheese and simmered in a chunky, spicy tomato sauce.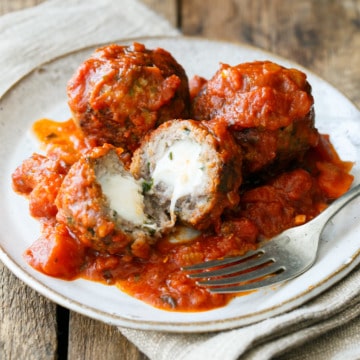 Ingredients:
1/2 pound ground beef
1/2 pound ground pork
4 large garlic cloves, minced
1/4 cup chopped fresh parsley
1 tablespoon chopped fresh basil
1/2 cup breadcrumbs (fresh, if possible)
1/4 cup whole milk
1 teaspoon kosher salt
1/4 teaspoon freshly ground black papper
10 small (1-inch) mozzarella balls, or 1-inch chunks of mozzarella cheese
2 tablespoons extra virgin olive oil
Directions:
In a bowl, mix together ground meat with garlic, parsley, basil, breadcrumbs, milk, salt and pepper. Fold using a large spatula or your hands until ingredients are evenly distributed (you don't want to stir, rather fold, to keep the meat mixture from compacting too much).
Divide mixture into 10 2-ounce balls (I used a large cookie scoop to portion out perfectly sized balls). Poke a hole in the center with your thumb, and insert mozzarella ball, then form meat around cheese to seal it in. Roll into a ball, then arrange on a pan or plate. Repeat with remaining balls.
Refrigerate meatballs for 20 to 30 minutes.
Heat oil in a large skillet or saucepan over medium-high heat. Add meatballs to pan, taking care not to overcrowd it (if you are doubling the recipe or have a smaller pan, you might want to cook these in batches). Cook meatballs for 7 to 10 minutes, rotating them every few minutes, until all sides are evenly browned.
Reduce heat to medium-low. Pour Bertolli Rustic Cut sauce over top of meatballs. Cover and simmer for 15 to 20 minutes or until meatballs are cooked through. Spoon onto serving plates with additional sauce as desired and enjoy while still warm.
Did you make this recipe?
Let us know what you think!
Leave a Comment below or share a photo and tag me on Instagram with the hashtag #loveandoliveoil.
Disclosure: This post was created in partnership with Bertolli®. As always, all opinions written are purely our own. We're incredibly grateful for opportunities like these that allow us to continue sharing delicious recipes with you, so thank you for supporting us and the brands we love.