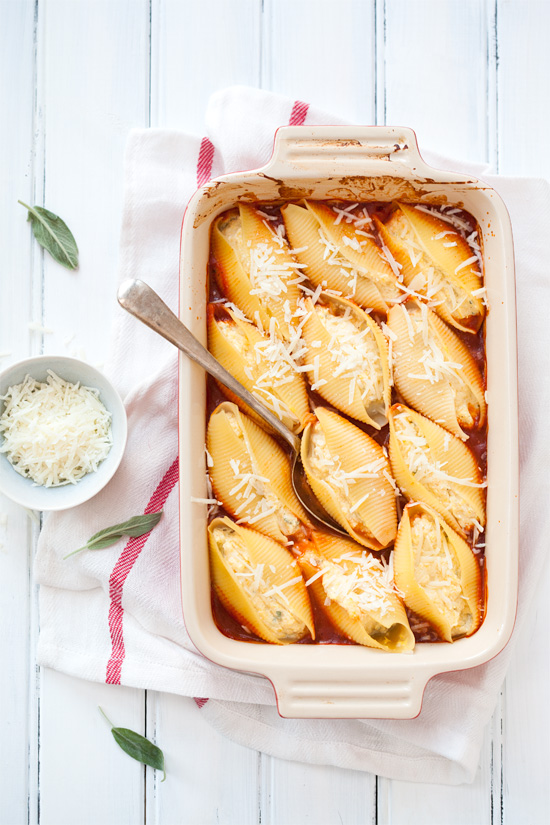 Perhaps "stuffed" is quickly becoming a thing around here. Stuffed desserts, and now stuffed pasta shells.
These stuffed shells are simple and straightforward, and while they don't taste quite as strongly of pumpkin as a dish titled "pumpkin stuffed shells" should (in my opinion), it's nice to know that there's more than just cheese inside. Still, I might up the pumpkin if I made it again. As is, we tasted ricotta and marinara and not much else. We even upped the garlic, sage, and pecorino when we stuffed the second half of the shells the next day, just so there'd be more flavor.
I'll be frank when I say this recipe makes a lot, although maybe not 10 servings as the original recipe states. Still, more food than we usually cook for the two of us. We got about two and a half of these 7×11 pans, and between the two of us lasted for about 2 dinners and a lunch. Maybe we overstuffed the shells, as we did have leftover shells, and maybe we overstuffed our bellies, as 5-6 shells made for a good single serving.
Either way we were full and happy, happy and full.
Now, what else can I find around here to stuff?
Pumpkin & Ricotta Stuffed Shells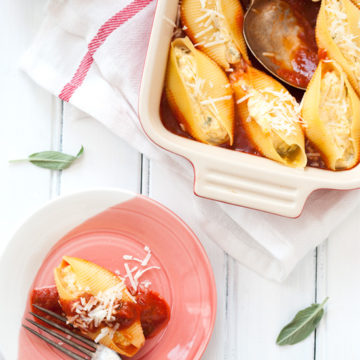 Ingredients:
1 (12-ounce) box jumbo pasta shells (about 40 shells)
1 tablespoon olive oil
1 (15-ounce) can pure pumpkin
2 cups (16-ounces) whole-milk ricotta
1 egg
1 1/2 cups grated Pecorino Romano cheese
3 large garlic cloves, minced (about 1 tablespoon)
2 tablespoons finely chopped sage
1 teaspoon fine sea salt
1 teaspoon freshly ground black pepper
1 (25.25-ounce) jar tomato basil pasta sauce
Directions:
Preheat oven to 350 degrees F.
Bring a large pot of salted water to a boil. Cook pasta shells according to package directions until just al dente. Drain and rinse with cool water. Arrange in a single layer on a baking sheet to cool completely. Set aside.
In a large bowl, mix together pumpkin, ricotta, egg, 1 cup of Pecorino cheese, garlic, sage, salt and pepper.
Divide sauce evenly among two 9″ x 13″ baking dishes. Fill each shell with the pumpkin-cheese mixture and arrange shells in baking dishes. Cover with aluminum foil and bake for 30 minutes. Uncover and bake for an additional 10 to 15 minutes, or until hot and bubbly. Unbaked shells can also be covered and refrigerated for up to 2 days.
Allow shells to stand for 5 minutes before serving. Serve topped with remaining Pecorino cheese.
Did you make this recipe?
Let us know what you think!
Leave a Comment below or share a photo and tag me on Instagram with the hashtag #loveandoliveoil.