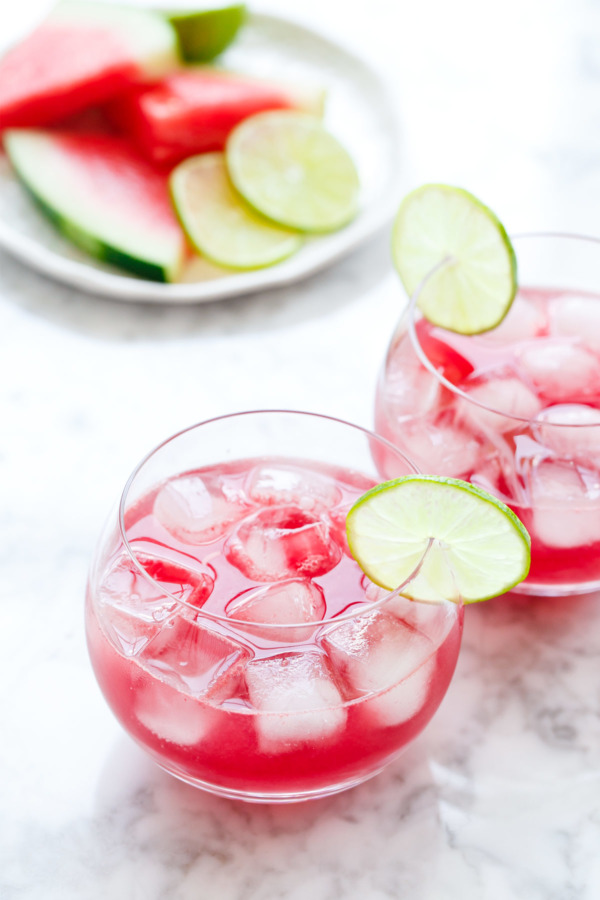 There are few things are more refreshing than an agua fresca (which literally means cool water, appropriately enough).
Typical agua frescas are non alcoholic drinks, slightly sweetened and served chilled. While fruity agua frescas are most common, non-fruit flavors like horchata, tamarind, and hibiscus can also be categorized as agua frescas.
Not only are they ridiculously refreshing, they are also ridiculously easy: simply blend your fruit with water, strain, and add sweetener and acid to taste.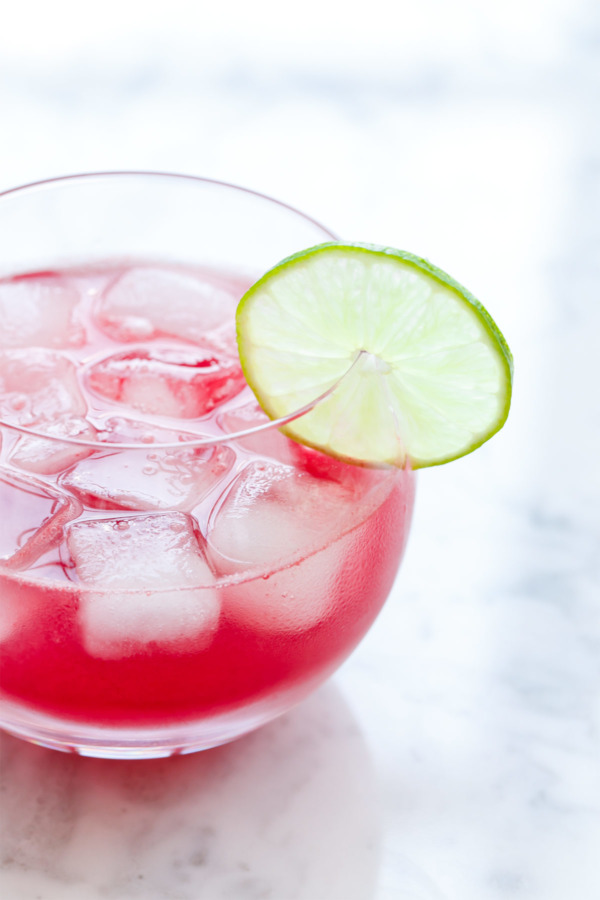 Some of my favorite agua fresca flavors include watermelon and hibiscus (also called jamaica flowers), and I'm often torn which one to order. It's a tough choice, so I figured, why not have both?
That's exactly what I've done here, infusing a classic fresh watermelon agua fresca with a tart and tangy hibiscus tea. Add a touch of sugar and a splash of lime and you've got yourself one lovely summer refreshment.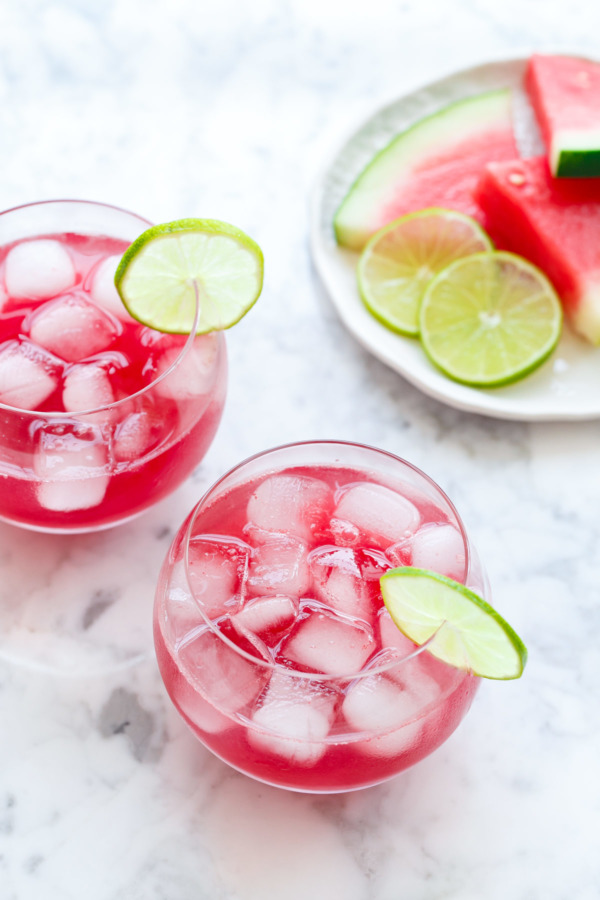 Dried hibiscus flowers are available at many international or Mexican grocers, you can also buy it online. Once you've acquired the flowers, all you need to do is steep in hot water for about 10 minutes, then strain. I kill two birds with this step and turn the hibiscus tea into a sugar syrup to sweeten the drink at the same time. (It's a similar process to my Spicy Cantaloupe Agua Fresca – which steeps the habanero peppers in the sugar syrup to infuse the drink with sweetness and spice.)
Of course, if you're wanting a classic watermelon agua fresca instead, you can simply leave out the hibiscus flowers. Making a sugar syrup is my preferred way of sweetening the drink anyway, as you can be assured the sugar will be fully dissolved.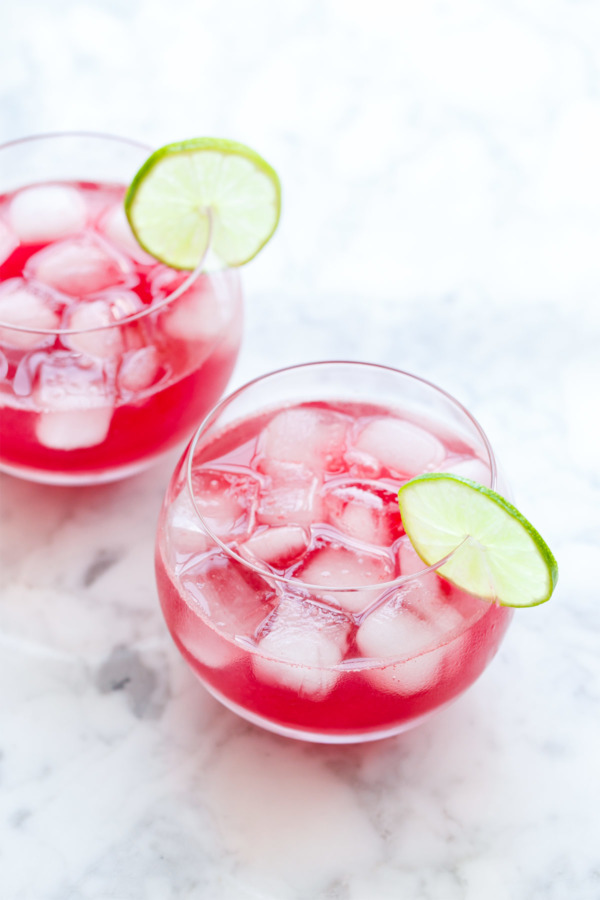 Might I recommend keeping a pitcher of this in the fridge at all times this summer? It's not hard to do, considering this recipe only uses about 1/4 of a regular sized watermelon; so you might benefit from a double or triple batch.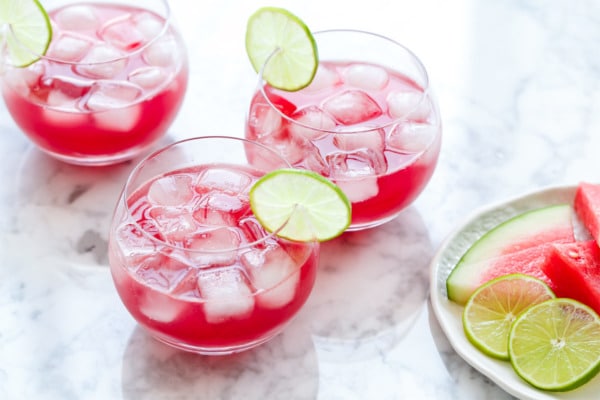 Hibiscus Watermelon Agua Fresca
Fresh watermelon blended with hibiscus tea and fresh lime juice for the perfect summer refreshment! Ready in minutes.
Ingredients:
1 cup filtered water
3 tablespoons sugar (more/less to taste)
1/2 cup dried hibiscus flowers
5 cups chopped seedless watermelon (about 1 1/2 pounds)
3 cups filtered water
3 tablespoons fresh lime juice, or to taste
Directions:
Combine 1 cup water and sugar in a saucepan; bring to a simmer over medium-high heat, stirring until sugar is dissolved. Add hibiscus flowers; remove from heat, cover and let steep for 10 minutes, then strain, discarding solids. Set aside to cool.
In a blender, puree watermelon with 2 cups filtered water until smooth. Strain through a fine mesh sieve to remove solids.
Pour into a pitcher along with remaining 1 cup water and hibiscus sugar mixture; stir in lime juice to taste. Chill until ready to serve.
Did you make this recipe?
Let us know what you think!
Leave a Comment below or share a photo and tag me on Instagram with the hashtag #loveandoliveoil.