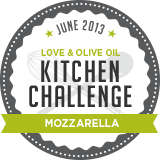 I've got mixed feelings about this challenge. While what I produced was technically mozzarella, it wasn't anything special. Although I was comparing the final product to what I consider the "gold standard" of cheese: Tom's homemade mozzarella. Orbs of milky white, tender layers, gloriously melty and perfect for pizza or caprese. It's incredible. And ready every Saturday.
My mozzarella, however, was firmer, slightly rubbery, more yellow in color, and melted like what I'd expect from a cheap frozen pizza.
Although we ate it and it made for a perfectly acceptable caprese, it wasn't anything like Tom's, and thus, slightly disappointing.
It was a learning experience, that's for sure, but I am not entirely convinced that the time and effort is worth it. I've made it twice now (the first time, I forgot the salt, and then I went and inadvertently deleted all the pictures from my camera before I could transfer them to my computer, hence the need for batch #2). Needless to say, I don't think there'll be a batch #3 any time soon.
Curds. Very, very soft curds that were almost impossible not to break while stirring. The second time was even softer than the first, despite the fact that I heated the milk a few degrees warmer than before. I wish I had a reference point to know whether this was "normal" or if I screwed something up in the process.
After straining, the soft curds pretty much disintegrated into what looked like cottage cheese. I almost gave up at this point.
Luckily, however, the cheese did seem to come together after microwaving. Tip: get some clean rubber gloves. The first time I did this, I burned my hands pretty badly trying to handle it. Ouch.
$7 worth of local milk and an hour of my time and all I get are two lousy balls?
Just for reference, I used the method/instructions outlined here, with good quality local milk (from JD Country Dairy the first time, Hatcher Farms the second) and double-strength liquid vegetable rennet (would animal have produced better results, perhaps?)
I'll call this mission accomplished, but I'm ready to move on to the next challenge.
I did have a few takers on this challenge, some of whom had mixed results like I did. Oh well, I guess every month can't be a resounding success. We'll just chalk it up to a learning experience and move on to something better next month.
I think the turnout this month reflects my tepid thoughts on the subject, or maybe more folks tried it and didn't produce anything even worth submitting. Which means, next month's challenge has got to be good to make up for it. Something over the top delicious. Shall we tackle something sweet? Or perhaps something yeasty? What say you?