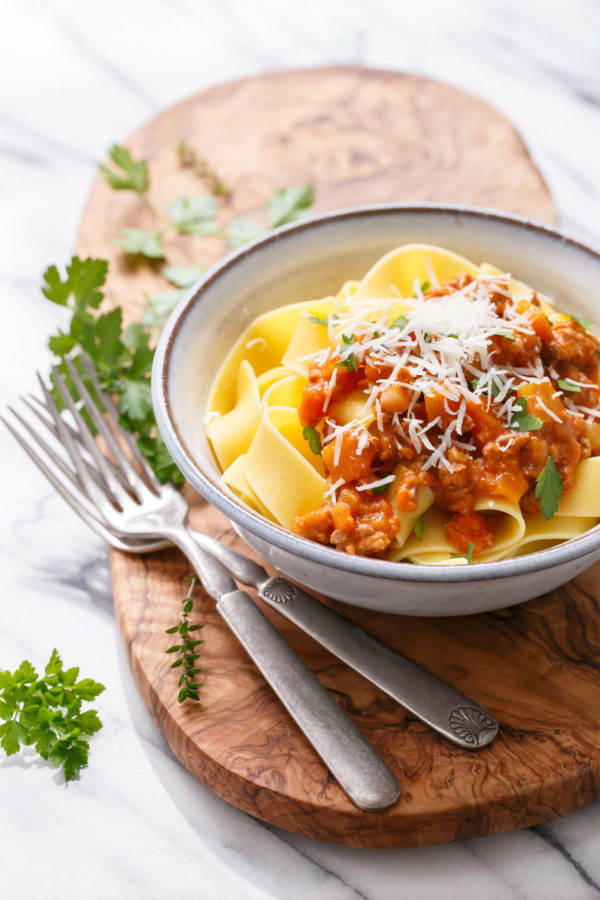 There are few things as satisfying as a hearty bolognese on a blustery winter day. It fills your stomach and warms your body from the inside out.
Bolognese is an Italian meat-based sauce named after its place of origin: Bologna, Italy. The city of Bologna is actually the birthplace of most of what we consider "Italian" food here in the US: things like tortellini and lasagna and (duh) bolognese, a fact we learned 5 years ago when we spent a few days exploring its porticoed streets. All that rich, heavy cuisine has no place on the sunny shores of Southern Italy, after all.
Bolognese sauce, or ragù alla bolognese, is distinctly different from marinara in that it is meat rather than tomato-based, the only tomato in it (in my version at least) is a few spoonfuls of tomato paste.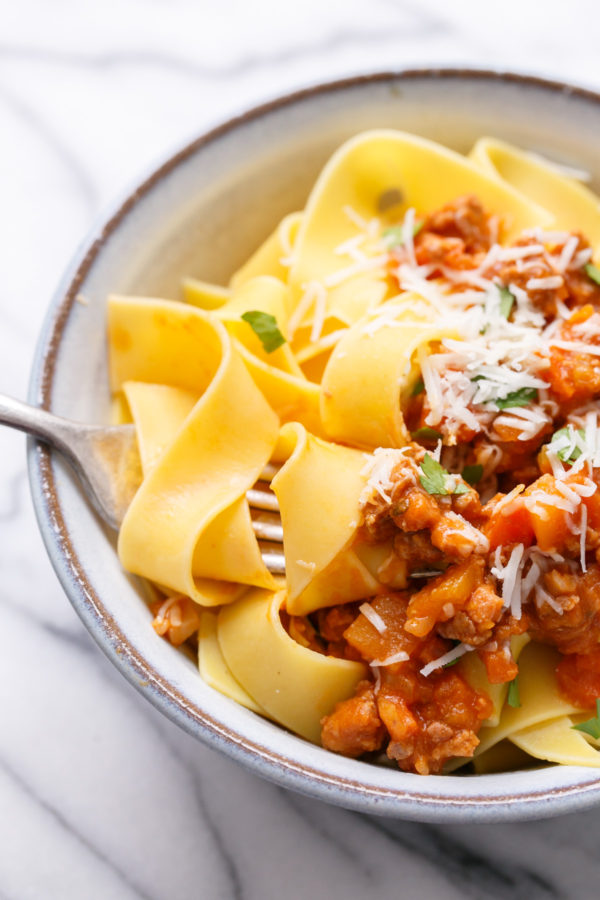 We tweaked our favorite bolognese recipe and added pumpkin in two forms: puree stirred into the sauce for added richness and depth, and chunks of fresh pumpkin for texture. So if you're not sick of pumpkin just yet, or maybe you have some pumpkin leftover after Thanksgiving, this would be a perfect recipe when you've exhausted every possibility for leftover turkey and frankly, couldn't stomach another meal of it anyway. Meaty sauce over pasta is the perfect remedy for turkey-overload.
You're really hitting all the food groups with this one, each spoonful containing a hearty serving of vegetables and meat and even some dairy in there too.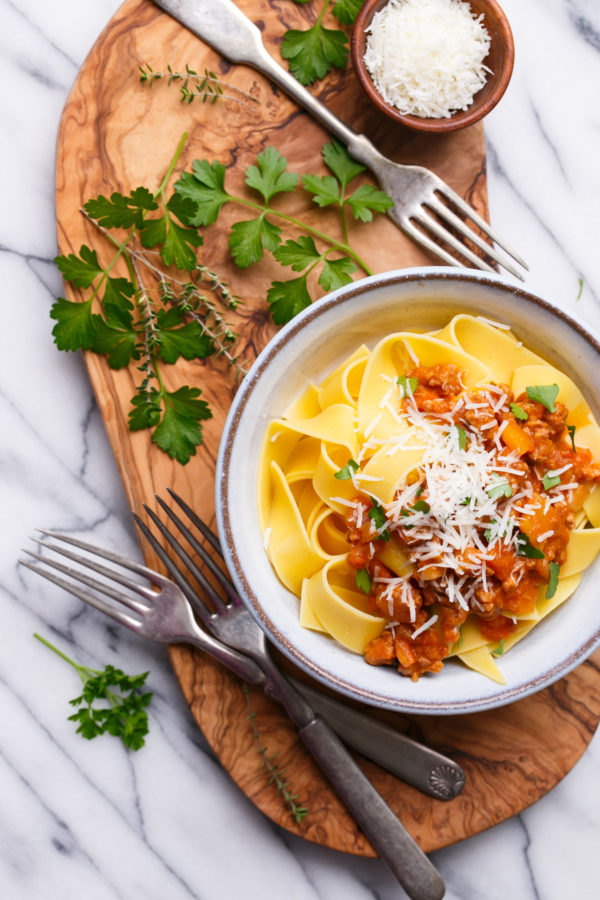 The first time I made this recipe I didn't realize the inside of a white pumpkin would also be white, making for little chunks of pumpkin that actually looked like potatoes (which would have made for some confusing photos). So we made it again this week, using a proper orange pumpkin this time. Of course, like all my squash dishes this season, you could certainly substitute butternut or even jumbo sweet banana squash instead (they all taste relatively the same).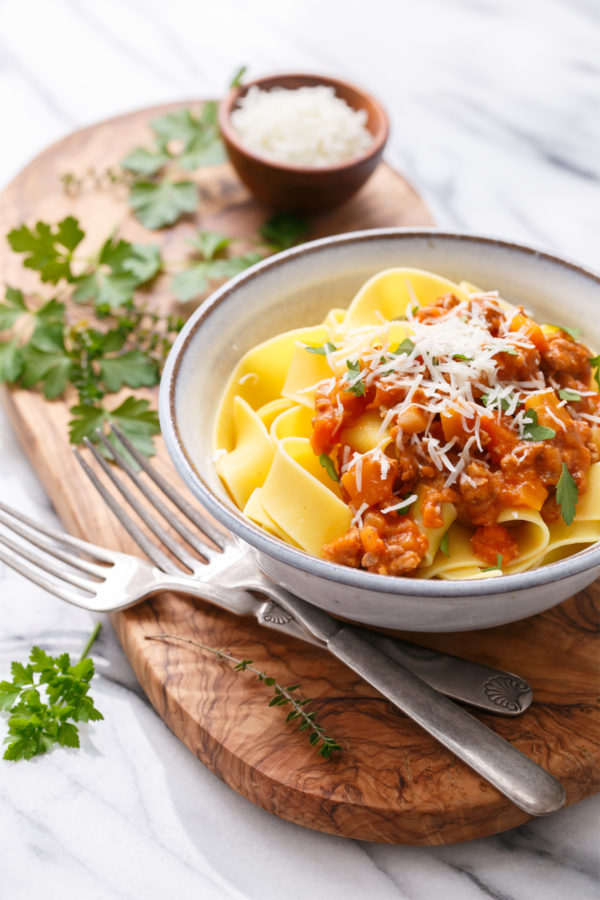 One batch of sauce will make more than enough for a crowd, a good 6-8 servings depending on how hungry you are (it is rather filling, after all). The sauce also freezes beautifully, so you can make a big batch and stash some away for a later day.
Pumkin Bolognese with Pappardelle Pasta
A classic, meaty bolognese sauce with the seasonal addition of pumpkin (both puree and chopped pumpkin), served over thick pappardelle pasta. A hearty and satisfying dinner for your family.
Ingredients:
1/4 cup olive oil
1 medium onion, diced
2 stalks of celery, chopped
1 medium carrot, chopped
5 large garlic cloves, minced
1/2 pound ground beef
1/2 pound ground pork
4 ounces bacon or pancetta, chopped into small cubes
1 cup chopped fresh pumpkin (about 1/4 of a small-ish sized pumpkin, you could certainly use butternut squash as well)
3/4 cup pumpkin puree
1/2 cup (6 ounces) tomato paste
1/2 cup whole milk
1/2 cup white wine
1 teaspoon chopped fresh thyme or 1/2 teaspoon dried thyme
salt and freshly ground black pepper, to taste
1 pound pappardelle wide noodles
finely grated Pecorino cheese, for serving
chopped fresh parsley, for serving (optional)
Directions:
Preheat a large saucepan or dutch oven over  medium heat. Add olive oil and heat until shimmery. Add onion, celery, carrot, and garlic and saute until softened and fragrant, about 5 minutes.
Add beef, pork, and bacon or pancetta and cook, stirring occasionally to break up large chunks, about 10 minutes or until meat is no longer pink on the outside.
Add chopped pumpkin, pumpkin puree, and tomato paste and stir until coated. Stir in milk, wine, and thyme, and season generously with salt and pepper. Cover and reduce heat to medium-low. Let simmer, covered, for 45 minutes to 1 hour or until thickened. Taste, and season to taste with more salt and pepper as needed. If you won't be eating all of the bolognese right away, spoon out the extra sauce and refrigerate (overnight) or freeze (up to 1 month) in an airtight container. Re-heat in a saucepan until it starts to simmer.
While bolognese is cooking/rewarming, bring a large pot of salted water to a boil. Add pasta and cook according to package instructions. Reserve 1 cup of pasta water and set aside. Drained noodles and add to saucepan with bolognese; stir until evenly coated, adding some of the reserved pasta water if needed to thin out the sauce. Divide among serving bowls and top with grated Pecorino cheese and chopped parsley.
Did you make this recipe?
Let us know what you think!
Leave a Comment below or share a photo and tag me on Instagram with the hashtag #loveandoliveoil.