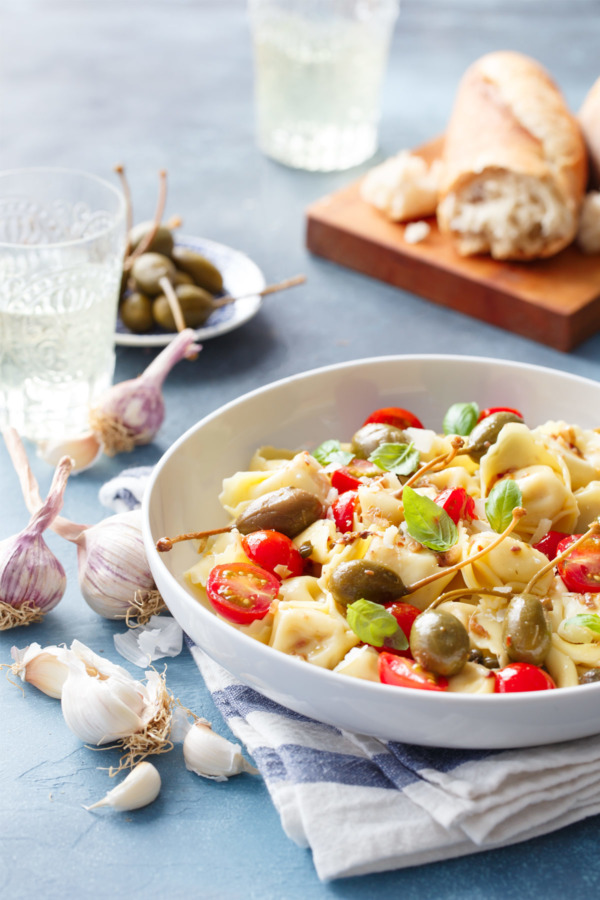 This post was created in partnership with Giovanni Rana®, who hosted us in Verona, Italy for an experience we will never forget. Thanks for supporting us and the brands we love!
Pasta and Italy. They go hand in hand. So when we received an invitation to go there from Italy's most popular pasta brand, well, that's not an opportunity you pass up.
We packed our bags and flew to Verona, Italy a few weeks ago to meet the king of pasta himself: Mr. Giovanni Rana, and get to know him (and his pasta) a little bit better.
If you've ever wondered what it's like to be a part of a big Italian family, well, now I know. And it's lovely. We were welcomed to Verona with open arms and empty stomachs (but not for long). From a street theater performance to a sail on Lake Garda to an opera at the famous Arena di Verona, this was an experience I'll not soon forget.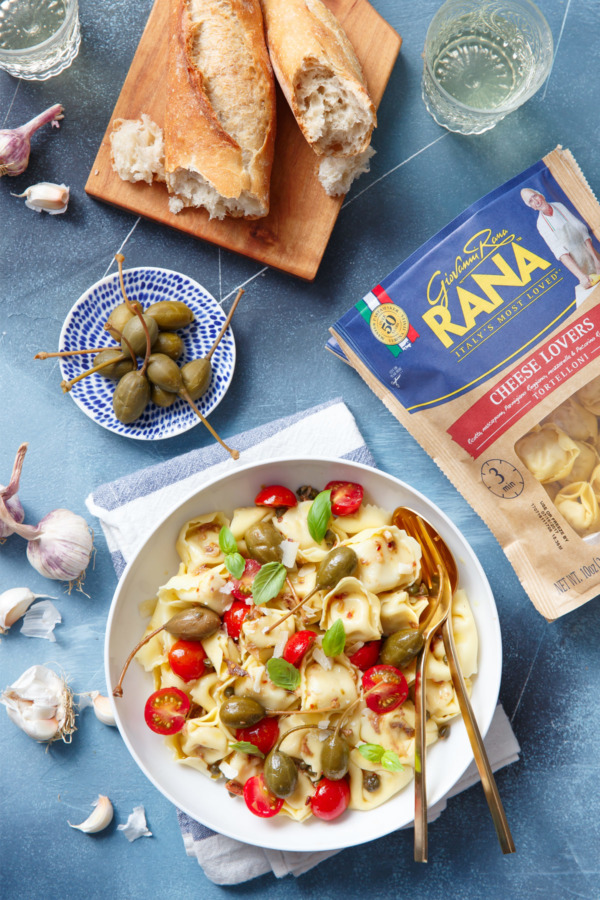 But first, a little more about Giovanni Rana since it might not be a name you are familiar with. Unless you are from Italy, then you likely know the man behind the brand (according to a survey done by the company he's the 2nd most recognizable figure in Italy behind the pope).
Giovanni Rana has been making pasta since 1962, when Giovanni first started making and delivering his tortellini throughout the province on his "guzzino", a second-hand motorbike Mr. Giovanni bought for $8. The business grew quickly, soon adding mechanized production methods to increase their output a hundred times over. Still growing, in 1971 the company moved its production to its current factory location (the factory surrounds Giovanni's personal home: they like to say that if the factory were a tortellino, his house is the filling.) Gian Luca Rana, CEO and son to Mr. Giovanni, realized his father's dream to go to expand to the USA and with his help, Giovanni Rana finally made its way to the States in 2012, opening another state-of-the-art production facility in Chicago and a restaurant in New York City. Currently, there are three generations of finally made its way to the States, opening another state-of-the-art production facility in Chicago and a restaurant in Chelsea Market. Currently, there are 3 generations involved, making it a true family business.
Let me just say, the Rana family really brought out all the stops for this trip, I couldn't believe the sheer amount of effort and planning that must have gone into the four days that we spent there.
Joining us was a group of 60 giveaway winners. Yes, you heard me correctly, Giovanni Rana brought 30 couples to Italy, all expenses paid, as part of their #DineWithRana campaign. And they're doing it again, twice actually, in September and December of this year (and yes, you could be one of the lucky winners, all you have to do is enter)!


Fancy a pasta picnic in a gorgeous 18th century mansion along the shores of Lake Garda? If you didn't before, I'm guessing you do now.
Mmm… Giovanni Rana fried ravioli…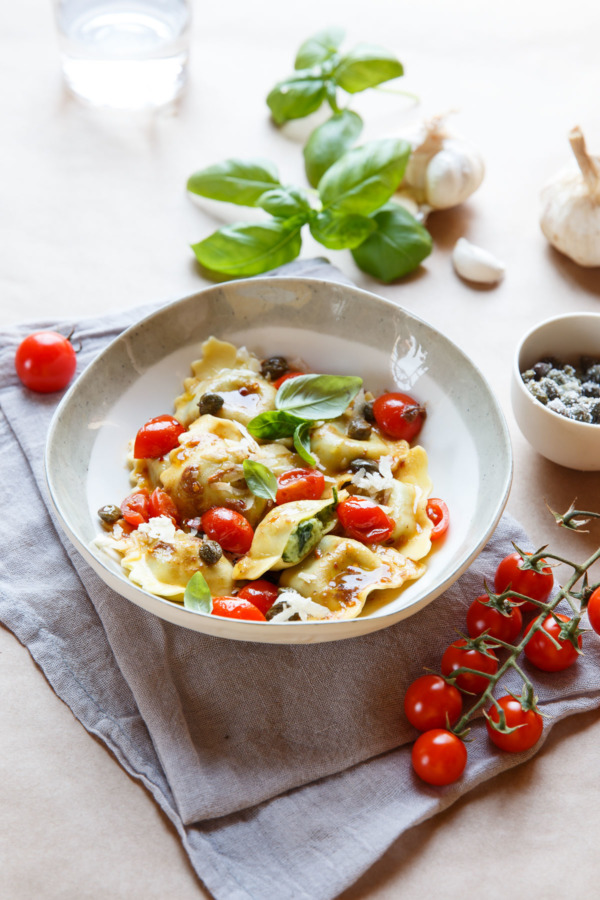 After lunch, we went inside the mansion for a pasta styling workshop, where we were presented with a food blogger's dream spread: tables and tables of fresh, gorgeous ingredients and another room filled entirely with props. We got to work with a professional stylist to create and shoot one beautiful bowl of pasta.
There was something magical about the light in Italy. Seriously. I want to bottle it up and bring it home with me. Either that or just move into the mansion permanently (think they'd mind?)


In addition to getting a tour of the state-of-the-art factory (sorry, no pictures allowed!) we also learned how to make ravioli the old-fashioned way. The beauty of the machines is they are designed to make pasta just like you would at home (only at vastly greater quantities, obviously). They strive to use only the best quality ingredients in their pastas and fillings, with no artificial ingredients or preservatives.
My ravioli didn't come close to the .5mm standard that they produce in the factory (the ultra-thin dough is one of the characteristics that makes their pasta so good), but homemade pasta is such a treat, imperfections an all. It's really something I need to indulge myself in more often.
Although now that I have a fridge full of Giovanni Rana pasta, which goes from fridge to plate in as little as three minutes… I can think of way better things to do with my time. Heh.
For this recipe, we used Giovanni Rana's Cheese Lover's Tortelloni, though really, almost any of their 16 flavors would work, that's how flexible this simple sauce is. It's made from a generous glug of olive oil, garlic, anchovies, capers and red pepper flakes. We tossed in some ripe summer cherry tomatoes (just barely sautéed to help them release their full sweetness), caper berries, and fresh basil and parmesan on top.
Don't let the anchovies scare you, there's nothing fishy about the final product. The anchovies practically dissolve into the sauce, creating a robust richness and depth of flavor that simply has no comparison. I recommend splurging on good anchovies here: it really makes a huge difference.
The caper berries are optional; we used regular nonpareil capers in the sauce itself, but thought the giant berries made the presentation just a bit more special. :)
You can find Giovanna Rana pasta in the refrigerated aisle of your local grocery store (locate a store near you).  Also, don't forget to enter at DineWithRana.com for your chance to win a trip to Verona, Italy, and experience the magic for yourself!
Buon appetito!
Tortelloni with Anchovies & Capers
Cheese tortelloni tossed with a quick and simple anchovy caper sauce, fresh basil and lightly sautéed cherry tomatoes.
Ingredients:
1 package Giovanni Rana® Cheese Lovers Tortelloni
3 tablespoons extra virgin olive oil
3 garlic cloves, minced
3 whole anchovy fillets
1 tablespoon nonpareil capers
1/2 teaspoon red pepper flakes
6 ounces cherry tomatoes, halved
6-10 large caper berries (optional)
freshly shaved parmesan cheese, for topping
fresh basil leaves, for topping
Directions:
Bring a large pot of lightly salted water to a boil. Cook tortelloni for 3 minutes or until aldente.
Meanwhile, heat olive oil in a large skillet over medium heat. Add garlic, anchovies, capers, and red pepper flakes and saute until anchovies are mostly broken down, about 2 to 3 minutes. Add cherry tomatoes and caper berries and saute until just barely starting to soften, about 1 minute more.
Drain tortelloni and add to saucepan; toss until evenly coated with sauce. Transfer to serving dishes; spoon extra sauce over top and sprinkle with freshly shaved parmesan cheese and torn fresh basil leaves. Serve warm.
Did you make this recipe?
Let us know what you think!
Leave a Comment below or share a photo and tag me on Instagram with the hashtag #loveandoliveoil.
Disclosure: This post was created in partnership with Giovanni Rana®, who brought us to Italy as part of their #DineWithRana campaign. As always, all opinions written are purely our own. We're incredibly grateful for opportunities like these that allow us to continue sharing delicious recipes with you, so thank you for supporting us and the brands we love.