Mission: carbonate all the things is undoubtedly underway. And I love it, being that I'm not a big drinker (despite my boozy baking), homemade sodas are a way I can concoct creative beverages and enjoy them just as much as any cocktail (although, might I add, this soda would be a stellar base for a boozy addition).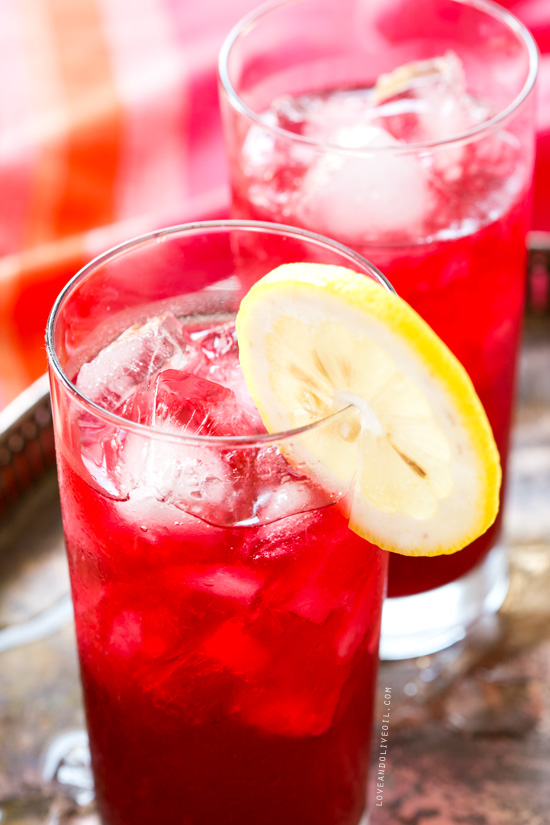 This particular soda is a tart and fruity mix of hibiscus flowers and lemon; a hibiscus lemonade, if you will, with an effervescent fizz.
And let me say I have *almost* made my way through the entire bag of dried hibiscus, so (unless I decide to order another bag, of course) my year long obsession with hibiscus might soon be coming to an end.
I do still have some tinkering to do with my soda-fermentation process. And while yeast fermentation is never going to produce as many bubbles as a carbonated soda, it's still produces just enough fizz to tickle the tongue. Mysteriously, this one didn't get quite as bubbly as the peach version. Not sure why, perhaps cooler temperatures, lower sugar levels, older yeast, or imprecise pinches resulted in less carbonation this time around. One upside, however? No soda volcanoes.
Lemon Hibiscus Soda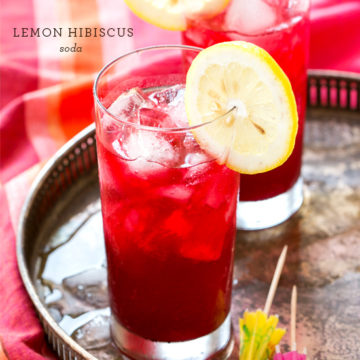 Ingredients:
3 cups warm water, divided
1/2 cup sugar
1/3 cup dried hibiscus flowers
1/2 cup fresh lemon juice (from about 4 large), finely strained
champagne yeast*
*Champagne yeast can be found in beer/winemaking supply stores or online.

Directions:
Stir sugar and 1/2 cup water together in a small saucepan. Bring to a simmer over medium-high heat, stirring until sugar is dissolved. Remove from heat; add hibiscus flowers. Cover and let steep for about 5 minutes (if it steeps too long the flavor can become bitter) then strain, discarding flowers or reserving them for another use.
Combine hibiscus syrup with remaining 2 1/2 cups water and lemon juice, stirring to combine. Divide among two 16-ounce plastic soda bottles, top off with additional water as needed. Add a small pinch of champagne yeast to each bottle. Seal the cap securely, shake well, and store in a warm, dark place for about 48 hours or until bottles are hard when squeezed. Transfer to refrigerator immediately to halt the fermentation process and chill overnight or up to a week before serving.
Did you make this recipe?
Let us know what you think!
Leave a Comment below or share a photo and tag me on Instagram with the hashtag #loveandoliveoil.