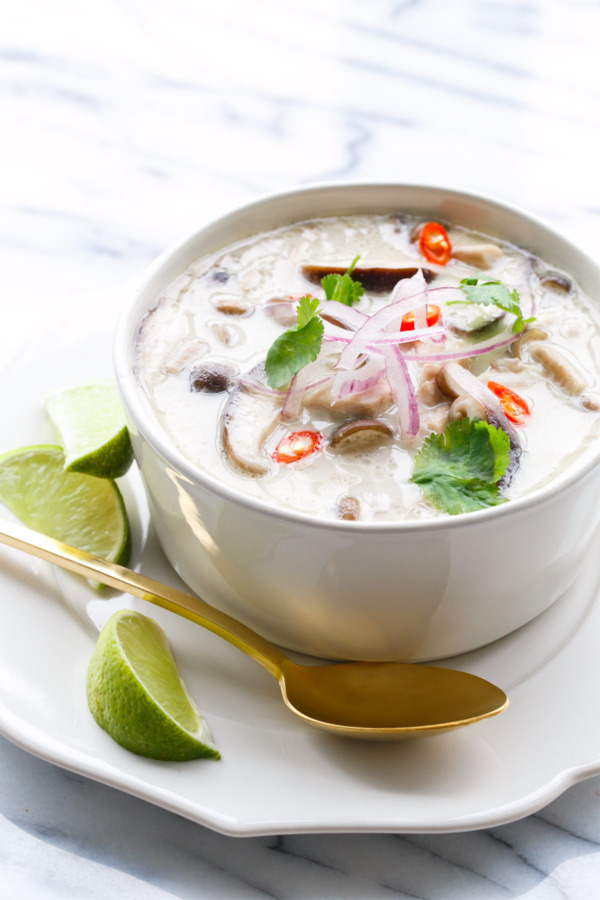 Tom Kha Gai is a lot of things: creamy, tangy, sour, sweet… but most of all, just plain delicious. This traditional Thai soup features a coconut milk-based broth that is infused with flavorful roots, herbs, and spicy chilies. This recipe will get you pretty darn close to what you might enjoy in a restaurant.
And it's all made in a slow cooker.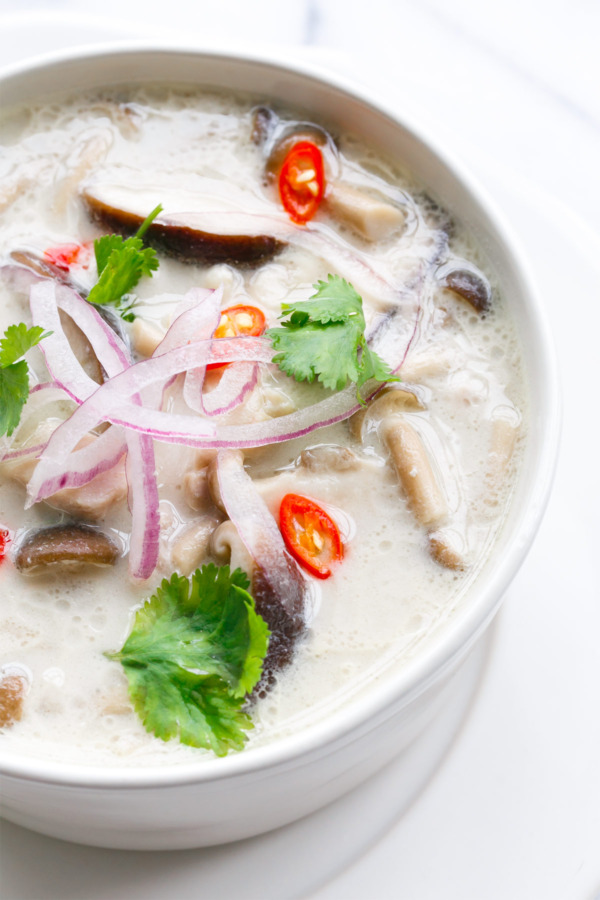 The first time we made this soup, we did so on the stove-top, which required a good amount of attention. When cooking with coconut milk you don't want to boil it, rather, cook it gently and adjust the heat regularly to keep the broth from boiling. This fact alone makes this recipe perfect for the slow cooker (which, as you know, cooks things low and slow without ever boiling them).
That said, you can still make this same recipe on the stove-top (though a half batch might be more manageable): just combine the ingredients and cook for about 45 minutes over medium-low heat or until the chicken is cooked through, adjusting heat as necessary to keep the broth hot but not boiling.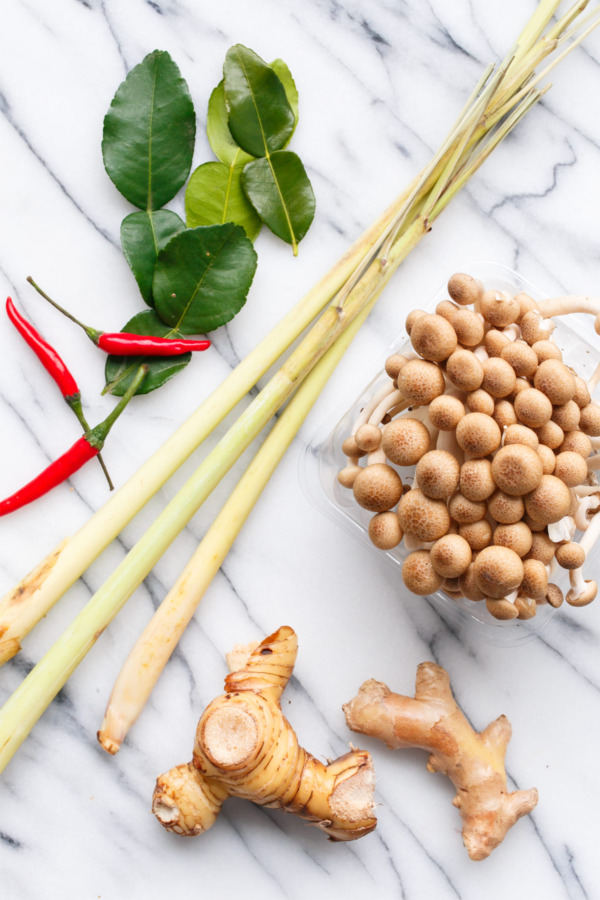 The hardest part of this recipe is finding the ingredients. If you have an Asian market where you live, that's your best bet, though I have seen many of these ingredients at Whole Foods before. You can also get pretty much everything you need on Amazon, including fresh or dried kaffir lime leaves as well as galangal. It's worth the extra effort to track down the proper ingredients to make an authentic-tasting soup; there really are no substitutions.
Kaffir lime leaves: Kaffir limes have a more pungent, almost burnt-rubber-like flavor (which, in the case of this soup, is a good thing), and the same is true of the leaves as well as the fruit. Kaffir lime leaves are the secret ingredient in many Thai recipes, including tom kha gai as well as authentic from-scratch curry paste. The kaffir lime leaves are a must in this recipe if you want an authentic flavor; fresh is preferable, but you can also use dried if necessary. And if somehow you manage to get your hands on fresh kaffir limes, by all means juice them and use them (otherwise, regular limes will work just fine).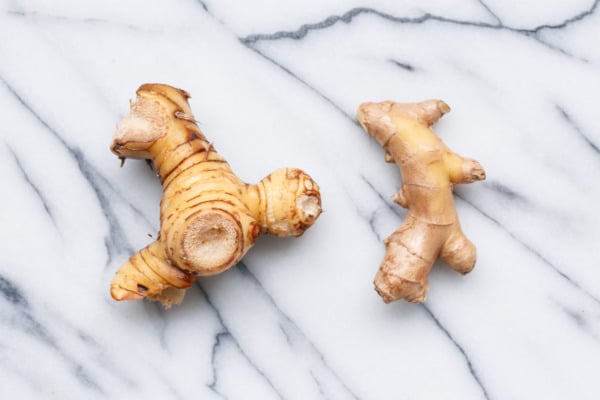 Galangal: it might look like a beefy ginger root, but galangal (left) is the primary source of tom kha gai's unique tangy flavor. If you can't find fresh galangal, you can sometimes find dried or ground galangal, which is better than nothing.
Lemongrass: These tall, grassy stalks are filled with flavor. We typically cut off the root end and the grassy end, then peel off the toughest outer layer. Then cut the stalk on the diagonal into 1-inch chunks. I've seen recipes that call for thinly slicing the lemongrass, but I've found it stays pretty tough no matter how long you cook it. So rather than find myself picking bits of lemongrass out of my teeth, we use larger chunks to infuse the flavor but that can be discarded afterwords.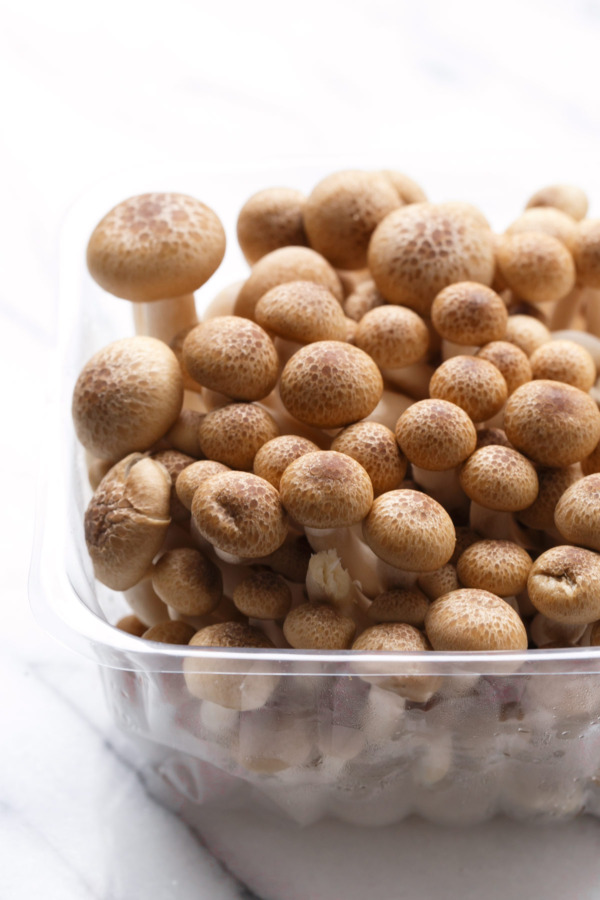 Mushrooms: We used a mix of Shiitake and Brown Shimeji mushrooms for this soup, but you can use whatever kind you like best. Oyster or cremini mushrooms would also work, just cut any larger mushrooms into bite-sized pieces. For the Shimeji mushrooms, the stems are edible as well, just cut off the base to separate them into individual pieces.
Coconut Milk: Fresh coconut milk, if you can find it or feel like making it, is obviously the best. If not, look for a canned or boxed coconut milk without any additives (such as gums and sweeteners). Aroy-D is good, so is is Chaokoh; also Trader Joe's new coconut milk and light coconut milk (not cream) is surprisingly good and has no additives at all.
Coconut milk, especially fresh coconut milk without additives, is fragile and boiling will break it. Even in the slow cooker it may separate slightly, you'll definitely notice globules of oil that rise to the top of your soup bowl. This fat is a result of the separation of the coconut milk as well as the rendered fat from the chicken thighs. It is (as far as I know) unavoidable, but won't affect the overall flavor of the soup.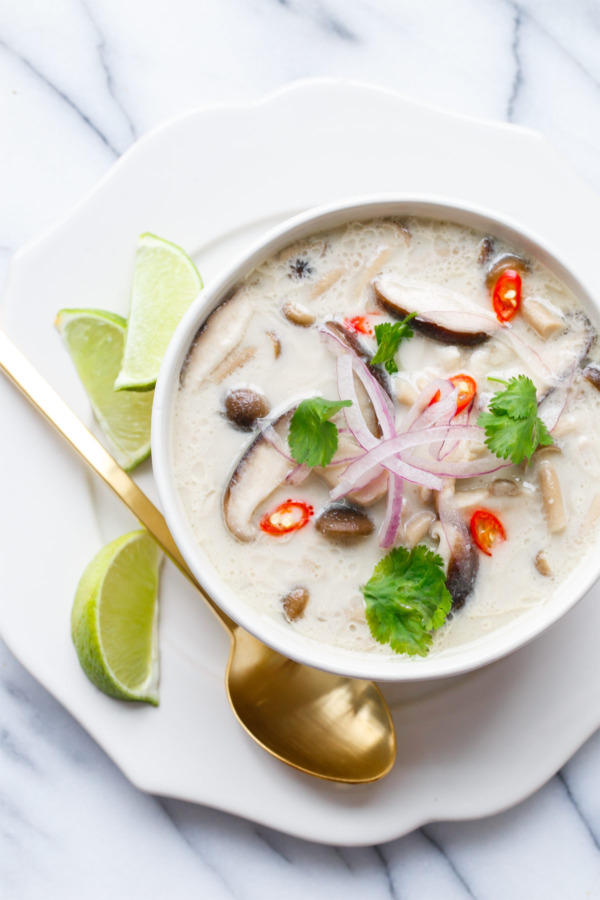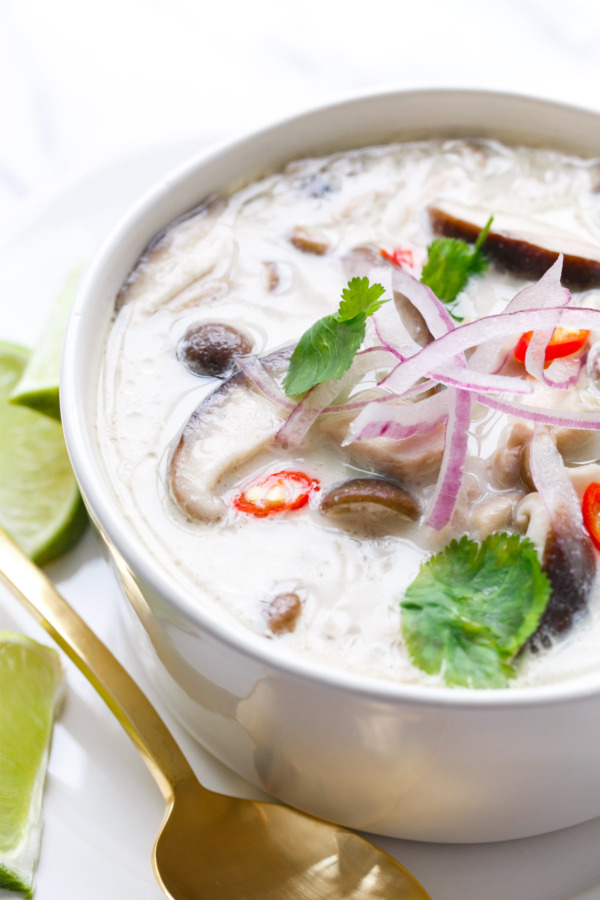 The one part of slow-cooking that we are still getting used to is the quantity. Normally we good for 4 (half for dinner and half for lunch the next day). This recipe makes 12 servings, and that's just the nature of the slow cooker (if you have a smaller slow cooker you can certainly make a smaller portion).
Luckily, this recipe freezes beautifully. We divvy it up into these freezer-safe soup containers (two servings per container) and pop it in the freezer. To reheat, you can put it in the fridge the day before, or place the container in a bowl of warm water until it releases, then dump it into a pot to reheat.
We only limited freezer space (no room for a standalone freezer in our non-existent garage), so we can only feasibly fit one batch of soup leftovers from in there at a time. We've never been big freezer people for this reason (the primary contents of our freezer are frozen fruit and ice cream), but the slow cooker is definitely making us appreciate the convenience of freezing leftovers for later. It's been great having the option available to still eat something homemade when you just don't feel like cooking.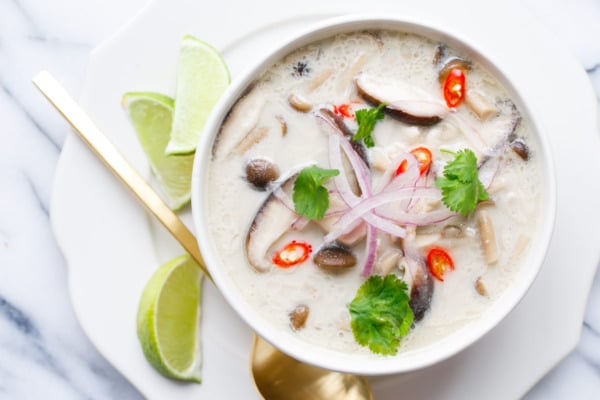 Slow Cooker Tom Kha Gai
This tangy coconut milk-based soup tastes just like your favorite Thai restaurant's. Coconut milk shouldn't be boiled, which makes this recipe perfect for the slow cooker.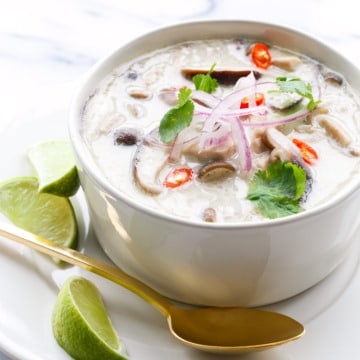 Ingredients:
8 boneless skinless chicken thighs (about 3 pounds), cut into bite-sized chunks
1 quart (4 cups) chicken broth
4 (14 oz) cans coconut milk
3 lemongrass stalks, trimmed and cut diagonally into 1″ pieces
1/2 red onion, cut into two chunks with the root-end trimmed but still attached (so the layers stay together). The other half can be very thinly sliced and used for garnish.
1 approximately 4-inch piece galangal root, peeled and cut into 1″ chunks
1 approximately 1-inch piece ginger root, peeled
10 to 12 ounces mixed mushrooms, such as shiitake, cremini or brown Shimeji (pictured above). Cut larger mushrooms into bite-sized pieces.
2-10 red thai chilies, more or less to taste, plus more, thinly sliced for garnish
8 kaffir lime leaves
1/4 cup fish sauce, more or less to taste
1/4 cup fresh lime juice, more or less to taste
1 tablespoon brown sugar, more or less to taste
fresh cilantro
Directions:
In a slow cooker, combine chicken, chicken broth, coconut milk, lemongrass, red onion chunks, galangal, mushrooms and thai chilies. Stack kafir lime leaves and lightly bruise with the back of a knife (don't cut, just sort of smash the leaves a bit so they release their essence). Add to pot with other ingredients.
Cover and cook on high for 2 1/2 to 3 hours or until chicken is cooked through.
Add fish sauce, lime juice, and brown sugar to taste.
Divide among serving bowls, discarding any chunks of lemongrass, galangal or ginger or lime leaves you might come across. Garnish with sliced thai chilies (if desired), sliced red onion, and fresh cilantro.
This soup can be refrigerated for 2-3 days and gently reheated; it also freezes beautifully for up to 3 months.
Did you make this recipe?
Let us know what you think!
Leave a Comment below or share a photo and tag me on Instagram with the hashtag #loveandoliveoil.