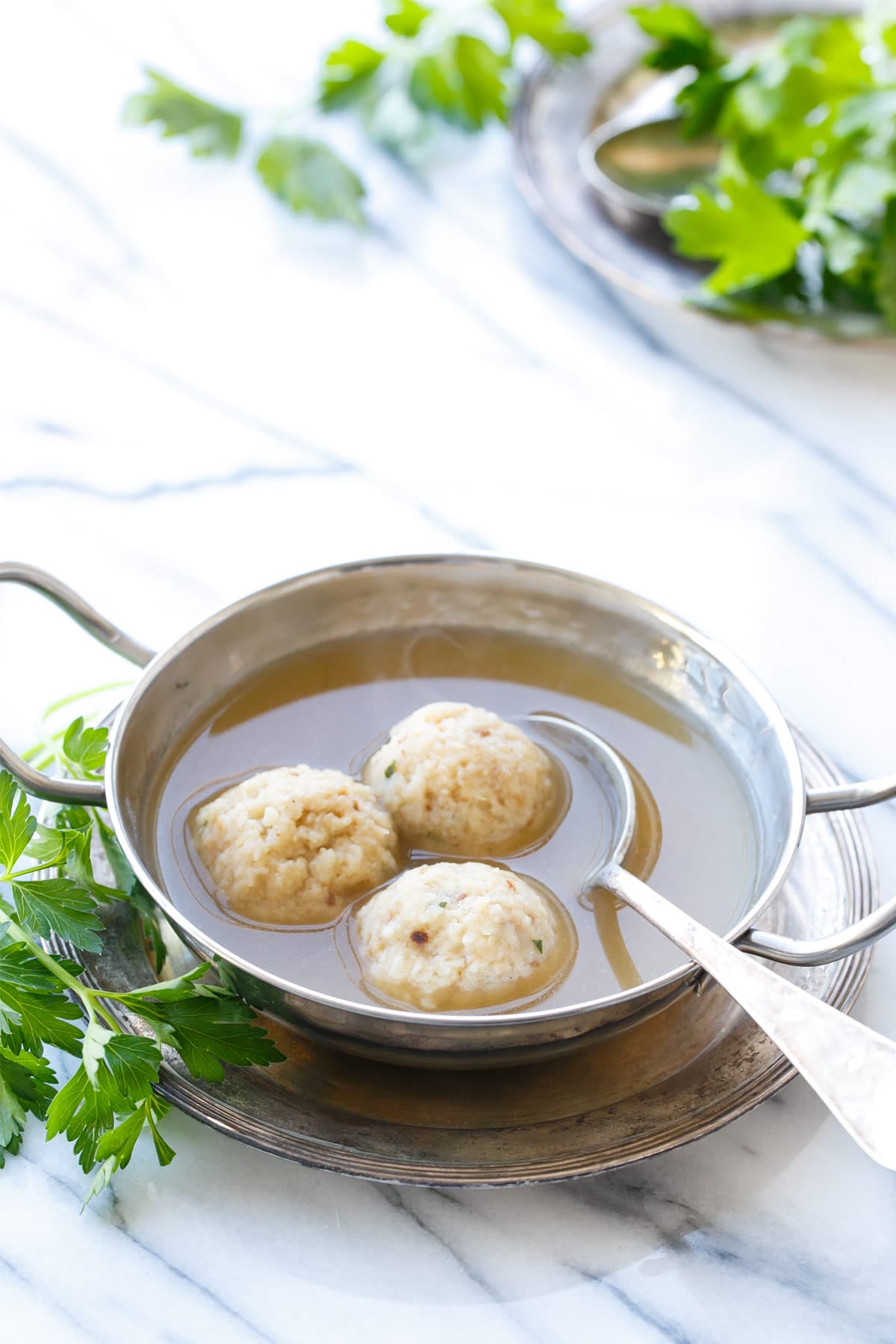 For this first time this past December, I hosted a Hanukkah dinner at our house for a few close friends. While I'm not observant, I can acknowledge and appreciate the culture that that side of my family brings to the table (quite literally, because so much of any culture centers around its food.) But more than anything it was an excuse to break out my grandma's recipe box, making latkes, brisket, matzo ball soup, and a cocoa torte for dessert (I'll be sharing that recipe next).
Every time I open the box of her recipes the mere smell of it transports me back to her house. Maybe that's why I don't open it more often: I get too darn emotional every time I do. And yet, I hope that smell never goes away.
I always have a hard time writing about her recipes, mainly because they are so meaningful to me and I want to do them justice, but, unlike the latkes and the cheesecake, this one doesn't really have a story. It's not something we ever cooked together, and actually, I don't think I've ever had her matzo ball soup at all. Probably because it is traditionally more of a Passover dish, and we would always visit my Grandma around Hanukkah, stuffing ourselves with as many latkes as we could fry in the tiny Florida kitchen. So I don't associate her with matzo balls the way I do with latkes. Still, I thought it fitting to serve it at our dinner (along with a heaping platter of latkes, obviously).
It's my goal to share more of these heirloom recipes, and I know Grandma would approve. She wasn't one to keep 'secret' recipes… rather, food was, and still is, all about sharing.
This recipe for traditional matazo ball soup is just as she wrote it, in her perfectly precise script on that 3 by 5 index card. I've expanded the instructions a bit, but otherwise, this recipe is true to the original.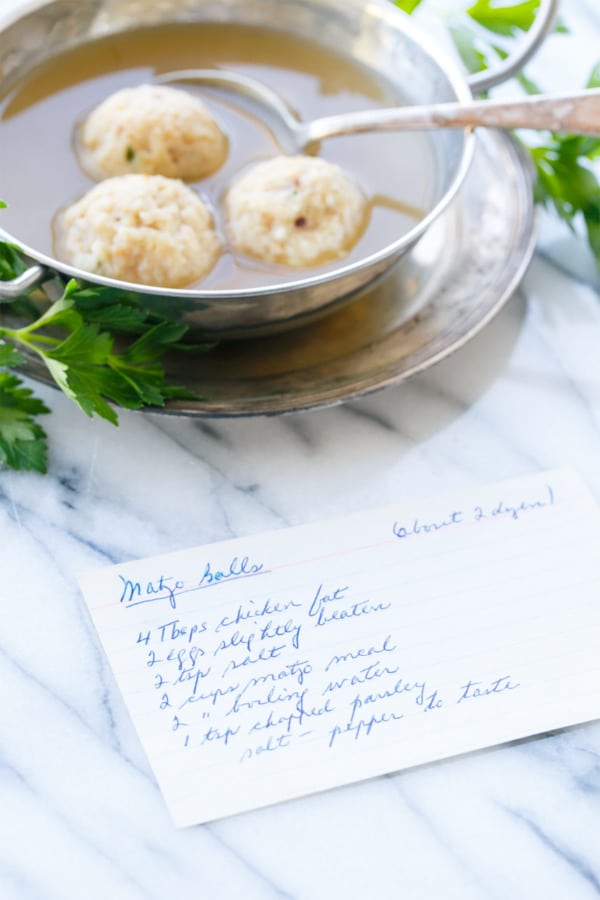 This was my first time making matzo balls, and I honestly didn't know how they'd turn out. I should have expected they'd be great, grandma has yet to let me down. With her recipe in front me I felt like she was there with me in the kitchen, rolling little balls of fat and flour and smiling the entire time.
For traditional matzo balls the secret is in the schmaltz (rendered chicken fat). If you don't trust me then please at least trust grandma on this one: schmaltz is the difference between a bland matzo ball and a rich, flavorful one. If you have a large Jewish community where you live you'll probably have no trouble finding it. I ultimately found a little tub of frozen chicken fat at Kroger of all places, in the freezer case of the Kosher aisle. Check with your local butcher too, if they don't have any they may at least be able to point you in the right direction. If you still can't find it, you can always make it yourself using leftover scraps of chicken fat and skin. It's not a quick process, but I imagine it's well worth it.
You'll also need matzo meal (finely ground matzo crackers), which, again, should be fairly easy to find in any store worth its (kosher) salt.
We simmered our matzo balls in homemade chicken stock, though I've seen recipes that have you cook the balls in salted water and then add them to the broth for serving. This later method would work better if you are cooking the entire batch of matzo balls at once. While we served ours in a simple bowl of broth, you could also add some vegetables if you wanted a more filling soup.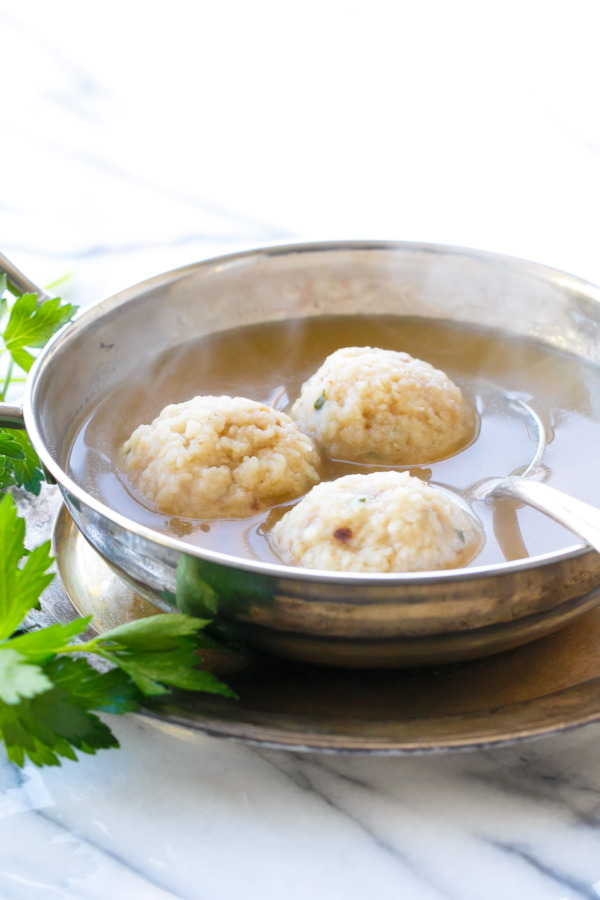 The matzo dough can be made a few hours ahead of time, as can the balls themselves. Keep them refrigerated until you're ready to boil them. I tried freezing a few spare balls, but they weren't quite the same once they were thawed and cooked. I've read you can freeze them after cooking, which might work better if you want to make a big batch and save them for later (and once you try them, trust me, you'll want to make them over and over again).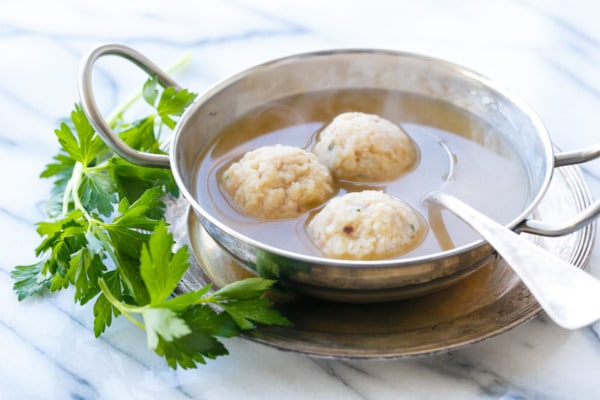 Grandma's Matzo Ball Soup
My grandmother's recipe for traditional matzo ball soup. The secret to their delicate, rich flavor is the schmaltz (rendered chicken fat).
Ingredients:
2 cups matzo meal
2 large eggs, lightly beaten
1/4 cup chicken fat or shmaltz*
2 teaspoons kosher salt
1 teaspoon chopped fresh parsley
2 cups boiling water
3-4 quarts chicken broth or stock
Directions:
In a bowl, mix together matzo meal, eggs, chicken fat, salt and parsley. Pour over boiling water and let sit until mostly absorbed, then lightly mix until no dry crumbs remain. Cover and refrigerate for at least 1 hour to mellow.
Roll dough into ball approximately 1-inch in size (they will expand when cooked). Use a light hand here, you don't want to compress the dough too much lest you lose the light, airy texture. Arrange balls on a plate or baking sheet and cook immediately, or refrigerate for up to 1 day.
Bring a large pot of chicken broth (preferably homemade) to a bare simmer. Add half of matzo balls (you don't want to overcrowd them) and cook for 20 to 30 minutes or until balls are cooked through (they will usually start to sink when they are done). Ladle into soup bowls with some broth and serve warm.
* Rendered chicken fat (or schmaltz) is a crucial ingredient to these matzo balls, giving them the majority of their substance or flavor. While you *can* technically use vegetable oil or shortening here, chicken fat is going to produce a much more flavorful matzo ball. Look for frozen rendered chicken fat in the kosher section of your favorite grocery store, or ask your local butcher.
Did you make this recipe?
Let us know what you think!
Leave a Comment below or share a photo and tag me on Instagram with the hashtag #loveandoliveoil.