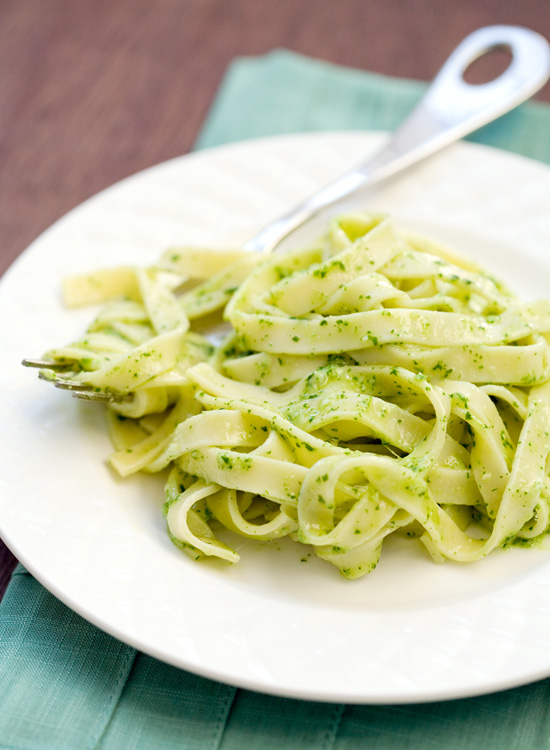 I know, I know. You might be thinking, "Pesto? Boring." But I'd argue that it's not a proper basil week without it. And this isn't your ordinary run of the mill pesto, either. This just might be the best pesto recipe ever created.
Well, the best pesto this side of the Atlantic, that is.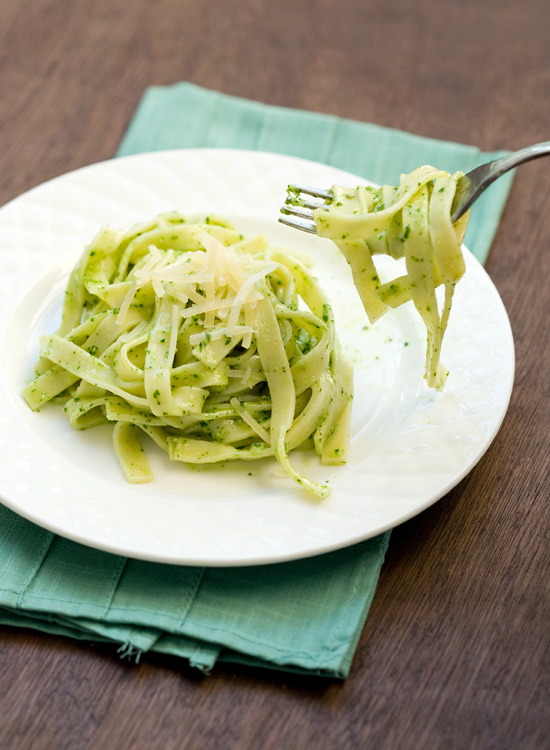 I'm not usually one to follow a recipe precisely. Half a cup of cheese? A teaspoon of salt? Sprinkle, sprinkle, dash, dash… meh, that looks about right.
But even I followed this one to a T.
I commend Saveur on getting this one right. So right that it's worth getting out that tablespoon to measure out the precise amount of grated Pecorino. Worth spending $6.99 on an itty bitty bag of good pine nuts (because sub-par pine nuts are just, ew). Worth what may seem like a silly step of blanching the basil, because that supposedly mellows the flavor to something akin to the juvenile sprigs they use in Italy.
It's all worth it, I promise.
Once you've tasted the good stuff, pesto the way it was meant to be made, you'll understand. You'll understand why I'm preaching such precision; you'll understand why I'm raving about such a seemingly simpleton sauce. If you've been to Italy, you'll understand. Heck, if you've been to a really good Italian restaurant, you'll understand. Good pesto is unlike anything you've ever tasted. Complex simplicity. Beautiful balance. Delicate boldness.
Just try it. You'll understand.
Fettucine al Pesto Genovese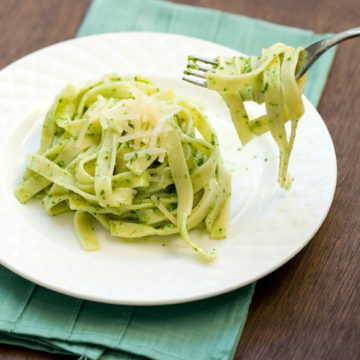 Ingredients:
4 cups packed basil
1/2 cup extra-virgin olive oil
1/2 cup finely grated parmesan
1/4 cup pine nuts
3 tbsp. finely grated pecorino
2 cloves garlic, finely chopped
Coarse sea salt, to taste
1 lb fresh linguine or fettuccine pasta
Directions:
Bring a large pot of water to a boil. Blanche basil leaves for 20 to 30 seconds or until vibrant green. Remove from boiling water and immediately immerse in an ice water bath to halt cooking process. Drain. Keep pot of water boiling on the stove.
In a food processor combine basil, oil, parmesan, pine nuts, pecorino, and garlic. Pulse until smooth; season with salt and pepper.
Add pasta to boiling water and cook until al dente. Drain, reserving 1/2 cup of cooking water. Return pasta to pot. Toss with pesto until evenly coated, adding reserved cooking water as needed to thin sauce. Serve immediately.
Did you make this recipe?
Let us know what you think!
Leave a Comment below or share a photo and tag me on Instagram with the hashtag #loveandoliveoil.