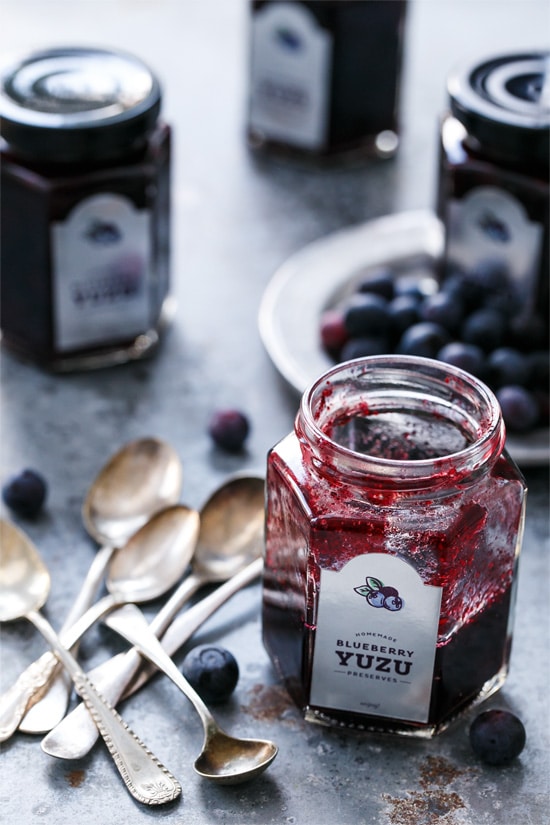 Blueberry week overfloweth.
One week has quickly become two. But who's counting? I know I don't have a problem with two weeks worth of blueberry recipes. Do you?
I wasn't kidding when I told you we picked a lot of blueberries… the fact that only 2 1/2 pounds of them ended up as jam though, that's unexpected. Although, I do have another 5 pounds in the freezer and that could very well end up as late-season jam sometime in the near future. Blueberry jam being one of my favorites, I wouldn't be surprised.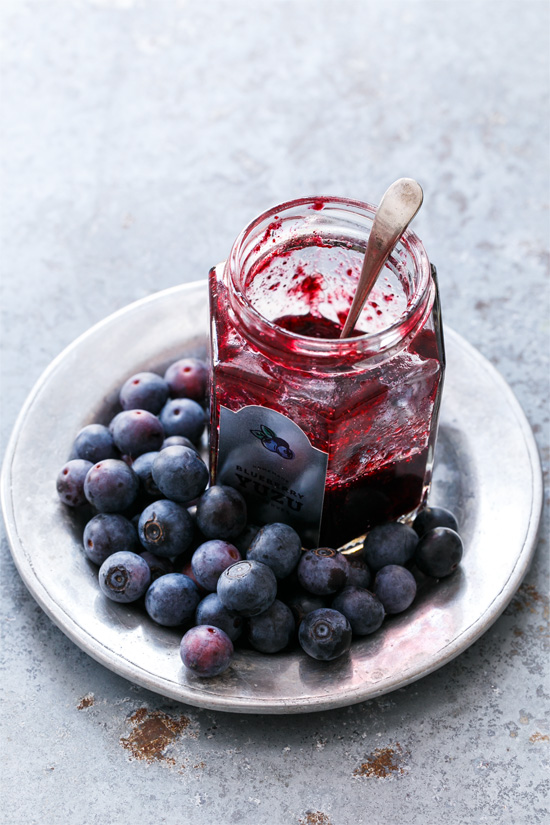 Blueberry yuzu. Also known as bluezu.
What is yuzu, exactly? It's a Japanese citrus, with a flavor somewhere between a lime and mandarin, with notes of juniper and other herbal aromatics not unlike a good infused gin (probably why it's making itself known in the cocktail world, and it's certainly not hard to guess where the remainder of our little bottle of it will end up).
I'll be honest, I'd never really had yuzu before this, but the idea (and the flow of the words blueberry and yuzu together) just seemed like it'd make for a perfect preserve.
I was right (I mean, come on, I usually am.)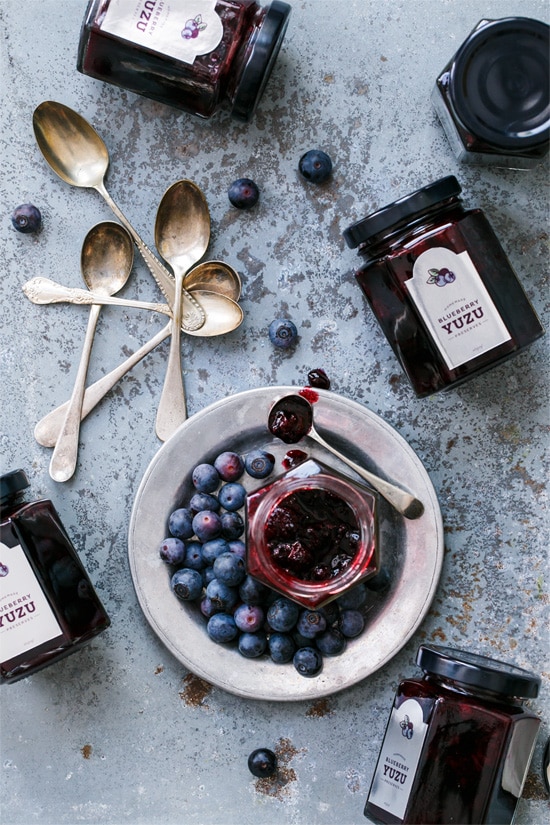 Ok ok, faux-arrogance aside (I've been wrong plenty of times, believe me), this jam has such a unique quality to it. Taste it and you'll think, this is an amazing blueberry jam… there has to be something more in there than just blueberries, but what is that flavor? I keep saying juniper but that's the prominent flavor I get from the yuzu juice in combination with blueberries, which is bizarre and intriguing and downright delightful. If the stuff weren't so expensive (seriously you'd think it was liquid gold or something), I'd make batches upon batches of this jam.
(Be sure to click through for the recipe and to download the FREE printable labels!)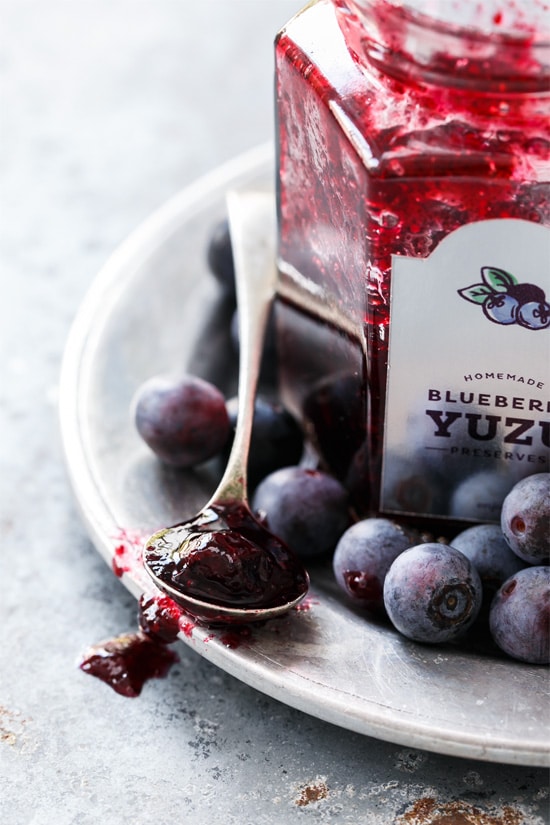 I left the blueberries mostly whole, letting them soften and cook down with the heady citrus, making this more of a preserve than my typical jam. If you like things smoother you can certainly mash it up a bit more, but for me this was a nice change of pace.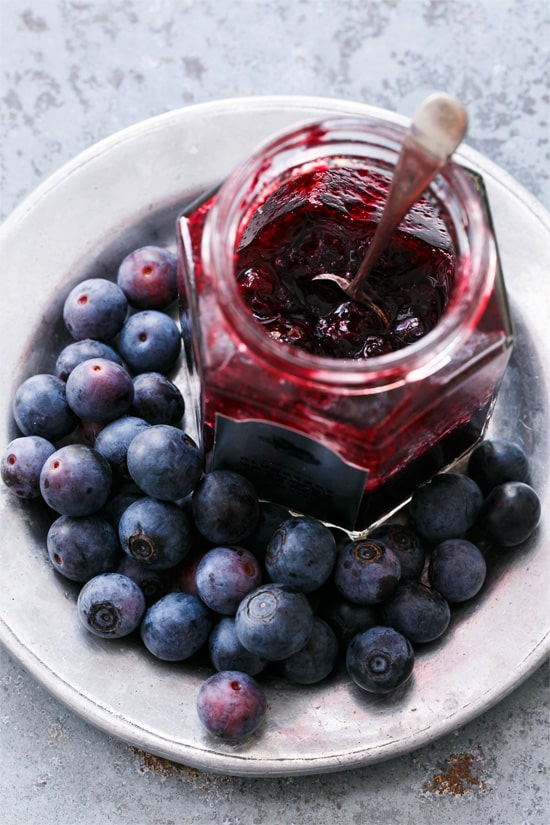 This jam is most definitely unique. At $16/bottle, I probably won't be going around putting yuzu juice in anything and everything, but it's a new and different flavor that was definitely fun to explore.
Blueberry Yuzu Preserves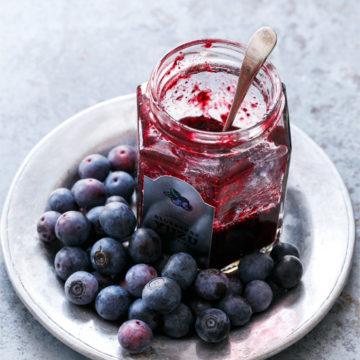 Ingredients:
2 1/2 pounds fresh blueberries
1/4 cup yuzu juice, plus more to taste
2 cups granulated sugar
2 teaspoons Pomona's Universal Pectin
2 teaspoons calcium water* (included with the pectin)
Directions:
Prepare canner and wash/sterilize 5 half-pint mason (or equivalent) jars. Keep jars in hot (not boiling) water until ready to use. Warm lids in hot (not boiling) water to sterilize and soften seal.
Place berries in a large, heavy saucepan along with yuzu juice and calcium water. Simmer over medium-high heat, stirring occasionally, until berries have softened a bit, about 10 to 15 minutes.
In a bowl, whisk together sugar and pectin until evenly distributed.
When blueberries reach a full rolling boil, pour sugar and pectin into saucepan, stirring vigorously until completely dissolved. Continue to stir until mixture returns to a full rolling boil, 1 to 2 minutes. Remove from heat and let sit for 5 minutes, stirring occasionally and skimming off any foam that may have formed. Taste, and add up to 2 tablespoons additional yuzu juice if desired.
Ladle jam into jars, leaving 1/4-inch of headspace. Wipe jar rims and threads. Screw on lids and rings. Process in a boiling water bath for 10 minutes. Remove from water and let cool completely, 12 to 24 hours. Check seals. Any unsealed jars should be refrigerated and used within 3 weeks.
*Note: calcium powder to make calcium water is included with the Pomona's brand pectin. If you are substituting another pectin brand/type, please follow the instructions inside your pectin package, paying attention to the process and the proportion of fruit to sugar required by that type of pectin (different kinds of pectin will require different amounts of sugar to properly set).
Did you make this recipe?
Let us know what you think!
Leave a Comment below or share a photo and tag me on Instagram with the hashtag #loveandoliveoil.
Bonus Printable Labels
Ooo, shiny! Printed on mirror-like silver foil label paper, these labels make for a stunning presentation, especially if you'll be gifting your jam to others. The labels could also be printed on plain white, gold foil, or even kraft label paper for a more natural look.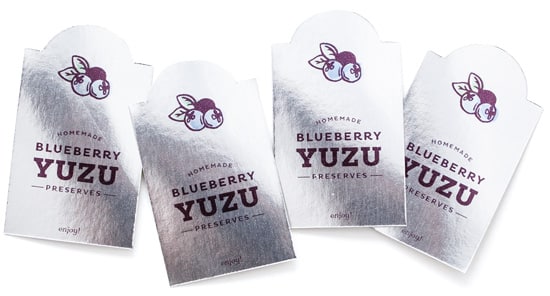 The downloadable PDF file includes 24 labels, perfectly sized to fit on my favorite 6 ounce hex jars, but can also be used on any other smooth-sided jar.
To use, simply download the printable file by completing the form below. Print your labels onto full-sheet sticker paper, cut out shapes, and apply directly to the (canned and cooled) jars.