Day 5 brought us to Skagway, Alaska, the Northern-most stop on our journey. The only thing more beautiful than the weather was the scenery that greeted us there. (In case you missed it, Part I can be found here).
We headed out on a "Skagway in Focus" photography tour, guided by a professional photographer who took us to various locations around the area to up our photography game. It seemed the perfect excursion to see some lesser-known sights and play with our rented camera. In our (seemingly) neverending search of the perfect travel camera, we rented yet another Sony for this trip, this time the Alpha A7II. Noticeably larger than the Sony A6000 we rented for Europe (though still smaller and significantly lighter than my Canon 6D), this camera had the added advantage of a full frame sensor (the A7 series is the only mirrorless full frame camera currently on the market, a definite bonus for me). It took some amazing pictures, even with the basic kit lens (of course, the gorgeous scenery certainly didn't hurt), but whether or not the images were that much better than what came out of the A6000, I can't say. Perhaps sometime in the near future I'll try to pull some similar(ish) images from both trips and do a side-by-side comparison to see if the A7II is really worth the extra weight and cost. As of now I am undecided, but one of these days I really need to stop renting cameras and just buy one.
Anyway, it's always fun to explore a new place through the viewfinder of your camera, and that's exactly what we did in Skagway. Granted, we spent a lot of time distracted by the beautiful wildflowers, which made me wish I had had the foresight to rent a macro lens too.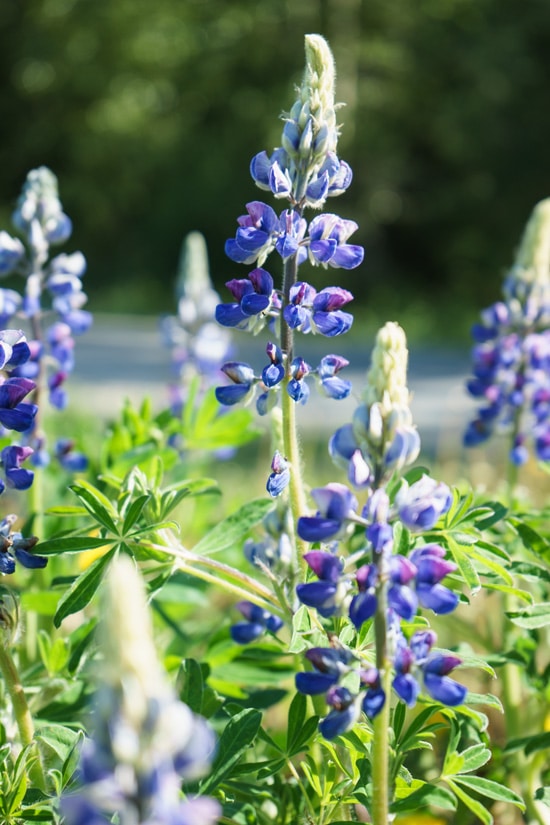 Our guide also took us to an old graveyard, hidden deep within in the woods. The dappled sunlight and carpet of Alaskan dogwoods gave the place a sense of peace and light. It was an emotionally charged space, for sure, but anything but creepy, although the story surrounding this particular plot could definitely be described as such. Most of the markers here display the same date, and many believe that those buried here were all killed in a single avalanche in 1898, when a group of impatient gold miners ignored the native's advice and went up into the mountains anyway.
Except for this guy. He seems to have survived the avalanche… but didn't last much longer after that (guess his luck ran out).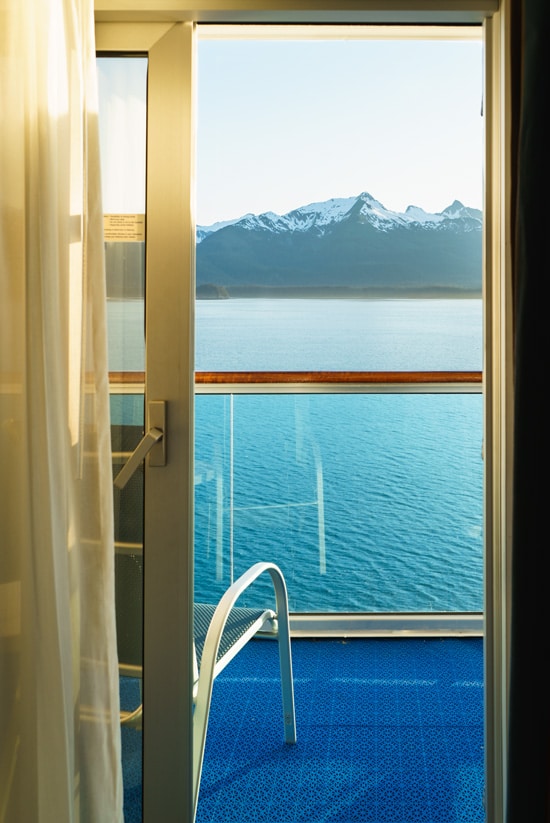 We left Skagway in the waning heat of the early evening, the sun still high in the sky and reflecting off the water in all its shades of brilliant blue. At one point we were surrounded by dozens of Dall's porpoises (identifiable by their black and white coloring that initially had us wondering why these orcas seemed so small). You'd see them splashing in the distance, leaping out of the blue-green water, two by two. Always in pairs, always in perfect unison. It was quite a sight.
And thus began the long 48-hour stretch at sea, as we made our way out of the inner passage and into the open sea. It was a long way South to Victoria, backtracking almost the entire distance we'd traveled thus far over the course of 5 days. That's 895 nautical miles if you want to be specific.
It was a perfect time to relax, to recover from 3 straight days of nonstop activity.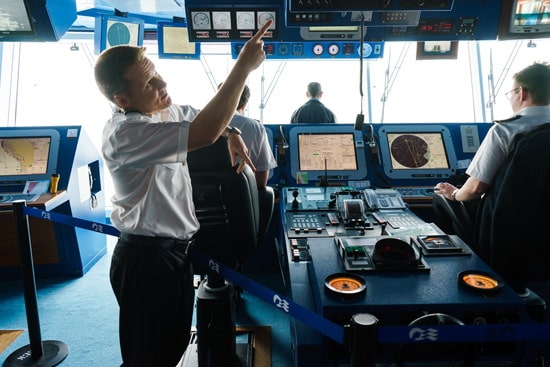 We were treated to a bridge tour, where Captain Karl Austin spent the better part of an hour telling us about the ins and outs of being a cruise ship captain while adeptly dodging questions about man overboards and his real age. Now that we were out in open water, the motion of the sea had many of us ready to go crawling back to bed. It calmed down eventually, but that was probably the only day over the course of this entire cruise that I popped an extra Bonine for good measure. I'm sure we gave the captain a good chuckle, walking like we'd just downed a few shots of the ship's limoncello on our way to the bridge.
Taylor was awfully excited when we were also able to go on a brief behind-the-scenes tour of the ship's lower decks, including the food prep and storage areas and crew access halls; the "underbelly" if you choose. He adores stuff like that, where you get to see the inner workings of something. Like a TV show. He also managed to stumple upon a behind-the-scenes tour of the entertainment facilities (I was napping, apparently) and returned telling stories of the industrial sewing machines and costume conveyor that services the ship's many onboard shows and performances.
Like a kid I tell you.
After 48 hours of non-stop sailing, we finally landed in our final port of call: Victoria, British Columbia, just before sundown on the final night (as cruise ships are typically registered in other countries, it is required by law that they not sail solely within a single country. Hence the stop in Canada). We got there just in time to see the stunning Empress hotel in the golden light of the evening, followed by the a serene sunset over the harbor.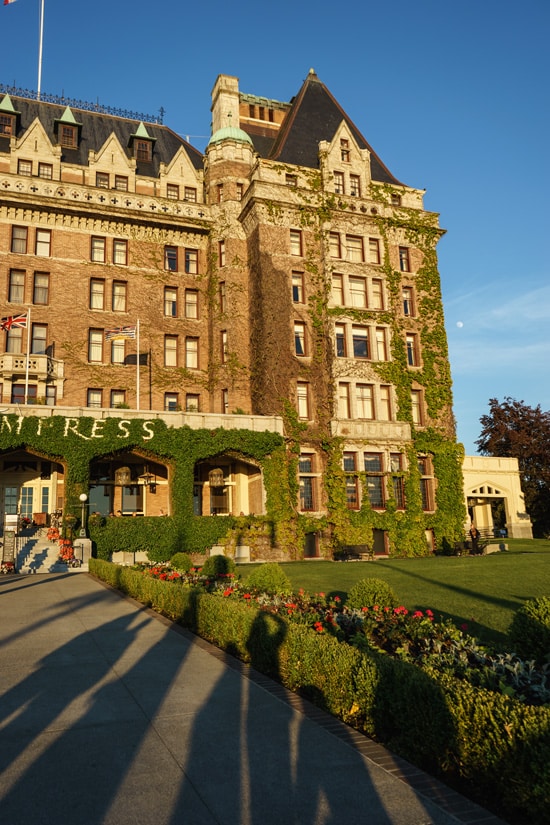 Although our time in Victoria was short, it was perhaps my favorite stop of all (maybe because it was more of an actual city than the other remote Alaskan towns we visited). This charming and quaint city is one I'd definitely like to visit again, if only for another one of those Victoria creams (currently top of my 'to recreate' list, not coincidentally, so if anyone happens to have a recipe or insight, do share!)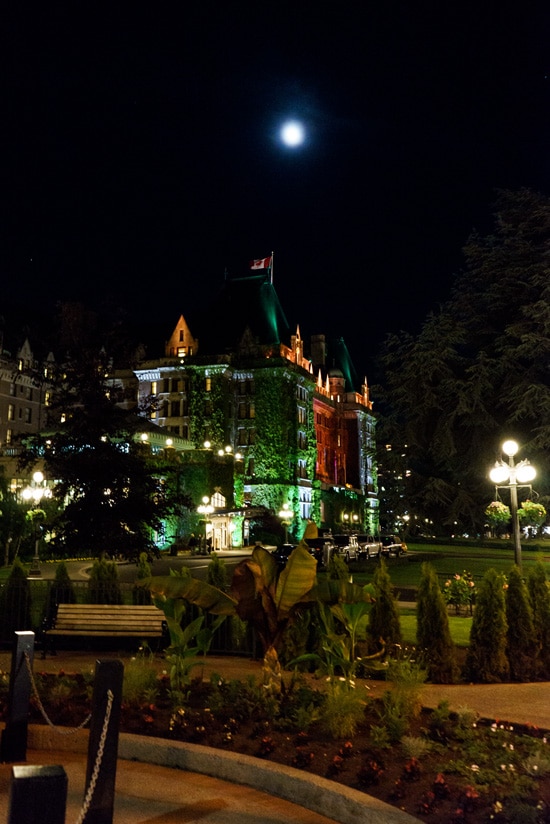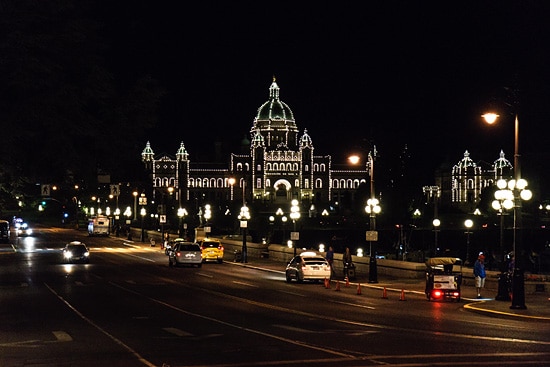 I thought this trip would be hard to put into words. Apparently not, as I just wrote nearly 5,000 of them, and filled up two posts in the process. And still I feel this is inadequate to describe just how amazing this experience was.
Alaska – you've won my heart!
Disclosure: Thank you to Princess Cruises for inviting us on this amazing experience. As always, all opinions written are purely our own. We're incredibly grateful for opportunities like these that allow us to continue sharing experiences like this with you, so thank you for supporting us and the brands we love.