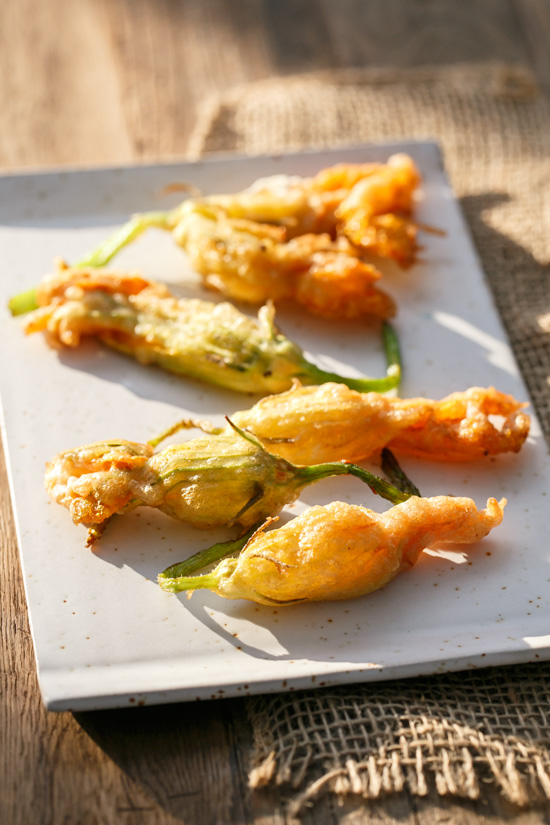 Fried zucchini blossoms just sound awesome, and they're always something I've wanted to make. Unfortunately, not having sufficient real estate to grow my own zucchini if only to harvest the flowers, I was pretty much relegated to what was available at the farmers' markets or grocery stores, and never once had I seen zucchini blossoms there.
Until now.
I could have jumped for joy when I saw them. Any existing menu plans went out the window the second I picked up the plastic box filled with the gorgeous orange blooms. I knew they wouldn't last long, so set about figuring how to cook them for dinner that very night.
It seems that zucchini blossoms are usually prepared in one of two ways: battered and fried or stuffed, battered and fried.
I went with the later, stuffing the blossoms with a savory sweet mixture of goat cheese, black pepper, and honey while Taylor whisked up a lightly carbonated batter using a partial bottle of one of his precious beers (in reality I think it was just an excuse to drink the rest of the bottle before dinner).
Turns out, stuffing zucchini blossoms is not as easy as it might seem. They are much less forgiving than, say, peppadews. First, you have to reach in with your fingers and remove the stamens of the male flowers. Doing that without tearing the fragile petals is tricky indeed. Then you've got to stuff them (I found a piping bag and 1/2″ piping tip worked the best for this) with the cheese mixture. The actual stuffing isn't so hard with the help of the piping bag, but then you have to figure out how to keep that stuffing in. It's not like a wonton where the filling is sealed inside. I gently twisted the tops of the flowers ever so slightly in a feeble attempt to keep the stuffing from oozing out.
But sure enough, once the flowers had been beer-battered and gently dropped into the hot oil, the melting cheese came flowing out, either through tears in the petals or out the twisted top,  blackening into charcoal specs that floated on the surface of the oil.
The flowers fry up quite quickly, so all the goat cheese didn't leak out, and you could still taste it inside the delicately fried flowers even though they looked mostly hollow inside. I'll admit, these were pretty awesome, even without the full quantity of goat cheese. The beer batter was light and crispy, and the flowers had a delicate nutty flavor that I couldn't quite place (it tasted like something, but also unlike anything I'd ever had before)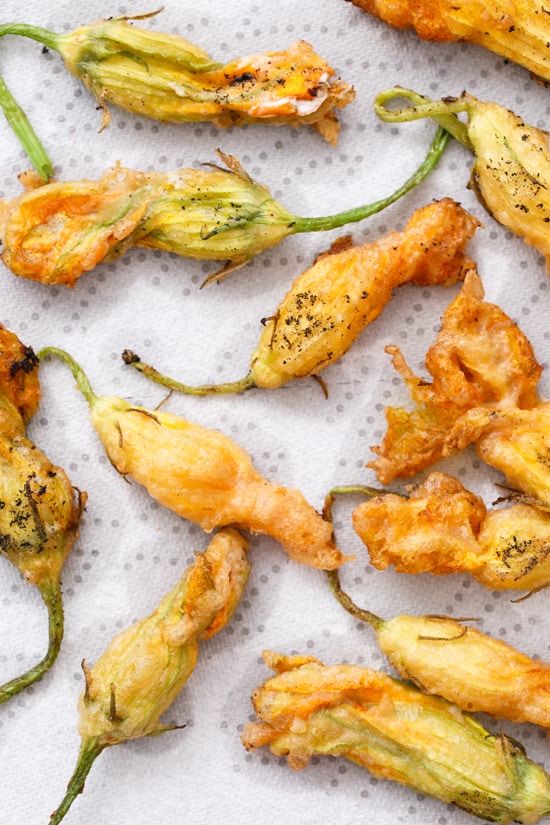 Despite the fact that these were only moderately successful, I'll still share the recipe here should you be so lucky to find some zucchini blossoms of your own. And if you manage to uncover the secret to frying these without losing half your cheese, I do hope you'll impart your wisdom on us all!
Goat Cheese-Stuffed Fried Zucchini Blossoms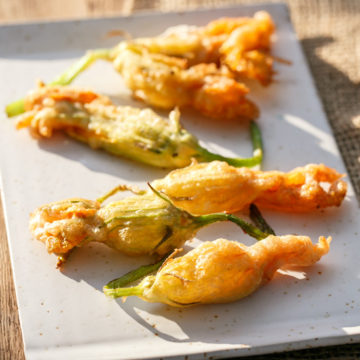 Ingredients:
12 male zucchini blossoms, stamens removed*
vegetable oil, for frying
5 ounces fresh goat cheese, room temperature
1 tablespoon heavy cream
1 tablespoon honey
salt and pepper, to taste
1/2 cup all-purpose flour
3/4 cup beer (a lighter ale works well here, nothing too dark or hoppy)
Directions:
Remove stamens from flowers, trying not to tear the delicate petals.
Fill a large, heavy saucepan with about 1-inch of vegetable oil. Set over medium heat and let it come up to desired temperature of 350 degrees.
In a bowl, combine goat cheese, cream, honey, and salt and pepper until smooth. Transfer to a piping bag or a zip-top bag with 1/2″ of the end cut off. Carefully insert tip of bag into a flower and fill with cheese mixture. Gently twist tops of petals to seal.
In a bowl, combine flour and beer and whisk until smooth. Using the stem as a handle, dip flowers into batter and flip to coat. Gently lay battered flowers into hot oil. Repeat with another flower, battering and frying about 4 flowers at a time so as not to overcrowd the pan. Fry flowers for 30 to 45 seconds, then flip and fry for another 30 to 45 seconds until light golden brown. Transfer to a wire rack or paper-towel lined plate. Repeat with remaining flowers (skim off any burnt bits and let oil come back up to temperature as needed between batches). Serve warm.
*male blossoms will have a pollen-covered stamen inside which you want to gently remove before stuffing. Female blossoms will usually have the beginnings of a baby zucchini growing in place of a stem (leave those on the plant as they'll turn into full zucchinis whereas the male flowers will not).
Did you make this recipe?
Let us know what you think!
Leave a Comment below or share a photo and tag me on Instagram with the hashtag #loveandoliveoil.