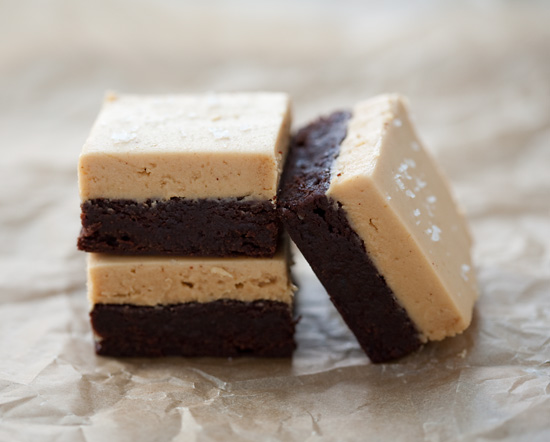 Peanut butter and chocolate have a unique relationship. And most of the time, it's bliss. Candy? Reese's are my all time favorite. Ice cream? Pretty please with a cherry on top. Cookies? I'll take 12. Cake? Er, I'll pass.
Not sure if it is the texture of cake that just doesn't quite mesh with the peanut butter, but it's just not the same for me. Granted, maybe I just haven't tried the right chocolate peanut butter cake. That could very well be it.
Luckily, these chocolate brownies are so dense and rich, not cakelike at all, that they fall into the realm of heaven in a square. No skimping on frosting here, these babies are smothered with a thick layer of sweet (but not too sweet) peanut butter frosting. The salt on top is just the icing on the cake, er, brownie.
I made these particular treats for a Nashville food blogger potluck last month. To such events I've been told I'm not allowed to bring anything BUT dessert. I wonder why? Apparently I have a reputation as a sugar pusher.
Peanut Butter and Fleur de Sel Brownies
Ingredients:
For Brownies:
10 tablespoons (1 1/4 sticks) butter
1 cup sugar
3/4 cup plus 2 tablespoons unsweetened cocoa powder (natural or Dutch-process)
1/4 teaspoon salt
1/2 teaspoon pure vanilla extract
2 cold large eggs
1/2 cup all-purpose flour
For Frosting:
6 Tablespoons (3/4 stick) softened butter
3/4 cup peanut butter
1 cup powdered sugar
1 teaspoon Maldon or Fleur de Sel.
Directions:
Prepare an 8 inch square pan. Butter and line the bottom and sides of the baking pan with parchment paper, leaving an overhang on two opposite sides. Butter parchment.
Preheat your oven to 325 degrees F.
Combine the butter, sugar, cocoa, and salt in a heat-proof bowl and place over a large pot of simmering water. The bottom of the bowl should rest in the pot but not touch the water.
Stir over medium heat. When the butter is just about melted, remove the bowl and let the residual heat continue do the rest. Stir until smooth. At this point the mixture should feel warm, not hot to the touch. If hot, wait until warm to add the eggs.
Add the eggs, one at a time, stirring until each egg is fully incorporated before adding the next. Stir in the vanilla. Add the flour, and stir about 40 times until the flour is completely incorporated and the batter is smooth and shiny.
Spread the batter evenly into the prepared pan and bake 20 to 25 minutes, or until a toothpick inserted in the middle comes out with a few moist crumbs. Let cool completely on a wire rack.
To prepare the frosting, cream the butter and the peanut butter until combined. Slowly stir in the powdered sugar until completely incorporated. Spread over cooled brownies and sprinkle with flake salt (Maldon) or Fleur De Sel. Cut into squares.
Did you make this recipe?
Let us know what you think!
Leave a Comment below or share a photo and tag me on Instagram with the hashtag #loveandoliveoil.