Some recipes prove more challenging than others, I've found.
And yet some recipes are worth the fight.
I'd been dreaming of turning my Rocky Mountain Avalanche Bars into truffle form for weeks now, creamy and crispy bite-sized candies enrobed in dark chocolate. It's a dream that quickly turned into an obsession, and an obsession that almost got the better of me in the end.
I'll just say that it's a good thing I'm persistent (especially when it comes to chocolate).
The original is still one of my all-time favorite recipes to date. With a white chocolate and peanut butter base, and crunchy bits of rice krispie cereal, soft marshmallows, and chocolate chips, it's so much more than a rice krispie treat. Like fudge meets candy meets rocky road in reverse.
And these truffles follow suit, even more spectacularly than I imagined. The flavor is distinctly peanut butter (so white chocolate haters resign yourselves to at least TRY one), with bits of crunchy crisp rice and roasted peanuts – just enough to give the truffles texture and crunch but not compromise the smooth nature of the white chocolate, either.
I hope you like them, because, well, I put a lot into this one (time, money, tears…) But hopefully I've worked out all the kinks so you don't have to.
Chocolate is truly a battle for me, and after two days in the kitchen the final score was Lindsay: 1, Chocolate: 7. The odds were not in my favor. There's a reason they call it tempering… although I'm the one that usually loses it (not the chocolate).
I ultimately threw in the towel and sent Taylor to the store for some chocolate coating. He came back with Ghiradelli Dark Melting Wafers, which I'll say were surprisingly good. Many chocolate coatings have a weird, fake waxy flavor to them that is not pleasant, but not so with these. The wafers melted easily and the candies came out of their molds perfecly shiny and pretty and it's a good thing they did or I may have thrown something across the room.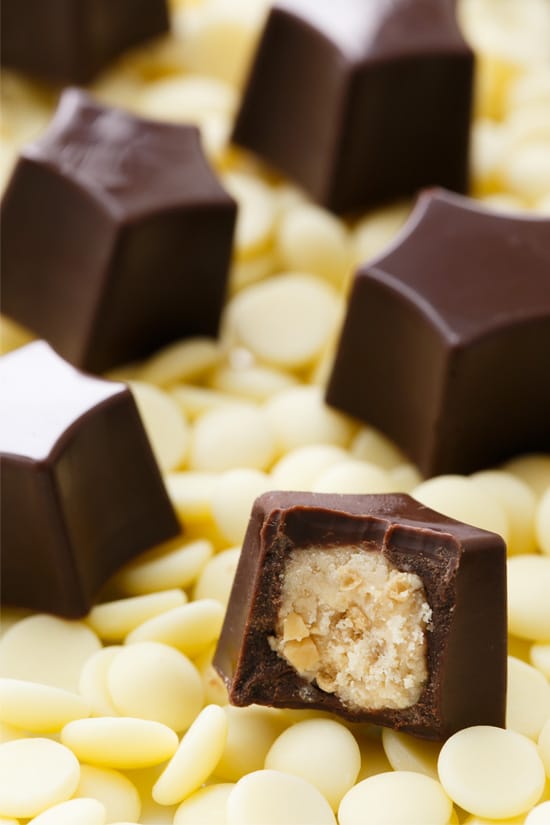 But my dark chocolate wasn't the only chocolate to give me problems with this recipe, rather it was the white chocolate that almost did me in. You'd think white chocolate ganache (cream and white chocolate) would be as easy as regular ganache, but every time I tried I ended up with an oily, separated mess. I probably went through 2 pounds of good white chocolate before I finally realized that the cream was the culprit (go figure) and used some corn syrup and coconut oil to thin out the filling instead.
The resulting filling behaves almost like a peanut butter cookie dough; so it's not super smooth like a ganache. But as long as the components don't separate, you're good. Once it's cooled you can roll it into small balls to fill your molds, or into larger balls to dip directly (chill the balls well before dipping if you go this route).
Just be sure you use a good, quality white chocolate, the kind with cocoa butter listed first or second in the ingredient list. Stay away from the hydrogenated vegetable oil stuff, anything labeled "white baking chips" or "white baking pieces". They will not work in this recipe. I know I sound like a hypocrite telling you to get quality white chocolate and coat it with chocolate candy coating, but hey, whatever works. You could most definitely coat these with amazing dark chocolate if you know how to temper your chocolate properly (teach me your secrets!) and I will tip my hat and admit forthright that your truffles are better than mine.
In the meantime, candy coating is a life saver. Quite possibly a marriage saver too.
But the real secret to this recipe? The tiny crisp rice.
I don't know if you've ever tried using rice krispies cereal in candy and other things (*cough* ice cream *cough), but they tend to loose their crispness in a short period of time. But I knew that candy companies often used something similar to add a delightful crunch to their confections; it just took a simple google search until I found what I was looking for.
Tiny crisp rice. You can buy it numerous places around the web, or if you have a good candy/baking supply store where you are, I'd check there too. The pellets are about 1/3 the size of a normal rice krispie and they hold their crunch when folded into the truffle filling.
Don't ask me what kind of magic allows these puffs to retain their crunch even when shrouded in chocolate, just trust me when I say you need some in your kitchen arsenal. I'll admit, I bought three bags of this magical stuff myself, and believe me, I'm not afraid to use it. It's just a matter of narrowing down the vast list of possibilities of what to do with it.
Peanut Butter Avalanche Truffles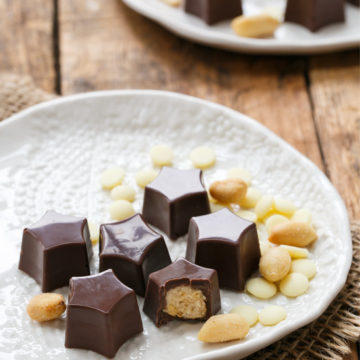 Ingredients:
6 ounces good quality white chocolate, finely chopped
1 tablespoon creamy salted peanut butter
1 tablespoon light corn syrup
1/2 teaspoon coconut oil or unflavored vegetable shortening
2 tablespoons tiny crisp rice
1 1/2 tablespoons finely chopped roasted peanuts
12 ounces chocolate candy coating or dark/semisweet chocolate
Directions:
Combine white chocolate, peanut butter, corn syrup, and coconut oil in a small saucepan. Stir over very low heat, even going so far as to remove the pan from the stovetop occasionally to keep the heat even gentler, until white chocolate is just melted and mixture forms a smooth paste.
Transfer to a bowl and stir in crisp rice and chopped peanuts. Set aside and let cool until filling is the consistency of soft cookie dough and can be formed into small balls.
Meanwhile, melt chocolate candy coating according to package directions. Or, if you are comfortable tempering chocolate you can use dark or semisweet chocoalte instead.
For molded truffles: fill molds about 1/3 full with melted chocolate. Roll small balls of filling, small enough that the balls won't touch the sides of the molds or stick up past the top rim. Place one ball into each mold while chocolate is still wet. Spoon some more melted chocoalte on top, tapping the mold firmly against the counter to settle chocolate and remove air bubbles. Refrigerate for 10 to 15 minutes until set, then invert mold and pop out finished truffles.
For dipped truffles: roll filling into bite-sized balls and arrange on a parchment-lined baking sheet. Refrigerate or freeze for 15 to 30 minutes or until firm. Dip cold truffles into melted chocolate using a fork or dipping tool. Tap off excess, then transfer to another parchment-lined baking sheet to set.
Truffles will keep in an airtight container for up to 1 week.
Did you make this recipe?
Let us know what you think!
Leave a Comment below or share a photo and tag me on Instagram with the hashtag #loveandoliveoil.