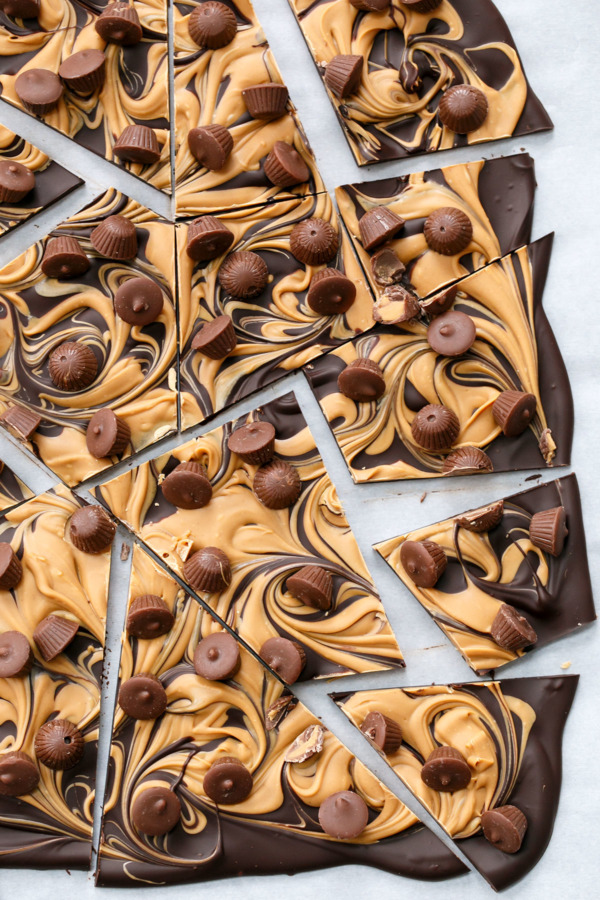 I'm all about gifting consumables. Unless I know of something someone really wants (and needs), I'd rather send something edible, something delicious that can be enjoyed and be gone, rather than some random knick-knack that will just sit around collecting dust, held on to solely out of some form of sentiment and or fear of hurt feelings (dearest family, I will NOT be offended if you throw out that tacky painted rock paper weight I made you when I was 4).
Seriously though, how many of the gifts you receive just end up in a collection of clutter, the stuff stuffed in closets and drawers, the floaters that never seem to find their place? Yeah, that's what I thought.
In that regard… I propose food gifts for all: eat, enjoy, and be done with them merry!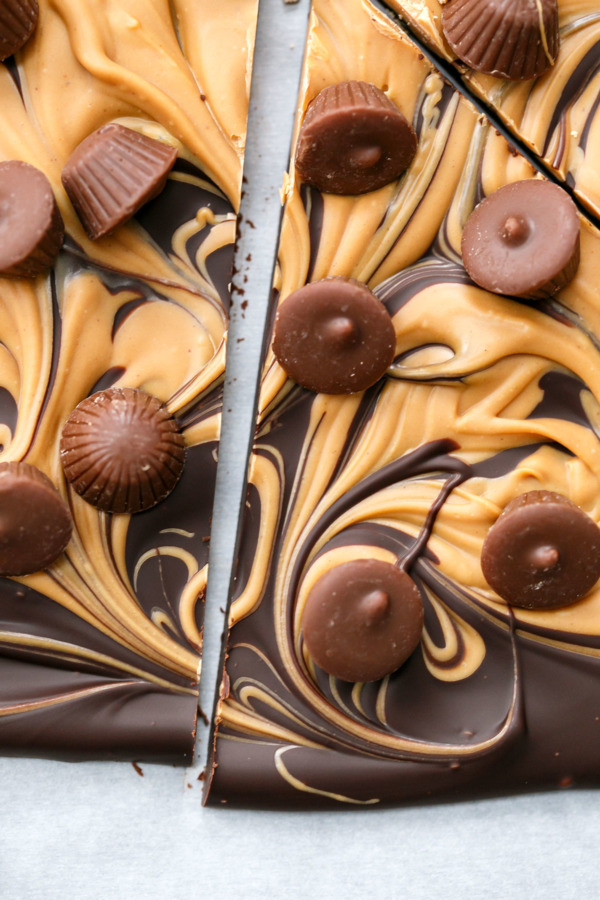 Maybe you forgot that party you're going to tomorrow night, and would hate to show up empty handed. Or maybe your new neighbors showed up with a token of holiday cheer and you were caught unprepared, stammering in the doorway without something to give them back (that's the worst feeling).
This decadent peanut butter cup chocolate bark would make an amazing last minute holiday gift. With only 3 ingredients (chocolate, peanut butter chips, and mini peanut butter cups) and about 20 minutes of your time, you'll have shards of gorgeously swirled peanut butter bark to give to anyone and everyone (just don't forget to save some for yourself!) Even better, make a batch of this and a batch of the fruity version, and you'll become that gourmet friend with the fancy chocolate. And we all know EVERYONE wants to be friends with that person.

These gorgeous swirls come from the simple act of running a toothpick or skewer through the multiple colors of chocolate in a circular motion. I promise you, it's way easier than you think. It only looks complicated.
Note that if you melt the chocolate too quickly, it will lose its temper (angry chocolate bark, arghhh) and the bark will need to be refrigerated. But, if you can manage to keep the chocolate under 88 degrees as it melts it should hold its original crystal structure, and your bark will be shiny and snappy as can be (see this video on America's Test Kitchen for more information on chocolate tempering and how/why it works). I absolutely adore this little chocolate melter – the 'warm' setting keeps the chocolate almost perfectly tempered.
The beauty of chocolate bark lies in its imperfections. In fact, I'd argue that chocolate bark looks really weird when cut into perfectly symmetrical squares. Break it up, let the natural granulation in the chocolate determine the size and shape of the pieces: that's the beauty of bark. It's much prettier than it's name implies (seriously? bark? can't we find another name for it, already? It deserves that much, at least.)
If you have a Trader Joe's near you, they have all the ingredients you need. I used their Pound Plus 72% dark chocolate bar for the base, peanut butter chips, and their entirely addictive mini milk chocolate peanut butter cups on top. Reese's brand peanut butter chips work great as well, but I usually recommend adding a tablespoon or so of unflavored vegetable shortening to smooth it out.
Chocolate Peanut Butter Cup Bark
This easy, 3-ingredient recipe is the ultimate treat for chocolate and peanut butter lovers, complete with gorgeous swirls of peanut butter and topped with mini peanut butter cups. YUM!
Ingredients:
8 ounces good quality, dark chocolate (70-80%), very finely chopped
6 ounces peanut butter chips
1 tablespoon unflavored vegetable shortening or coconut oil (optional, as needed)
1 cup mini peanut butter cups (I used Trader Joe's, but you can also chop up larger peanut butter cups instead)
Directions:
In a microwave, double boiler, or chocolate melter, gently melt chocolate on the lowest possible heat setting. Stir regularly, removing from heat as needed. The goal here is to keep the temperature under 90 degrees, above which the chocolate will lose its temper. Be patient, keep stirring, and even with on and off low heat the chocolate will melt eventually.
Meanwhile, melt peanut butter chips in a microwave safe bowl by microwaving on medium power in 20 second intervals, stirring until melted. The chips should be smooth and 'drizzleable'. If yours seem too thick, stir in a 2-3 teaspoons of melted shortening or coconut oil to thin it out.
Pour melted chocolate onto a baking sheet lined with parchment paper or a silicone baking mat. Spread into an even layer (it will not cover the entire pan, just spread it until it's as thick as you want your final bark to be). Drizzle lines of melted peanut butter chips on top of chocolate. Run a toothpick or skewer through the two kinds of chocolate in a circular motion to form decorative swirls.
Sprinkle evenly with peanut butter cups. Let sit, uncovered at room temperature, for 1 to 2 hours or until set. Break or cut into serving size pieces.
*Note that if you melt your chocolate to a higher temperature or it somehow loses its temper, the chocolate may not set up completely. In which case, just refrigerate it until firm. While the bark is still perfectly edible, it is not as stable at room temperature and will need to be refrigerated.
Did you make this recipe?
Let us know what you think!
Leave a Comment below or share a photo and tag me on Instagram with the hashtag #loveandoliveoil.